Famous Barbecue Dishes and What We Do Not Know
Barbecue has been a staple dish not only in America but all around the world, with the methods and styles have been changed to match each country's culture. Here is what we probably never knew about this famous plate.
Barbecue or barbeque (informally BBQ in the UK and US, barbie in Australia and braai in South Africa) is a term used with significant regional and national variations to describe various cooking methods which use live fire and smoke to cook the food. The term is also generally applied to the devices associated with those methods, the broader cuisines that these methods produce, and the meals or gatherings at which this style of food is cooked and served. The cooking methods associated with barbecuing vary significantly but most involve outdoor cooking.
The various regional variations of barbecue can be broadly categorized into those methods which use direct and those which use indirect heating. Indirect barbecues are associated with North American cuisine, in which meat is heated by roasting or smoking over wood or charcoal. These methods of barbecue involve cooking using smoke at low temperatures and long cooking times (several hours). Elsewhere, barbecuing more commonly refers to the more direct application of heat, grilling of food over hot coals or gas. This technique is usually done over direct, dry heat or a hot fire for a few minutes. Within these broader categorizations are further national and regional differences.
What does "Barbecue" means?
Photo: The Daily Meal
The English word "barbecue" and its cognates in other languages come from the Spanish word barbacoa. Etymologists believe this to be derived from barabicu found in the language of the Arawak people of the Caribbean and the Timucua people of Florida; it has entered some European languages in the form of the aforementioned barbacoa. The Oxford English Dictionary (OED) traces the
The interesting history of Barbecue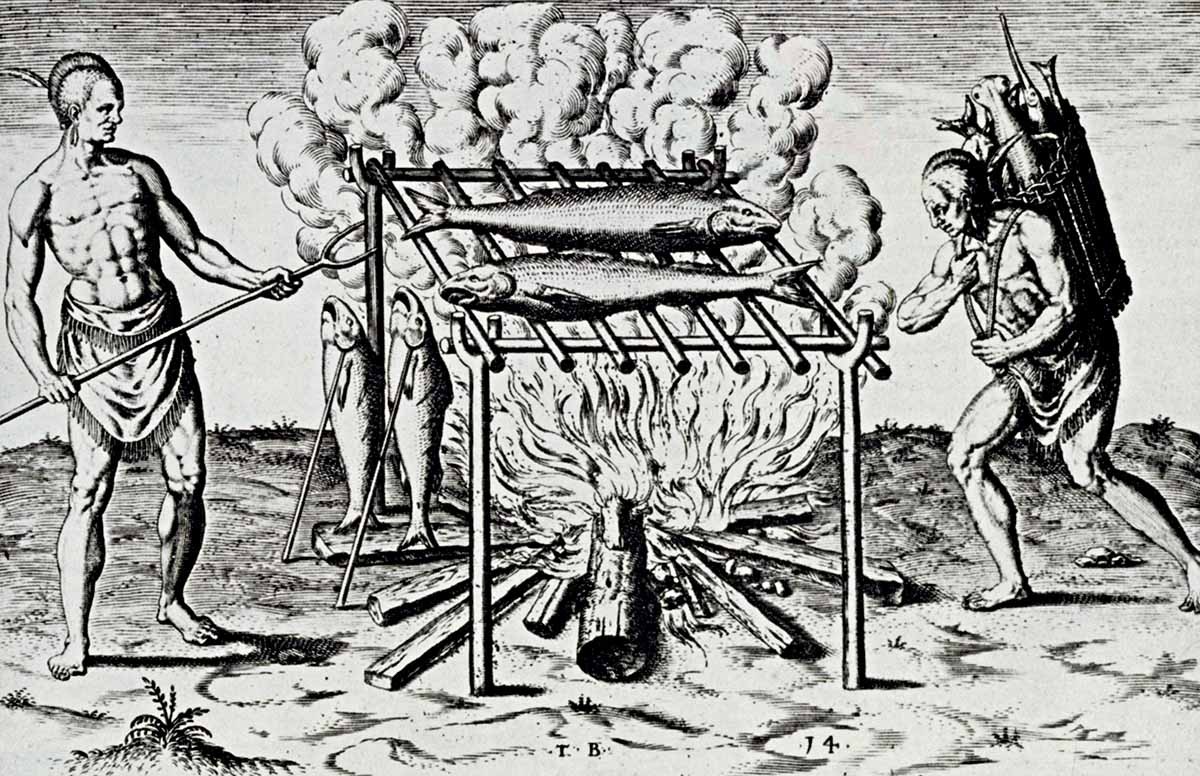 Native Americans cook fish in an engraving from A brief and true Report of the New Found Land of Virginia by Thomas Harriot, 1590 © Bridgeman Images
Lockhart, Texas has plenty of reasons to feel proud. With its unique collection of 19th-century buildings, it is one of the prettiest towns in Caldwell County – and a favourite of Hollywood producers. More than 50 films have been made there, from Baby, the Rain Must Fall (1968), starring Steve McQueen and Lee Remick, to Clint Eastwood's acclaimed drama A Perfect World (1993). But what really makes locals puff out their chests is the barbecue.
The secret is in the smoke. Generally rubbed with nothing more than salt, pepper and a few spices, the meat is cooked slowly over a smouldering bed of oak and mesquite wood, often for hours at a time. This gives it a distinctively sweet, smoky flavour and makes even the toughest cuts mouth-wateringly tender. It is not the only way of barbecuing.
In San Antonio, 60 miles to the south, they slather the meat in a sticky, molasses-like dressing to keep it moist. Further to the north, in Memphis, pork shoulder is lightly seasoned and served 'pulled' in a sandwich with coleslaw; while in Kansas City, tomato-based sauces are de rigueur.
Yet while barbecues may be dear to the American soul, they are not native to the US. Instead, they trace their roots to the indigenous peoples of North and South America – and their troubled, often confusing, history says more about colonialism, war and migration than it does about freedom.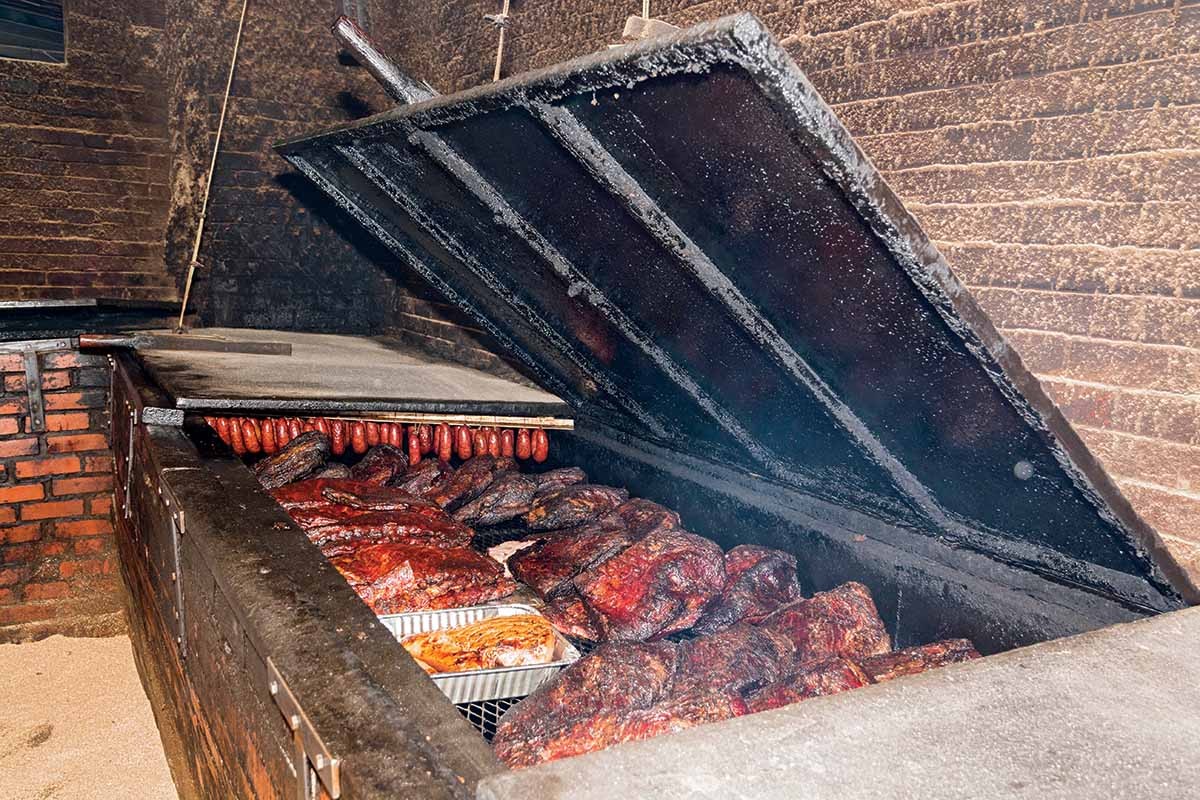 A smoker in Smitty's Market, Lockhart, Texas, 2016. Alamy.
The Spanish word barbacoa was first used by the explorer and historian Gonzalo Fernàndez de Oviedo y Valdés (1478-1557). On returning to Europe after nine years in the New World, he published a series of books describing the course of his voyages and the customs of the peoples he had encountered. In La historia general y natural de las Indias (1535), he introduced his readers not only to tobacco and pineapples, but also to the barbacoa, a word he claimed to have learned from the Taínos, an Arawak-speaking people, who were the main inhabitants of Hispaniola, Jamaica and Cuba.
Not until the mid-17th century does the word 'barbecue' come to be associated clearly with a method of cooking food in European texts. Yet even here the evidence is not always clear. The earliest reference appears in Beauchamp Plantagenet's pamphlet, A Description of New Albion (1648). Describing various native peoples in North America, the author noted that the 'Indians' of Chesapeake Bay 'in stead of salt doe barbecado or dry and smoak fish'.
This method had a variety of advantages, especially for those, like the Taínos and Miskito, who lived by hunting or subsistence farming. First and foremost, it meant that nothing was wasted. Since it made even the toughest meat tender, virtually every part of an animal could be eaten. It also required little fuel; and best of all, it made for a tasty meal.
Yet barbecuing nevertheless remained the preserve of natives and, occasionally, of slaves. There is little, if any, evidence of colonists barbecuing meat except on journeys into the interior and none whatsoever of (true) barbecues in Europe. There were two reasons for this. The most obvious is that there was simply no need to cook in the barbecue manner. If you had enough fuel and could afford the better cuts, why not simply broil or roast? More important, however, was the fact that colonial prejudices were still strong. Even as late as the mid-18th century, it was common to look down upon the indigenous peoples of the Caribbean and Central America as uncivilised; and while colonists and travellers were willing to eat barbecue meat when there was no alternative, they still regarded it as rather crude. That Behn and Pope associated it with acts of barbarity and gluttony was indicative of the disdain in which it was held.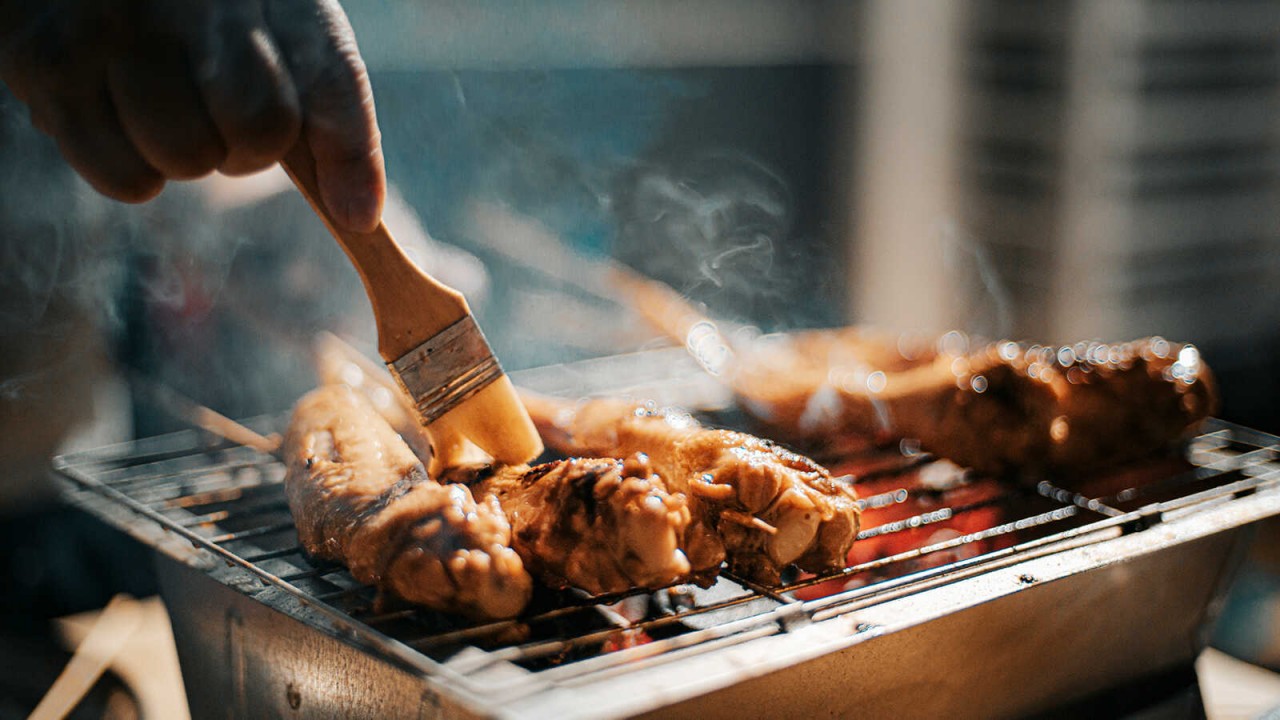 Photo: CNN
Within a few decades, however, this was to change. As the prosperity and self-confidence of Britain's North American colonies grew in the second half of the 18th century, barbecues appear to have become more common: not just among slaves, brought over from the Caribbean, but also among the colonial elites. In Massachusetts and Virginia there are accounts of barbecues held by wealthy landowners. In 1769, George Washington, for example, noted in his diary that he had gone 'up to Alexandria for a Barbecue and stayed all Night'. Four years later, he held one of his own at Accatinck.
Since the 'barbecue boom' of the 1950s, it has spread to many other countries. It flourishes in the UK, is popular in Germany and is almost a national religion in Australia. But it is still unmistakably 'American' – and we should not forget the irony of that, least of all in today's climate. For, while it is only natural for a town like Lockhart to take pride in its barbecue, it is high time we acknowledge that 'the taste of liberty' – like so much else – was taken from indigenous peoples, nurtured by immigrants and distorted by myth.
4 Prominent BBQ Styles In The United States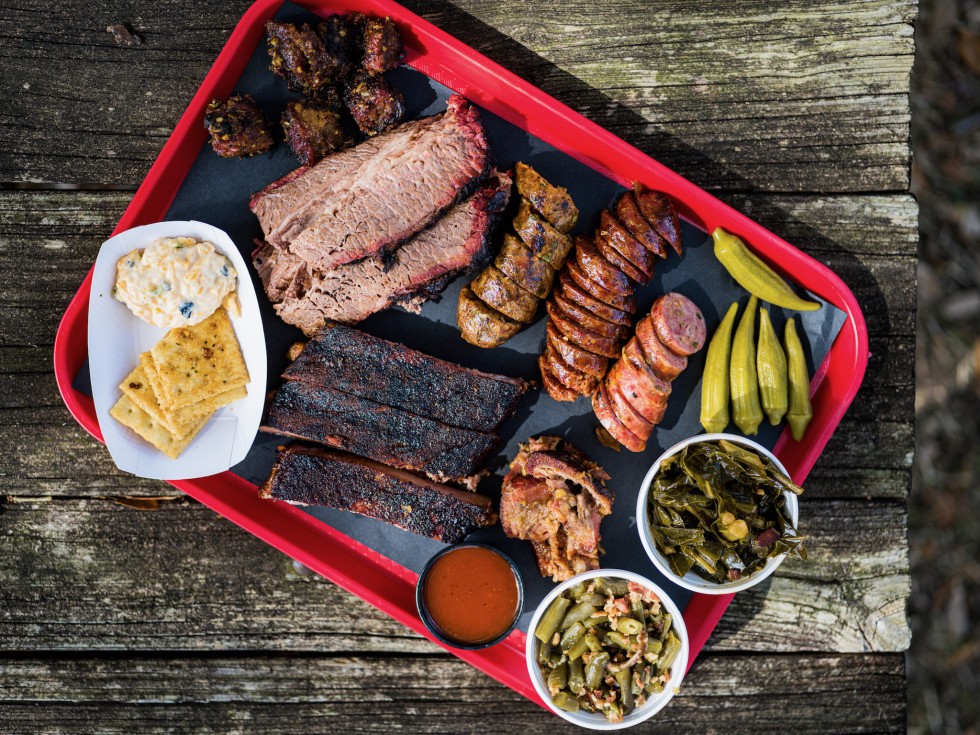 Photo: CultureMap Dallas
Carolina: The Carolinas are one of America's oldest forms of barbecue and for good reason. They're known for their delicious slow-roasted pork, but this category is further split into two areas: Lexington-style and Eastern-style.
Lexington-style pork relies on a sauce made from a ketchup and vinegar-based blend to complete a roasted pork shoulder. Meanwhile, the Eastern-style is open to using any part of the pig as long as it's topped with a mayonnaise-based sauce.
Kansas City: Kansas City-style barbecue is dominated by tomato and molasses-based sauces. Unlike the Carolina options, Kansas City-style is known for the wide range of meats that are put in the smoker, including pork, beef, and even lamb. They dry-rub the meat before putting it into the bbq pit smoker and serve it fresh with thick and sweet table sauces on the side. Just don't forget the french fries when you dig into your barbecue.
Memphis: Memphis barbecue targets wet and dry ribs for your eating pleasure. Of course, the wet rubs are doused in a delicious sauce before it's put in the smoker while dry rubs are rubbed with spices and seasonings. Both options are cooked low-and-slow for barbecue that practically melts in your mouth. Just keep the sauce on the side.
Famous Lexington barbecue festival is postponed till next year. Photo: The Barbecue Festival
Texas: Like the Carolinas, Texas is categorized into multiple regions, but this time it's broken down into four areas: East Texas, Central Texas, West Texas, and South Texas. However, the most popular barbecue option for Texas is undoubtedly the South Texas barbacoa, where the head of the cow is cooked in bbq pit trailers, but it was originally cooked underground.