The U.S. government's top infectious disease expert issued a blunt warning Tuesday that cities and states could "turn back the clock" and see more COVID-19 deaths and economic damage alike if they lift coronavirus stay-at-home orders too fast -- a sharp contrast as President Donald Trump pushes to right a free-falling economy.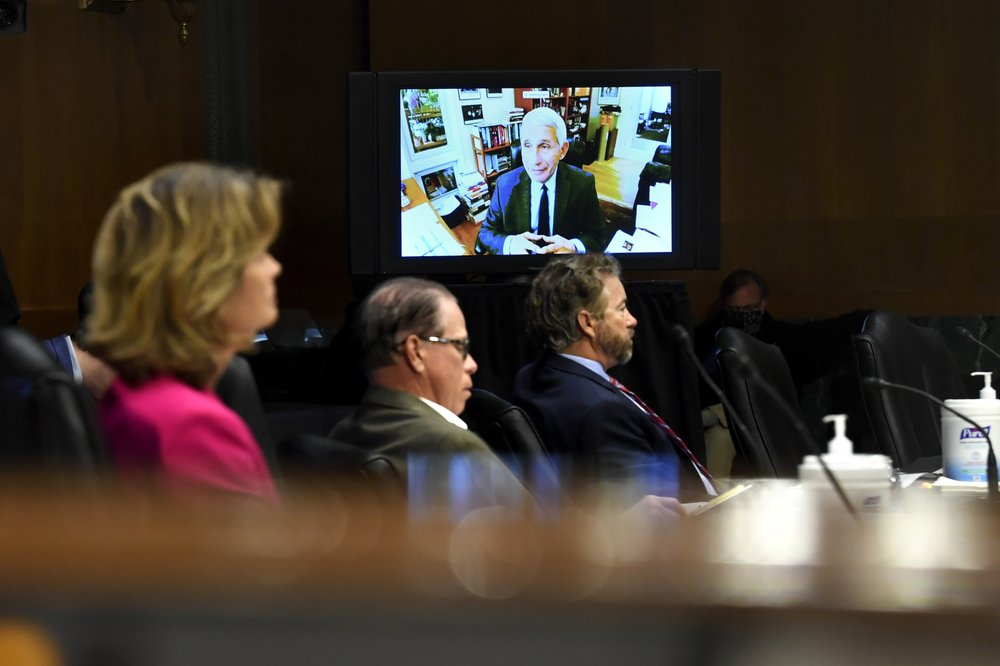 Senators listen as Dr. Anthony Fauci, director of the National Institute of Allergy and Infectious Diseases, speaks remotely during a virtual Senate Committee for Health, Education, Labor, and Pensions hearing, Tuesday, May 12, 2020 on Capitol Hill in Washington. (Toni L. Sandys/The Washington Post via AP, Pool)
"There is a real risk that you will trigger an outbreak that you may not be able to control," Dr. Anthony Fauci warned a Senate committee and the nation as more than two dozen states have begun to lift their lockdowns as a first step toward economic recovery, reported the Apnews.
The tension in balancing people's safety from the virus, which is still surprising doctors with the sneaky ways it can kill, against the severe economic fallout is playing out in many other countries, too. Italy partially lifted lockdown restrictions last week only to see a big jump in confirmed COVID-19 infections in its hardest-hit region. And Lebanon relaxed a national lockdown late last month but said Tuesday the restrictions are being reinstated for the rest of the week after a spike in reported infections.
More infections and deaths are inevitable as people again start gathering, but how prepared communities are to stamp out those sparks will determine how bad the rebound is, Fauci told the Senate Health, Education, Labor and Pensions Committee.
"There is no doubt, even under the best of circumstances, when you pull back on mitigation you will see some cases appear," Fauci said..
Move too quickly and "the consequences could be really serious," he added. It not only would cause "some suffering and death that could be avoided, but could even set you back on the road to try to get economic recovery."
Of the 33 states that have had a 14-day downward trajectory, 25 are partially opened or moving to reopen within days, the AP analysis found. Other states that have not seen a 14-day decline, remain closed despite meeting some benchmarks.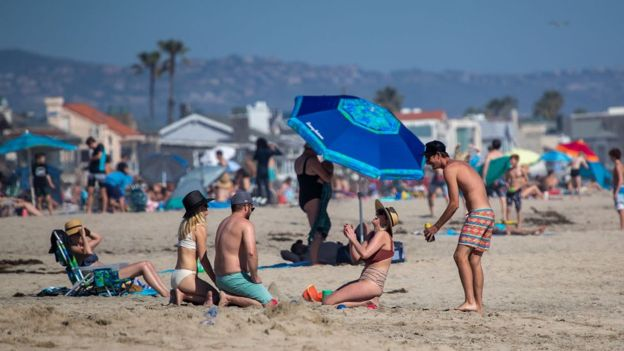 Beach-goers at California's Newport Beach on Saturday (Photo: bbc)
Fauci, the director of the National Institute of Allergy and Infectious Disease, is, without question, the most famous doctor in the world at this moment. He is also a man who has been the single most recognizable expert on infectious disease for more than three decades -- serving under six presidents during that time.
This is a guy who has a right to feel pretty good about himself. Who knows a whole hell of a lot about the coronavirus -- maybe more than any other single American. And yet, he admitted -- in front of a committee of US senators and the country watching at home -- that he didn't know "everything" about the disease. And that he was wary of making predictions about the disease's impact on children, the possibility of its reinfecting people who have already recovered from it or the efficacy of a possible vaccine because, well, he just wasn't sure where the virus would head from here.
Besides, Fauci expressed optimism that eventually vaccines will arrive, along with treatments in addition to the one drug that so far has shown a modest effect in fighting COVID--19. But it would be "a bridge too far" to expect them in time for fall when schools hope to reopen, he said.
Dr Anthony Fauci has emerged as the face of America's fight against coronavirus. But he is also battling the dangerous spread of misinformation, sometimes from within his own government.
Over his five decades as a medical researcher, Anthony Fauci has seen his effigy burnt, heard the cries of protesters calling him a "murderer", and had smoke bombs thrown outside his office window.
But he has also been praised as the most famous doctor in America, and the man whose compassion and calm helped the US make otherwise impossible strides in confronting a public health crisis.
As head of immunology at the National Institutes of Health during the 1980s HIV/Aids epidemic, Dr Fauci, 79, has seen conflict before.
Now, as President Trump has proclaimed that the US stands on a "war footing" to combat the Covid-19 pandemic, he has again become the man at the frontline.
For now, "all roads back to work and back to school go through testing," said Alexander, the Republican committee chairman.
Although Trump declared this week, "we have met the moment, and we have prevailed" in increasing and improving virus testing, Republican senators on the panel were noticeably less sanguine.
"I saved hundreds of thousands of lives. And Anthony Fauci admitted that," Trump said in an interview on Friday with "Fox & Friends."
"We understand it now, and you can never fully under the invisible enemy," he added.
"We've learned a lot of things about it and we may have fires and we're going to put the fires out," Trump concluded
On the one hand, a man very much in position to say he knows best refuses to say so. On the other, a man who is neither a doctor nor an epidemiologist nor an infectious disease expert is declaring victory and patting himself on the back.
While Fauci has been reluctant to criticize Trump for the many exaggerations and, in some cases, outright falsehoods pushed by the President about the coronavirus and the administration's handling of it, what the doctor did on Tuesday is best understood as a quiet rebellion against the know-it-all-ism that is a defining trait of Trumpism.
What Trump would have wanted to Fauci to tell Congress and the country is that everything regarding the coronavirus is going even better than he would have expected. That Trump has done above and beyond what he could be expected to do in dealing with the virus. That a vaccine was on the way and would definitely work.
Fauci didn't do any of that. But rather than simply be contrarian, he was contextual. He noted that there was "no guarantee that the vaccine is going to be effective" even when it is developed. (He later noted that he was optimistic that the vaccine would work because people had and continue to recover from coronavirus.) Rather than condemn states for reopening without meeting established federal guidelines to do so. In response to a question about where the country is in terms of controlling the coronavirus, Fauci said "If you think we have it completely under control, we don't."
While Fauci has become the trusted science voice for millions of Americans, Sen. Rand Paul expressed frustration with his cautions. The Kentucky Republican said Fauci was not the "end all" in knowledge about the coronavirus and it's "kind of ridiculous" to suggest children shouldn't go back to school -- something Fauci never said.
"We don't know everything about this virus and we really better be pretty careful, particularly when it comes to children," Fauci said.
While children do seem less susceptible, doctors in New York are investigating about 100 youngsters whose COVID-19 may be linked to a rare and dangerous inflammatory reaction. Three have died.
His message is at odds with the upbeat tone of President Trump who is keen to get the economy going again.
Dr Fauci was speaking via video to a Republican-led committee of the US Senate.
He was referring to the White House's Opening Up America Again plan, which includes three 14-day phases that states are urged to consider implementing as they allow schools and businesses to reopen, cited from the bbc.
Several US states already restarting their economies have infection rates that are rising, not falling.
Although the White House has laid out guidelines for reopening, it is ultimately up to state governors to make the decisions on how to ease the lockdown.
"There is no doubt, even under the best of circumstances, when you pull back on mitigation you will see some cases appear," Dr Fauci warned the US officials.
'Cautiously optimistic'
Questioned about the possibility of a rebound in autumn of the virus, Dr Fauci said one is "entirely conceivable and possible".
"I hope that if we do have the threat of a second wave we will be able to deal with it very effectively to prevent it becoming an outbreak."
Dr Fauci also said there are multiple vaccines in development but "no guarantee" any will be effective, though based on his knowledge of other viruses, he is "cautiously optimistic".
"We have many candidates and hope to have multiple winners," he said. "In other words it's multiple shots on goal."
Witnesses testify remotely
Witnesses appeared remotely during the over three-hour long hearing, as did some senators on the Senate Committee on Health, Education Labor and Pensions.
The three members of the White House coronavirus task force who testified are self-isolating after possible exposure to the illness, including Dr Fauci.
Centers for Disease Control and Prevention director Dr Robert Redfield and Food and Drug Administration commissioner Stephen Hahn are also self-isolating.
Dr Fauci has tested negative but will continue to work from home for the time being, and will be regularly tested.
The hearing was led by Republican Tennessee Senator Lamar Alexander from his home in the Smoky Mountains. His dog Rufus was occasionally seen slumbering in the background of the video conference call.
"Staying at home indefinitely is not a solution to this pandemic," said Mr Alexander, adding: "There is not enough money available to help all of those hurt by a closed economy."
Washington Senator Patty Murray, the highest-ranking Democrat on the committee, charged that Mr Trump is more interested in "fighting against the truth than fighting the virus".
The government cannot ask people to restart their lives "if there isn't clear detailed guidance on how to do that safely", she adds.
Anthony Fauci's testimony before a congressional committee started as a genteel affair, with senators treating him as a long-serving public health official whose advice carries considerable authority and expertise.
Then Senator Rand Paul spoke, when it came to the coronavirus, the Republican from Kentucky said, public heath experts had made "wrong prediction after wrong prediction after wrong prediction".
"As much as I respect you, Dr Fauci," he continued, "I don't think you're the end-all, I don't think you're the one person that gets to make a decision."
Mr Paul went on to assert that "outside of New England", the virus has followed a "relatively benign course". He told Fauci that schools, which have been closed across the US since mid-March, should be reopened as soon as possible.
Mr Paul was giving voice to a growing sentiment among the conservative base that Dr Fauci does not have the nation's - or the president's - best interests in mind.
Crowds of anti-lockdown activists in several states have chanted "fire Fauci", and the director has required special protection after receiving death threats. They, like Mr Paul, have dismissed the spread of the virus beyond the current coastal hotspots, even though data indicates cases are spiking in some areas in the interior of the US.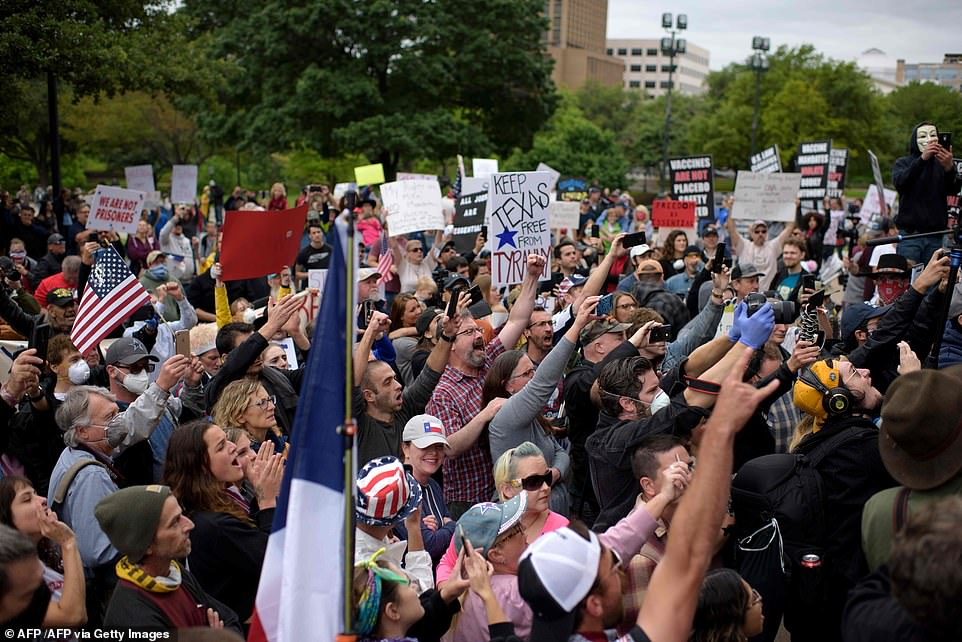 Protestors in Austin, Texas, screamed 'fire Facui' in a targeted chant against Dr. Anthony Fauci, the country's top immunologist and infectious disease expert (Photo: AFP)
It's evidence of a growing political divide within the nation over how to respond to the virus and how, and when, to begin easing from existing state-ordered mitigation efforts.
Dr Fauci, for his part, responded coolly.
"I have never made myself out to be the end-all and only voice of this," he told Mr Paul. "I'm a scientist, a physician, and a public health official."
He added that there is still much that is not known about the virus, and warned not to be "cavalier" about the threat to children, given new evidence that they may not be "completely immune to the deleterious effects" of the virus.
Over and over again, senators -- from both sides of the aisle -- tried to pin Fauci down on absolutes. And time and again, Fauci fell back on the cold, hard reality of this virus: It is new, it is evolving, it cannot be predicted effectively -- at least not by him -- just yet.
That might not be the answer that Americans wanted to hear. And we know it wasn't the answer Donald Trump wanted to hear. But Fauci's humble approach to the virus is the only way that we as a country can hope to one day move beyond it: With an acknowledgment that certainty is an elusive beast, and that admitting what we don't know is just as important as touting what we do, said the CNN.
Worldwide, the virus has infected nearly 4.3 million people and killed over 292,000 — more than 83,000 deaths in U.S. alone, the world's highest toll. Fauci said U.S. deaths likely are higher than the official count.
Tarah Nguyen