US coronavirus cases rise by 47,000, biggest one-day spike of pandemic
New US Covid-19 cases rose by more than 47,000 yesterday according to a Reuters tally, the biggest one-day spike since the start of the pandemic, as the government's top infectious disease expert warned that number could soon double, Reuters reported.
California, Texas and Arizona have emerged as new US epicentres of the pandemic, reporting record increases in Covid-19 cases.
"Clearly we are not in total control right now," Dr. Anthony Fauci, head of the National Institute of Allergy and Infectious Diseases, told a US Senate committee. "I am very concerned because it could get very bad."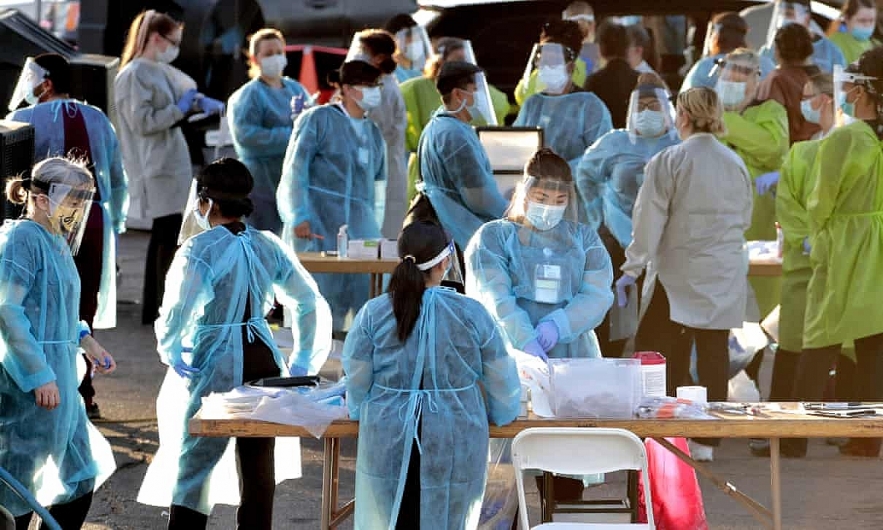 Medical personnel prepare to test hundreds of people for Covid-19 in Phoenix, Arizona, 27 June 2020. Photograph: Matt York/AP
Fauci said the daily increase in new cases could reach 100,000 unless a nationwide push was made to tamp down the resurgent virus.
Fauci said there was no guarantee of a vaccine, although early data had been promising: "Hopefully there will be doses available by the beginning of next year," he said.
Covid-19 cases more than doubled in June in at least 10 states, including Texas and Florida, a Reuters tally showed. In parts of Texas and Arizona, hospital intensive care beds for Covid-19 patients are in short supply.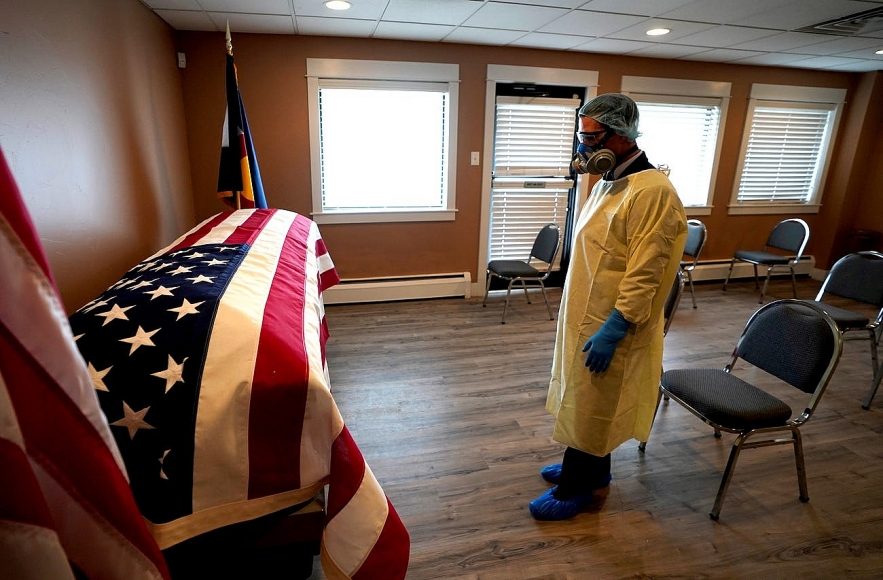 Michael Neel, funeral director of of All Veterans Funeral and Cremation, wearing full PPE, looks at the U.S. flag on the casket of George Trefren, a 90 year old Korean War veteran who died of the coronavirus disease (COVID-19) in a nursing home, in Denver, Colorado, April 23, 2020. Rick Wilking/Reuters
More than 126,000 Americans have died from Covid-19 and millions have lost their jobs as states and major cities ordered residents to stay home and businesses closed. The economy contracted sharply in the first quarter and is expected to crater in the second.
Two states in the US combating coronavirus with different paths as cases spike
According to CNN, Florida Gov. Ron DeSantis told the reporters that there's no going back to stricter measures, while California Gov. Gavin Newsom hinted that on Wednesday he'll tighten restrictions, especially at beaches, this Independence Day weekend.
At least 19 states have paused or rolled back their reopening plans in response to a surge in new infections.
California has had more than 222,000 coronavirus cases - about half of which are in Los Angeles County - and on Tuesday announced 6,367 cases, the second highest total for the state since the pandemic began. In Los Angeles County there were reports of 2,779 new cases.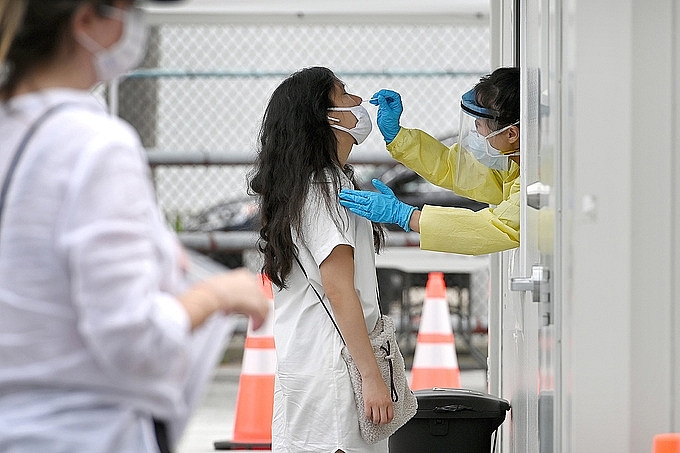 A health officer is taking samples for Covid-19 test in New York. Photo: Reuters
As the holiday weekend looms, Newsom warned that family gatherings are the greatest concern. Family gatherings where households mix with extended family, tend to be a place where people let their guard down, the governor said.
"It's not just bars, not just out in the streets with people protesting, and the like," Newsom said. The governor of the Golden State, who ordered bars in seven counties to close over the weekend, said he will announce more restrictions on Wednesday.
Newsom has repeatedly promised that reopening the state comes with the ability to "toggle back" if necessary.
Responding to a reporter's question about the beaches being closed in Los Angeles County for the Independence Day weekend, the governor hinted that state beaches could be part of his announcement.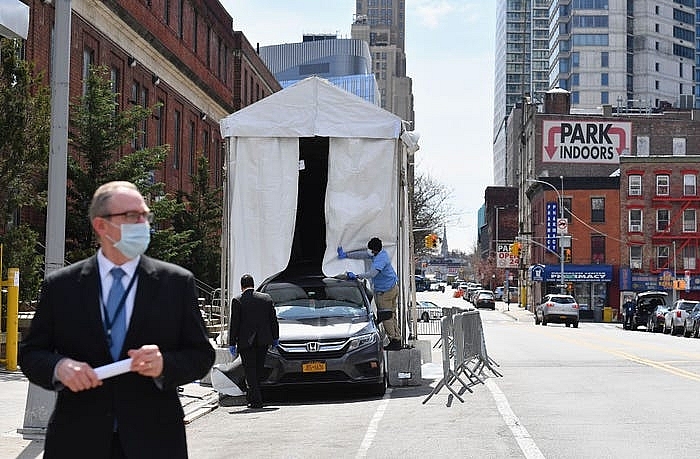 A hearse car backs into a refrigerated truck to pick up deceased bodies outside of the Brooklyn Hospital on April 1, 2020 in New York City. ANGELA WEISS/AFP via Getty Images
In Florida, DeSantis assured reporters that his state can deal with the uptick in cases and it's not necessary to shut down shops and restaurants.
"We're not going back, closing things," he said. "I mean, people going to business is not what's driving it. I think when you see the younger folks, I think a lot of it is just more social interactions and so that's natural."
DeSantis' message to Floridians, particularly the younger ones: Protect the vulnerable. "You have a responsibility not to come into close contact with folks who could be more vulnerable," he said.
Fauci, Redfield urge American public to wear masks
Fauci and US Centers for Disease Control and Prevention Director Dr. Robert Redfield stressed the importance of wearing masks during testimony before a Senate committee on Tuesday, with Fauci saying "we recommend masks for everyone" and "masks are extremely important."
Redfield singled out younger Americans in particular to deliver a message that they are not exempt from the necessity of wearing a mask.
"It is critical that we all take the personal responsibility to slow the transmission of Covid-19 and embrace the universal use of face coverings," he said. "Specifically, I'm addressing the younger members of our society, the Millennials and the Generation Zs - I ask those that are listening to spread the word."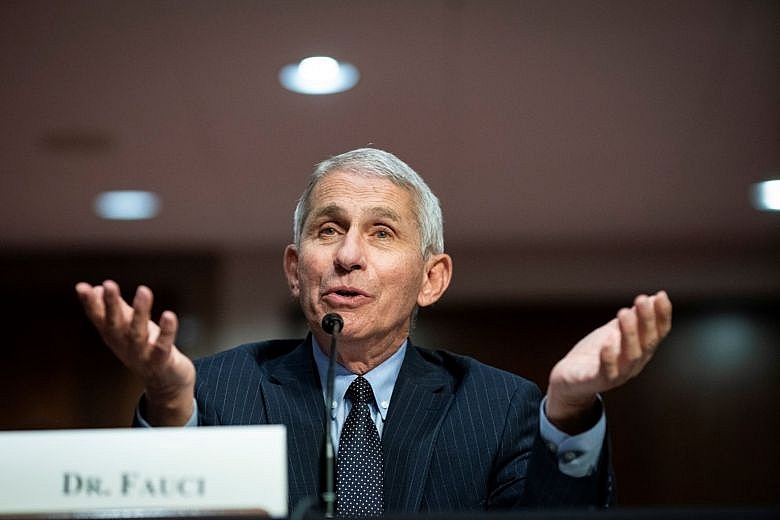 Dr. Anthony Fauci. Photo: Straits Times
Fauci spoke of the across-the-board importance of wearing masks.
"We are all in this together," he said, adding, "We recommend masks for everyone on the outside, anyone who comes into contact in a crowded area. You should avoid crowds where possible and when you're outside and not have the capability of maintaining distance, you should wear a mask at all times."
Fauci indicated that he would support an effort to increase the production of high-quality masks in the US and distribute them free of charge to the American public in response to a question from Vermont independent Sen. Bernie Sanders.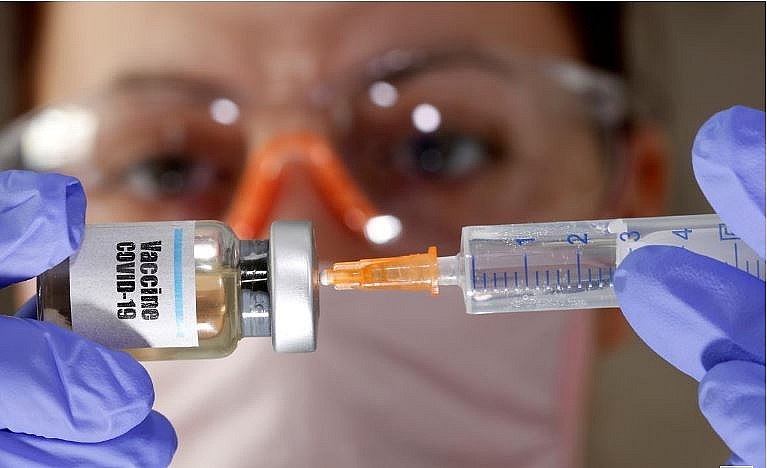 A bottle named Covid-19 vaccine. Photo: Reuters
"Masks are extremely important," Fauci said, adding, "There's no doubt that wearing masks protects you and gets you to be protected. So it's people protecting each other. Anything that furthers the use of masks, whether it's giving out free masks or any other mechanism, I am thoroughly in favor of."
Ruby Lee