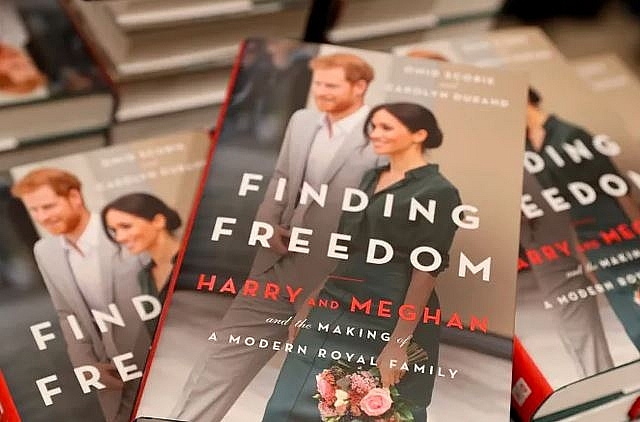 Photo: Chris Jackson,Getty images
Finding Freedom, a biography about the Duke and Duchess of Sussex has been published on 11 August
On Tuesday 11 August, Finding Freedom, a biography about theDuke and Duchess of Sussex, is being published. Written by royal journalists Omid Scobie and Carolyn Durand, the book documents the reporters' experience of working in close proximity to the couple.
While a spokesperson for the duke and duchess has told The Independent that they had no involvement in the book – it is "based on the authors' own experiences" in the royal press corps – it promises insight into their lives, their work, and their decision to step away from royal life, following interviews with over 100 royal insiders. The scampish prince and his duchess definitely have a story to tell, but it is not the story in this book
Finding Freedom becomes an Amazon bestseller in the US and the UK within 24 hours of its release
The controversial biography written by Omid Scobie and Carolyn is already top of the media giant's bestsellers list as royal fans rush to pre-order their copy, while it also hit the number one on the UK and US sites.
The Duke, 35, and Duchess of Sussex, 39, claim they were not interviewed for the book and did not contribute to the tale by authors Omid Scobie and Carolyn Durand, which provides a high level of personal detail and a dramatic account of the events leading up to the Sussexes' departure from royal life.
Palace insiders have described the book as 'score settling' after Harry and Meghan left the Royal Family for a life in Los Angeles - after suddenly announcing their intentions in January in a move that left The Queen 'hurt'.
How fans react to the book
On its first day of release, however, some fans are questioning how involved the couple actually were in the writing process, given the extremely personal details, as well as their seemingly close relationship with the authors.
Finding Freedom details the couple's initial courtship, from their first date in a London members club, to how Harry was "delighted" by Meghan's willingness to use the great outdoors as a toilet during a camping trip.
It also delves into how, after reading highly critical comments about himself and his wife online, Harry's "stomach tied into the same knot every time he saw these sorts of comments".
Here's how fans of the couple and the royal world have reacted to the book so far
Source: News.com.au
Source: News.com.au
Le Dang
Independent/News.com.au/Daily Mail