First 20 Indian Students to Study in Vietnam
The Hong Bang International University (HIU) officially welcomed the first 20 Indian students matriculating in medicine.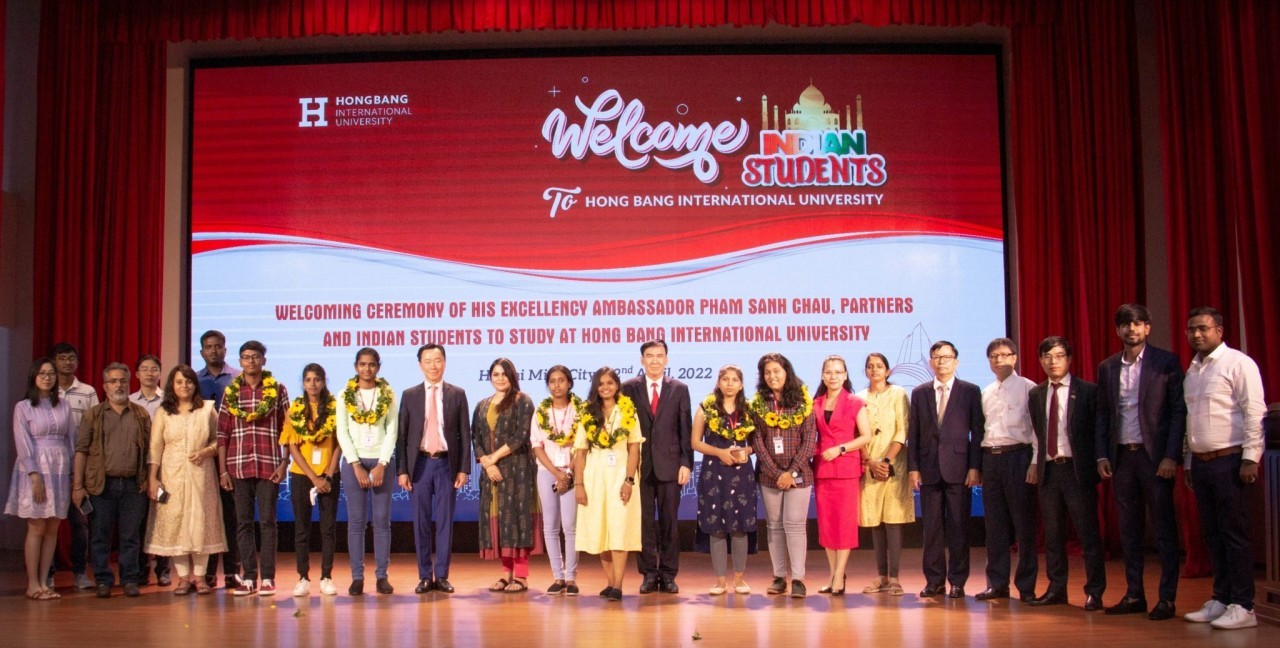 Delegates and Indian students at the ceremony. Photo courtesy of HIU
Vietnam's Hong Bang International University (HIU) and its Indian partner - Aieraa Overseas Studies recently welcomed the first 20 Indian medical students to study in Vietnam.
This is the first time, a university in Ho Chi Minh City has international students come to study medicine.
Student Khushi Jai Prakash Asrani shared that they were worried about language differences, so they tried to learn Vietnamese. "However, when I came to Vietnam, I saw that everyone was friendly to welcome me, and the feeling of anxiety was gone."
"I learned a lot about the people, history and country of Vietnam before deciding to choose this place. Compared the medical training in several countries, HIU's policies suits me best," said Asrani.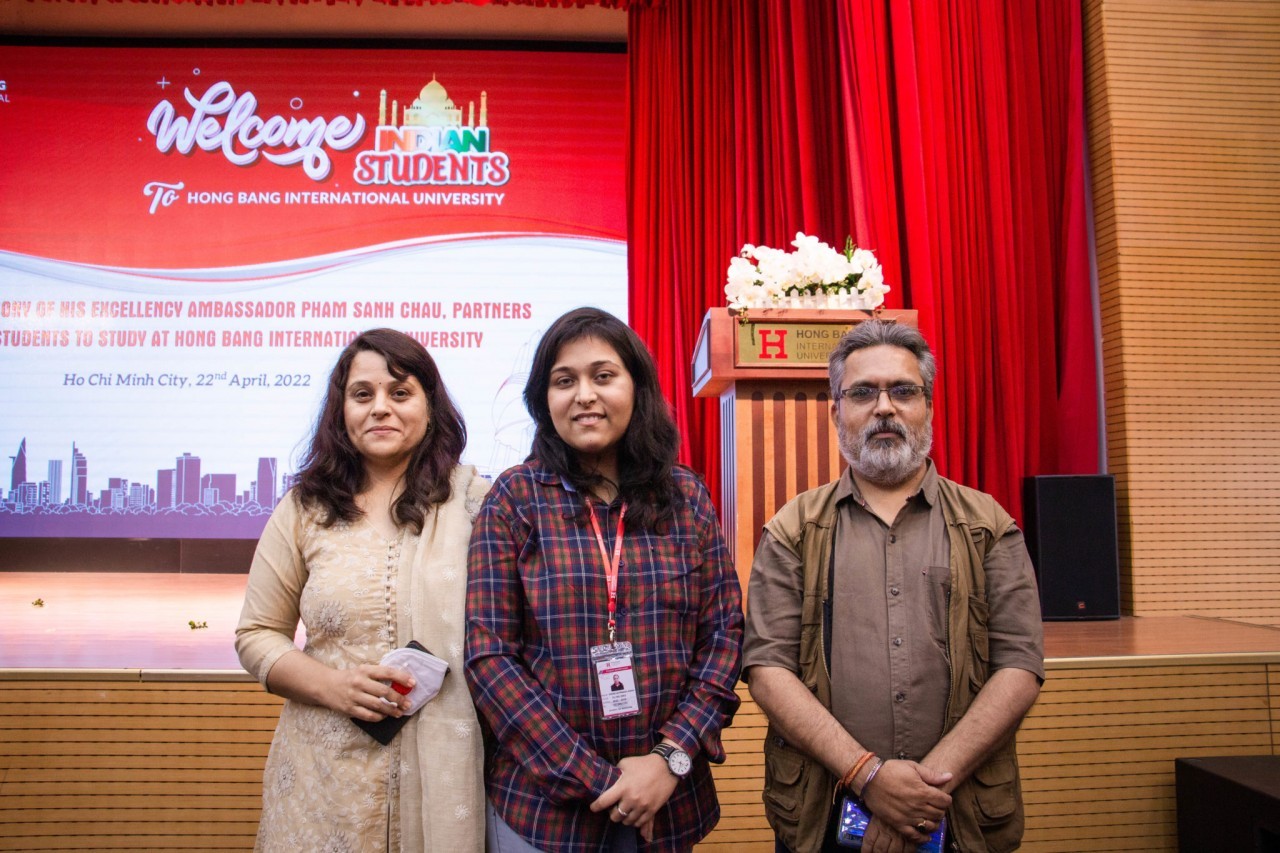 Student Khushi Jai Prakash Asrani (in the middle) accompanied by her parents. Photo courtesy of HIU
Another student, Narmatha Natesan aims to become a doctor due to her father's aspiration, and she chose Vietnam because of its safety and friendliness. "I hope this will become my second home!"
More than 20 Indian international students who entered the HIU, are excellent students who have passed the application and interview rounds consist of professors and doctors from HIU's Health and International Languages ​​and Cultures faculties.
For the first time, a university in Ho Chi Minh City had international students come to study medicine. This has an important meaning in the development of education in the country, marking the maturity of the prestige and medical training level of Vietnamese universities.
The course will be for six years. Hong Bang will train the students entirely in English based on the standard national medical training program with changes made to meet global standards.
Students will practice at the school's functional practice rooms and hospitals that are medical facilities associated with the University such as Thong Nhat Hospital, Cho Ray Hospital, Nguyen Trai Hospital; along with community practice sessions when participating in programs such as dental and eye exams for high school students.
Graduates can participate at hospitals and medical facilities; teach at medical and pharmaceutical training institutions; working in research institutes, health science regulatory agencies as well as international organizations operating in the health field.
Besides theoretical and clinical knowledge, the international students will also learn the Vietnamese language and culture.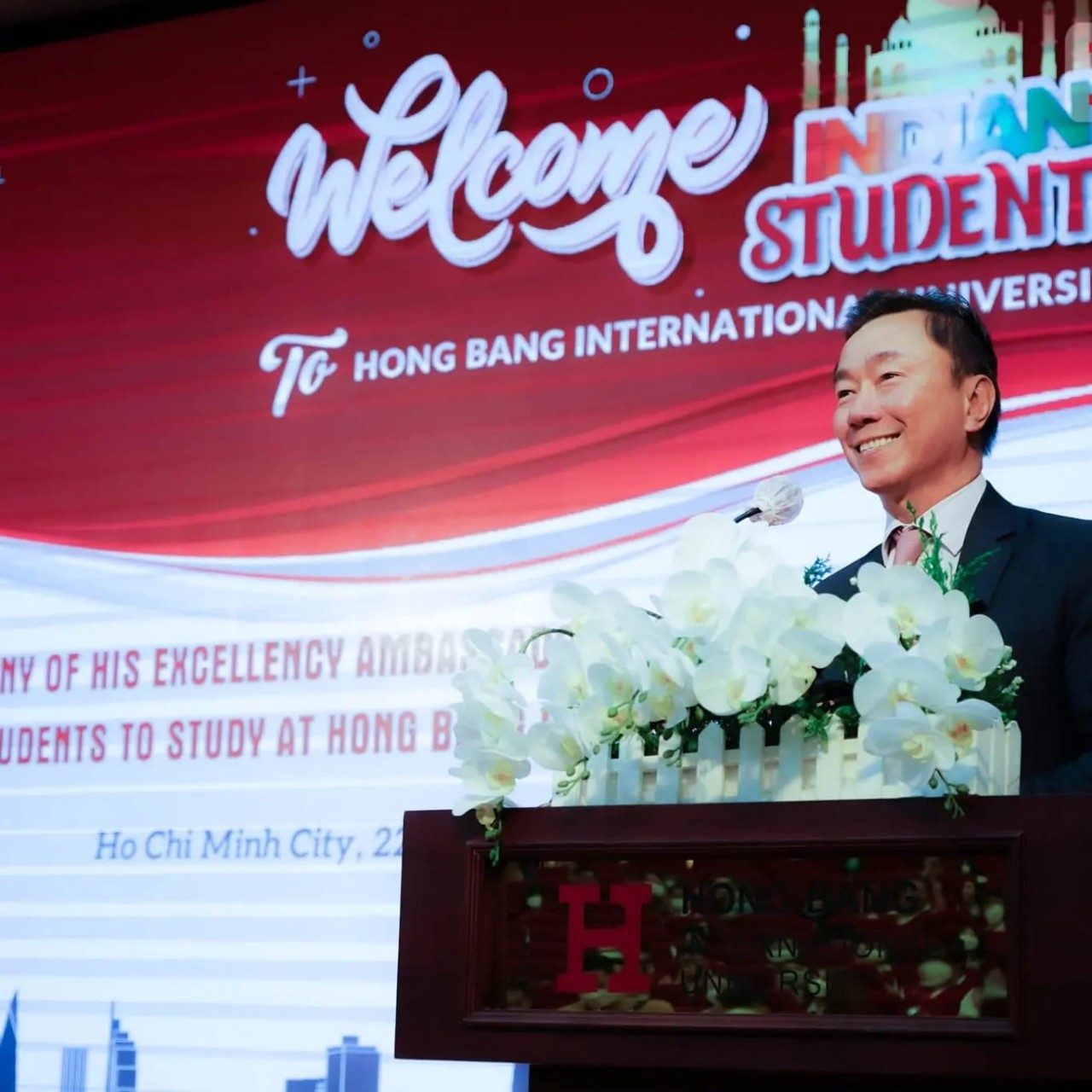 Vietnamese Ambassador to India Pham Sanh Chau welcomes the Indian students. Source: Vietnam's embassy in Delhi
Attending the welcoming ceremony for Indian students, Vietnamese Ambassador to India Pham Sanh Chau warmly welcomes the Indian students and shared his pleasure to see that universities in Vietnam are making constant efforts to become a host destination for international students when choosing study abroad.
The Hong Bang International University (HIU) on July 2021 has signed a strategic co-operation deal with India's Aieraa Overseas Studies to train Indian and other Asian students in medicine starting in 2021-2022.
Aeiraa has experience in recruiting and sending Indians around the world to study, especially medicine, reported VNA.
At the online signing ceremony, Do Manh Cuong, chairman of the Hong Bang International University Council, affirmed that doctors and medical professionals who graduated from HIU are currently working in most hospitals in Ho Chi Minh City and the southern provinces of Vietnam.
"With adequate and modern facilities, along with a team of qualified, experienced and humane professors, we will not disappoint your trust in us."
Deepa, director of Aieraa Overseas Studies, hopes not only Indian students, but more and more students from the region will come to HCM City to study, not only professionally but also participate in community activities and learn about its culture.
Since establishing diplomatic ties in 1972, the relationship between the two countries has gone through a long journey and reaped many great achievements.
Currently, India is the 10th largest trading partner of Vietnam.
As of April last year, the South Asian country has invested in 299 projects with a total capital of USD 909.5 million, ranking 26th out of 126 countries and territories investing in Vietnam.
Speaker of the Indian Lok Sabha Visits Vietnam

Despite the adverse impacts from Covid-19, Vietnam and India have maintained and reinforced important cooperation mechanisms, while working together to implement the Action Plan for ...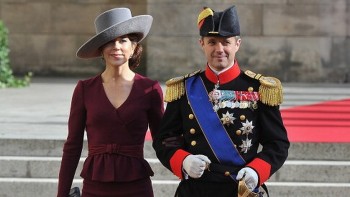 Friendship
Denmark's Crown Prince and Crown Princess will visit Vietnam to celebrate 50 years of diplomatic relations and promote green solutions.