First Dao Tuyen ethnic woman to earn master's degree abroad against adversity
Chao Thi Yen, a young woman from Dao Tuyen ethnic community, Northern Vietnam is the first woman from her communtiy to earn a master's degree abroad through a full-degree scholarship awarded by the European Union.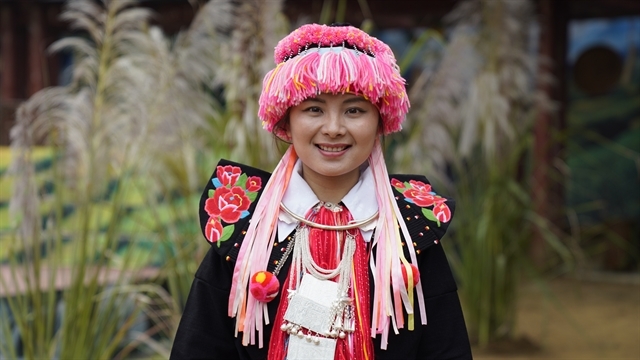 Chao Thi Yen is an inspiration to her community to escape from poverty (Photo courtesy of Chao Thi Yen)
Like most children in remote areas, Yen lives under poverty. Eating cassava instead of rice was a norm for her family as they didn't have enough rice for meals all year-round. Besides, the lack of access to electricity, Internet and education had greatly hindered her from pursuing higher education, let alone studying abroad.
Yen told VNS people in her community believe collar jobs like doctors, teachers, engineers, etc., were for Kinh people only, hence forcing the children to stop schooling once they finished secondary school.
"I was of no exception", VNS quoted her as saying. "My parents, relatives and neighbors used to say that 'girls should not go school' or 'girls just need to know how to write their names, that's enough".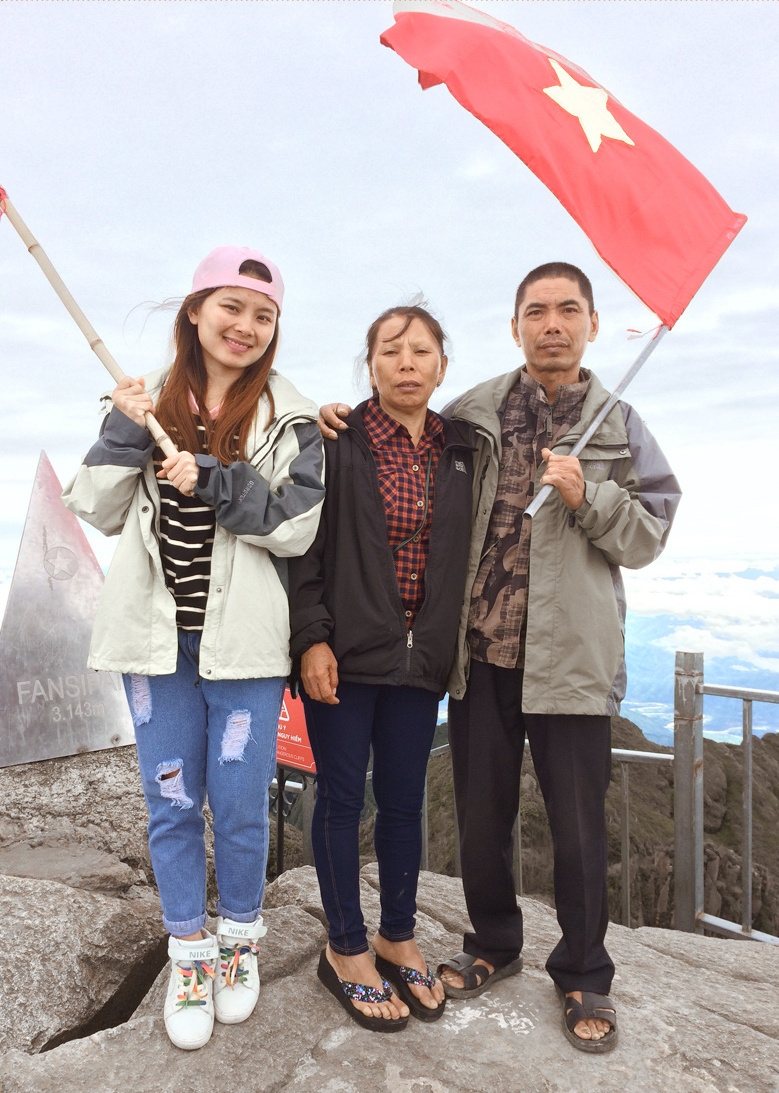 Yen and her parents on top of Mount Fansipan

(Photo courtesy of Chao Thi Yen)
As a teen, Yen never thought she would find herself anywhere near earning a master's degree, VnExplorer reported. She had been forced to drop out of high school in order to support her family after her father came down with a serious illness.
After three years of serving as her family's primary breadwinner, she was able to convince her parents to let her go back to school, promising them she would become the first person in her family to go to college.
But her dreams took her much further than a bachelor's degree.
In 2016, two years after graduating with distinction from the Vietnam National University of Forestry, Yen won a full scholarship worthy of US$50,000, as part of the European Union's prestigious Erasmus Mundus Programme.
The grant allowed her to complete a master's degree in sustainable forest and nature management at the University of Göttingen in Germany and the University of Padua in Italy, according to VTV.
Not only would she be the first member of her family to study overseas, but she would be the first female from any of the underprivileged communities dotting the Vietnam-China border to study in a different country.
Now, her goal of ending her own poverty has ballooned into a dream to fight poverty in all of Vietnam's ethnic minority communities by providing sustainable living opportunities and ending decades of endemic high school dropouts.
When asked what encourage her to overcome all the adversitites and old notions to pursue futher study, Yen attributes her determination to rice, adding that education is the only way she could guarantee her and her family a livelihood, and escape from poverty, according to VNS.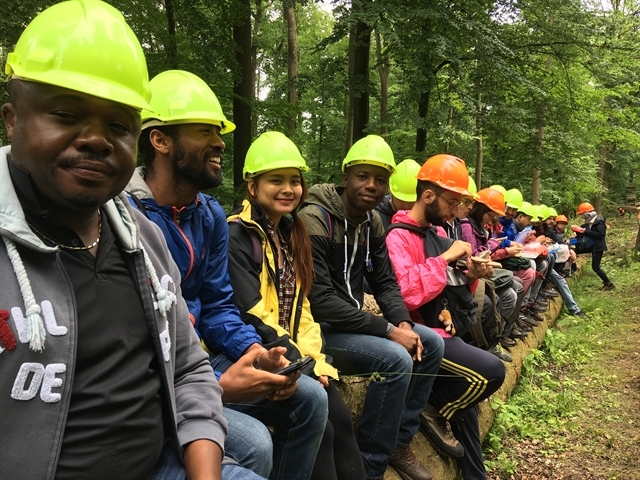 Yen (third from left) on a field excursion in Germany

(Photo courtesy of Chao Thi Yen)
Trust in human kindness
Without the work ethic that helped her earn the scholarship and financial assistance she needed to pursue an education, Yen might not have ever made it out of her small village.
Now, with support from several donors and a pledge to donate ten percent of the proceeds from her autobiography, she has created a scholarship fund to help the youth from her hometown and from the Vietnam National University of Forestry follow in her footsteps.
In her current job, the woman works to prevent deforestation in areas inhabited by poverty-stricken communities in order to help them maintain sustainable livelihoods.
According to Yen, despite the growing number of opportunities for children from her hometown to earn an education, many still choose to drop out and work in factories and restaurants in the northern province of Lao Cai.
Others, she said, simply do not care about learning and would rather spend their day staring at a smartphone and uploading pictures of their lovers to social media.
Still, Yen sees her hometown as a symbol of optimism for the future and a sign that tradition and development are able to coexist in harmony.
She is currently working as a policy program assistant at the Center for People and Nature Reconciliation.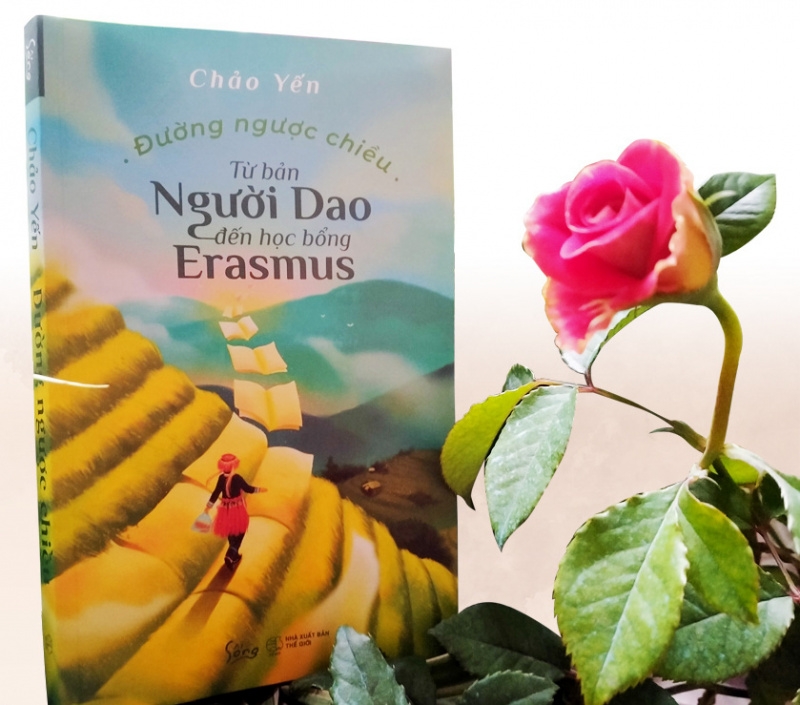 Against the Odds, Yen's autobiography (Photo: VnExplorer)
Chao Yen's recently published autobiography 'Duong nguoc chieu — Tu ban nguoi Dao den hoc bong Erasmus' (Against the Odds — From Dao Ethnic Village to Erasmus [Mundus] Scholarship) describes her journey from the rural village in Vietnam where she was born to becoming the first Erasmus scholarship recipient in her community.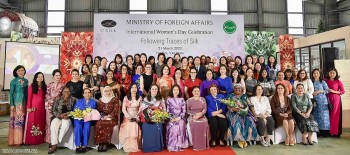 Friendship
Female ambassadors, representatives from diplomatic corps and international organizations, along with spouses of diplomats in Vietnam gathered together to find about more about silk weaving and silk products in Vietnam.