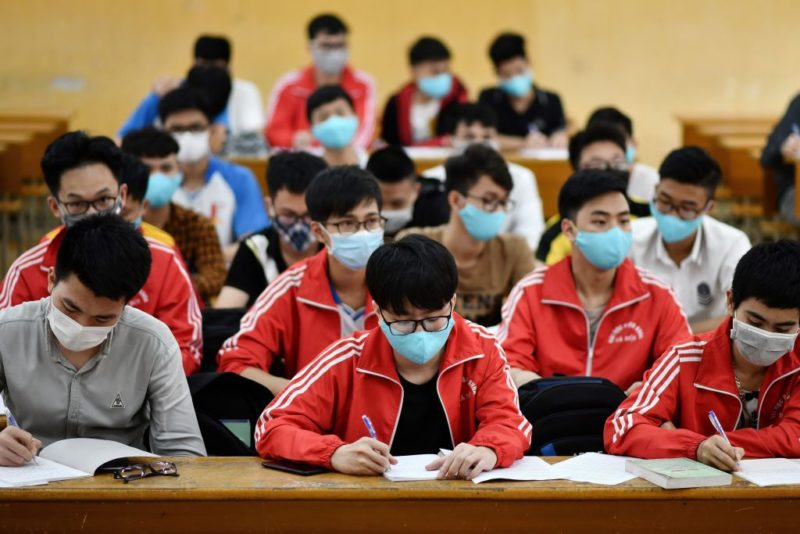 Students wear masks when attending class. Photo by MANAN VATSYAYANA/AFP via Getty Images.
Deputy Minister of Education and Training Nguyen Huu Do said that the aforementioned time would be adopted if the coronavirus still remains under control. During four weeks since the disclosure, students will be reviewed all lessons after some four months studying online, have a second semester and final exams.
If students would not attend class on June 15, the Ministry of Education and Training will report to the National Assembly to reconsider rescheduling the national high school examination.
This is the first time ever, the school year ends on July 15 and the high school exam is held on August 8-11, one month and a half later than normal. Due to the coronavirus outbreak, students across Vietnam have to be away from school for such long.
Sooner in Ho Chi Minh City
Meanwhile, Ho Chi Minh City has prepared another plan that allows students to come back to school as of mid-May when the COVID-19 situation is curbed, Thanh Nien reported.
The metropolis mayor said that the city prepared all essential measures to ensure a safe environment for students when they are back to school. According to the current schedule, students from universities and colleges in the city will have school breaks until April 19 while those in vocational schools are free from school by May 3.
Vnexpress International reported that Ho Chi Minh City has recorded 54 COVID-19 cases. Of these, 37 have been discharged from hospitals. The city has gone through seven days without any new infections. It had previously put 10,000 people in centralized quarantine facilities, and this number has reduced to 500.
As of Saturday, Vietnam had recorded 258 COVID-19 cases, 114 of them active and the rest discharged. Of the active cases, 12 have tested negative twice and 13 once.
Coronavirus can travel up to 4 metres

A new study by Chinese researchers examining air samples from hospital wards with COVID-19 patients has found the virus can travel up to 4m – twice the ...
Lyan Vu