Five luxurious campsites in Vietnam for memorable summer holiday
Traveling to Da Lat, Ninh Thuan and Binh Thuan, do not miss out on the opportunity to experience glamping, a form of camping but you will be offered amenities like at resorts.
Tanyoli Mui Dinh, Ninh Thuan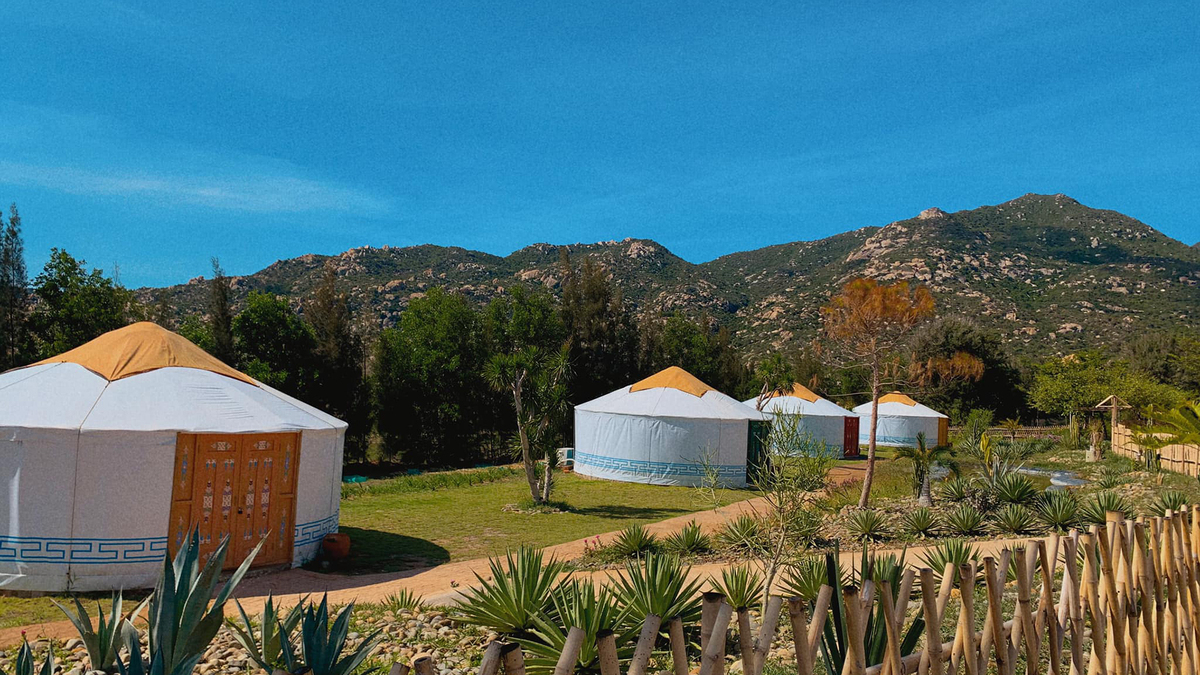 Photo: Bui Huy Khang/ via VnExpress
Tanyoli tourist area is located at Km 19 in Son Hai village, Phuoc Dinh commune, Thuan Nam district, about 23 km from Ninh Thuan city center. The tourist area covers a large area and is divided into various zones such as ones for raising horses, sheep, Mongolian huts, wooden houses and campsite. A highlight of the Tanyoli tourist area is the immense grassland which sever as an ideal place for tourists to escape from the hustle and bustle of city life, according to VnExpress.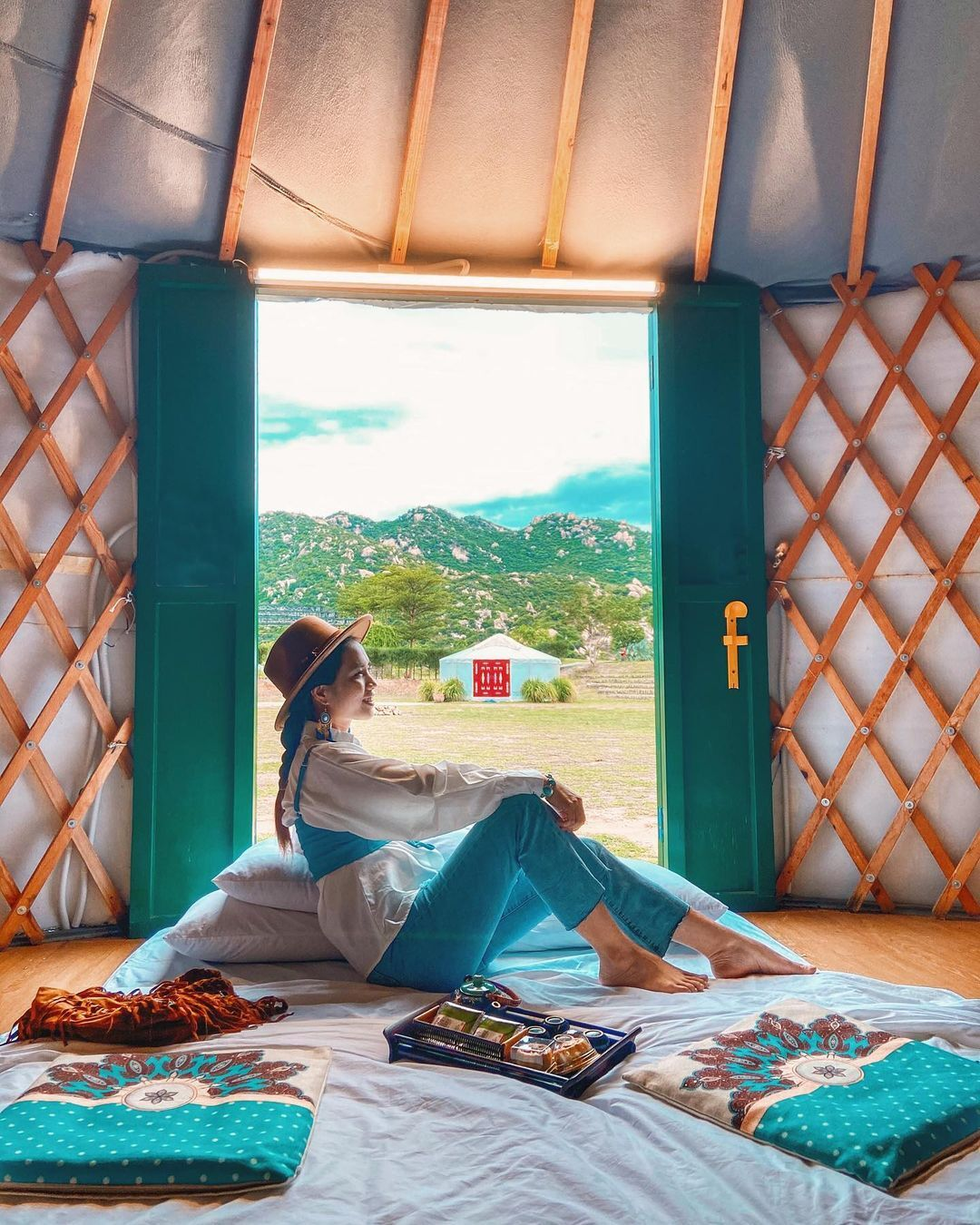 Photo: Bui Huy Khang/ via VnExpress
A 30-meter-square tent can accommodate from two to six people. It is brilliantly decorated and fully equipped. In particular, the tent is equipped with air-conditioners, helping visitors feel comfortable in the scorching hot weather. Visitors need to pay VND 350,000 – VND 1.3 million (US$ 15.25 – US$ 56.64) to hire a tent for a night.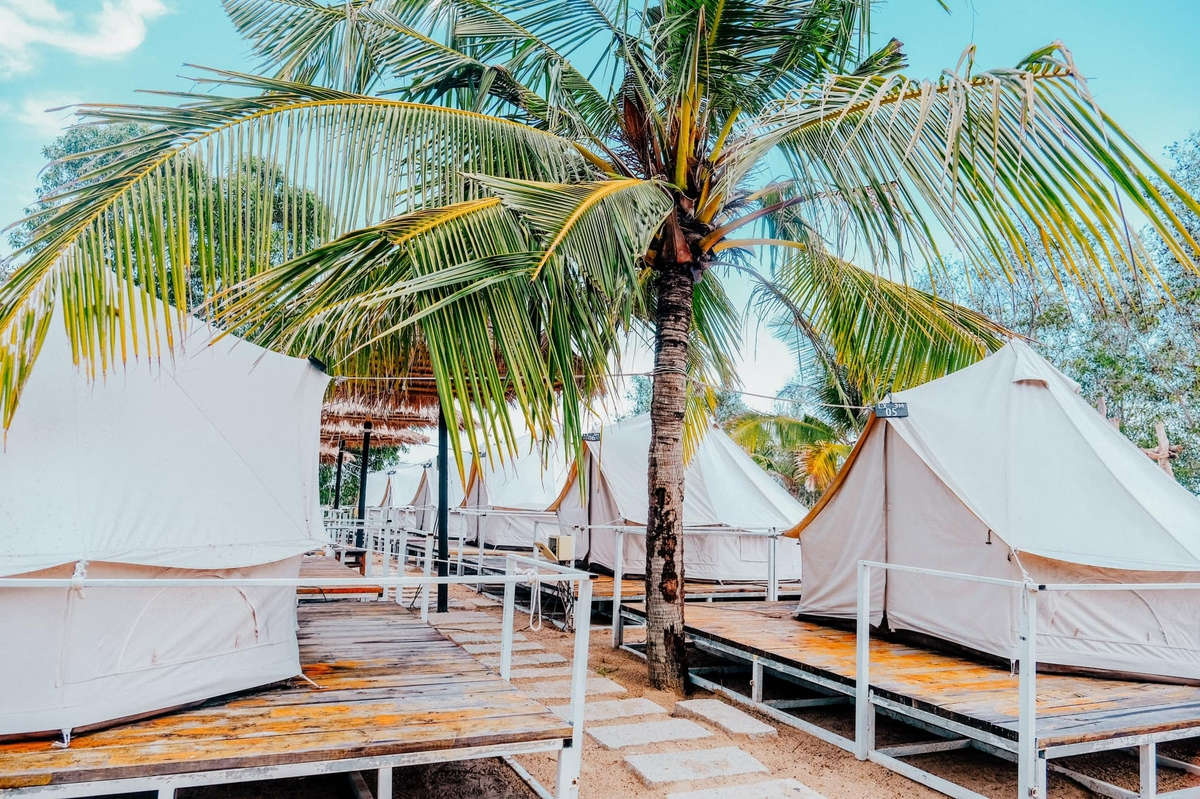 Photo: Mengquanhuang
Coming to the Tanyoli tourist area, tourists will definitely be blown away by its serene and breath-taking landscape. Not-to-be-missed experiences here include motorcycle racing on the sand, kayaking, zipline, archery and climbing.
Coco Beachcamp Lagi, Binh Thuan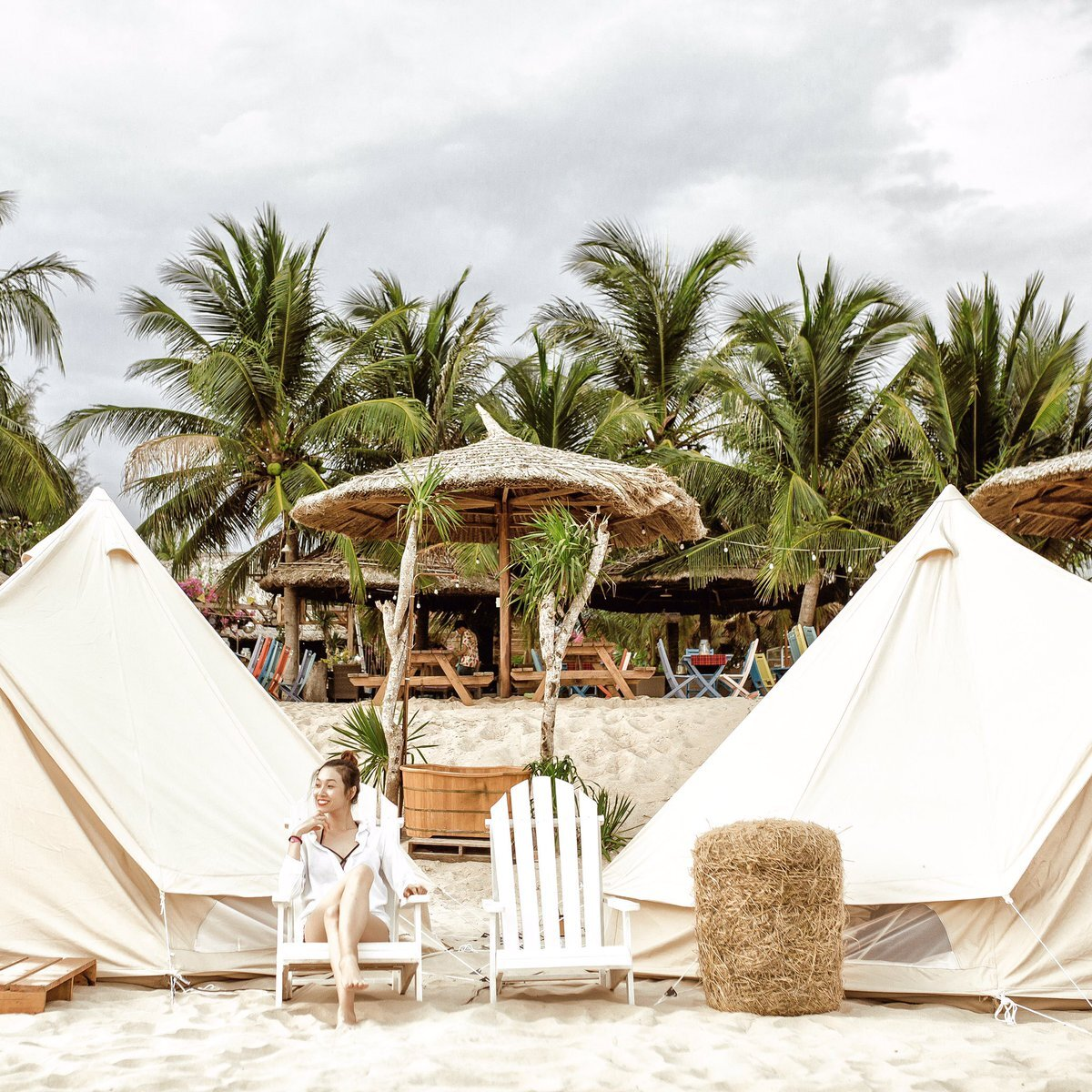 Photo: Coco Beachcamp Fanpage
Coco Beachcamp is situated in Tan Phuoc commune, Lagi town, about 90 km from downtown Phan Thiet city, which is well-known for its beautiful resorts, various types of accommodation and white sandy beaches.
Coco Beachcamp now has Luxury Camping, bringing tourists relaxing and unforgettable moments.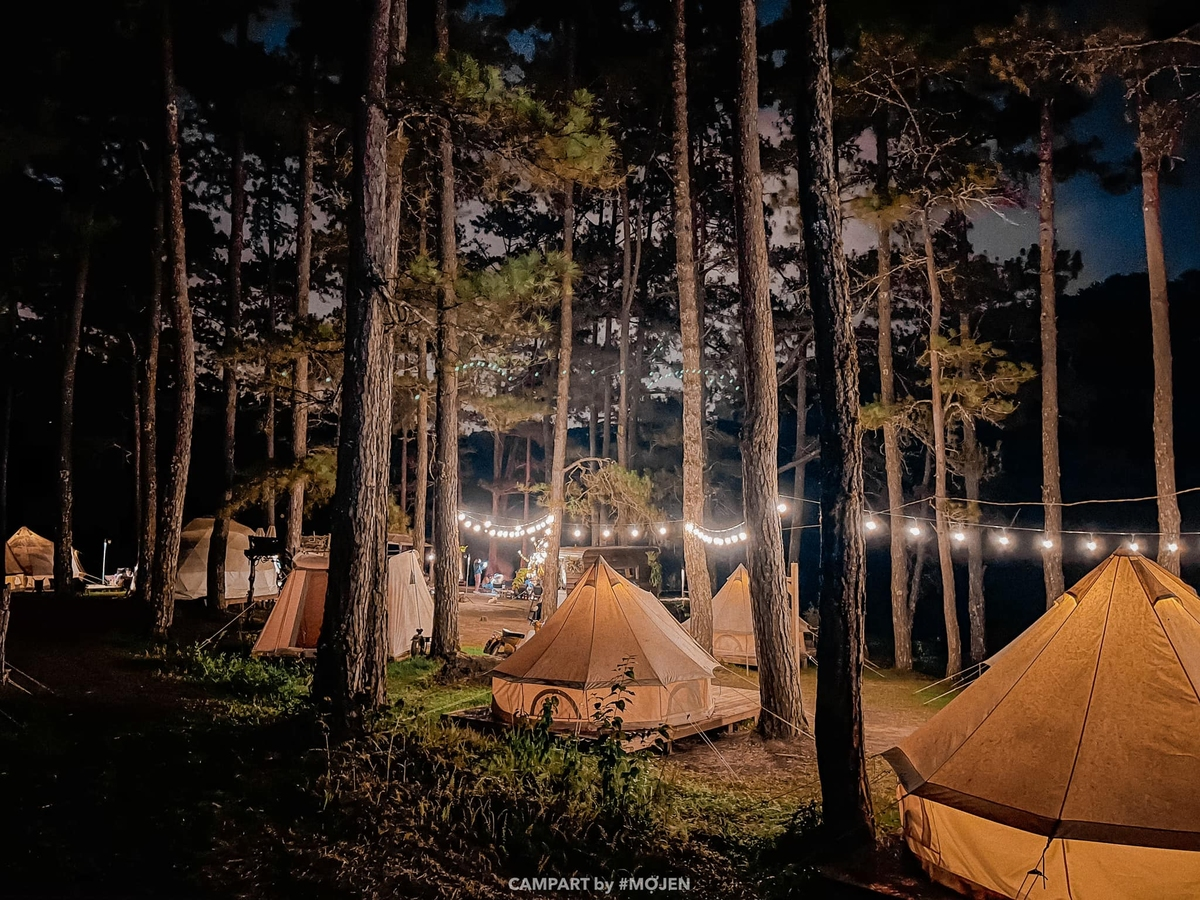 Photo: Coco Beachcamp Fanpage
Coco Beachcamp offers visitors waterproof, UV-resistant tents which are adorned in different styles. Apart from sleeping in tents and admiring the blue sea next to the green coconut trees, tourists can also enjoy the specialties of the Lagi beach such as Beach BBQ program, Beach party and live music.
Each tent can accommodate a maximum of two visitors. The rental price for a tent is VND 200,000 – VND 250,000 per person depending on the date of check-in.
CampArt by #MợJen, Lam Dong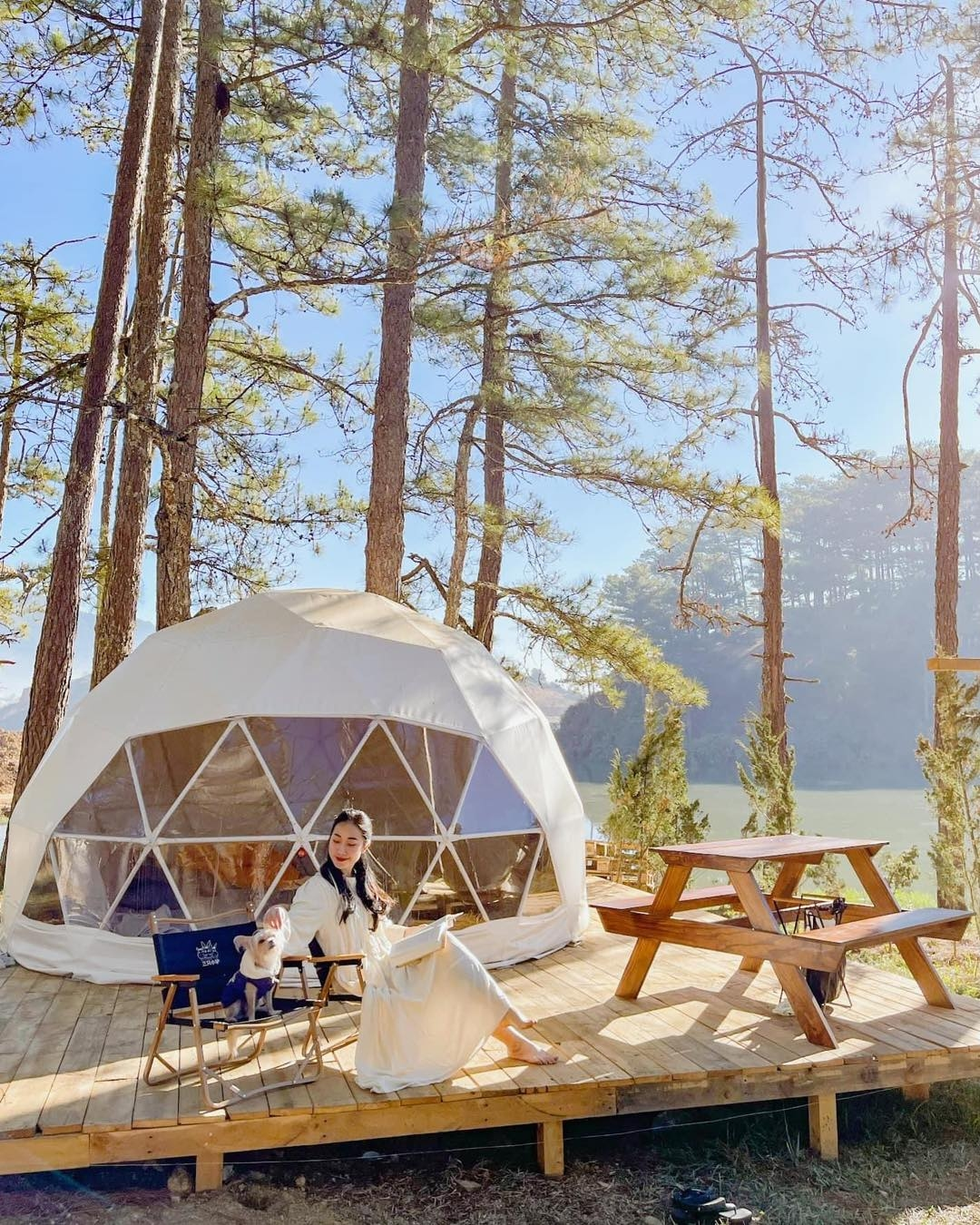 Photo: Nghia Nguyen/ via VnExpress
CampArt by #MợJen is a hot check-in place for many youngsters when traveling to Da Lat. The campsite is located in the middle of the 2000-meter-square Vang (Golden) valley boasting a tranquil and poetic beauty both day and night. It is surrounded by pine forests, lakes and grass hills. Visitors can also see sunrise and sunset here.
Tourists will be carefully taken care of from tents, pillows, mattresses to delicious dishes such as steak, pasta and smoked goose breast.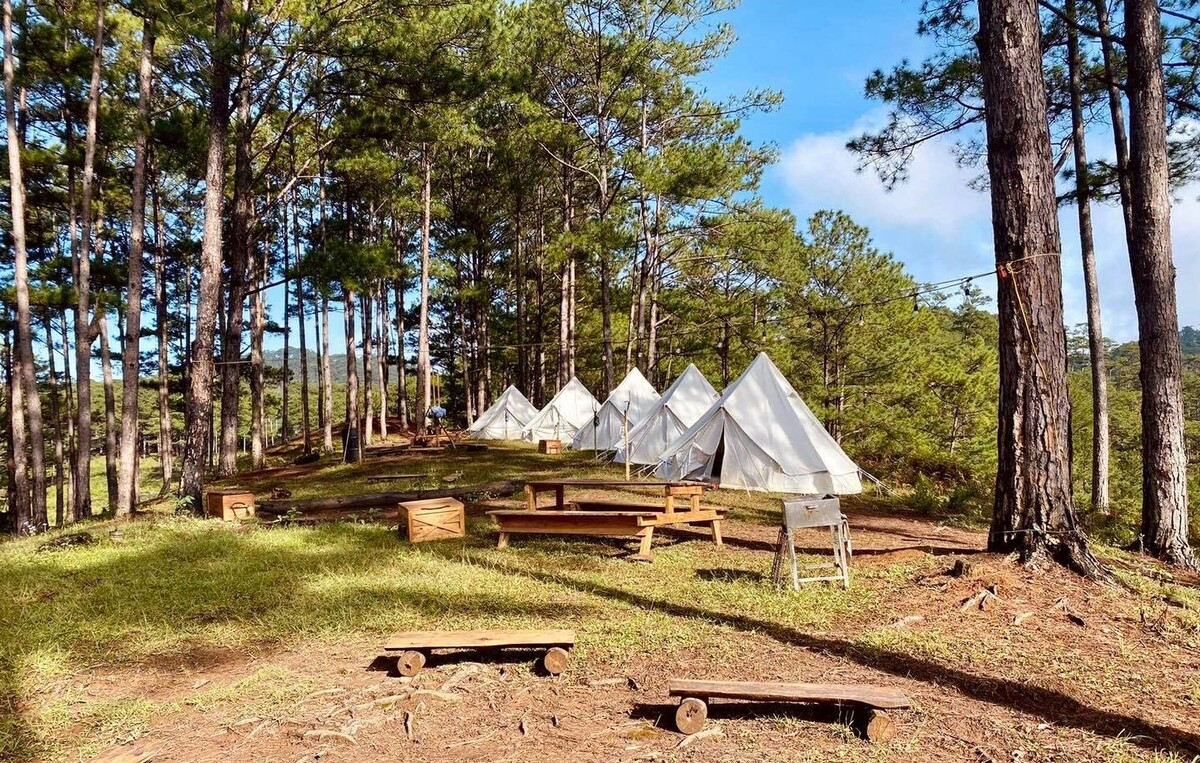 Photo: CampArt Fanpage
As an outdoor campsite, the night air may be very cold, so, visitors should bring warm clothes or limit moving in the evening.
The rental price is VND 890,000 per person. If tourists book camps in October, November and December, it will be reduced to VND 690,000 per person.
Twin Beans Farm, Lam Dong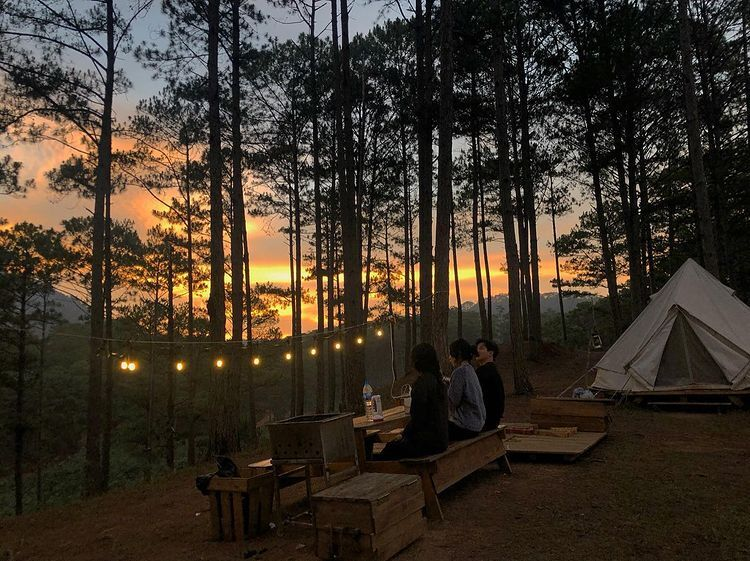 Photo: Twin Beans Farm Fanpage
Twin Beans Farm is located on a coffee farm in Da Sar commune, Lac Duong, about 20 km from the center of Da Lat. The camping resort is surrounded by lush green forests and peaceful murmuring streams.
Besides camping, tourists can stroll in the forest, swim in streams, visit coffee farms and admire the sunrise.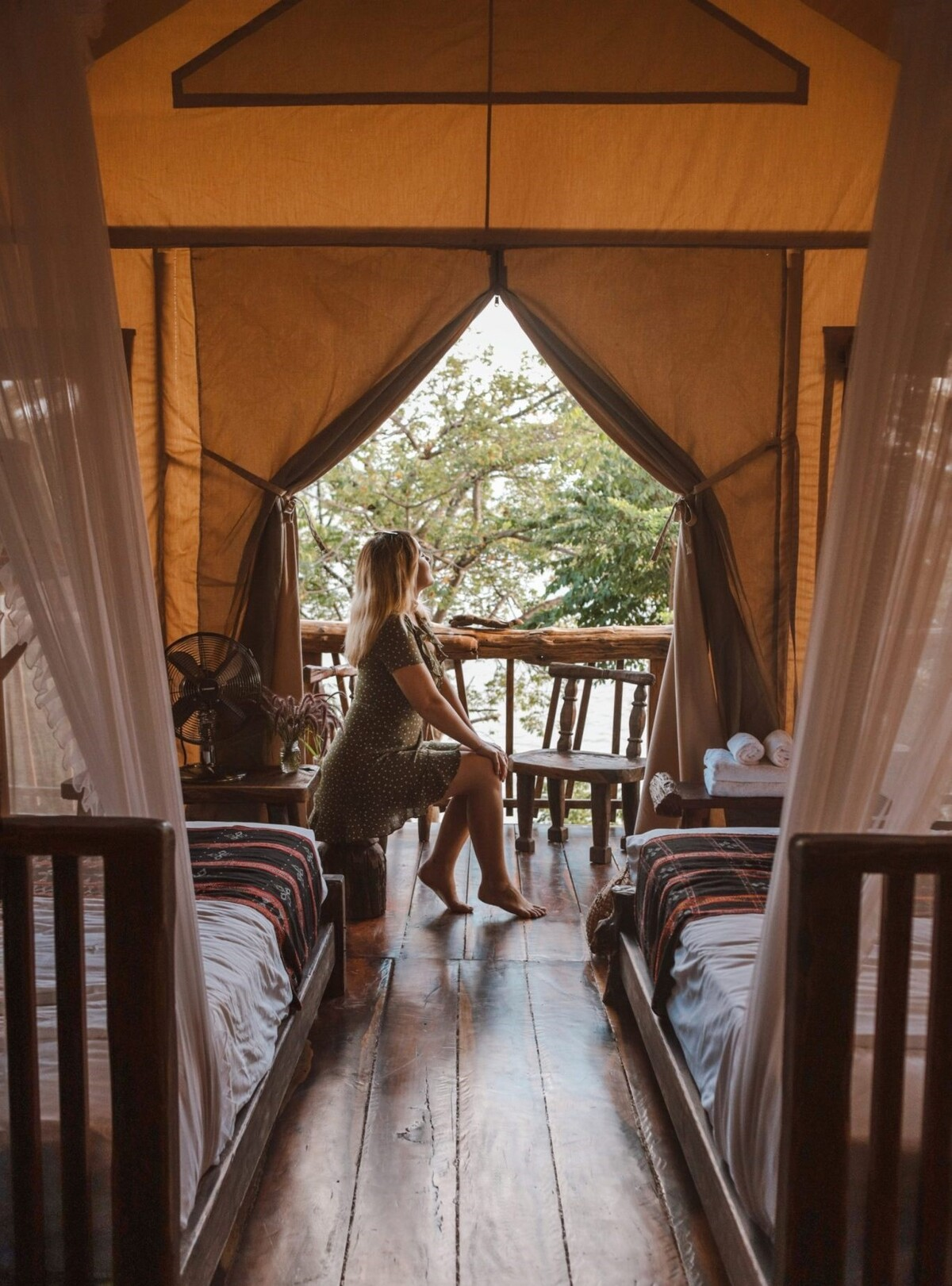 Photo: Phuong Anh Tran/ via VnExpress
The campsite serves tourists scrumptious food such as BBQ sturgeon, chicken and pork.
Each tent can contain three to four people with the price of VND 700,000 an adult, and VND 500,000 a child.
LAK Tented Camp, Dak Lak
Located in Lien Son town in Lak district, 50 km from Buon Ma Thuot city center, Lak Tented Camp is nestled in a small hill surrounded by tranquil Lak lake.
The tents here are perfectly designed with luxurious and modern furniture, from beds, tables and chairs to small details in the bathroom. Tents overlook the lake, creating feelings of relaxation and tranquility for visitors.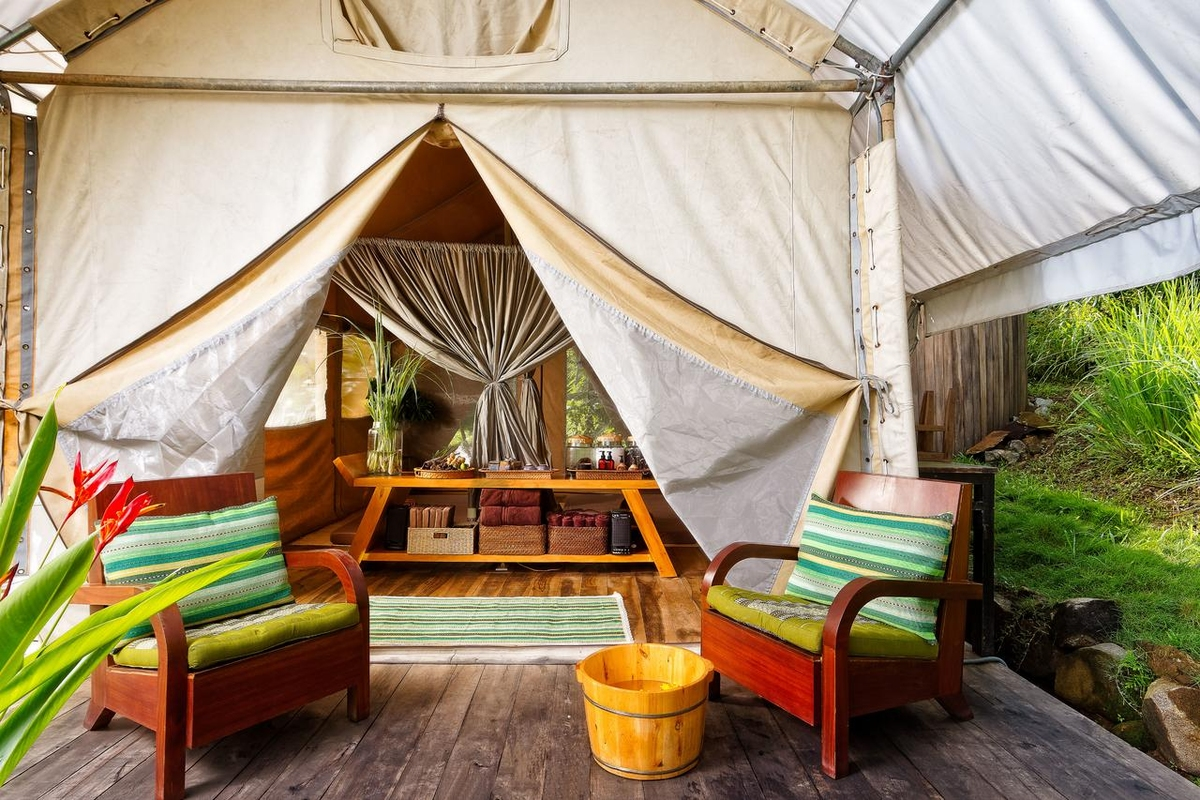 Photo: Booking
The LAK Tented Camp was chosen as one of the most ideal places for camping in Southeast Asia by the Roughguides.
Coming here, tourists can immerse themselves in natural scenery and experience fishing and cycling.
Each tent can house a maximum of two people. Spending an amount of VND 850,000, tourists can have the chance to enjoy memorable two days and one night holiday.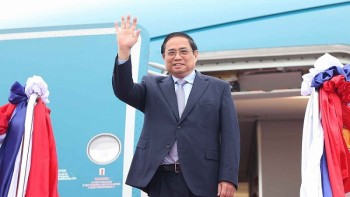 National
Vietnam News Today (Feb. 6): PM Chinh to pay official visits to Singapore, Brunei; Vietnam attends ASEAN+3 Tourism Ministers Meeting; Exports in 2023 and high demands from new generation FTAs; Digital technology to spearhead Vietnam's drive for Industry 4.0.