Da Lat City: Where tourists can experience four seasons in a day
Da Lat, "City of thousands of pine trees", a fairy land of dreamy hills, beautiful waterfalls, gorgeous lakes and flower season, is the tourist's favourite destination, where they can experience different seasons in one day.
Dalat or Da Lat is the capital city of Lam Dong province, Vietnam. Da Lat is the City of Flowers and honeymooners with lovely French villas, the fresh air, the beautiful waterfalls and gorgeous lakes sits in a lush and green valley of postcard beauty.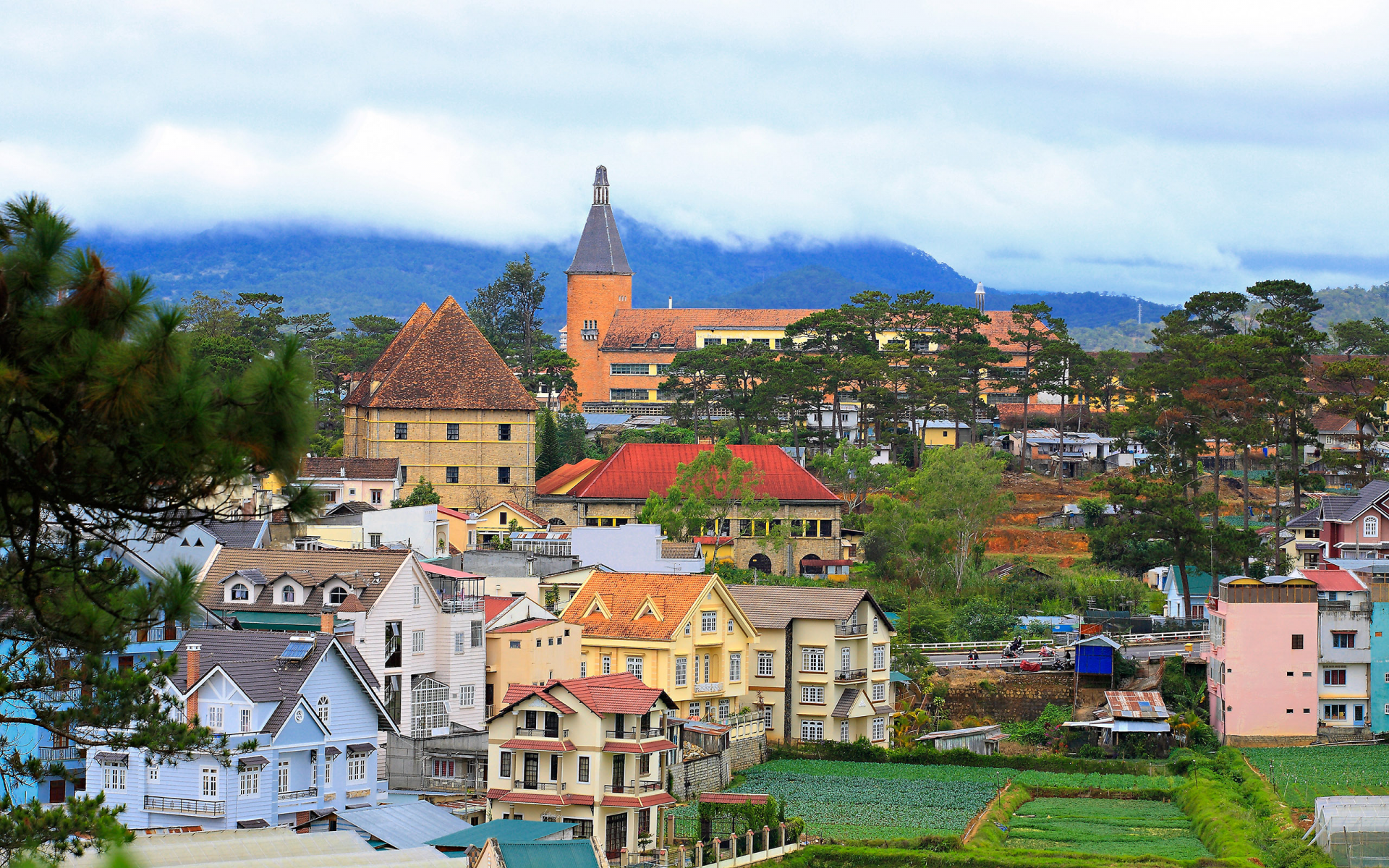 Photo: Minh Khanh Tourist
Da Lat sits approx. 1500 m (4921 ft) above sea level on the Lang Biang Plateau in the southern parts of the Central Highlands, and is surrounded by lovely mountains, according to a local, carry lyrical names like Elephant's Head and Lady's Body. So, you do not be surprised when someone called Da Lat as The City in the Forest.
Dalat's specific sights are pine forest (forming the name: "City of thousands of pine trees") with twisting roads and tree marigold, cherry blossom in the winter. The city's temperate weather stands in contrast to Vietnam's otherwise tropical climate. Mist covering the valleys almost year-round leads to its name "City of eternal spring", Spring is eternal and "unique season" in Da Lat.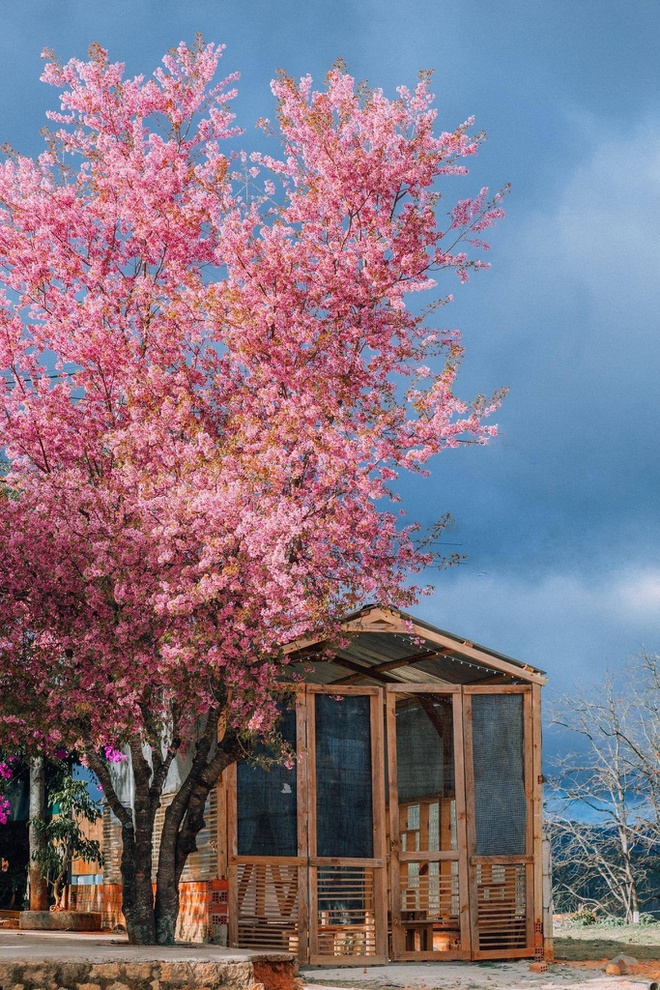 Photo: Zingnews
It's also called "Little Paris" ("Le Petit Paris" in French) due to its French architecture villas and its replica of the Eiffel Tower built by the Telephone Company that looks like it fell into a pool of red and white colour. And really, after driving through tea gardens, coffee and rubber plantations, one feels almost transplanted to Europe. Indeed, in the past when Dalat still had been under France, The French Officials want to set up this city as "Le Petit Paris" (A Little Paris), the ideal resort city, the meaningful education center for their life in Indochina, the place was far from their native land – remote France. So, Dalat was the capital of the Federation of Indochina during World War II.
Beside above names, Vietnamese also called Da Lat under many lovely names such as The City of Love, The City of Poetry, The Green City…
Famous Attractions in Dalat
Langbiang Mountain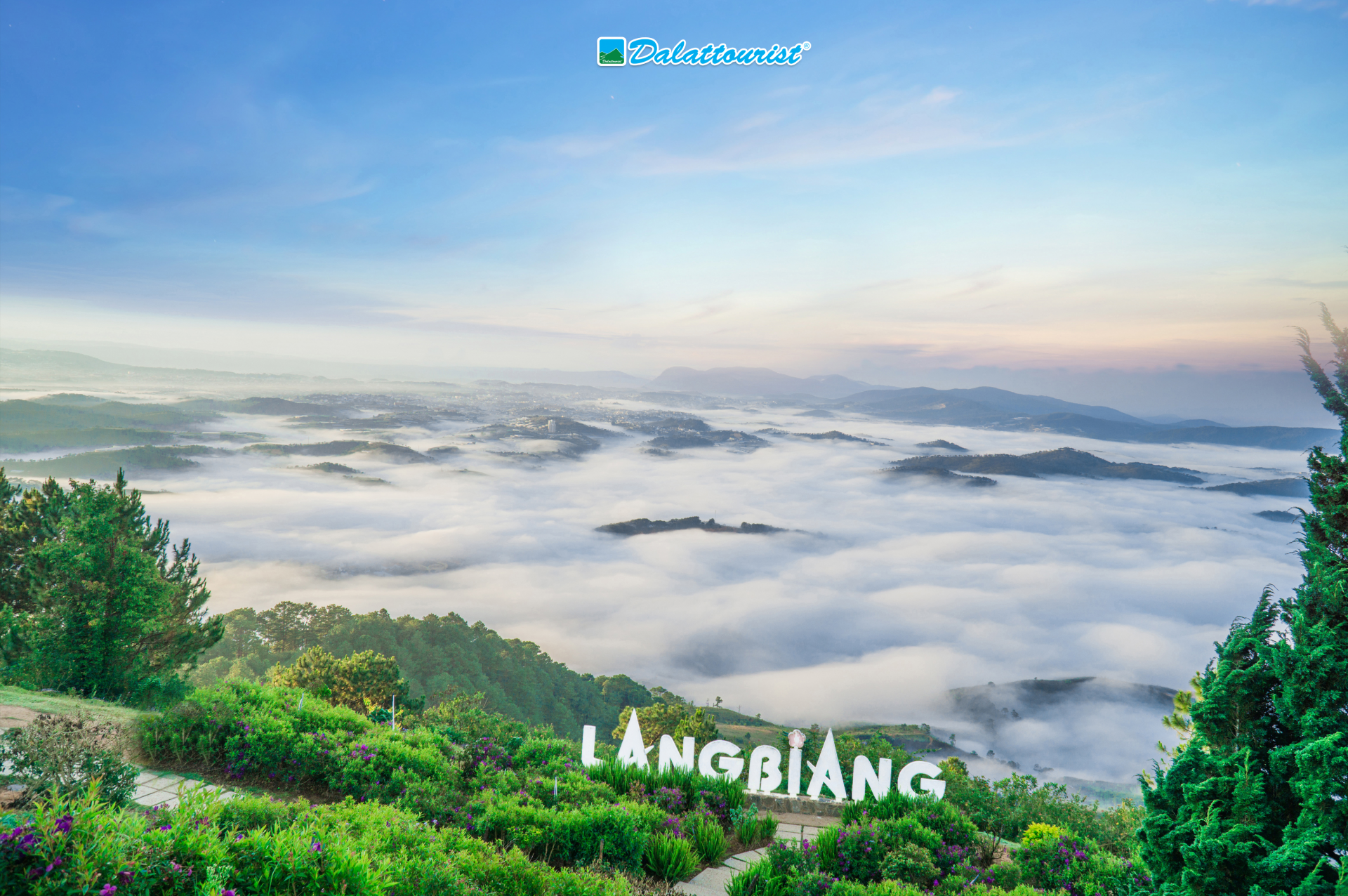 Photo: Dalat tourist
Langbiang Mountain, one of the must-see Da Lat attractions in Vietnam, is situated on Lang Biang Plateau, Lac Duong district, Lam Dong province. This is only approximately 12 km far from Da Lat centre and sometimes named Lam Vien Mountain as well. Legend says that the Langbiang name was originated from the name of a couple who were deeply in love with each other – the man named K'lang and the woman named Ho Biang. Langbiang contains the two highest peaks of Lam Vien highland (Cao nguyên Lâm Viên) and one of them is usually regarded as the roof of Da Lat. The mountain is well-known for its wonderful nature and its marvelous view of the whole wide region of Da Lat City, the rivers, the forest, and houses of tribal people.
Lake Of Sighs
Photo: Vietnam - Tourism
The Lake of Sighs, or "Ho Than Tho" in Vietnamese, is named basing on a few sad tales of lovers. Originally, it was a natural lake yet was enlarged by the French as a dam. Despite the name brings such unhappy connotations, the Lake of Sighs is considered as a popular destination for Vietnamese, particularly young couples. Motorboats and paddle boats take couples out and away on the lake. Also, there are horse and horse-drawn carriages to be rented too.
Tuyen Lam Lake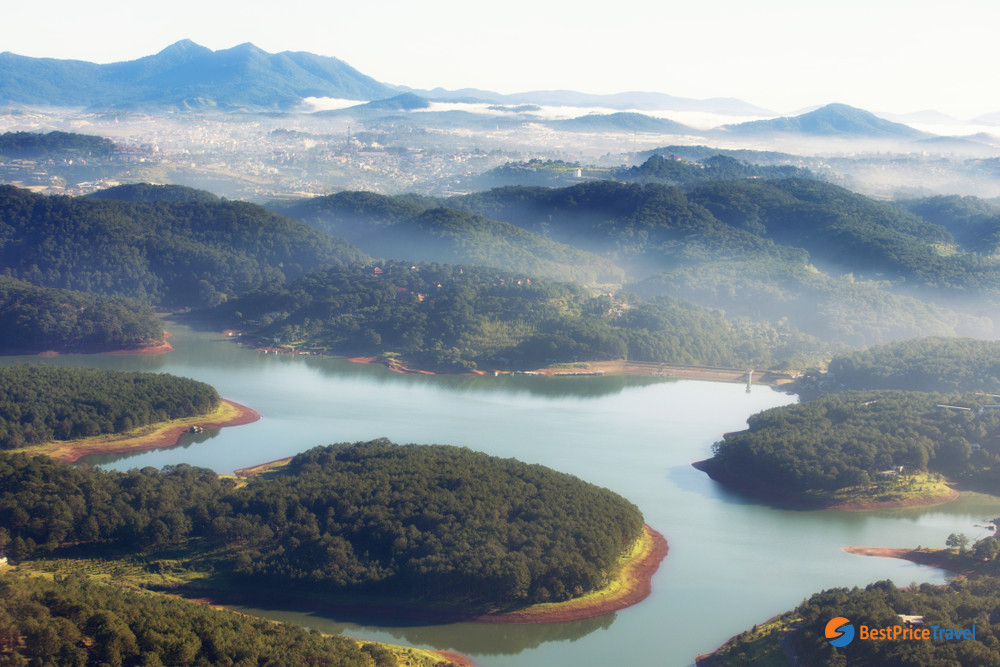 Photo: BestPrice Travel
Tuyen Lam Lake is a man-made lake in Da Lat city and about 6 km south of the city center. The Tuyen Lam Lake has water surface of 350 hectares. It is told that Tuyen Lam Lake was naturally created by Tia (Tía) stream – the head water of Da Tam (Đa Tam) River. In reality, no one knows when and why it was called Tuyen Lam, yet perhaps due to the grandiose nature around it – forest and stream were close each other. Tuyen Lam is said to be a place for tree and water meeting each other. This lake along with its campus has fresh air, tranquil atmosphere, and natural landscape (including forests, mountains, lakes, streams, waterfalls). Tuyen Lam Lake has become a big tourist attraction with the unique kinds of tourism like sight – camping, seeing, health caring, mountain climbing, trekking, fishing, and many other activities for recreation and sport, particularly eco-tourism. Tuyen Lam Lake was recognized as a Cultural historical heritage in 1998. So, if you want to visit such an ideal destination for relaxing and sightseeing, Tuyen Lam Lake is exactly your choice.
Valley Of Love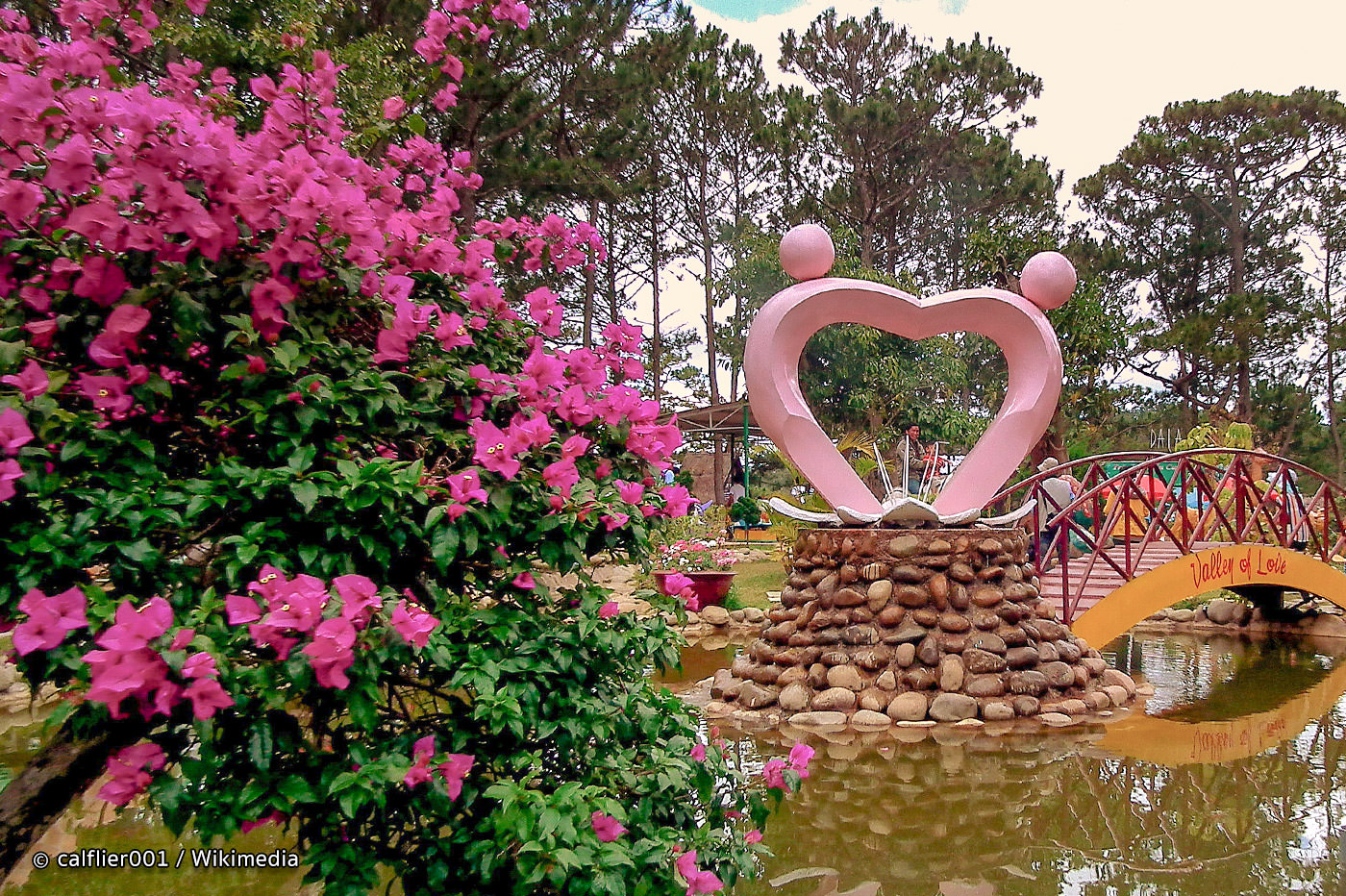 Photo: Wikimedia
Valley Of Love – one of must-see Da Lat attractions in Vietnam, is a very romantic destination for couples. Indeed, this is popular with Vietnamese newlyweds. The valley has the poetic landscapes and a lot of interesting activities and games. Some people even bring hammocks here and spend their time on reading, napping, and people watching. It is really relaxing place, which caters for all. The valley of love is about 5 km far away from the center of Da Lat, to the North.
Cam Ly Waterfall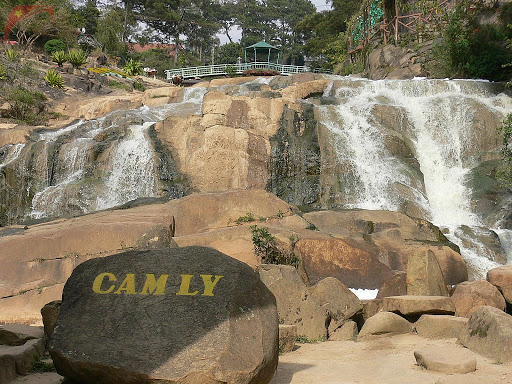 Photo: Vietnam Travel Photos
Cam Ly waterfall is situated at the end of Hoang Van Thu Street, which is 2 km far from the center of the city. This is made up of Cam Ly stream formed by the confluence of a small stream on the Langbiang Plateau, winds in the area of Da Lat, passing Than Tho Lake. Cam Ly Waterfall is noisy and aggressive and deserved to be cannot-be-overlooked Da Lat attractions. Water flows softly and gently via the granite cliffs that is similar to the hair of a young girl. This waterfall is approximately 10 meters in height. Despite it is not as spectacular as other waterfalls in Da Lat, it still has its own beauty and is unmistakable. There is a bridge crossing the stream above the waterfall, helping you travel from one side to the other side of the stream. And, at the foot of that waterfall, you will discover a small flower garden. Especially, spectacular waterfall associated with the great surrounding hill has strongly created an unforgettable scene in the tourists' heart. In 1998, Cam Ly waterfall was widely recognized as a National-level Cultural historical heritage.
What is the Dalat flower season?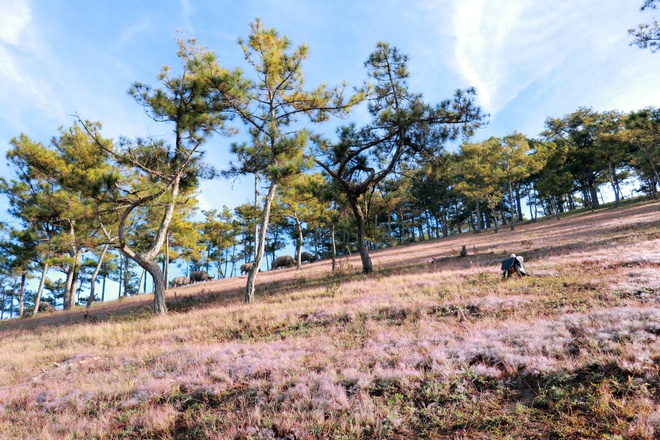 Photo: Zingnews
The season of Da Lat hydrangeas
Hydrangeas can bloom in all seasons of the year. However, to get the best picture of blooming flowers, you can go to Da Lat around April, May, or November, December . These are the 2 best times to see the beauty of this flower.
Wildflowers – Dalat flower season
Referring to Dalat tourism , this is definitely the flower that people are most sought after. Without a strong scent like rose or chrysanthemum, wild anemone has its own fragrance of wild flowers.
Normally, October every year is the moment when Da Lat is filled with the golden color of wild flowers. For the best check-in photos, you should go hunting wildflowers at around 9am onwards. Because this is the time when the sun makes the wildflowers shine and sparkle more than ever.
The best paths to travel to Dalat flower season
– Lien Khuong Expressway – Prenn Pass
– The road from Van Thanh flower village
– Ta Nung Pass
– Town of D'ran – Don Duong …
Sunflower field
The flower field belongs to the TH True Milk company campus. This flower field is located on a hill in Tu Tra commune, Don Duong district, Da Lat city, Lam Dong province. About 30km from the center of Da Lat city. Here you can mingle among the immense flower forest. Please keep the best moments of this flower.
Besides sunflowers, flower field also has streets filled with flowers Da Quy and disguises. The blooming time is around November, December and March and April each year. You should come in winter to fully fully enjoy the most beautiful "sun" flower forest here.
You should take advantage of photos of flowers blooming in the morning or afternoon to get the most beautiful and brilliant photos. The air here will be cold in the morning. Plus, the field of sunflowers is beautiful and ecstatic. This is a field that is loved and looked to recently. Currently, the field is open to visitors to visit and take pictures.