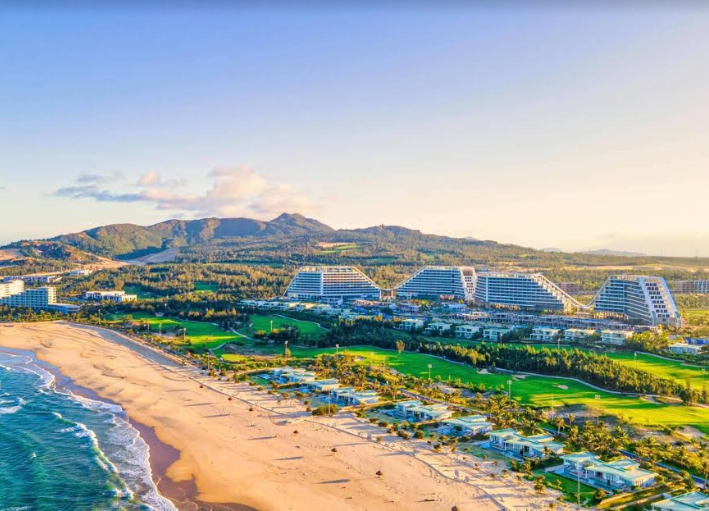 FLC Grand Hotel Quy Nhon
On November 28th, FLC Group officially opens FLC Grand Hotel Quy Nhon – the second hotelcomplex within FLC Quy Nhon. The event witnessed the attendance of many central and local senior officers, representatives of customers, partners of FLC Groups as well as national and international press agencies.
Iconic construction
Having an overwhelmingly unique design imitating the shape of a giant AND string that winds along Nhon Ly beach, FLC Grand Hotel Quy Nhon possesses four 11-storey hotel buildings. These represent the four iconic attractions in Quy Nhon, including Cu Lao Xanh, Eo Gio, Cham and Ky Co.
Especially, the outdoor swimming pool with a record length of nearly 1km running along the front side of the hotel complex produces a vast water surface space view. This brings about a feeling that the blue sea is just a few steps away.
The project is designed by one of the world-leading architecture firms - Baumschlager Eberle Architekten (BE) with the purpose of creating a luxury resort that maximizes the harmony with the ecological characteristics of the south-central coastal area, and that is able to preserve the cultural identityof the locality.
Constructed in respect to 5-star standards, FLC Grand Hotel Quy Nhon possesses numerous high-end facilities such as indoor and outdoor swimming pools, children's playground, water park, restaurants, and a large number of bars varying in style.
FLC Grand Hotel Quy Nhon
Following the opening of FLC Grand Hotel Quy Nhon, the total capacity of FLC Quy Nhon Resort Complex will increase by 150%, reaching over 5,000 guests.
Pioneering business
Speaking at the event, Mr. Ho Quoc Dung – Provincial Party Secretary cum Chairman of People's Committee of Binh Dinh reviewed many growth markers in the tourism sector of Binh Dinh, and indicated that FLC was the primary brand that had extensively contributed in making critical changes and such spectacular growth of the local tourism and hospitality.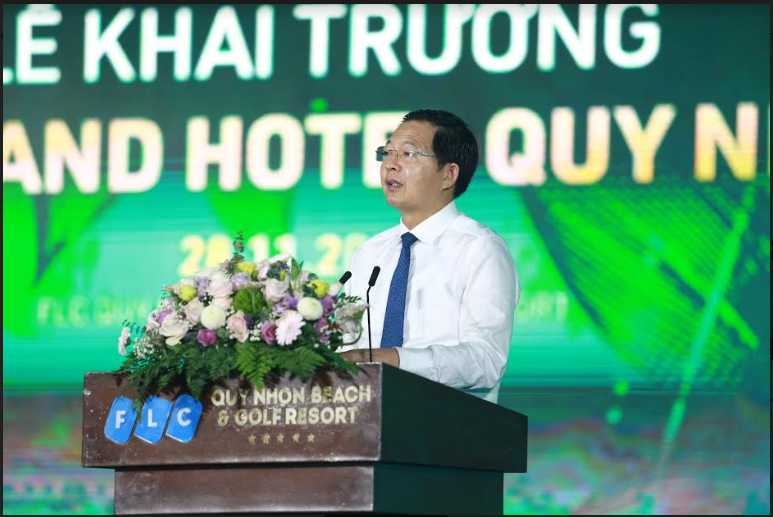 Mr. Ho Quoc Dung – Provincial Party Secretary cum Chairman of People's Committee of Binh Dinh
"FLC Group was the first business approaching the land of Nhon Ly, which was quite pristine and wilderness at the time, and rapidly convert it to a super stunning resort complex. The erection of FLC Luxury Hotel Quy Nhon was then followed by multiple endeavours to develop various high-quality tourism products and services in Binh Dinh, which have served the increasing tourists' demand in a much better way. This has accordingly contributed to establishing a more sufficient accommodation capacity and thereby turned Binh Dinh into one of the top tourism provinces in the central region in particular and all over Vietnam in general", said Mr. Dung.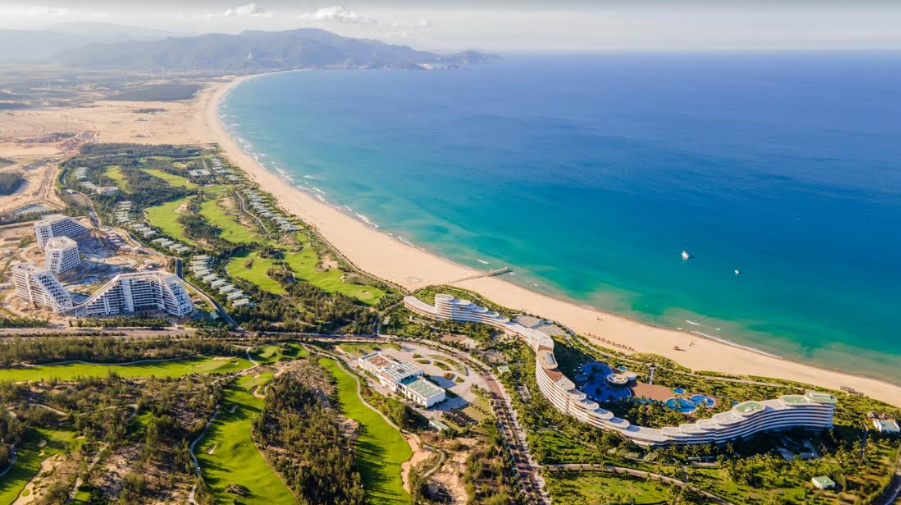 Overall view of FLC Quy Nhon with inclusion of FLC Luxury Hotel Quy Nhon (on the right) and FLC Grand Hotel Quy Nhon (on the left)
New impressions
With regards to the new hotel, Mr. Trinh Van Quyet – Chairman of FLC Group emphasized that besides inheriting the intrinsic values of FLC Quy Nhon with the inclusion of the high-end hotel and resort, the conventional center, 36-hole golf link, semi-wild animal park, etc… FLC Grand Hotel Quy Nhon also benefits plenty of favourable conditions derived from the great development of transport infrastructure that provides a very convenient route to travel between Quy Nhon and Binh Dinh. It now takes only less than 20 minutes to travel from Phu Cat airport.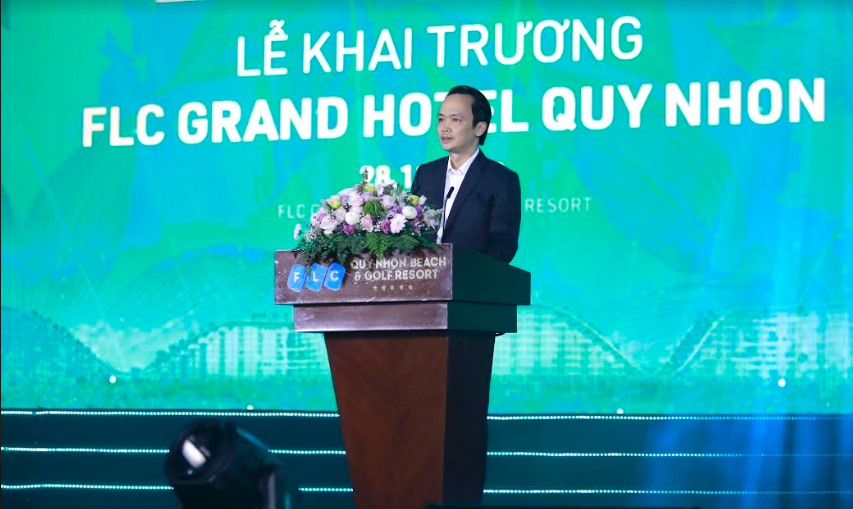 Mr. Trinh Van Quyet – Chairman of FLC Group
Along with that, Mr. Quyet also revealed that FLC Group was completing the final work sections, preparing for the opening of FLC Sea Tower Quy Nhon – a hotel, shopping and luxury apartment complex located in the heart of Quy Nhon city.
In addition, the aim of establishing flight routes that connect Quy Nhon (Binh Dinh) to various domestic and international tourism markets were highlighted by the leader of FLC Group when mentioning the intention of locating Bamboo Airways headquarter in Binh Dinh.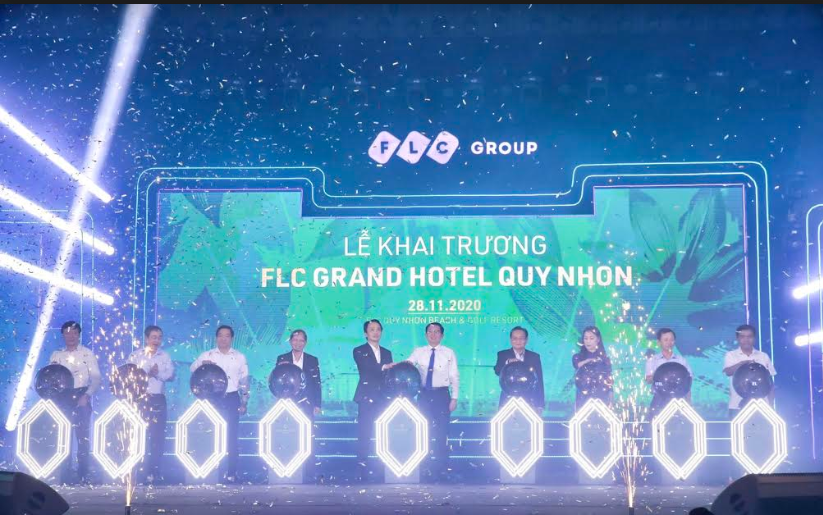 FLC Grand Hotel Quy Nhon officially comes into operation
Currently, Bamboo Airways has operated flights between Quy Nhon and many primary areas such as Hanoi, Ho Chi Minh City, Hai Phong, Vinh, Thanh Hoa, and Can Tho (expected to operate from December 2nd). At the beginning of 2020, Bamboo Airways was the air carrier that completed the first international flights to Phu Cat airport, creating more opportunities for the direct connection between international markets to this island and sea paradise.
VNT