For A Wonderful Life: 8 Tips For Healthy Eating
Eating a healthy diet can help a lot with your weight loss, and maintain a perfect healthy lifestyle. Here is your guide on how to have healthy eating daily.
Eating a healthy, balanced diet is one of the most important things you can do to protect your health. In fact, up to 80% of premature heart disease and stroke can be prevented through your life choices and habits, such as eating a healthy diet and being physically active.
If you eat or drink more than your body needs, you'll put on weight because the energy you do not use is stored as fat. If you eat and drink too little, you'll lose weight.
You should also eat a wide range of foods to make sure you're getting a balanced diet and your body is receiving all the nutrients it needs.
It's recommended that men have around 2,500 calories a day (10,500 kilojoules). Women should have around 2,000 calories a day (8,400 kilojoules).
1. Choose good carbs, not no carbs. Whole grains are your best bet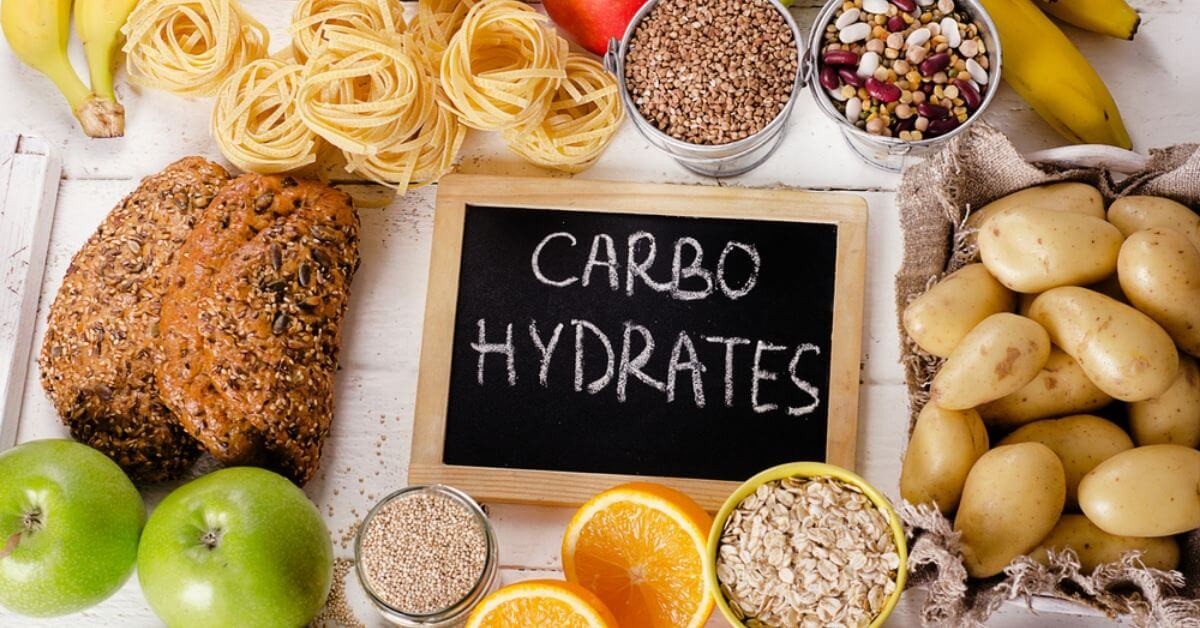 Photo: Shutterstock
Carbohydrates, or carbs, are nutrients in your food that are converted into sugar after you digest them. They give your body energy. Although you need some carbs to maintain your energy level, too many can cause weight gain and harm your health. Carbs are generally found in grains, milk and yogurt, vegetables, fruits, and sweets.
So, which carbs are the healthiest? The best choices are those that aren't processed. Whole grains, fruits, and vegetables are good carbs because they contain vitamins, minerals, and dietary fiber.
In contrast, refined, or processed, carbs like white pasta, sugary drinks, and pastries have little or no nutritional value and should be consumed in moderation or not at all.
Some people who are trying to lose weight may adopt a ketogenic diet, which limits carbs and increases fat intake. While this diet can work for some people, it's not always sustainable and can be too low in fiber.
It's best to get the carbs you need from foods that have other health properties. Some carbohydrate-rich foods like beans, lentils, and many fruits and vegetables are also high in fiber. Others are high in vitamins or minerals. Sweet potatoes contain vitamins A and C as well as fiber and potassium. Milk and yogurt are high in calcium.
What are healthy carbs? Healthy carbs have added nutritional value, not just empty calories. Foods containing healthy carbs that are part of a healthy diet include:
Beans
Lentils
Milk
Yogurt
Corn
Berries
Oats
Apples
Brown rice
Whole wheat pasta
Popcorn
If you're trying to lose weight, use butter sparingly on popcorn and sweet potatoes. Instead of adding sugar to your oatmeal, add fresh berries for sweetness. And although brown rice and whole wheat pasta are healthier choices, you should still practice portion control when eating them.
2. Limiting highly and ultra-processed foods
Photo: Food Navigator
Highly processed foods — often called ultra-processed — are foods that are changed from their original food source and have many added ingredients. During processing, often important nutrients such as vitamins, minerals and fiber are removed while salt and sugar are added. Examples of processed food include: fast foods, hot dogs, chips, cookies, frozen pizzas, deli meats, white rice and white bread.
Some minimally processed foods are okay. These are foods that are slightly changed in some way but contain few industrially made additives. Minimally processed foods keep almost all of their essential nutrients. Some examples are: bagged salad, frozen vegetables and fruit, eggs, milk, cheese, flour, brown rice, oil and dried herbs. We are not referring to these minimally processed foods when we are advising you not to eat processed foods.
3. Eat lots of fruit and vegetables
Photo: American Heart Association
Fruit and vegetables are a good source of vitamins and minerals, including folate, vitamin C and potassium.
They're an excellent source of dietary fibre, which can help to maintain a healthy gut and prevent constipation and other digestion problems. A diet high in fibre can also reduce your risk of bowel cancer.
They can help to reduce your risk of heart disease, stroke and some types of cancer.
Fruit and vegetables contribute to a healthy, balanced diet.
Fruit and vegetables taste delicious and there's so much variety to choose from.
Fruit and vegetables are also usually low in fat and calories (provided you do not fry them or roast them in lots of oil). That's why eating them can help you maintain a healthy weight and keep your heart healthy.
4. Base your meals on higher fibre starchy carbohydrates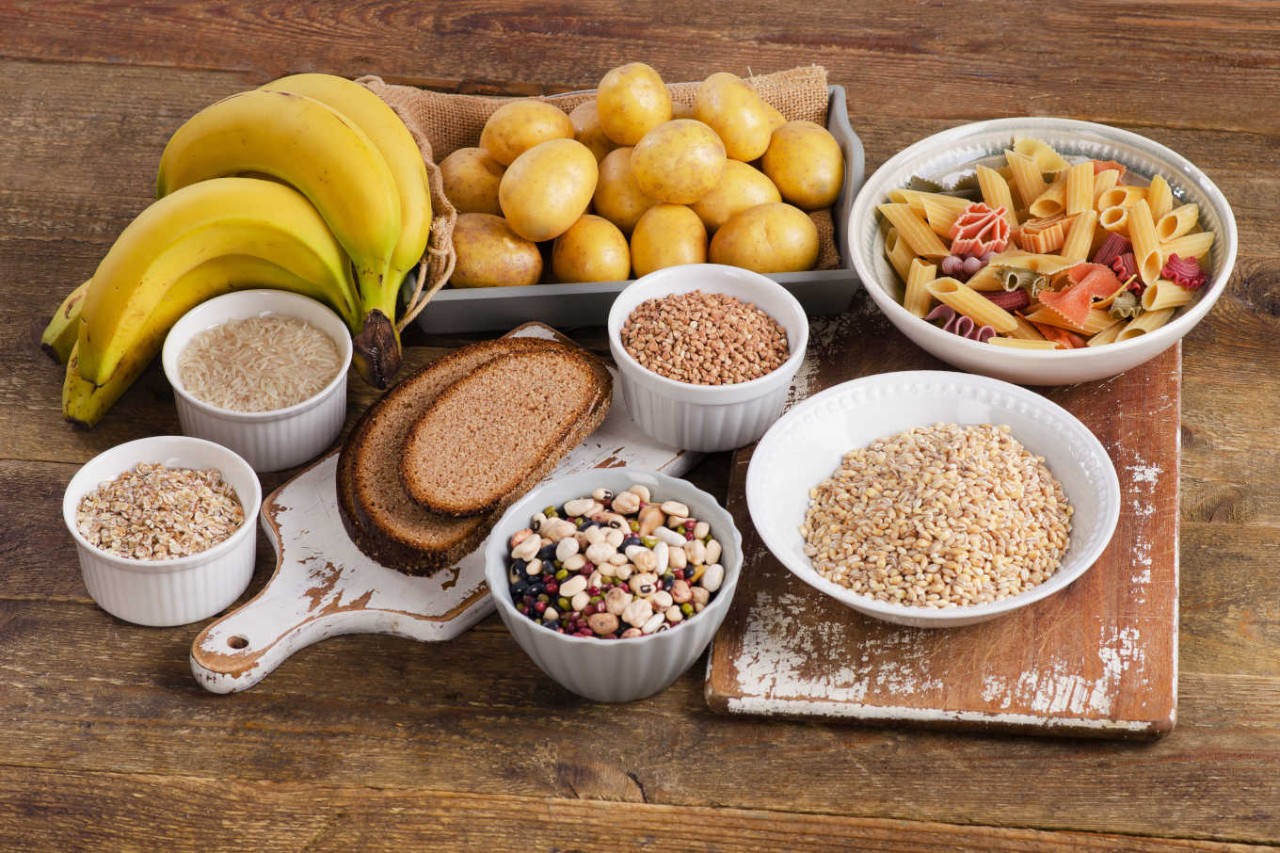 Photo: MyNetDiary
Starchy foods are a good source of energy and the main source of a range of nutrients in our diet. As well as starch, they contain fibre, calcium, iron and B vitamins.
Some people think starchy foods are fattening, but gram for gram they contain fewer than half the calories of fat.
Just watch out for the added fats you use when you cook and serve them, because this will increase the calorie content.
Wholegrain varieties of starchy foods and potatoes (particularly when eaten with their skin on) are good sources of fibre.
Fibre is the name given to a range of substances found in the cell walls of vegetables, fruits, pulses and cereal grains.
Fibre that cannot be digested helps other food and waste products to move through the gut.
Potato skins, wholegrain bread and breakfast cereals, brown rice, and wholewheat pasta are all good sources of this kind of fibre.
Fibre can help keep your bowels healthy and can help you feel full, which means you're less likely to eat too much.
This makes wholegrain starchy foods and potatoes eaten with their skin on a particularly good choice if you're trying to lose weight.
Some types of fibre found in fruits and vegetables – such as apples, carrots, potatoes – and in oats and pulses can be partly digested and may help reduce the amount of cholesterol in your blood.
5. Eat more fish, including a portion of oily fish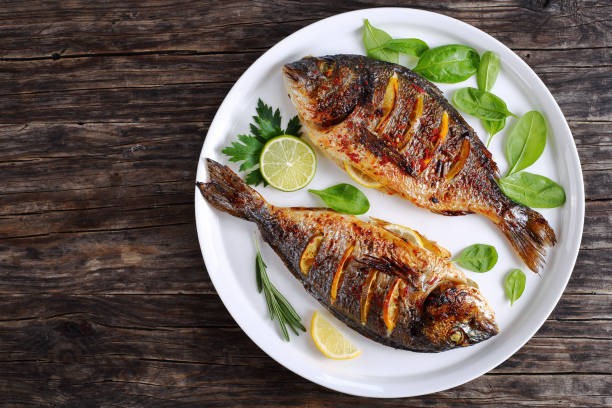 Photo: iStock
Fish is a low-fat high quality protein. Fish is filled with omega-3 fatty acids and vitamins such as D and B2 (riboflavin). Fish is rich in calcium and phosphorus and a great source of minerals, such as iron, zinc, iodine, magnesium, and potassium. The American Heart Association recommends eating fish at least two times per week as part of a healthy diet. Fish is packed with protein, vitamins, and nutrients that can lower blood pressure and help reduce the risk of a heart attack or stroke.
Eating fish is an important source of omega-3 fatty acids. These essential nutrients keep our heart and brain healthy. Two omega-3 fatty acids found in fish are EPA (eicosapentaenoic acid) and DHA (docosahexaenoic acid). Our bodies don't produce omega-3 fatty acids so we must get them through the food we eat. Omega-3 fatty acids are found in every kind of fish, but are especially high in fatty fish. Some good choices are salmon, trout, sardines, herring, canned mackerel, canned light tuna, and oysters.
Omega-3 Fatty Acids:
Help maintain a healthy heart by lowering blood pressure and reducing the risk of sudden death, heart attack, abnormal heart rhythms, and strokes.
Aid healthy brain function and infant development of vision and nerves during pregnancy.
May decrease the risk of depression, ADHD, Alzheimer's disease, dementia, and diabetes.
May prevent inflammation and reduce the risk of arthritis.
6. Eating protein foods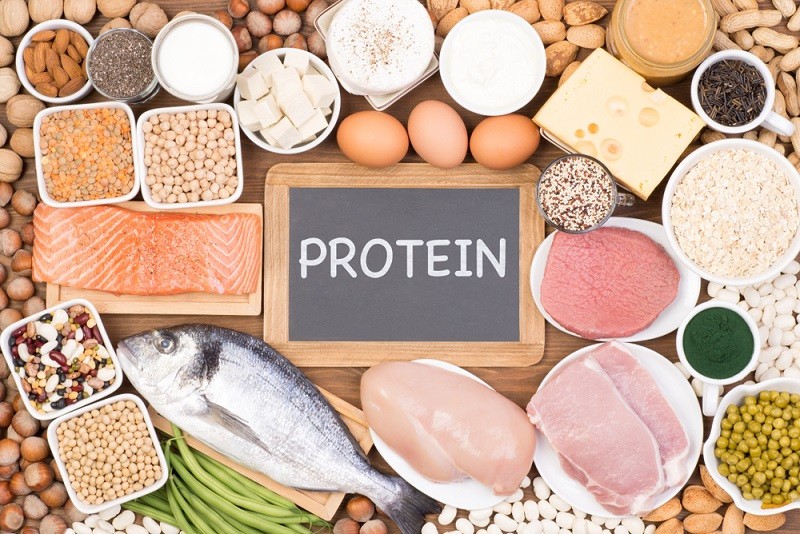 Photo: The Jakarta Post
Are you getting enough protein in your diet? While you may watch your calories, sugar and salt intake, you should also make sure you are ingesting enough protein. It plays a key role in the creation and maintenance of every cell in our bodies. It fuels our cells and powers our bodies.
Nancy Waldeck, chef and dietitian at Thomas F. Chapman Family Cancer Wellness at Piedmont, points out that our bodies do not store protein.
"It is important for individuals to consume protein every day. Daily protein intake plays a role in keeping your cells in good shape and should be part of your daily health maintenance plan."
Protein is made up of amino acids, commonly known as building blocks, because they are attached in long chains. It is also considered a "macronutrient," meaning that you need relatively large amounts of it to stay healthy.
Here are five compelling reasons why you should make sure you are getting enough protein every day:
1. Build. Protein is an important building block of bones, muscles, cartilage and skin. In fact, your hair and nails are comprised mostly of protein.
2. Repair. Your body uses it to build and repair tissue.
3. Oxygenate. Red blood cells contain a protein compound that carries oxygen throughout the body. This helps supply your entire body with the nutrients it needs.
4. Digest. About half the dietary protein that you consume each day goes into making enzymes, which aids in digesting food, and making new cells and body chemicals.
5. Regulate. Protein plays an important role in hormone regulation, especially during the transformation and development of cells during puberty.
7. Cut down on saturated fat and sugar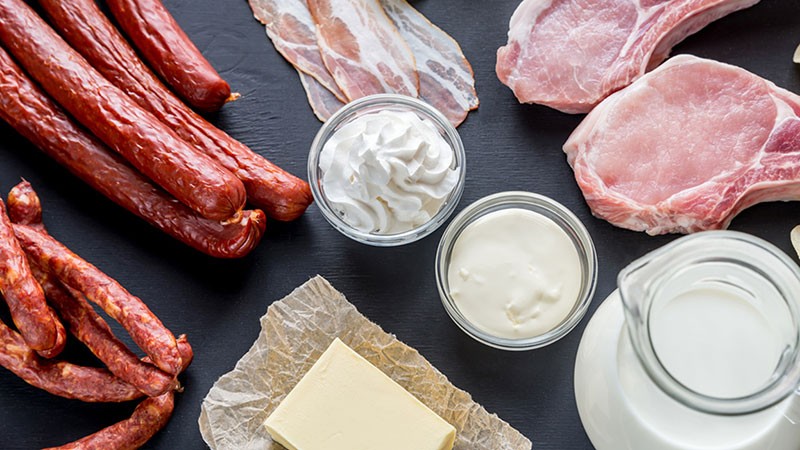 Photo: American Heart Association
Saturated fat
You need some fat in your diet, but it's important to pay attention to the amount and type of fat you're eating.
There are 2 main types of fat: saturated and unsaturated. Too much saturated fat can increase the amount of cholesterol in the blood, which increases your risk of developing heart disease.
On average, men should have no more than 30g of saturated fat a day. On average, women should have no more than 20g of saturated fat a day.
Children under the age of 11 should have less saturated fat than adults, but a low-fat diet is not suitable for children under 5.
Saturated fat is found in many foods, such as:
fatty cuts of meat
sausages
butter
hard cheese
cream
cakes
biscuits
lard
pies
Try to cut down on your saturated fat intake and choose foods that contain unsaturated fats instead, such as vegetable oils and spreads, oily fish and avocados.
For a healthier choice, use a small amount of vegetable or olive oil, or reduced-fat spread instead of butter, lard or ghee.
When you're having meat, choose lean cuts and cut off any visible fat.
All types of fat are high in energy, so they should only be eaten in small amounts.
Sugar
Regularly consuming foods and drinks high in sugar increases your risk of obesity and tooth decay.
Sugary foods and drinks are often high in energy (measured in kilojoules or calories), and if consumed too often can contribute to weight gain. They can also cause tooth decay, especially if eaten between meals.
Free sugars are any sugars added to foods or drinks, or found naturally in honey, syrups and unsweetened fruit juices and smoothies.
This is the type of sugar you should be cutting down on, rather than the sugar found in fruit and milk.
Many packaged foods and drinks contain surprisingly high amounts of free sugars.
Free sugars are found in many foods, such as:
sugary fizzy drinks
sugary breakfast cereals
cakes
biscuits
pastries and puddings
sweets and chocolate
alcoholic drinks
Food labels can help. Use them to check how much sugar foods contain.
More than 22.5g of total sugars per 100g means the food is high in sugar, while 5g of total sugars or less per 100g means the food is low in sugar.
8. Eat less salt: no more than 6g a day for adults
Photo: Shutterstock
Eating too much salt can raise your blood pressure. People with high blood pressure are more likely to develop heart disease or have a stroke.
Even if you do not add salt to your food, you may still be eating too much.
About three-quarters of the salt you eat is already in the food when you buy it, such as breakfast cereals, soups, breads and sauces.
Use food labels to help you cut down. More than 1.5g of salt per 100g means the food is high in salt.
Adults and children aged 11 and over should eat no more than 6g of salt (about a teaspoonful) a day. Younger children should have even less.
Top 5 tips from the experts
Prepare most of your meals at home using whole or minimally processed foods. Choose from a variety of different proteins to keep things interesting. Using catchy names for each day can help you plan. Try "Meatless Monday" with this meatless recipe.
Make an eating plan each week – this is the key to fast, easy meal preparation.
Choose recipes with plenty of vegetables and fruit. Your goal is to fill half your plate with vegetables and fruit at every meal. Choose brightly coloured fruits and vegetables each day, especially orange and dark green vegetables. Frozen or canned unsweetened fruits and vegetables are a perfect alternative to fresh produce.
Avoid sugary drinks and instead drink water. Lower-fat, unsweetened milk is also a good way to stay hydrated. Keep a reusable water bottle in your purse or car so you can fill up wherever you are going.
Eat smaller meals more often. Eat at least three meals a day with snacks in between. When you wait too long to eat you are more likely to make unhealthy food choices. Keep easy-to-eat snacks in your purse or bag for emergencies.
Green Common Begins New Chapter In Green Diets

Green Common championed sustainability through discovering the endless potential of vegan diets, offering diverse, quality vegan choices, and has since become a household name for ...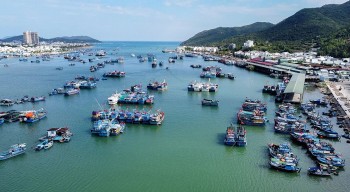 Economy
GDP growth quickened to 7.72% in the quarter ended June, beating the government's 6%-6.5% target.