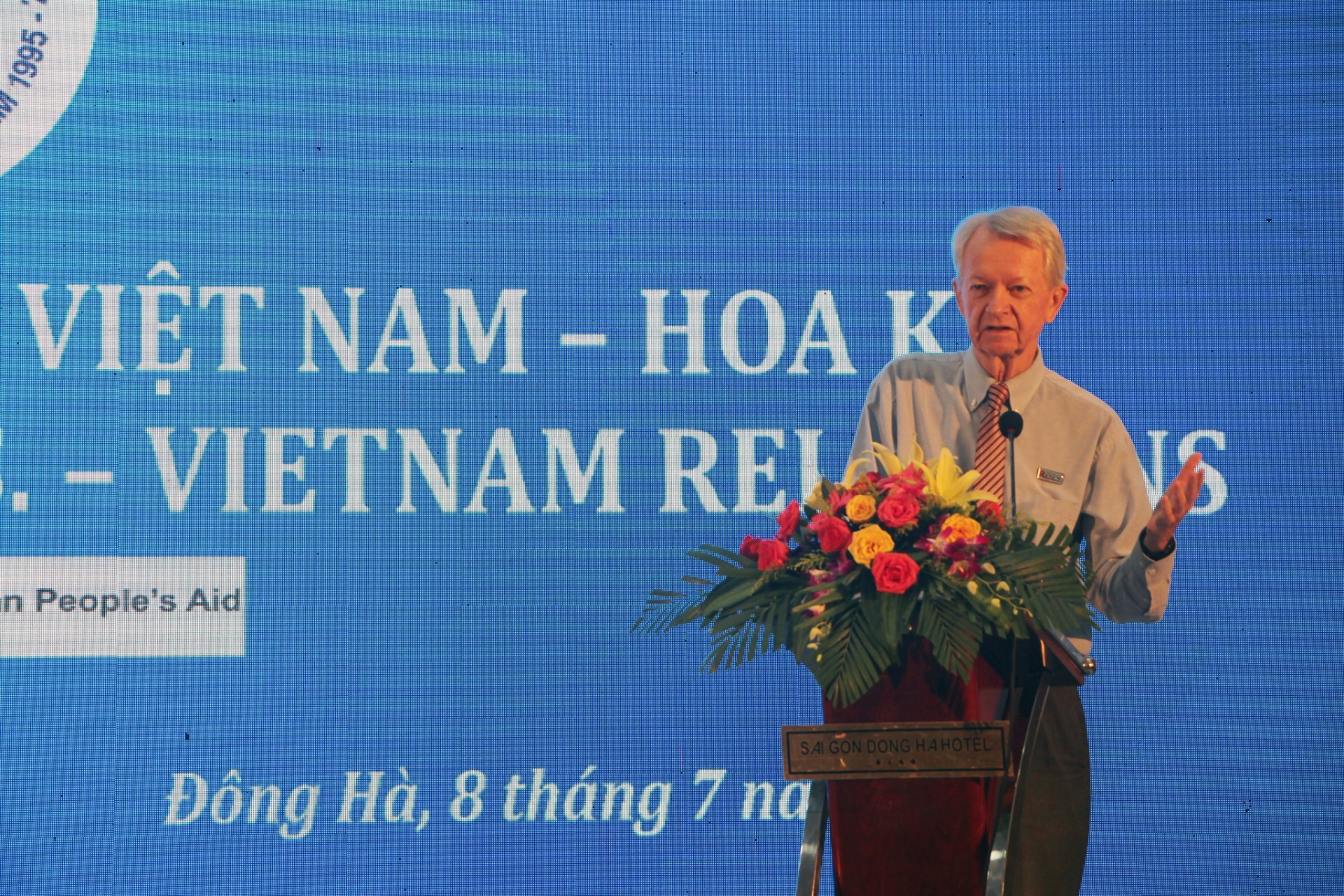 Chuck Searcy speaks at the RENEW/NPA event to celebrate 25 years of US-Vietnam relations. Source: Project RENEW
Project RENEW, a cooperative programme between Quang Tri and foreign NGOs, and Norwegian People's Aid (NPA) on July 8 hosted a gathering of the entire staff in Quang Tri Province to commemorate the 25th anniversary of normalized relations between the US and Vietnam.
The event was attended by representatives from the US Embassy in Vietnam, Quang Tri Province People's Committee, Department of Foreign Affairs, Provincial Veterans Association, Quang Tri Mine Action Center, and PeaceTrees Vietnam.
The event provided an opportunity for everyone, especially the younger generations of RENEW/NPA staff, to have a better understanding of the US – Vietnam Chuck Searcyprocess, which opened the door to US government support to survey and clear Explosive Ordnance (EO) through international non-governmental organization (NGOs) in Quang Tri Province.
Keynote speakers at the event included Chuck Searcy, American veteran who is President of Veterans For Peace Chapter 160 and International Advisor to Project RENEW; Col. Tran Huu Duc, Deputy Chairman of Quang Tri Veterans Association; Drew Bazil, Political Officer at the US Embassy in Hanoi; Col. Thomas Stevenson, Defense Attaché at the US Embassy Hanoi; Jan Erik Støa, NPA Vietnam Country Director; and Nguyen Duc Quang, Deputy Director of Quang Tri Department of Foreign Affairs.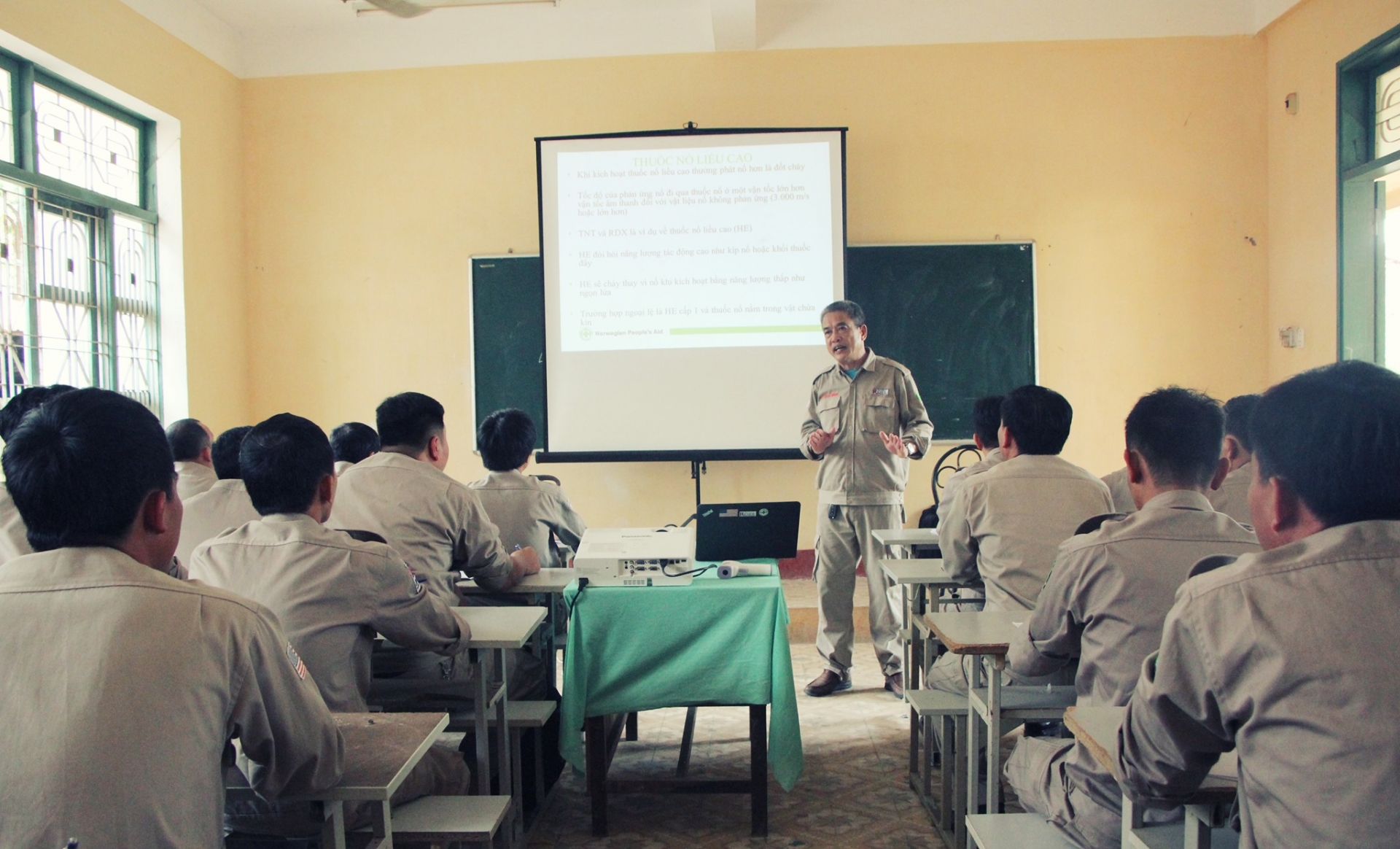 Norwegian People's Aid – Project RENEW (NPA-RENEW) on 4 May 2020, kicked off a Battle Area Clearance (BAC) course for field staff in Quang Tri Province. Source: NPA Vietnam
Speaking at the event, Chuck Searcy shared with the audience some historic footnotes in the long and difficult 20-year process that finally brought about the normalization of relations between two countries. He recalled memorable stories about subsequent reconciliation efforts during the past 25 years following normalization.
"The past 25 years have proven that the decision of US and Vietnamese policymakers to 'close the past and open the future' was the right one," said Chuck.
"In nearly every field of endeavor – business, trade, education, social services, clean-up of the continuing legacies of the war including bombs and mines, and Agent Orange – at every level of cooperation, the engagement has been beneficial for both sides," he added.
Speaking on behalf of the US Embassy in Hanoi, Defense Attaché Col. Thomas Stevenson praised the leadership of Quang Tri Province in addressing the war legacies, and he recognized demining staff who have devoted their lives to the critically important, often dangerous work of UXO clearance.
Col. Stevenson noted the fact that during the past three years, there has not been a single UXO accident in Quang Tri Province.
"Because these achievements are the fruit of your de-mining work and the tangible benefit of the reconciliation process," said Col. Stevenson, "Quang Tri will also play a critical role in Vietnam's progress to an ever more prosperous future."
NPA Vietnam Country Director Jan Erik Støa spoke about the successful partnership between NPA and provincial authorities in developing capacity of Project RENEW to sustainably address the problem of UXO toward achieving the goal of making Quang Tri impact-free from UXO.
The event was concluded with a presentation by Quang Tri DoFA Deputy Director Nguyen Duc Quang reviewing 25 years of US-funded mine action work in Quang Tri, and provincial strategic objectives to 2025.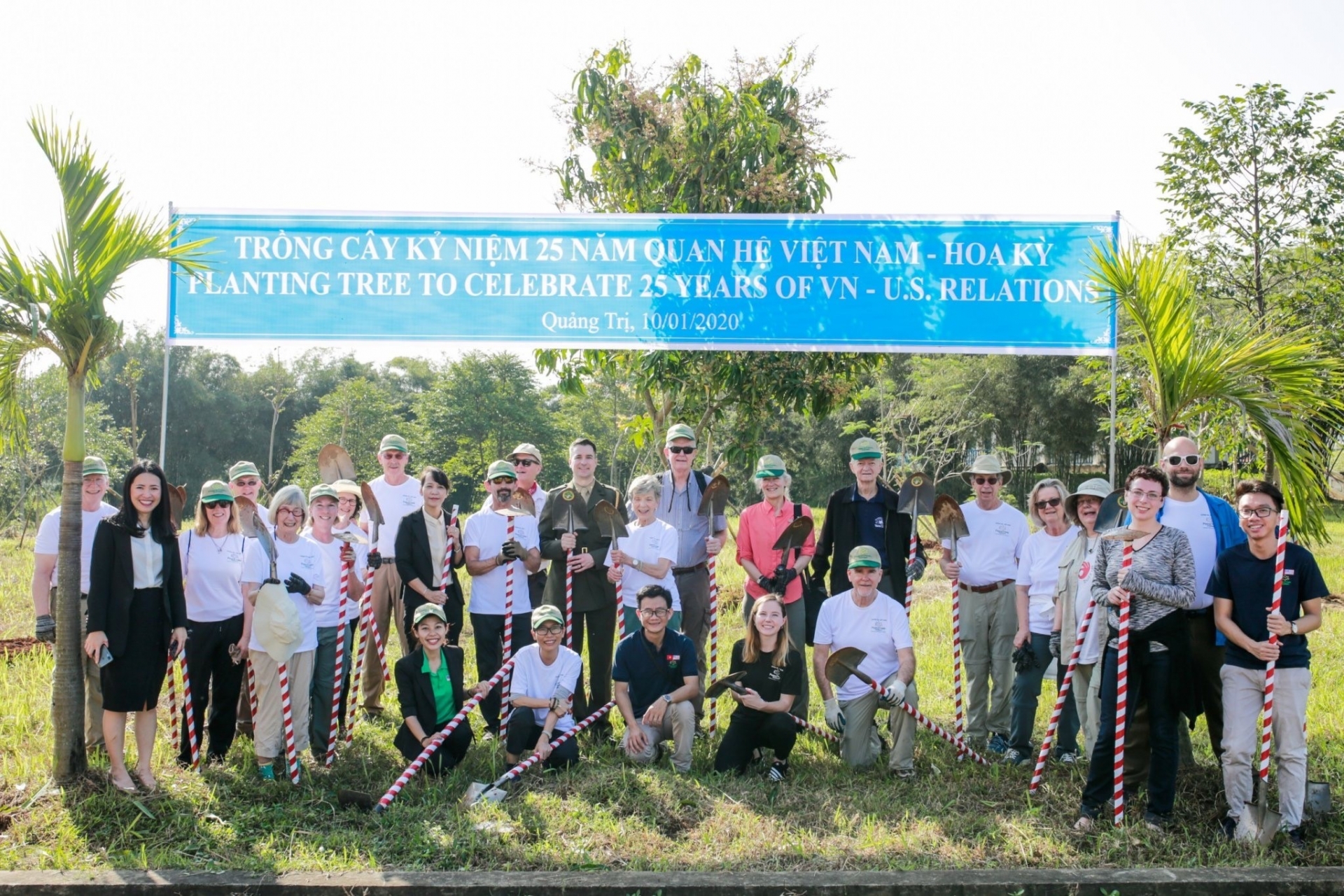 In January, PeaceTrees Vietnam marked 25 years of cooperation with the US Embassy and Quang Tri to mitigate unexploded ordnance (UXO) left over from the war. Source: PeaceTrees
On the same day, PeaceTrees Vietnam, another NGO operating in UXO search and clearance in Vietnam, also has been welcomed the delegations from US Embassy in Hanoi, Veterans Association of Quang Tri province, Department of Foreign Affairs and Women's Union of Quang Tri province, at Danaan Parry Landmine Education Center in Dong Ha city.
The event was held to celebrate the 25th anniversary of reestablishing formal diplomatic relations between Vietnam and the US as well as 25 years of their meaningful work in the country.
At the event, delegates of both sides have enjoyed a video and photo exhibition, looked back a journey of 25 years PeaceTrees in Quang Tri, left the peace messages on friendship tree in the center, painted a mural with the logo of 25 year Vietnam-US relations and planted trees together.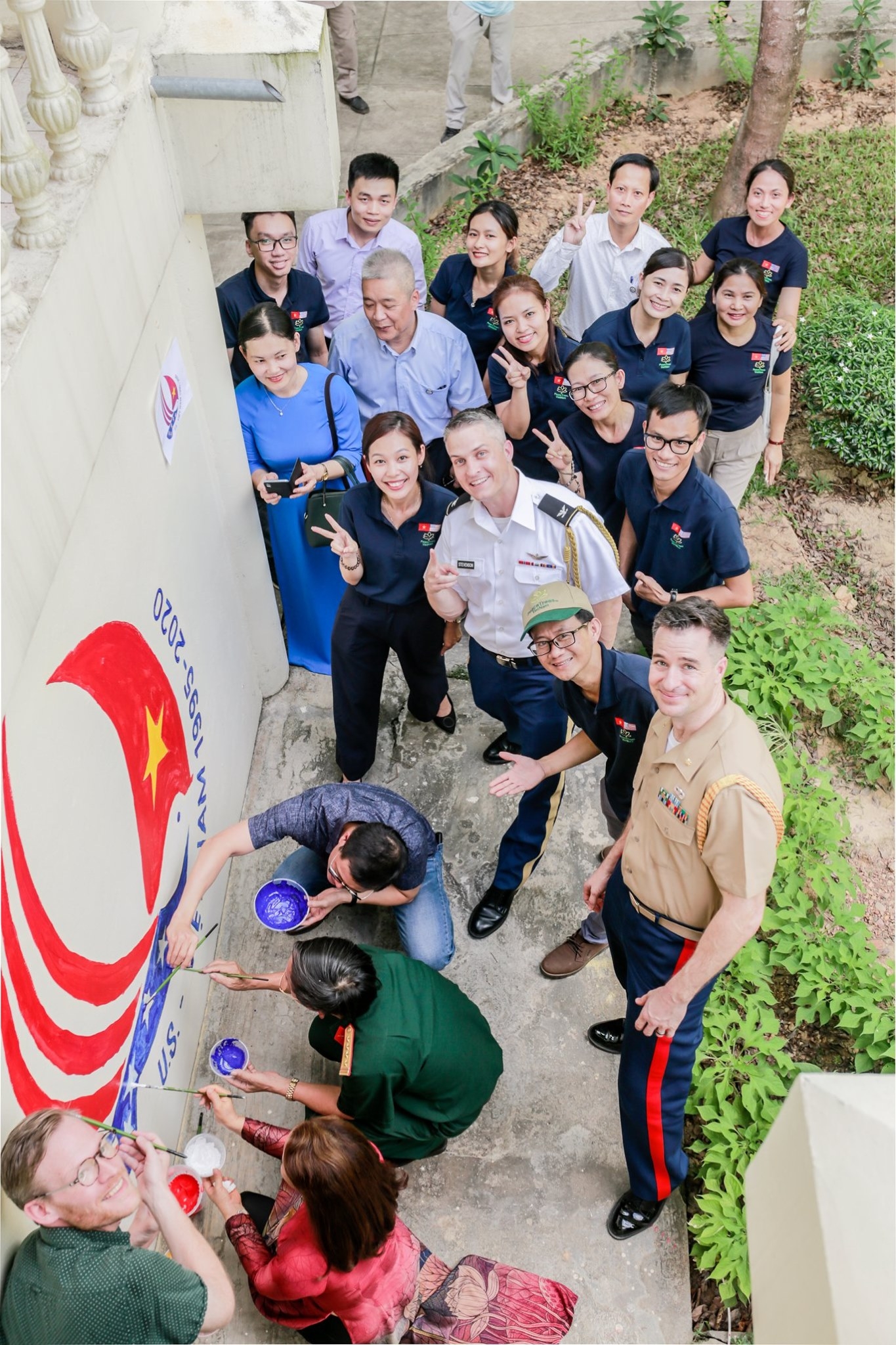 Delegates paint a mural with the logo of 25 year Vietnam-US relations.
Vietnam and the US are celebrating 25 years of diplomatic ties on July 12 this year and 2020 also marks the 25th anniversary of PeaceTrees Vietnam, the first US NGO licenced to operate in UXO search and clearance in Vietnam.
Founded in 1995, PeaceTrees was the first US organization permitted to sponsor humanitarian demining efforts in Vietnam and continues to be the only US organization working to remove unexploded bombs and mines today.
The work of the last 25 years has expanded from demining efforts done by their team of certified deminers in Vietnam and Citizen Diplomacy Trips to education and economic development efforts.
PeaceTrees have since built 19 kindergartens and 12 libraries, removed over 100,000 dangerous explosive remnants of war, provided survivors of landmine accidents long-term and direct economic support, and recently expanded their demining work into the province of Quang Binh./.
Hannah Nguyen