COVID-19 fight: 900 individuals, organizations donate masks to US
US Ambassador to Vietnam Daniel Kritenbrink on April 29 accepted a donation of 420,000 masks donated by the Vietnam Red Cross Society and the Vietnam-US Alumni Club (under the Vietnam - USA Society) to the American Red Cross.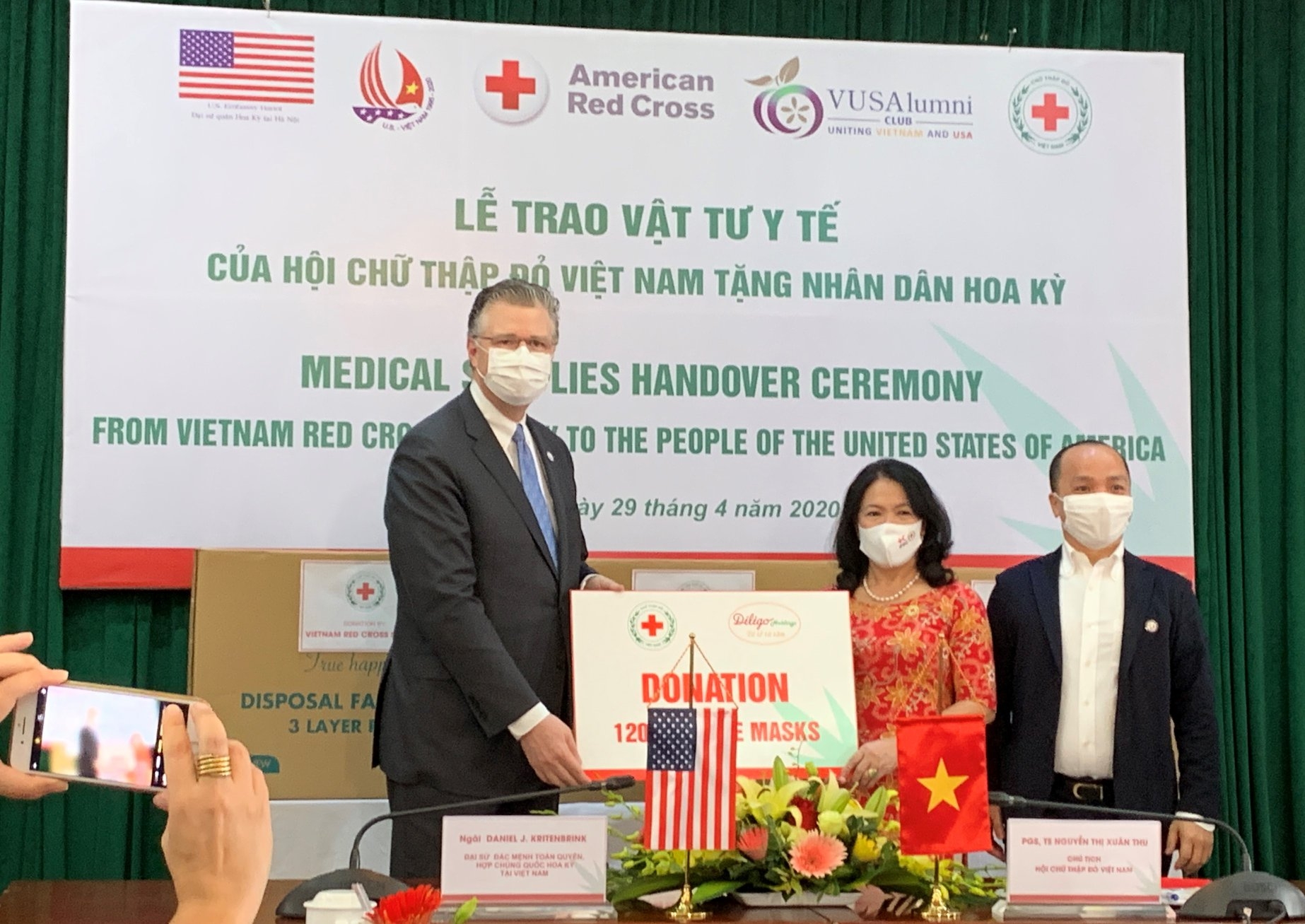 US Ambassador Kritenbrink accepted a donation of 120,000 masks from Nguyen Thi Xuan Thu, Vietnam Red Cross Society Chairwoman.
Speaking at the ceremony in Hanoi, Kritenbrink said: "I want to express my deep gratitude to the Vietnam Red Cross Society and hundreds of individuals and organizations who have contributed to this donations. I have always believed that people-to-people relations are the most solid foundation for close and lasting ties between nations. I am so honored to be witnessing this outpouring of love and support."
"Today's event is a clear testament to the strong cohesion of the Vietnam-US strategic partnership. I would like to express my sincere thanks to the great support of the Government of Vietnam, agencies, organizations as well as all Vietnamese people. This gift is very meaningful in the time when the US is making efforts to prevent and combat COVID-19. Vietnamese friends have shown their solidarity by sending hundreds of thousands of medical masks to the American people. I think that solidarity in the relations between people is the foundation of the US-Vietnam friendship so today's event is a remarkable milestone in the relations between our two countries," he said.
In this handover ceremony, the VUSAC, under the Vietnam - USA Society, contributed 300,000 masks. VUSAC strives to contribute to the building of a strong, independent and prosperous Vietnam, and to contribute positively to Vietnam-US relations. The VUSAC in Hanoi and Ho Chi Minh City has raised fund to purchase masks to send to the US.
US Ambassador Kritenbrink accepted a donation of 300,000 masks from the Vietnam-US Alumni Club. Photo: VNT
VUSAC Deputy Head, Nguyen Thu Thao shared: "In the early days of April, when Vietnam started practicin social distancing, the US became the new centre of the global coronavirus pandemic. We realized that we need to do something for US...home of our beloved teachers and friends, so within a few weeks, VUSAC members and non-members from 900 individuals and organizations across Vietnam and overseas, raised VND 1.26 billion (USD 53.850). The cash donation has more than tripled the original target. People from all over the country and from outside Vietnam, of different ages, occupations, financial conditions and living conditions, are actively involved: Donors whose relatives once studied in the US, a retired Vietnamese teacher living in Australia or friends of alumni, many of whom have never visited America".
"300,000 masks is a very small number compared to compared to actual demand in the US, but we are proud to say that there is so much love behind each masks. It's also a small token of more than 900 individuals and organizations in our community of alumni and friends, to contribute to the 25th anniversary of the Vietnam-US relations this year," added Thao.
Earlier, Ambassador Kritenbrink on April 16 also received a donation of 200,000 cloth masks from Vietnamese Government and people, and 50,000 masks from Prime Minister Nguyen Xuan Phuc to the White House's Office.
A Reuters tally shows the United States has by far the world's largest number of confirmed cases at more than a million, with total deaths topping 58,000 by late April 28.
Cases exceeded 3.1 million worldwide, with more than 216,000 deaths, Reuters calculations show.
Vietnam has reported no new coronavirus cases during the past 24 hours, but two more patients have tested positive again after recovering, the Ministry of Health said on April 29 afternoon.
Vietnamese version: https://thoidai.com.vn/900-ca-nhan-to-chuc-trong-va-ngoai-nuoc-gop-tien-mua-khau-trang-y-te-tang-nhan-dan-hoa-ky-chong-covid-19-107277.html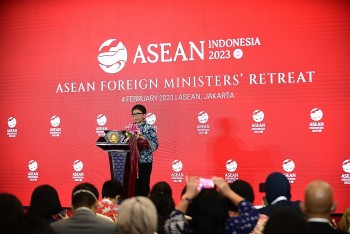 National
Indonesia hosted the first major meeting for its 2023 ASEAN Chairmanship - the 32nd ASEAN Coordinating Council (ACC) meeting and the ASEAN Foreign Ministers' (AMM) Retreat.