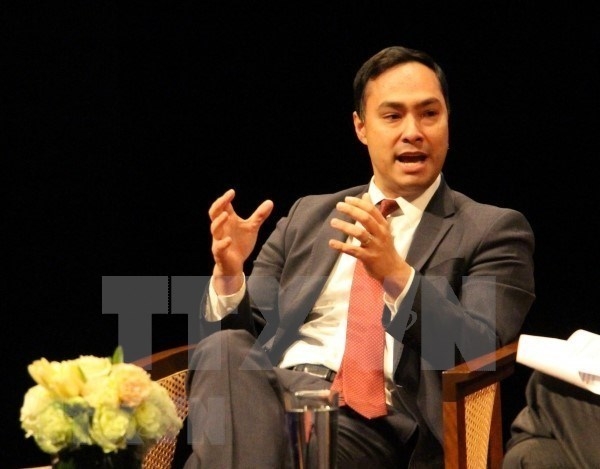 US Congressman Joaquin Castro (Photo: VNA)
According to VNA, Vietnamese Ambassador to the US Ha Kim Ngoc held an online talk on April 29 (US time) with Castro, who is Vice Chairman of the House Foreign Affairs Committee and Co-Chair of the Congressional Caucus on ASEAN.
During the talk, Ambassador Ngoc and Congressman Castro expressed their joy at the strong development of the Vietnam-US comprehensive partnership in various fields. Amid the complicated developments of the COVID-19 pandemic, the two countries have worked closely together and supported each other both bilaterally and in the ASEAN-US framework in epidemic prevention and preparations for economic recovery, while continuing to promote economic, trade and investment ties.
The two also touched upon the situation in the East Sea and the Mekong-US cooperation.
Ambassador Ngoc informed the US congressman about the efforts of the Vietnamese Government and people to perform the double tasks of fighting epidemic and restoring and developing economy activities.
He affirmed that at this time of difficulties, ASEAN has remained united and unanimous, and effectively cooperated with partners, including the US, in addressing the epidemic.
He thanked the US for its timely assistance for ASEAN countries, including Vietnam, at a time when the US administration, congress and people are also working hard to respond to the COVID-19 outbreak.
Castro congratulated Vietnam for initially bringing the COVID-19 epidemic under control, and appreciated Vietnam's goodwill to support the US.
He affirmed that the ASEAN Caucus always advocates a strong ASEAN, and supports the US-ASEAN strategic partnership and Vietnam's ASEAN Chairmanship Year, including meetings to be held in Vietnam.
Regarding the East Sea issue, the congressman affirmed that the ASEAN Caucus and he himself always protest acts that violate sovereignty, run counter to international law and the rules-based order, change the status quo and cause instability in the region. He voiced support for the elevation of the Lower Mekong Initiative (LMI) to a Mekong-US Partnership for sustainable development of the Mekong region.
The talk between Ambassador Ngoc and Congressman Castro is among many online meetings and talks that the Vietnamese Embassy in the US has conducted with the US administration, Congress, scholars and business people during the period of social distancing in the US, in order to maintain the development impetus of the Vietnam-US relations during the year the two countries celebrate the 25th anniversary of their diplomatic relations (1995-2020)./.
Hannah Nguyen