Foreign NGOs seek to raise fund in Vietnam 
At a thematic workshop on healthcare (held as part of the recent International Conference on Vietnam - foreign NGOs cooperation), representatives of various foreign NGOs have voiced their wish to be able to raise fund in Vietnam.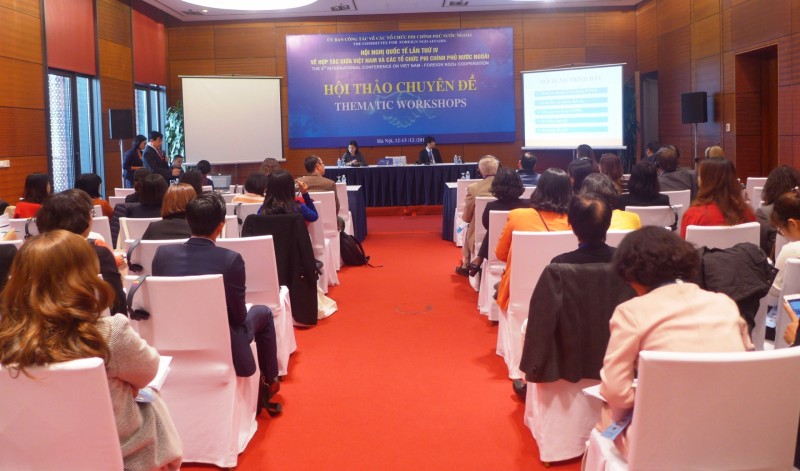 Overview of the workshop.
As part of the fourth International conference on Vietnam – foreign NGOs cooperation, a thematic workshop on medical care to review the cooperation in the 2014-2019 period was held last week.
At the workshop, Country Director of the Medical Committee of Netherlands-Vietnam (MCNV) Pham Dung, on behalf of over 100 foreign NGOs working in the field of medical care, briefed the delegations on the activities and contributions of NGOs during the 2014-2019 period.
According to PACCOM's statistics, the total disbursement value of FNGOs investing in health and healthcare projects in the past 5 years is more than USD 487 million and has decreased slightly over time. From 2014 to 2018, this number fluctuate around 140, reflecting the strong commitment of foreign NGOs to supporting the healthcare sector in Vietnam.
Foreign NGOs' aid in healthcare has benefited 63/63 cities and provinces of the country. In terms of total investment value, the Southeast region of Vietnam tops the list, with nearly USD 227 million, accounting for 46% total disbursement value), followed by the Red River Delta (nearly USD 13 million, accounting for 12% total disbursement value).
Compared to other regions, the Central Highland has the most modest number of projects and also the lowest total disbursement value. This is a limited feature in allocating resources and identifying support priorities since living standard and healthcare condition in the Central Highlands remains limited. The region, therefore, should attracts much more appropriate sources of aid.
In order to improve the effectiveness of foreign NGO's operation in Vietnam, MCNV Country Director Pham Dung proposed several suggestions:
First of all, the Government should continue to study, simplify and clearly define the functions and duties of each specialized agency, as well as time limits related to the processes and regulations on licensing, project approval, and the implementation of regulations such as VAT refunds. Agencies managing and enforcing regulations should actively explore and coordinate with each other in resolving proposals of FNGOs.
At the same time, the Government and the Ministry of Health should create two-dimension forums for policy dialogue and information sharing to enable FNGOs to participate in the development of plans and strategies.
Furthermore, cross-sectoral collaboration needs to be strengthened in cooperation with FNGOs in the field of health care as health issues are not only related to the Ministry of Health but also other ministries. The Government needs to ensure that health-related issues and people's health need to be viewed as interdisciplinary, not merely a task of the health sector.
MCNV Country Director also emphasized the role of the Government in doing research on policies and developing mechanisms for foreign NGOs and Vietnamese NGOs to be able to raise funds in Vietnam, or be able to participate in bidding for projects from funding sources for Vietnam in the format of program support and budget support, because foreign NGOs possess technical capacity and experience in the implementation of projects.
Foreign NGOs, for their part, needs to continue strengthening the compliance with the Government's regulations on management, reporting, inventory and supervision. On that basis, the FNGOs help the Government recognize, appreciate and facilitate the implementation of projects and programs. The FNGOs also need to promote the search for opportunities and work together to address issues of mutual interests to enhance the effectiveness of assistance, avoiding duplication and waste of resources.
In addition, The Ministry of Health has developed and maintained a mechanism for dialogue and information sharing through the Health Partnership Group. However, the participation of foreign NGOs has not yet been proactive and there is a lack of representative voice. Foreign NGOs therefore should consult with the Ministry of Health to find solutions to promote the involvement and contribution of foreign NGOs in this group.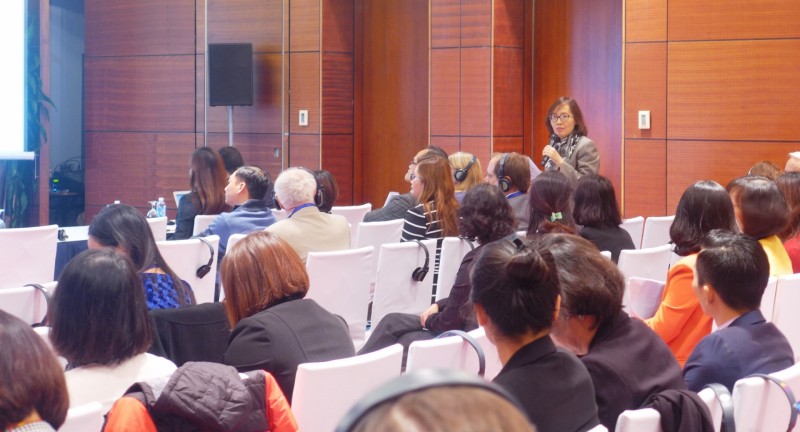 NGOs representative proposes solution to improve the effectiveness of cooperation.
In the afternoon of December 12, a thematic workshop on environment was held. In the workshop, representatives of the Department of Climate Change (the Ministry of Natural Resources and Environment - MonRE) and the Department of Natural disaster prevention and Control (Ministry of Agriculture and Rural Development - MARD) emphasize the increasingly complex situation of climate change in Vietnam. According to the experts, climate change has caused unpredictable weather patterns, challenging forecast activities, leaving severe impacts on people and climate-vulnerable sectors.
Specifically, in the last 20 years, natural disasters have claimed the life/cause the missing of about 10,800 people. The annual average GDP loss is estimated at 1 to 1.5% of GDP.
However, resources for responding to climate change remain insufficient and international assistance tends to flow toward least developed countries.
According to representative of the World Wide Fund for Nature (WWF). Hoang Viet, there are currently 75 NGOs working in the field of environmental protection, climate change and disaster response, with total budget of USD 80 million for projects on environmental protection, biodiversity conservation and USD 70 million for climate change projects.
He affirmed that the Government had a consistent and clear vision in responding to climate change, creating favorable conditions for NGOs to implement respective projects, organizing activities and actively participate in dialogue, forums, etc.
The Climate Change Working Group (CCWG) signed a cooperation agreement in 2013 and 2019 with MoNRE, which facilitated information sharing and increased participation in policy advocacy. .
At the same time, Viet also pointed out that response to climate change requires the coordination of several ministries, however the interdisciplinary connectivity is not really tight, therefore foreign NGOs project management often only work with one institution, making it difficult to increase the efficiency and impact of the project. Therefore, agencies should increase information sharing and create opportunities for foreign NGOs to further participate in national climate change response programs via providing technical support and feedback, monitoring, assessment.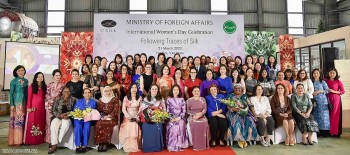 Friendship
Female ambassadors, representatives from diplomatic corps and international organizations, along with spouses of diplomats in Vietnam gathered together to find about more about silk weaving and silk products in Vietnam.