Foreign Tourists' Memories of Tet in Mui Ne - Video
With a long coastline and sunny weather, Mui Ne - Binh Thuan is a favorite destination of many international tourists. Many have chosen the beach to celebrate Lunar New Year.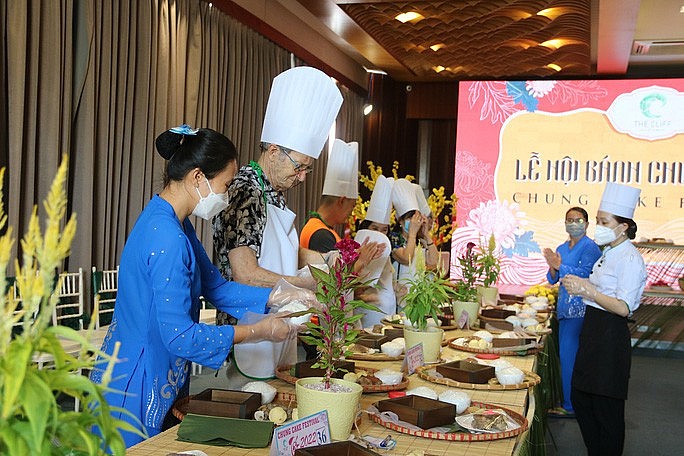 Claudio Schuftan participating in the banh chung wrapping competition. (Photo: Nguoi Lao Dong)
Claudio Schuftan, a Chilean who has celebrated Lunar New Year in Mui Ne for the third year, said that he still had not discovered all the interesting things when having Tet here.
This year, Schuftan and his friends participated in the banh chung wrapping competition at the Cliff tourist area (Phu Hai ward, Phan Thiet city).
Having welcomed a few Tet in Vietnam, Schuftan still finds wrapping banh chung attractive, even though it is not easy for him.
"When wrapping each banh chung, I feel excited. It helps me understand more about the story of banh chung and banh day in Vietnam, through the interpretations of my friends. I know that many young locals do not know how to make these dishes, so activities like this are very meaningful to retain the culture of Tet," said Schuftan, while showing his newly wrapped banh chung to reporters.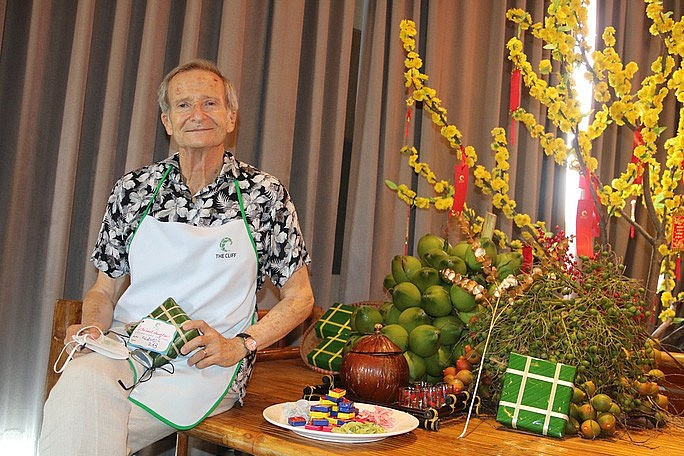 Claudio Schuftan sitting next to a table of Vietnamese special dishes in Tet. (Photo: Nguoi Lao Dong)
Vo Thuy Loan, deputy director of The Cliff resort, said that this is the ninth year the resort has organized the Chung cake wrapping festival.
According to her, foreign tourists are especially interested in making banh chung by themselves under the guidance of staff.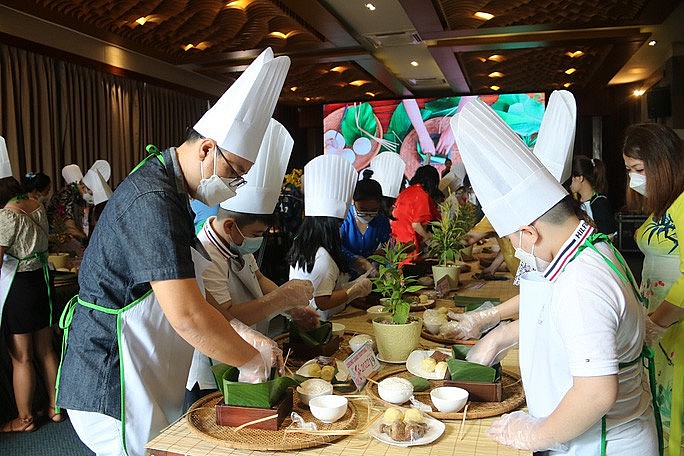 People make banh chung together. (Photo: Nguoi Lao Dong)
Foreign tourists make and eat the dish themselves as part of the joy of learning Vietnamese culture.
"We want to bring traditional Tet flowers and Tet atmosphere to tourists when the spring comes. Therefore, we organize a banh chung festival to help the younger generation and tourists know how to make the dish that their grandparents love," said Vo Thuy Loan.
"For foreign tourists, we want to promote traditional Vietnamese Tet culinary crafts, in which banh chung is indispensable," Loan added.
(Video: Nguoi Lao Dong)
Ricardo, a Swiss expert who is working on a project in Mui Ne, is going to celebrate his fourth Tet in the locality.
On the last days of the Year of Ox, Ricardo and Thuy, his girlfriend, rushed to the flower market to buy yellow apricot to decorate the house.
Thuy said Ricardo liked traditional customs and was very careful in choosing flowers for Tet. He enjoyed most Tet dishes, such as bamboo shoot soup, banh chung and pickled onions.
"In our country, at the beginning of the year, people usually eat Rösti (a cake made from potato), zopf (a kind of bread), and mixed cereals and fruit. I am new to your country's dishes. Thanks to Thuy's cooking, these dishes appear delicious and unique to me," said Ricardo.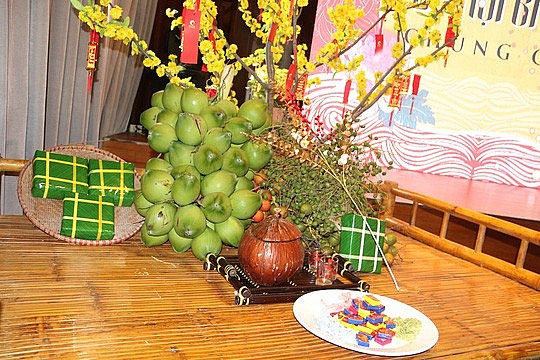 A corner to display Vietnamese traditional Tet dishes and fruits. (Photo: Nguoi Lao Dong)
Thuy told reporters that she was pleased with her foreign boyfriend's decision to stay in Mui Ne to "enjoy Tet with his new friends." This year is even more special to Thuy and Ricardo as the couple plans to get married in the coming year.
Mui Ne - Phan Thiet, one of Vietnam's most famous beaches, is welcoming spring in a new "coat," when flowers bloom and the sun becomes less harsh. The beach is renewing itself, preparing to welcome international arrivals after long days of pandemic restrictions.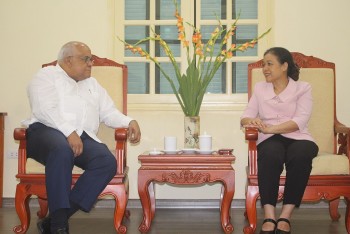 Friendship
Ambassador Nguyen Phuong Nga - President of the Vietnam Union of Friendship Organizations had a meeting and worked with Cuban Ambassador Extraordinary and Plenipotentiary to Vietnam Orlando Nicolas Hernandez Guillen. The two Ambassadors agreed to work closely in organizing solidarity and friendship activities.