Vietnam's Pilot Tourism Resumption Program Welcomes 8,500 Foreign Tourists
More than 8,500 foreign tourists have come to Vietnam under the Government's pilot plan to welcome international tourists in the pandemic's era of new normalcy.
First international tourist arrived in Khanh Hoa Province in November under vaccine passport program. Photo Lao Dong
According to the Ministry of Culture, Sports and Tourism, as of January 23, more than 8,500 foreigners, mostly from Russia, Uzbekistan, Kazakhstan, South Korea, UK, Singapore, US and Canada have visited Vietnam.
Khanh Hoa Province attracted the highest number of foreign arrivals with 7,000 visitors, followed by Phu Quoc Island in Kien Giang Province (1,282 tourists) and Quang Nam Province (239 tourists).
Phu Quoc Island is one of attractive destinations to foreigners to Vietnam. Photo Dang Cong San
Among those visitors, 27 tested positive for COVID-19. Only one case must be treated at a healthcare center in Rach Gia, Kien Giang Province.
Others were asymptomatic and self quarantined at hotels and tested negative three to five days later.
The pilot tourism reopening program of Vietnam has received positive feedback from foreign tourists. They highly appreciated being able to experience various types of tourism, sports, entertainment, health care and relaxation at famous destinations in Vietnam.
Vietnam's services and measures to prevent and control the pandemic also earned trust and brought satisfaction to tourists.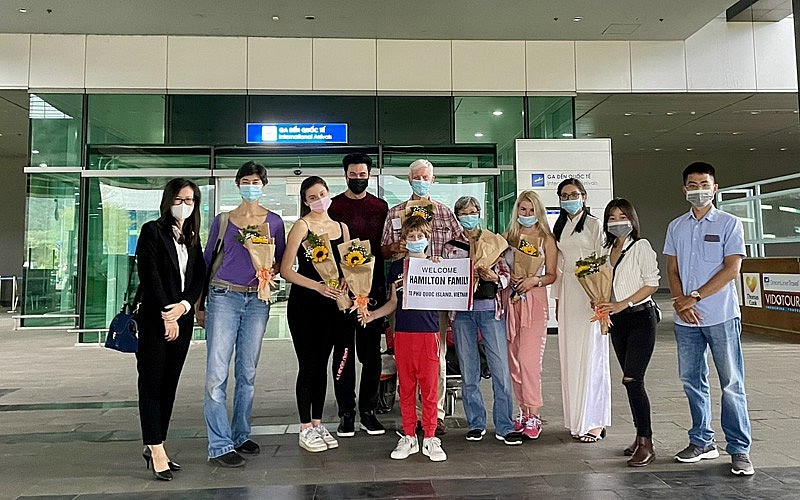 A family from the UK arrived in Khanh Hoa on December 23, 2021 to welcome Christmas and New Year. Photo Vietnam Tourism Administration
A representative of the Ministry of Culture, Sports and Tourism said "The program has encouraged tourism businesses to resume operations after two years of suspension. Vietnam is one of the first countries in the region and in the world to reopen to welcome international tourists proactively, thereby demonstrating the country's prestige in and capacity of preventing the pandemic.
The ministry assessed that in spite of short implementation, the pilot program has proved that Vietnam is a safe and attractive destination, affirming the tourism industry's ability to adapt safely and flexibly.
However, there are a number of difficulties while implementing the program including limitations in attracting tourists with long stays.
International tourists want to freely travel and choose services as soon as they have negative test results upon entry. But they must participate in package tours at designated destinations for a minimum of 7 days before being allowed to freely travel.
Another limitation is in the first trial phase, visitors can enter Vietnam only via air routes while traveling by cars or waterways are also potential.
From December 16, the Ministry of Health has instructed travel businesses to organize outbound tours. However, many countries do not recognize Vietnam's Certificate of Immunization.
The resumption of regular international commercial routes is currently facing difficulties.
The second phase of the tourism reopening pilot program will kick off by April 30 with both inbound and outbound markets fully resuming operation.
At a recent tourism conference, Minister of Culture, Sports and Tourism Nguyen Van Hung and economic experts believe that April 30 is an appropriate occasion to welcome foreign tourists back to Vietnam.

As part of a current pilot project, groups of foreign tourists have been welcomed to selected destinations on closed, package tours.

Hung noted that Vietnam is kick-starting its tourism recovery scheme by reopening the door to domestic tourism, receiving support from localities and travel businesses, cited Viet Nam News.

"April 30 will be the right time. We are confident that this is the right step, the right roadmap, as the pilot program to welcome international visitors is successful for two months, the vaccine coverage is in the top six worldwide and the tourist destinations are ready," he said.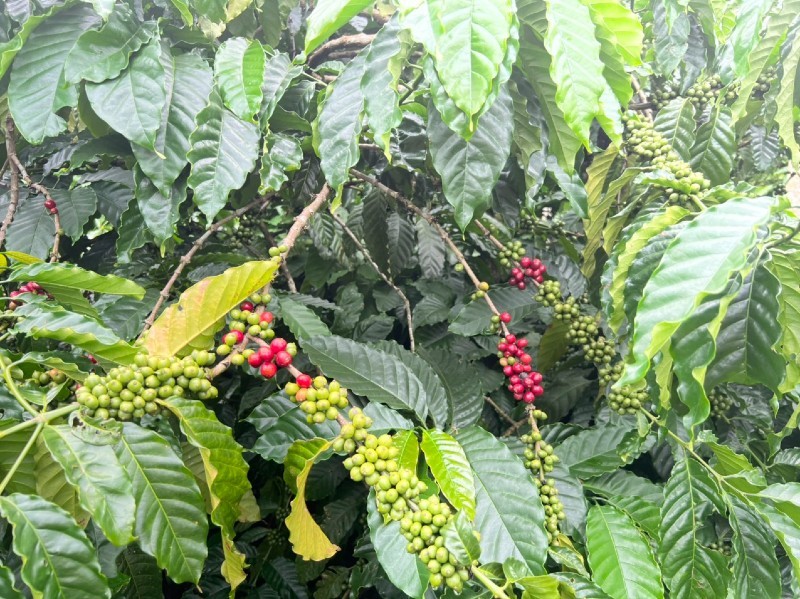 Economy
Reduced output causes coffee prices to continuously increase from the beginning of the season, possibly even the highest in the world in 2024.
December 08, 2023 | 10:50