Foreigner-Friendly Hanoi City Walk Tours You Must Try
Exploring Hanoi on foot is no longer a hassle thanks to these creative and fun tours.
1. Friend of Vietnam Heritage (FVH)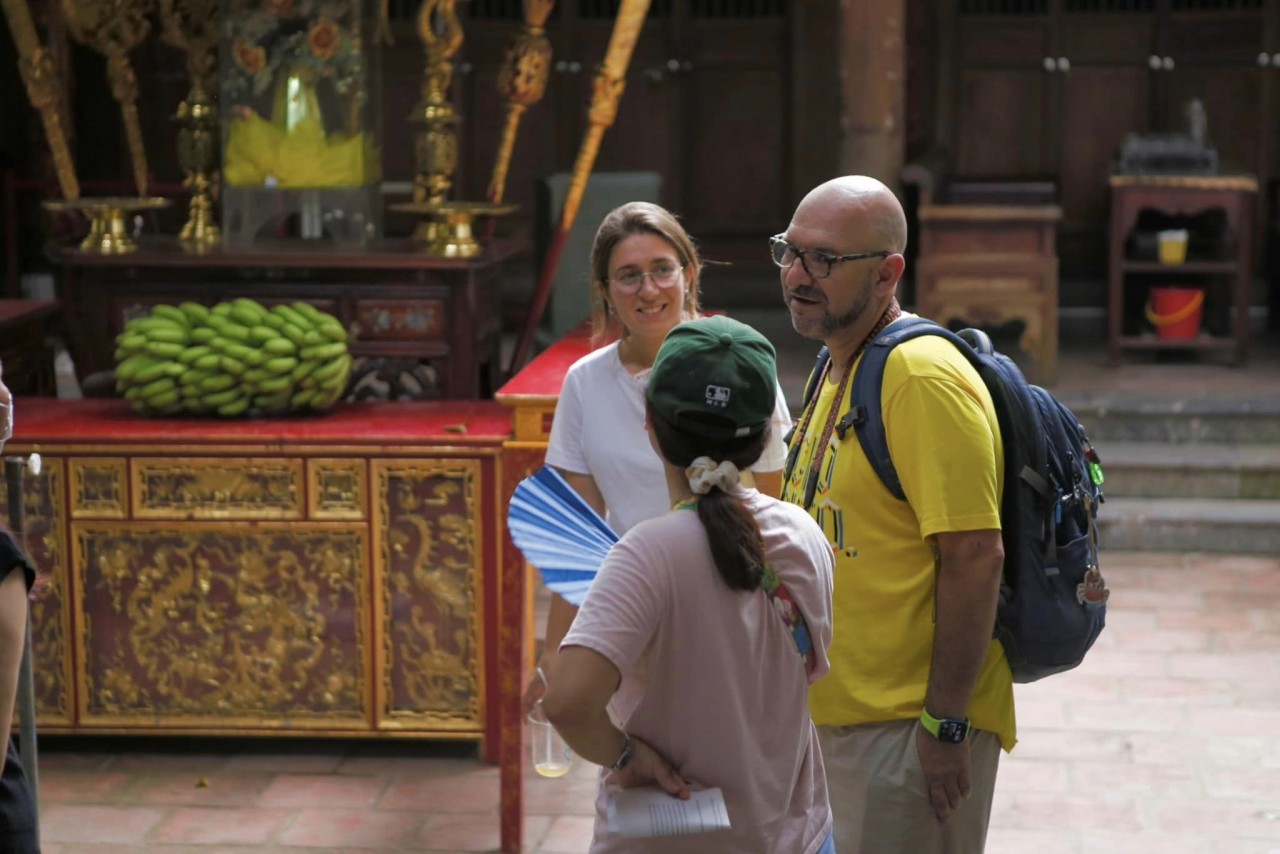 Foreign tourists talking to the local guide from FVH (Photo: FVH).
Run by a Hanoi-based social organization called Friend of Vietnam Heritage, FVH city walk has a history of more than 20 years. Their series of city walks are available in English and Japanese, taking you to famous landmarks as well as hidden gems in Hanoi city.
When joining the FVH walking tour, you can discover some of the most interesting attractions in the Old Quarter or join an art-craft workshop for a few hours. For tourists, they are difficult to get to by themselves because some attractions are hidden in small, tricky alleys, some are not popular among foreigners.
While the team at FVH is a mix of expats and locals, they can offer you these unique experiences because everyone is dedicated to the preservation and promotion of the local cultures. The city walks are carefully put together so that you not only get a good look around, but also to immerse in the local lifestyle. For example, in the Hanoi' summer heat of late July, the FVH tour took on an easy route in the city center from Hang Bac street to Nguyen Huu Huan street so the walkers can visit historic pagodas under the shades and try famous Vietnamese iced coffee to cool down.
If you are a history lover looking to form a friendship with like-minded Hanoians, this is an ideal day tour. You can learn a lot of interesting information through talking with the guides who are just as curious about your culture. Besides the city walks, FVH workshops and excursions are great ways to explore the traditional heritage of the Southeast Asian land. You can spend an entire day observe artisans making beautiful handicrafts and listen to the art-making process. FVH's latest series called "People of Old Quarter" is also worth a try. It is a rare chance for you share a cozy, homemade meal with a local family on a booked visit, which opens conversation about history and cultures.
2. Easypeasy Vietnamesy Travel (EPV)
Easypeasy Vietnamesy, one of the most well-known organizations that teach Vietnamese language among the expat community in Hanoi, offers their new city tour to history lovers who want to explore Ba Dinh district. This 10km square district was formerly called the "French Quarter" (Khu phố Pháp) with a high concentration of French-styled villas and government buildings built when Hanoi was the capital of French Indochina. There are plenty of famous landmarks like Da Dinh square, Ho Chi Minh Museum side by side with each other in this small area, so discovering them within a day is "easy peasy". Also, this walking tour highlights the stop at the "B52 Lake" where an American aircraft fell down in 1972 and created an interesting site.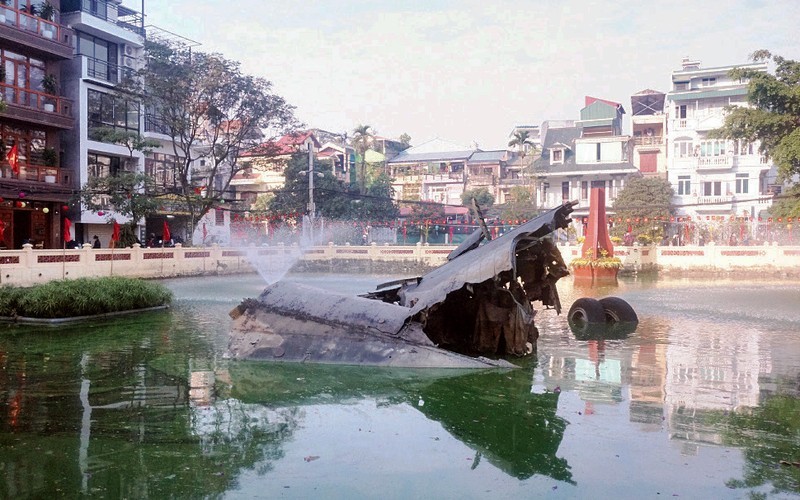 The guide will show you to the "B52 Lake" in the center of Ba Dinh district, where an American aircraft fell down in 1972 (Photo: Nhan Dan).
Beside the history and culture tour, EPV also invites all foodies to their "Taste of Vietnam" tour. By spending a day trying dishes like crispy Vietnamese pancakes, seasonal fruits or beers, you will not only fill your stomach but also grow close to the local people through food. This feast with your new friends can help create a deeper and more authentic connection than you anticipated.
3. 'River's trace - city's soul' trip
Local guide Nguyen Vu Hai (Photo: Nguyen Vu Hai's website)
"Ha" in "Ha Noi" means river, yet the city's river culture is lesser known to tourists. If you are curious about how ancient Hanoi used to be, especially through an intimate exchange with local people, 'River's trace - city's soul' is a must-try. Your tour guide, Nguyen Vu Hai, born and raised in Hanoi, is the storyteller of this one-of-the-kind city walk. Using his expertise about the rivers of Hanoi, he will lead you on a journey to follow the traces of the To Lich river that was filled up during the French period.
Hai believes that the riverside community is one of Hanoi's most unique characteristics, therefore his tour will highlight how the city used to have a lot of rivers, each of them having their own stories. The stories now live in old maps, which Hai uses as materials to describe the transformation of urban patterns, the change in lifestyle and so on. As you walk alongside the enthusiastic guide, you will gradually gain a new perspective about the city.
4. Hanoi E.Buddies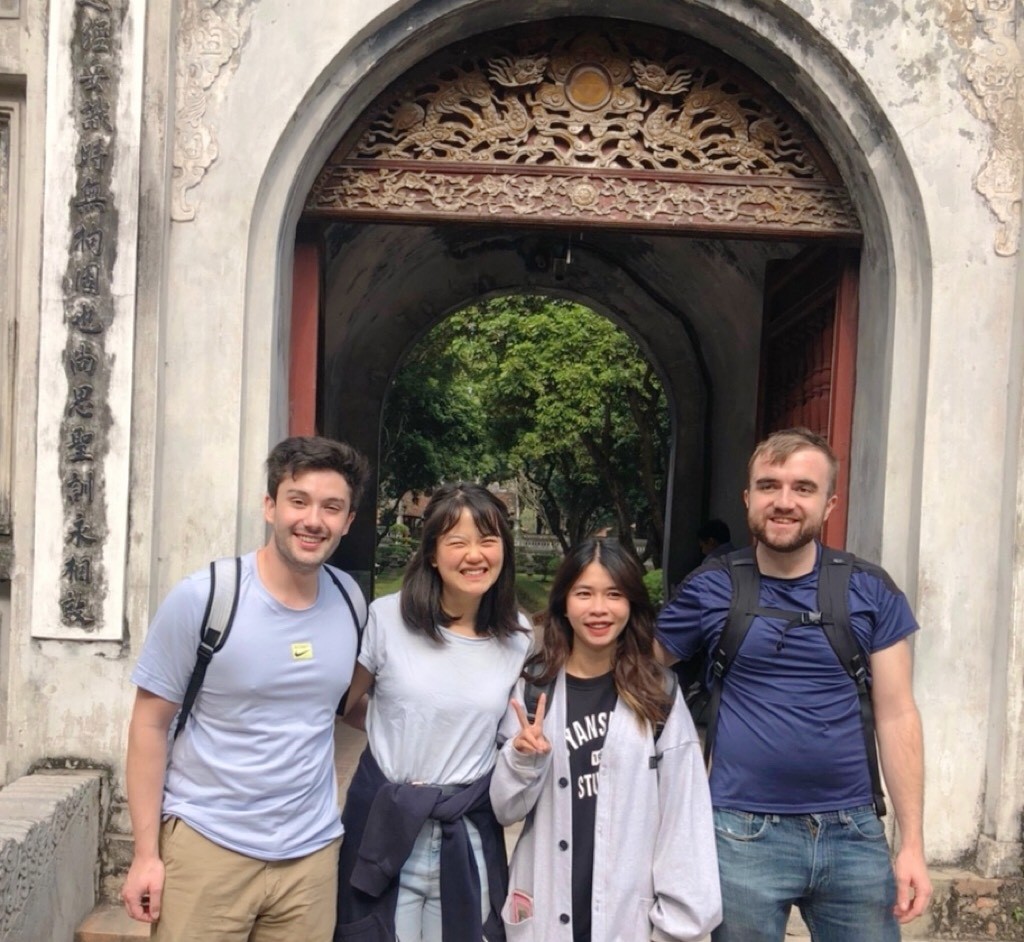 The student guide (second from right) and three tourists from the USA and Malaysia (Photo: Hanoi E.Buddies).
Although this is the only free tour on the list, the Hanoi E.Buddies city walk is just as fun-filled and interesting. If you plan to spend a day at famous sites around the city but want to customize the route to your convenience, this is the perfect choice for you. When on Hanoi E.Buddies' website, you can build your dream tour completely as you wish. And on the day of the city walk, a friendly "buddy" will be your guide, hence the name of the program.
Whether you go solo or as a couple/group, the "buddy" will listen to your ideas and try their best to make them come true. In return, you will give them the opportunity to practice English. Most of the "buddies" are students who want to interact with foreigner while showing them the interesting sites of the city, so they are not only energetic but also well-prepared. You can ask them any questions and make requests, they are happy to accompany you for the day.
"Hanoi e.Buddies, you made me love Hanoi. I booked a free full-day city tour and I thought there is never a free thing. But I was wrong.... My buddy is super knowledgeable and friendly, a true buddy! Absolutely highly recommend!!! I can't ever forget my trip in Vietnam thanks to Hanoi e.buddies!" said an American tourist in their feedback on Hanoi E.Buddies' website.
Top 5 Must Try Dishes In Phan Thiet

Phan Thiet, which is located in the southeast of Vietnam, is a land of the most unique and tasty traditional foods that will charm every ...