Parisian Singer Celebrates Vietnamese Heritage
Although French-Viet artist Dorothée Hannequin (The Rodeo) had hit many stages all over the world, Vietnam will always have a special place in her heart.
Dorothée Hannequin (The Rodeo) is a French artist with many global hits such as Inner War, Ivre d'Amour and Edelweiss. After releasing the latest album "Arlequine" in February this year, Dorothée came to Vietnam for five weeks in May-June for her first-ever tour here. This was part of her residency program with the Institut français du Vietnam.
Vietnam, my beloved
Dorothée Hannequin (The Rodeo) came to Vietnam for 5 weeks in May-June for her first-ever tour here (Photo courtesy by Dorothée Hannequin).
With a total of 5 shows in big cities across the country like Hanoi, Ho Chi Minh City, and Hue, the foreign artist won the hearts of Vietnamese music lovers with her alluring voice and captivating performances. The audiences were also very intrigued by her special connection with Vietnam.
Dorothée has fond memories of spending time with her late Vietnamese grandparents. During her childhood, a love for the S-shaped land was formed naturally, so the French singer keeps on finding ways to embrace her Vietnamese ethnicity. After the plan to perform in Vietnam was decided in 2019, there was a long period of waiting due to the global pandemic outbreak. After successfully organizing the tour in 2023, it became a big part of her "happy memory collection" about Vietnam.
"For me, performing here is a way to keep a souvenir in my own story, to let the imprint of my steps in Vietnam," said Dorothée.
Performing two most recent albums for Vietnamese audiences, The Rodeo's pop-rock songs set a distinct French folk-inspired mood. Dorothée believed that the songs were able to reach the people's hearts because they carry many emotional stories in both melody and lyrics, like lullabies sung by mothers.
The Rodeo plays at the French Institute in Da Nang on June 22 (Photo: Institut français du Vietnam).
"Folk is a timeless melody like your mom sings to you and it stays in your mind forever. [What I love about] folk music is that it is universal. It is about melody and rhythm. You can play in Asia or Africa but you can make the melody with just hand-clapping and vocal. [In the show] I like to play with the audiences, make them repeat the melody or clap, snap," claimed the French singer.
The Rodeo also put the listeners on a ride of emotions from beginning to end. The shows started slowly with the sound of acoustic but gradually picked up the pace with the piano, the vocal, and the layers of many sounds.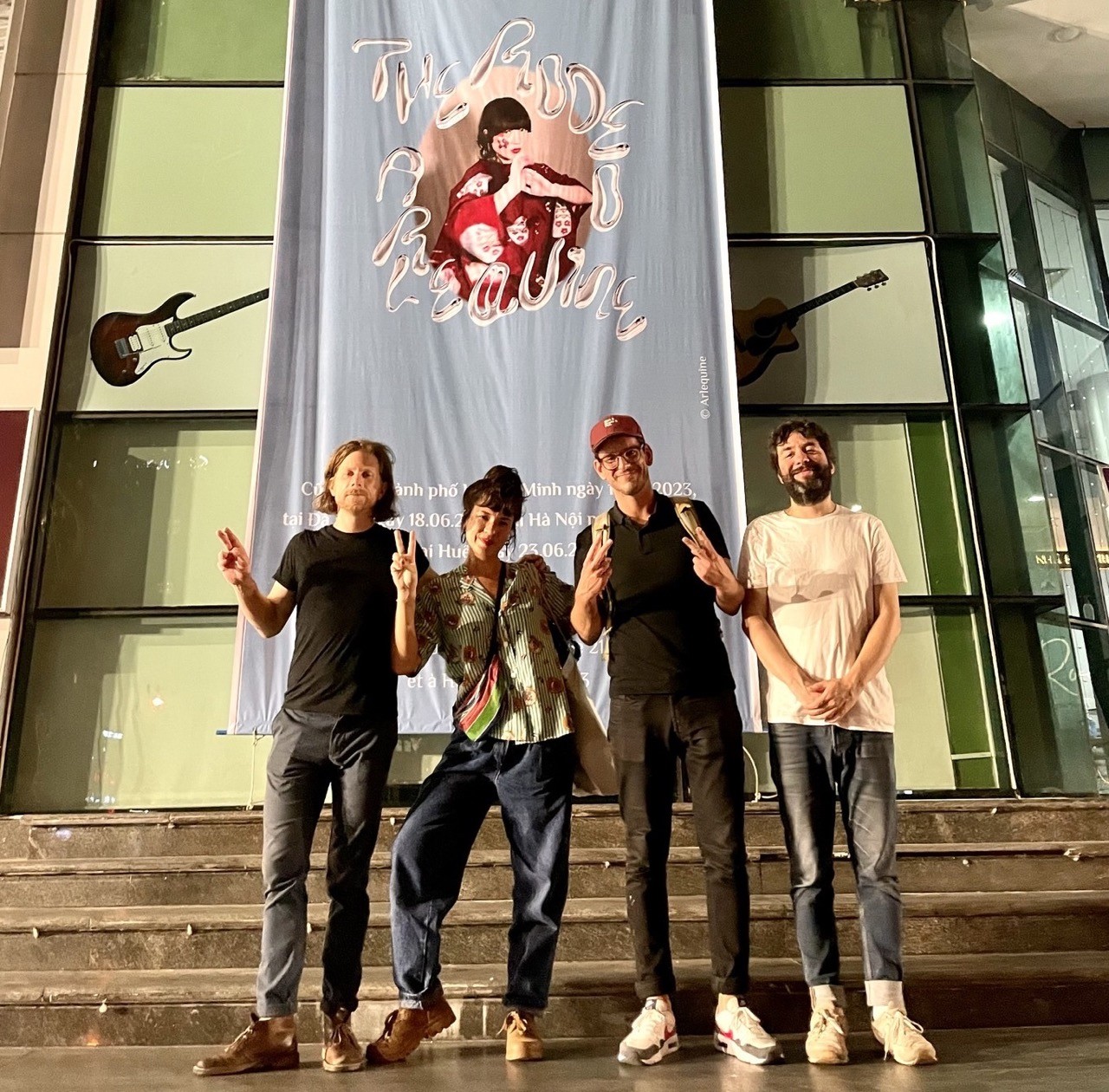 Dorothée (second from left) and the band at their show venue in Da Nang (Photo: The Rodeo).
Thanks to the power of music, Dorothée feels connected with people from different cultures. She had beautiful memories of meeting Vietnamese audiences, and having conversations with them on stage and off-stage.
Letting Vietnamese heritage shine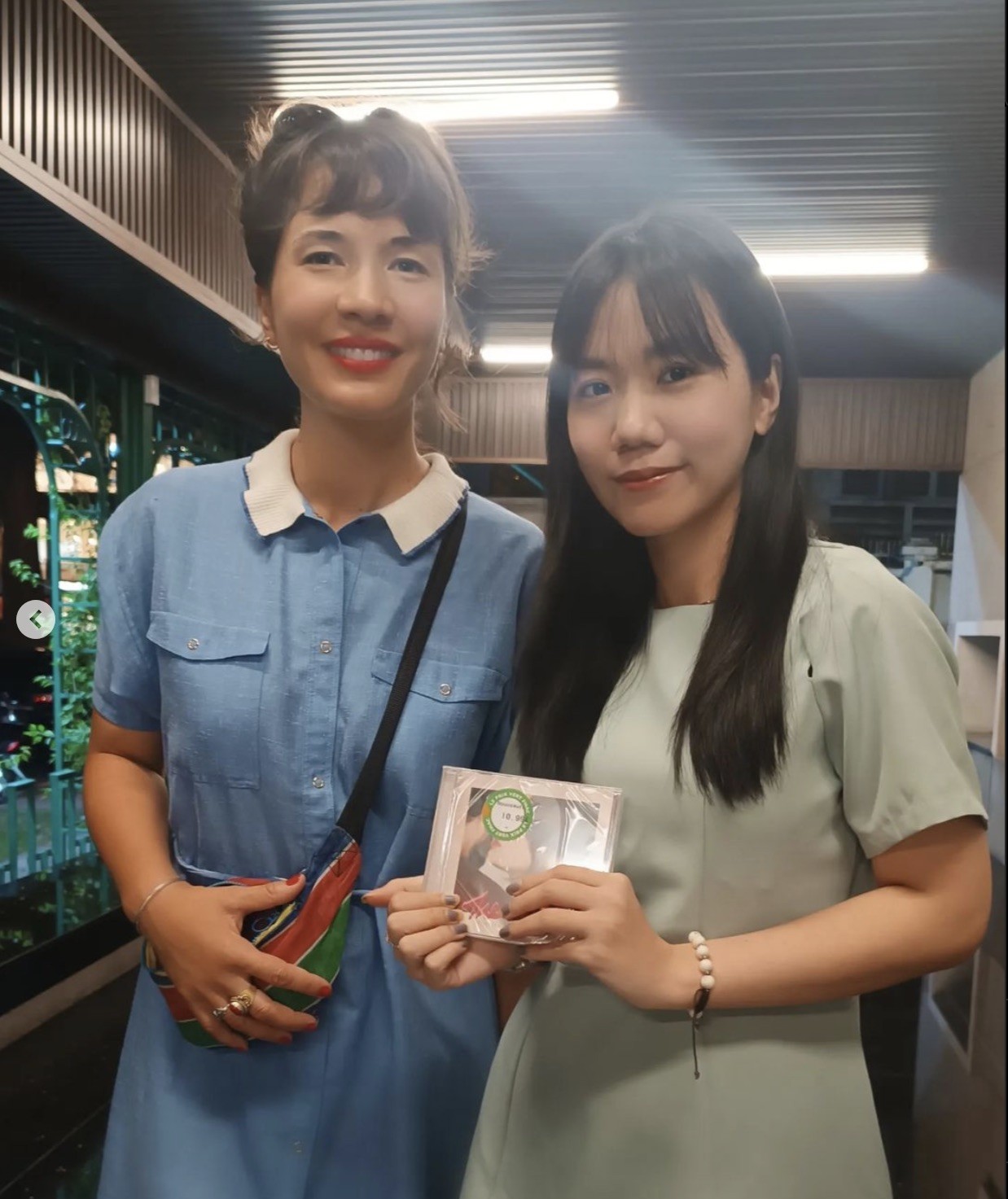 Meeting with a fan from Vietnam (Photo: Instagram/@gemmaquynhphan).
During her short stay, Dorothée loved to spend her free time immersing in the local lifestyle across Vietnam whenever she can. As the passionate artist explored the streets of Hanoi, HCMC, Hue,..etc, many creative ideas were born. Either they are the organic sounds of flute, of birds singing, even though invisible, or the fabric and colors of a tailored suit, Dorothee collected them to bring back to France after leaving Vietnam. They are not just pieces of memories from Vietnam, they now play important roles that inspire her future creations.
Although The Rodeo had hit many stages all over the world, Vietnam will always have a special place in her heart. The French artist believes the more she learns about Vietnam, the stronger her desire to include its beauty in her art. With a desire to constantly reinvent her artistic self, Dorothée decided to let her Vietnamese heritage shine in the new projects.
"I was amazed by the sounds of the Tu Hu bird while traveling in Vietnam so I record the bird and will put [the sound] in a future song. And I had a new outfit made in Hue. It's the colorful costume of a bird. I will make my new music video with that costume," said Dorothée.