Free Tet Supermarket for Da Nang's Flood Victims
The Red Cross of Da Nang City has organized a mobile supermarket model to deploy the "Supporting people affected by floods in Da Nang city" program. Thanks to this, many poor people who are flood victims have been able to shop for free for the upcoming lunar new year.
The funding for this program to support the poor has a total value of around VND 6.800.000.000 (USD 286.925.92). Through the mobile supermarket model, people affected by the historic flood can buy Tet items with a voucher worth VND 1.000.000 (USD 42.19).
There are 6 mobile supermarkets held in the area, lasting from January 4 to January 14. These establishments provide 3,400 vouchers for food and 1,500 vouchers for essential household items for those in need. Goods sold in these mobile supermarkets are very diverse and all have preferential prices compared to normal prices in the market.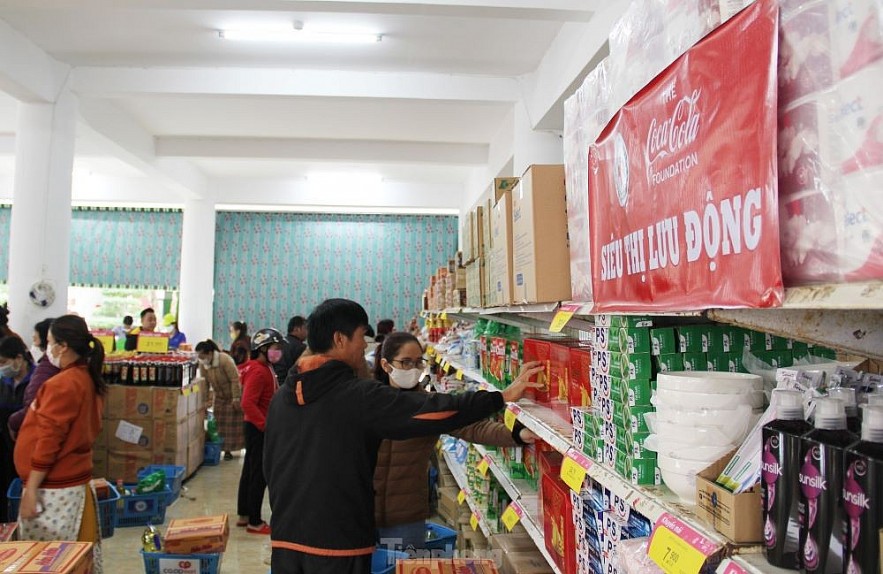 Photo: Tienphong.vn
Nguyen Thi Le is a poor resident in Hoa Tho Tay ward, Cam Le district, received one of these vouchers. Le's life is inherently difficult because she is old and her family is very poor. During the historic flood, around October 2022, her house was deeply flooded, and much of her furniture was badly damaged.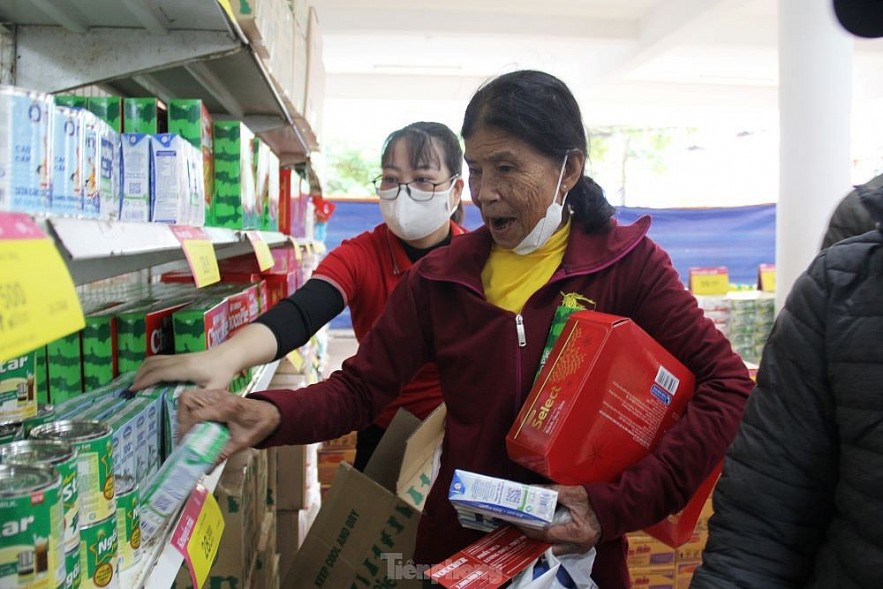 Photo: Tienphong.vn
She asked her grandson to drive her to the Cultural Center of Khue Trung Ward (Cam Le District) to go to a mobile supermarket in the early morning of January 6. There, Le was given a voucher for new year's shopping. She carefully selected each item on the shelves at the mobile supermarket because she did not want to waste her voucher.
"I'm happy to be able to shop for free. VND 1.000.000 (USD 42.19) is enough for me and my family to buy things for Tet. Besides rice, oil, and fish sauce, I also bought some sweets and other things for my altar. So this New Year, I will have less to worry about.." said Le with a smile.
With the help of a volunteer, she quickly picked up the goods she needed. Even though she has filled 2 baskets, she still has some money left. Therefore, the cashier also instructed her to buy a few more items to make the most of her voucher.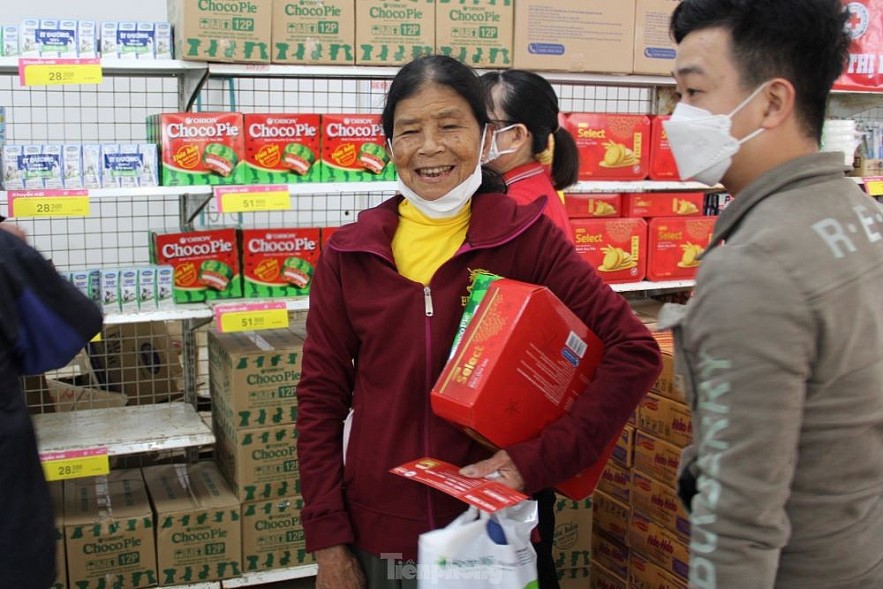 Photo: Tienphong.vn
Like Le, during the recent historical flood, Nguyen Luy (61 years old, group 23, Hoa Tho Tay ward) also lost all his valuable assets such as chickens, ducks, and buffaloes. "I originally wanted to sell my chickens and ducks this Tet. However, the flood washed them all away. Fortunately, the Red Cross and many kindhearted sponsors supported me," said Luy while carefully loading two bags of Tet goods onto his bike.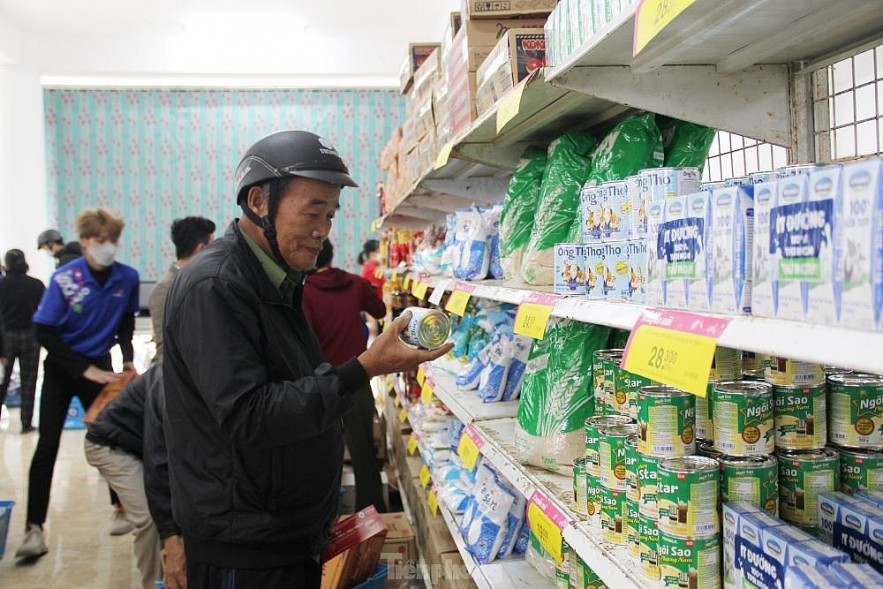 Photo: Tienphong.vn
According to Le Thi Nhu Hong - Chairman of the Da Nang Red Cross Society, thanks to the mobile supermarket model, people will be able to choose the necessities and food they want for Tet, according to the needs of their family.
During the Lunar New Year, besides the Mobile Supermarket chain in collaboration with the Coca-Cola Foundation, the Da Nang Red Cross Society also prepared a series of charity activities to support disadvantaged people in the area. We plan to mobilize 20,000 Tet gifts with a value of at least VND 10.000.000.000 (USD 421,949.88)," said Hong.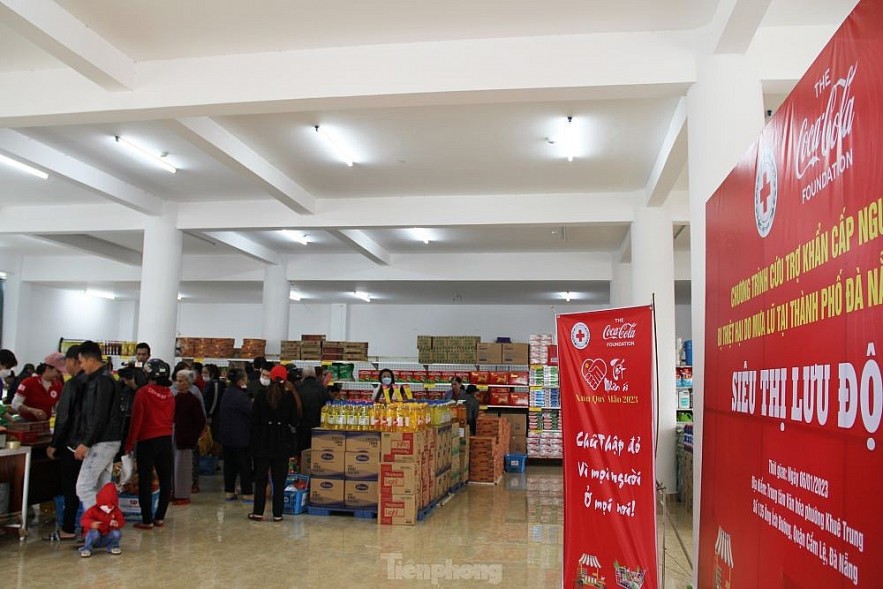 Photo: Tienphong.vn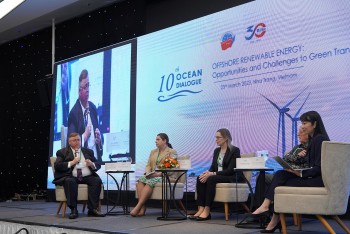 Seas and islands
Vietnam and other coastal countries in the region have both opportunities and challenges in developing offshore renewable energy, according to the 10th Ocean Dialogue held in Khanh Hoa province on Thursday.