Vietnamese Community in Ukraine to Celebrate Tet in Wartime
Approximately 400 Vietnamese people are living in Odesa, Ukraine. They are gradually stabilizing their lives as the war continues into 2023.
Daily life during wartime
The family of Nguyen Nhu Manh, President of The Vietnamese Association in Odesa, Ukraine, has eight members. Since the conflict between Ukraine and Russia broke out, Manh's family has had to live apart. Manh's eldest daughter and granddaughter are in the UK. His second son is in Germany, his third daughter is studying in Belgium. Manh's youngest daughter and his wife are in Denmark, while he is in Ukraine.
At Christmas and New Year, they will reunite in Germany. Manh will go back to Ukraine after the third of January, while his children and wife will return to other countries. "It's sad for me to live in Ukraine alone, but our family is forced to adapt to ensure our children's safety and uninterrupted schooling," Manh said.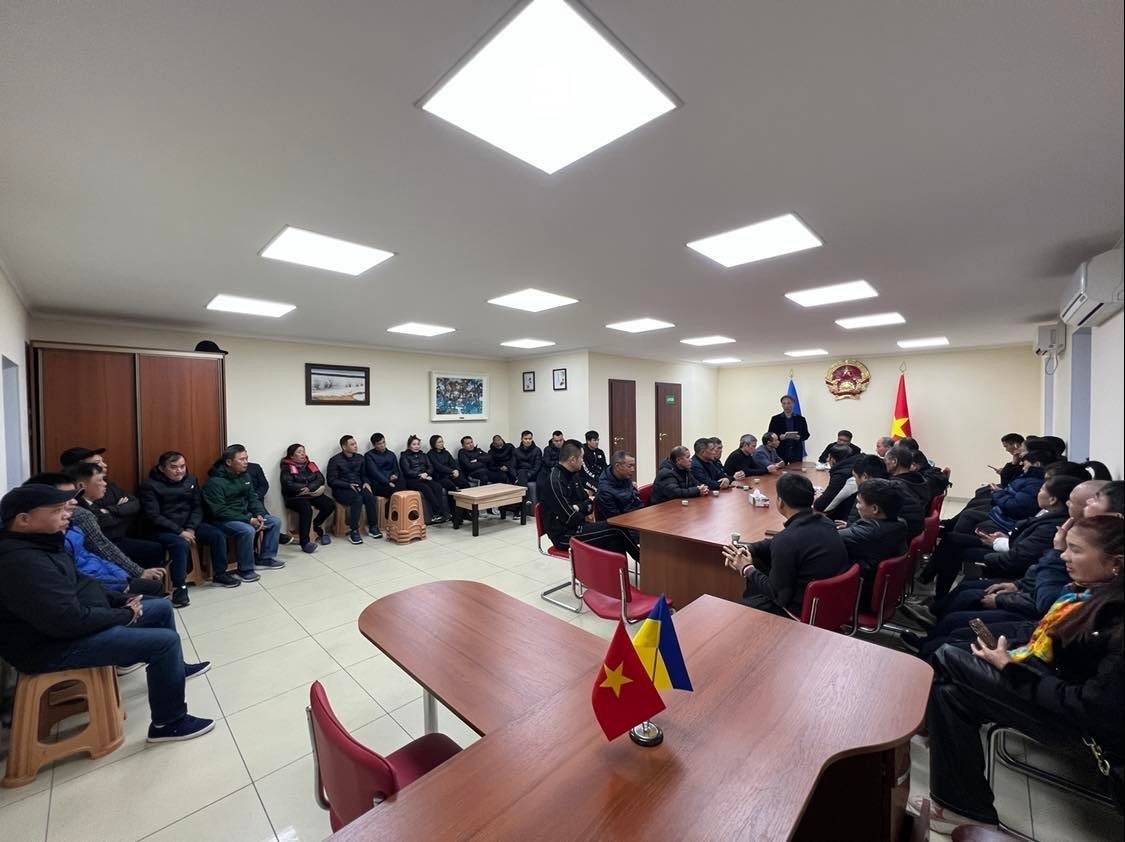 Honorary Consul Nguyen Van Khanh meets with Vietnamese people living in Lang Sen (Lotus Village), Odessa.
According to Manh, the Vietnamese community in Odessa is reorganizing its life during wartime and adapting to storing water and generators.
"Since Russia targeted critical infrastructure, especially electrical substations, the power outage has also significantly affected people's daily life. Many families have to buy generators, battery packs, and power transmission to meet domestic and heating needs," he said.
Despite difficulties, Manh always encourages himself to try to overcome challenges. He wishes that all Vietnamese people who have fled the countries soon adapt to a new life and can welcome the Lunar New Year warmly. Hoping that everybody has much joy, happiness, and peace this upcoming year.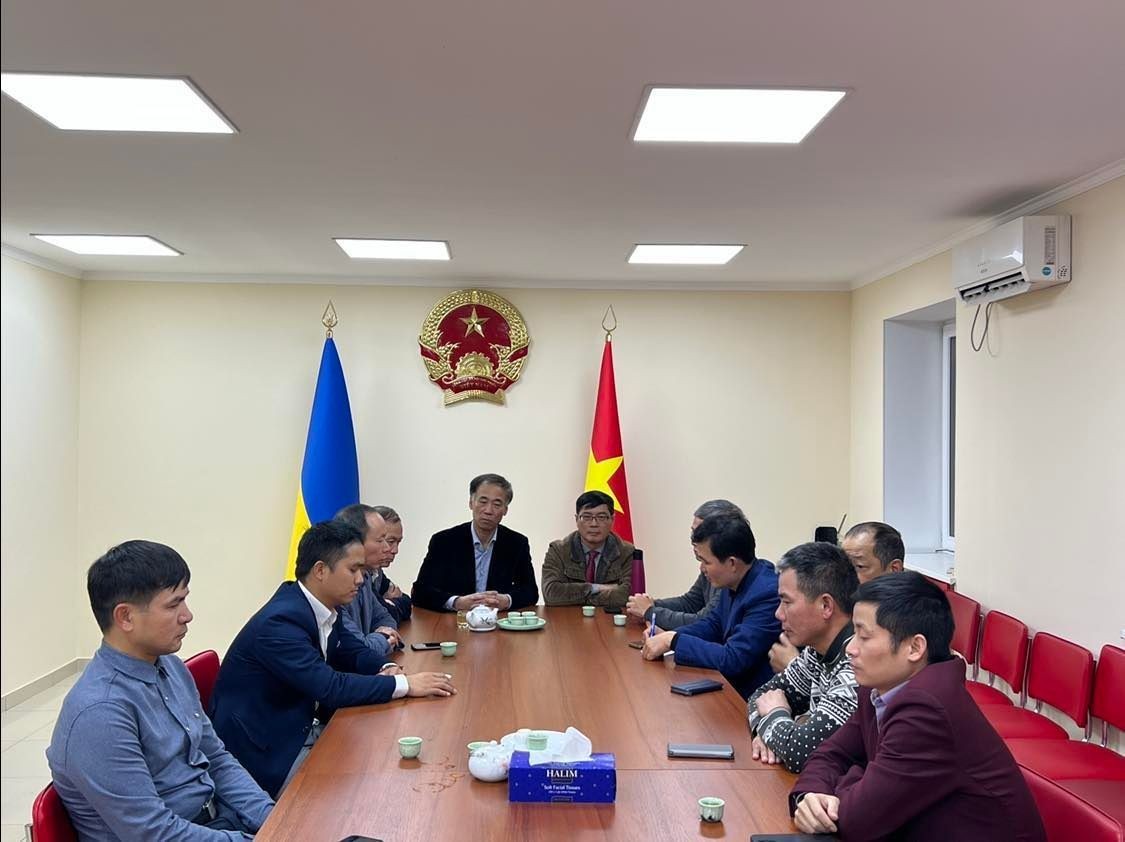 Ambassador Nguyen Hong Thach (wearing glasses) works with key community officials.
Overcoming challenges
Nguyen Van Hung, Secretary of the Honorary Consul Office of Vietnam in Odessa province, and Vice President of the Vietnamese Association in Odessa, Ukraine, said that there are currently 400 Vietnamese people living in Odessa. Odessa was the city that suffered the least from the conflict and offers sanctuary to the Ukrainians and Vietnamese expats who fled to escape the conflict.
"Life in wartime is difficult, but Vietnamese families here have tried to maintain the education of their children. At home, the children have continued to study online. The Vietnamese Association in Odessa organized a live class for children preparing to enter grade 1 at Lang Sen (Lotus Village). The class has been taught by a Ukrainian teacher for more than three months."
The Vietnamese Embassy in Ukraine also regularly contacts and encourages the Vietnamese community in Ukraine. Many people expressed their wish that the Embassy would assist in making passports for their children, so that they could fly back to Vietnam to study," Hung informed.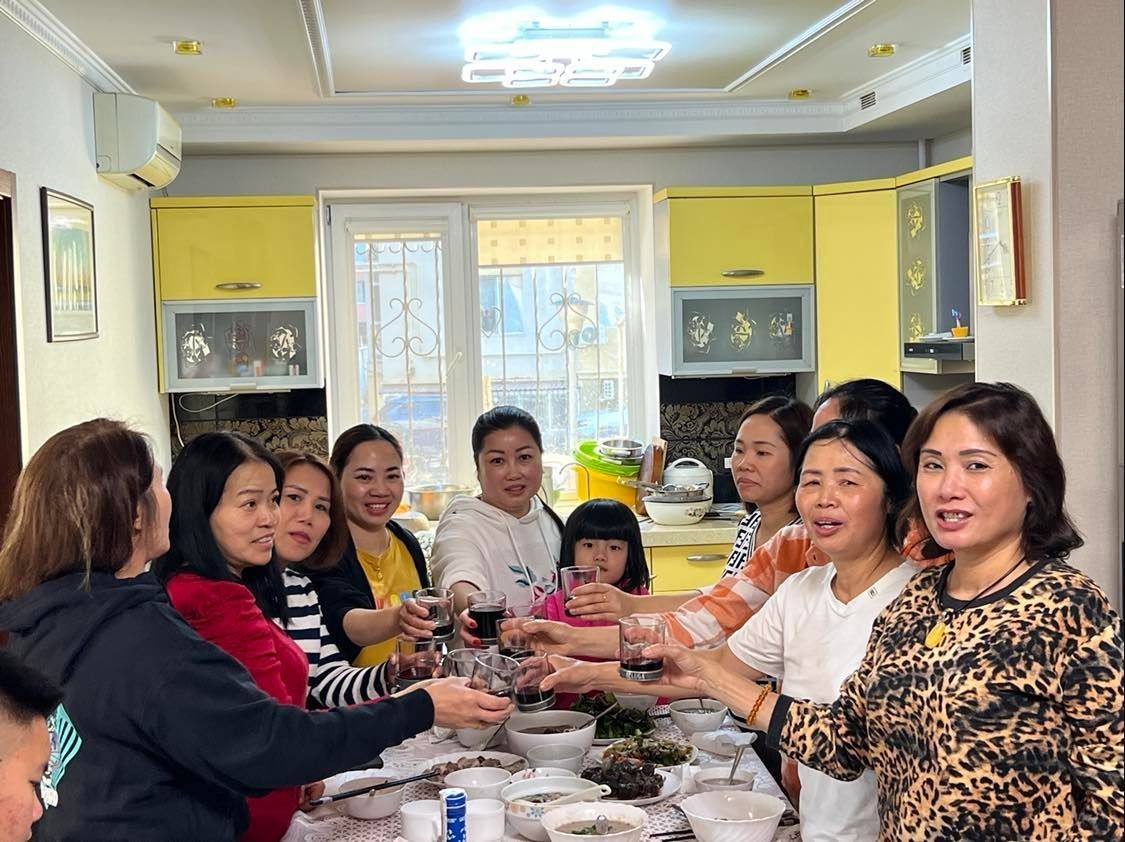 New Year's Eve party of a family in Lang Sen (Lotus Village)
With hard work, flexibility to adapt, and the low cost of rent expense in Odessa, Vietnamese people have turned risks into opportunities, gradually overcoming challenges and having a stable source of income. This year, the Vietnamese community in Odessa still welcomes a warm Tet. Those families still maintain the traditional cultural features of the Vietnamese Lunar New Year such as cooking banh Chung and making traditional dishes for Tet. Although there have no crowded gatherings like before, they will instead organize smaller meetings.
"I will bring my family back to Vietnam to celebrate the Lunar New Year, then we will return to Ukraine," Hung said.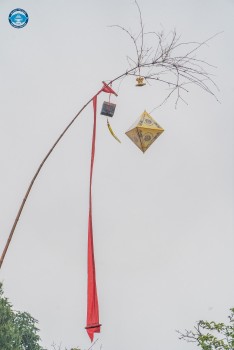 Viet's Home
In the past, the Neu pole (a tall bamboo pole with red garment strips used to ward off evil spirits during the lunar New Year) lowering ceremony at the royal palace of the Nguyen Dynasty was performed to mark the end of the New Year holiday and prepare to enter a new working year.