Vietnamese Citizens Head to the Streets for Tet Holiday Shopping
In the last days of the year, many young people eagerly flock to the streets to shop and redecorate their houses to welcome the Lunar New Year. One of the famous shopping places for Tet is Hai Thuong Lan Ong Street, District 5, in Ho Chi Minh City.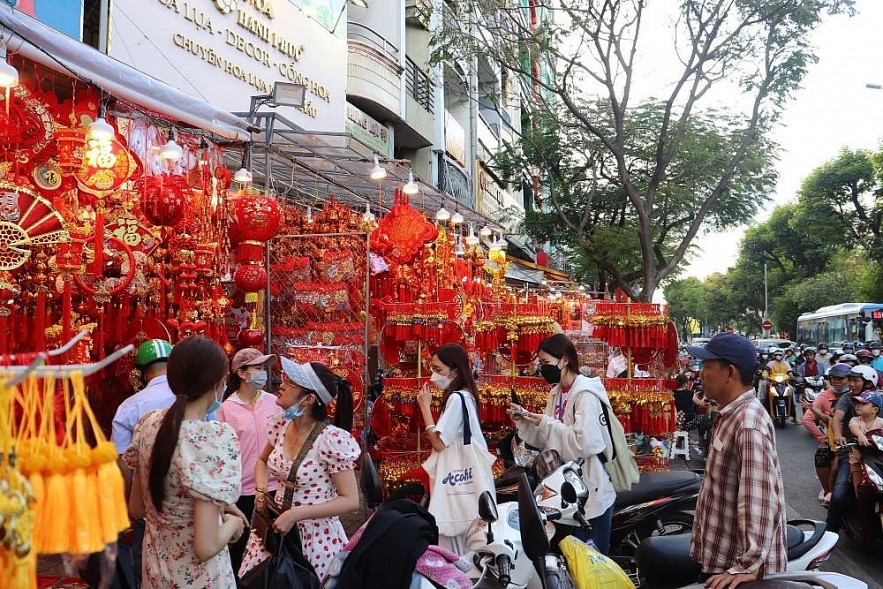 Photo: Thanhnien.vn
Right after the end of the sale of decorations for Christmas 2022, the stalls at the corner of Hai Thuong Lan Ong Street, District 5 (HCMC) switched to selling Tet decoration accessories. To meet the demand of customers, many diverse and rich designs such as couplets, items to decorate cherry blossom trees, and apricot trees are selected and imported by small businesses.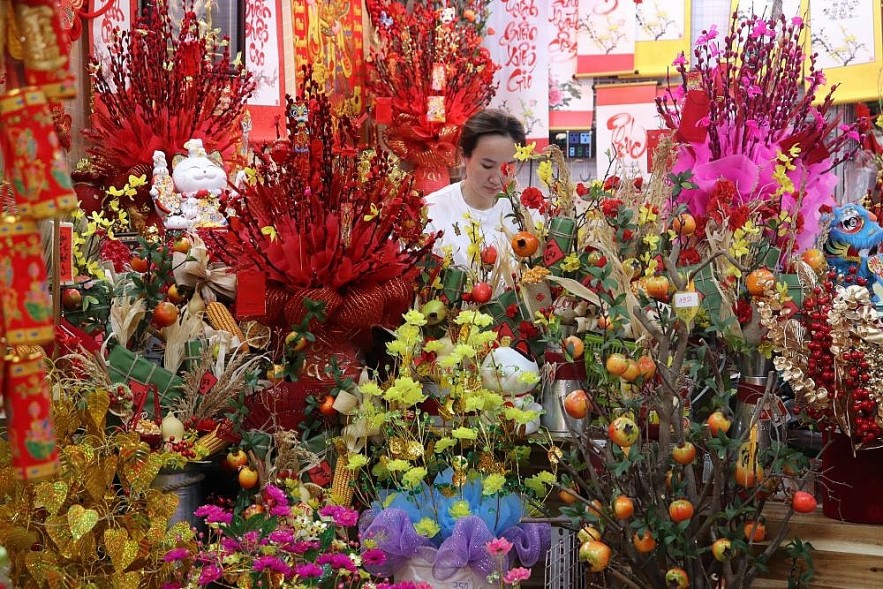 Photo: Thanhnien.vn
Nguyen Khanh Toan (27 years old), a small trader at stall number 151 Hai Thuong Lan Ong, Ward 13, District 5, Ho Chi Minh City said: "In 2022, due to the Covid-19 epidemic, there were few buyers. However, thanks to this year's gradual economic recovery, more people went shopping for the holiday. From December 10 to December 20, the number of visitors increased significantly. This number will increase even more in the days leading up to Tet."
In addition, Toan also shared that the price of items this year has increased, but not significantly. From 17:00 p.m., many young people often come to this neighborhood to buy Tet decorations.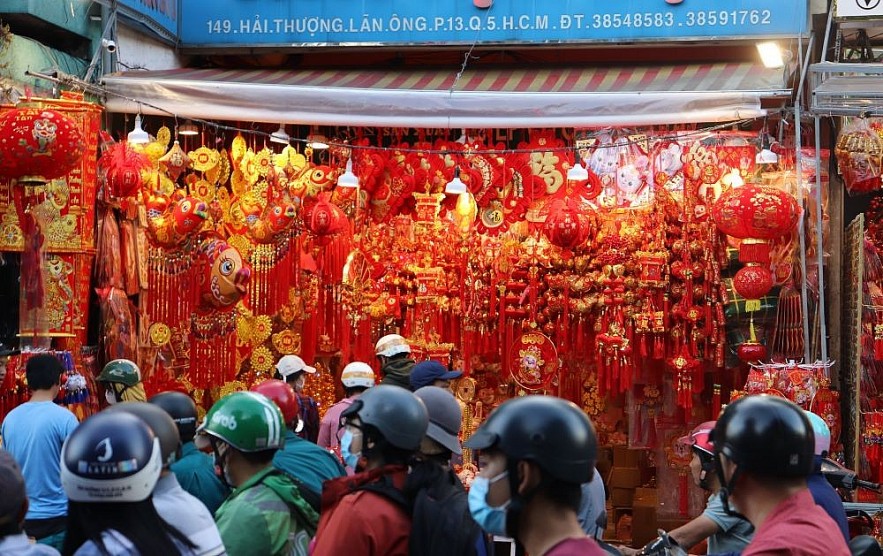 Photo: Thanhnien.vn
With a variety of sizes and types, customers can freely choose products according to their own preferences. Tran Nhu Y, a 25-year-old resident, living in District 10, Ho Chi Minh City, said it is not difficult for her to choose the products she needs.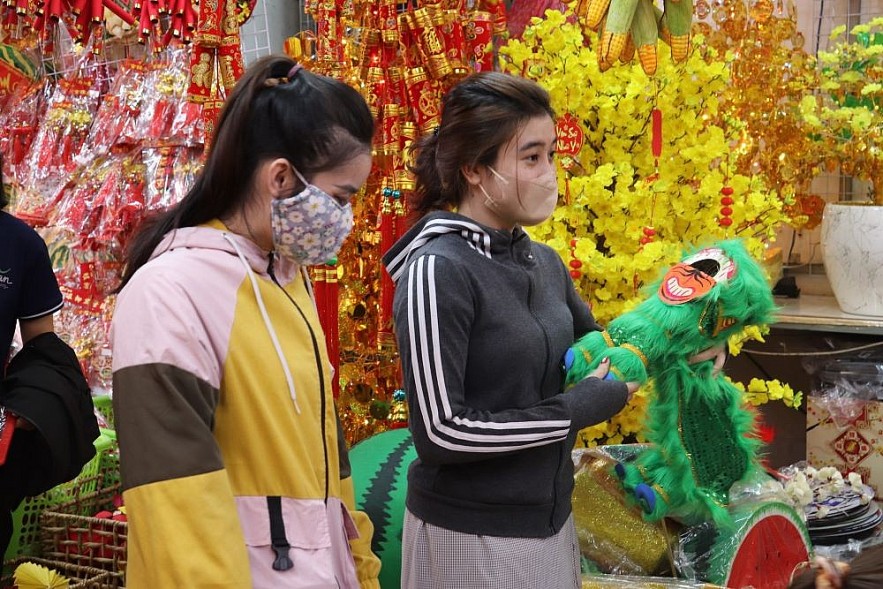 Photo: Thanhnien.vn
Nguyen Thi Cam Tu, a 27-year-old resident of District 8, Ho Chi Minh City, and her husband went to buy Tet decorations at a stall on Hai Thuong Lan Ong Street. "This is my first time coming here. We went to many places to buy stuff. This street has many places that sell beautiful and cheap things. I find the atmosphere here very lively. Today I bought some coins and cat stickers to decorate the house. In total, we spent more than VND 1000000 (USD 42.19). I find the prices here are reasonable."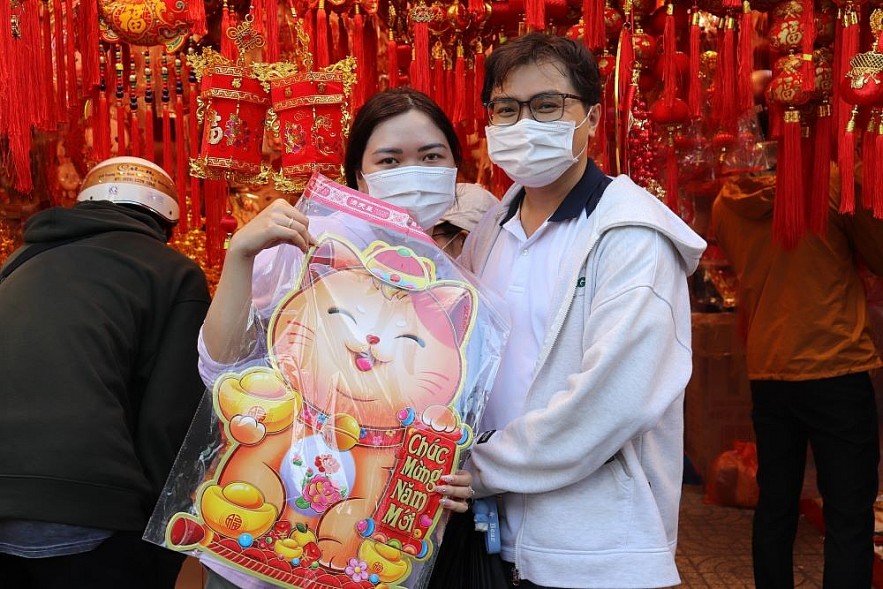 Photo: Thanhnien.vn
Depending on the size, the price of plastic apricots and cherry blossom trees ranges from VND 110,000 (USD 4.64) to VND 140,000 (USD 5.91)/kg.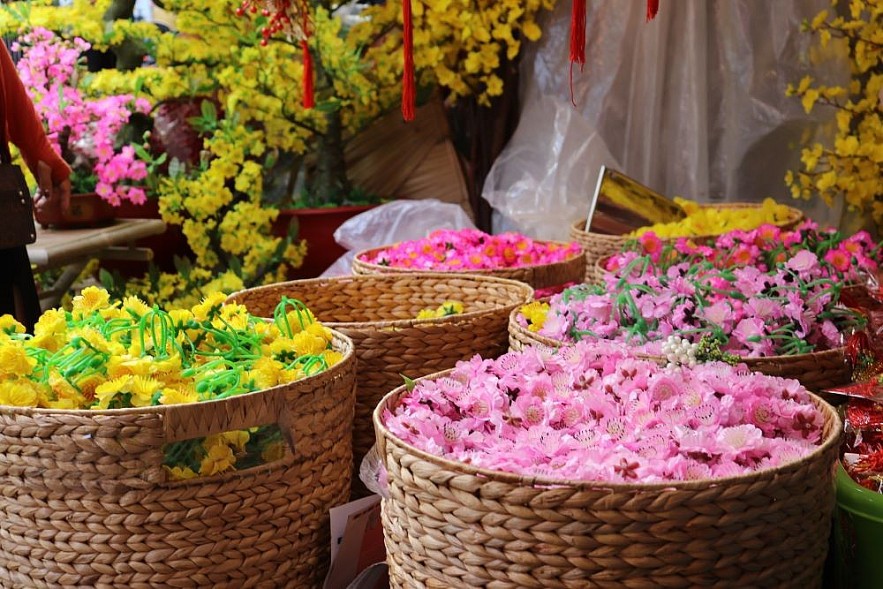 Photo: Thanhnien.vn
This year is the year of the cat, so many items are designed in the shape of this animal.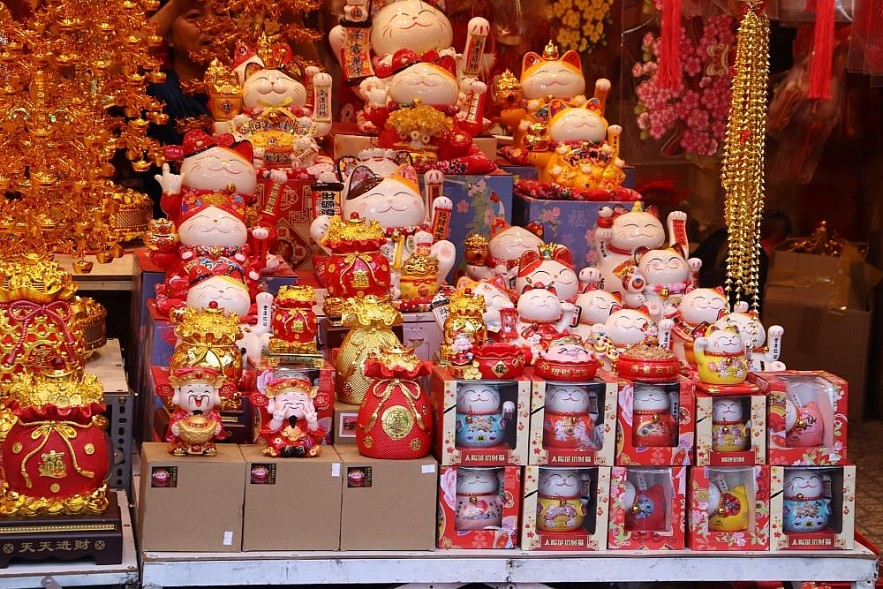 Photo: Thanhnien.vn
Vu Hoai Phuoc (29 years old), living on Su Van Hanh Street, Ward 5, District 10, Ho Chi Minh City, said: "In previous years, I bought things from other places, but this year I chose to go to this street to buy things. I bought fake firecrackers, Banh Chung, and beautiful home decorations to welcome Tet."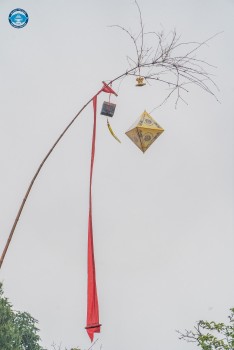 Viet's Home
In the past, the Neu pole (a tall bamboo pole with red garment strips used to ward off evil spirits during the lunar New Year) lowering ceremony at the royal palace of the Nguyen Dynasty was performed to mark the end of the New Year holiday and prepare to enter a new working year.