French businessman caught growing cannabis in Hanoi
Tiberghien Frederec, 55, was caught growing the waccy baccy among fruit trees on a large piece of land by the bank of the Red River, harvesting it several times for 'personal use'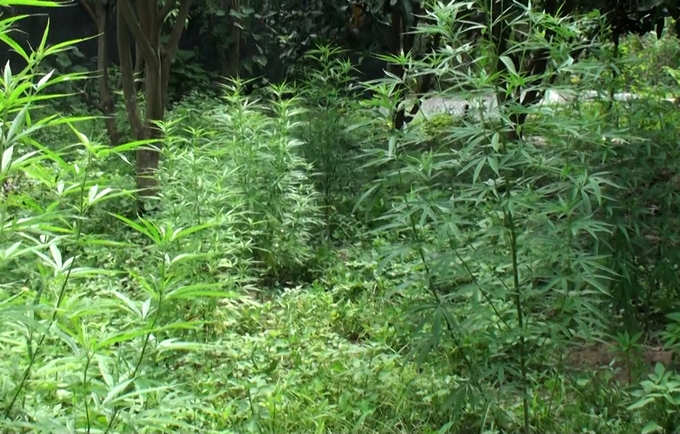 Cannabis plants in a corner of the garden. Photo provided by police.
On June 9, leaders of Long Bien District Police said that Frederec had not been detained. "He will be administratively sanctioned, but we still have to investigate more," they said.
According to Vietnanese VnExpress, Frederec had opened a travel agency in Yen Binh district, Yen Bai province, where he temporarily resided. The French businessman then married an ethnic Dao woman. About two years ago, the couple rented 3,000 square meters of land by the Hong (Red) River in Ngoc Thuy ward, Hanoi's Long Bien district, to cultivate and grow fruit trees. The proceedings are in the name of his wife.
Frederec testified a few months ago that an unidentified friend in Yen Bai gave him some cannabis seeds that he brought back to plant on the land. He did not plant them in clusters, but scattered them throughout the garden, interspersed with fruit trees to avoid detection.
"He is not addicted to drugs but grows them to get dried marijuana. In fact, Tiberghien Frederec has harvested marijuana just a few times and used it," the district police leader said. "Only his wife and children permanently reside near the garden. He is still mainly in Yen Bai, coming here from time to time."
Marijuana looks like chopped grass, so it is sometimes difficult to detect with the naked eye. Through patrols and local people's reporting, undercover police caught him red-handed when Frederec returned to the garden at 11:30 am on June 5.
An investigator said the garden was in the middle of the Red River's bank, where the terrain is wide and walking is difficult. To enter the garden, the authorities had to walk around for several kilometers.
Authorities seized 115 fresh cannabis plants weighing 34 kilograms and over 40 grams of dried cannabis.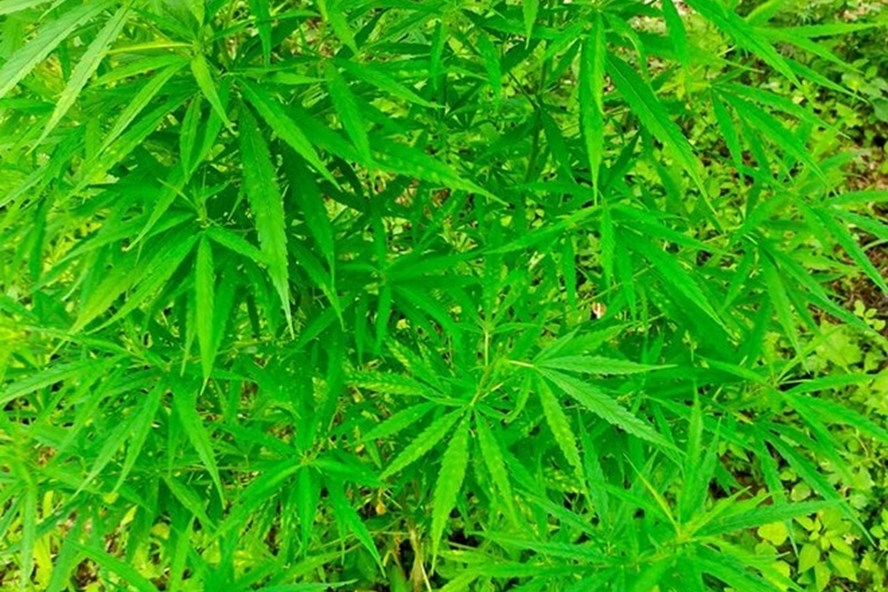 Cannabis is on the list of narcotics forbidden in Vietnam. Police photo.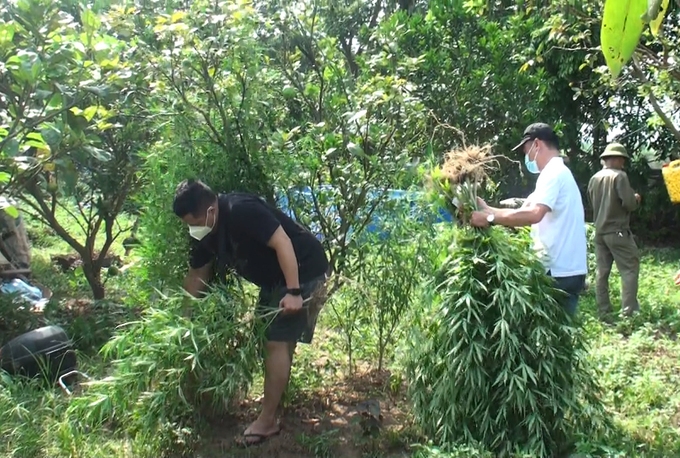 Authorities seized cannabis plants. Police photo.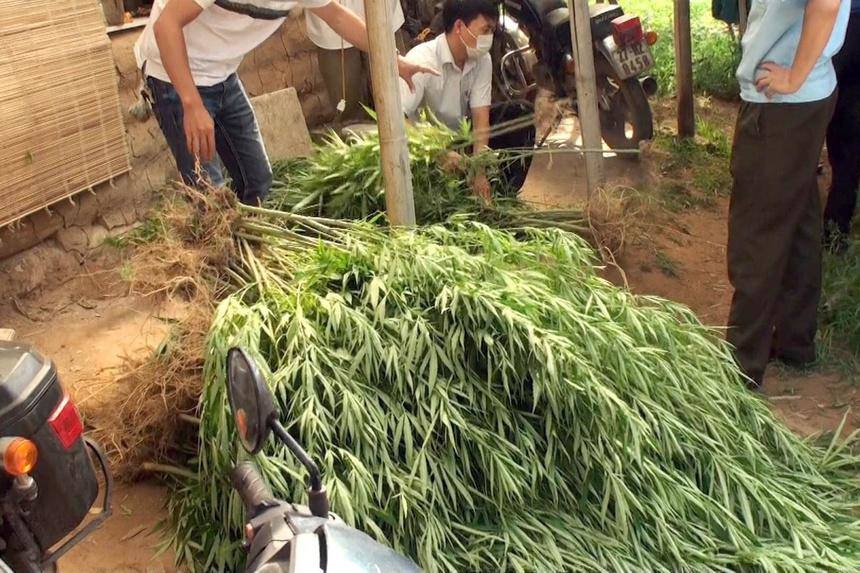 Police, having seized the entire cannabis crop, plan to expand their investigation. Police photo.
Lawyer Hoang Tung from Trung Hoa Law Office said growing cannabis WAS strictly prohibited in Vietnam. Frederec, residing in Vietnam, will be held criminally or administratively responsible in accordance with Vietnamese law. Penalties for foreigners committing crimes depend on the seriousness and consequences of the offence.
Citing article 247 of the Penal Code, Tung said that anyone who grows poppies, coca, cannabis or other plants with the quantity from 500 to 3,000 plants could face jail terms of six months to three years. The sentence will increase to 3-7 years if it is an organized crime networks, 3,000 plants or more; or a dangerous reoffence.
However, for the act of planting 115 cannabis plants, Frederec can be administratively fined at VND 2-5 million, according to the provisions of Clause 3, Article 21 of Decree 167/2013. In addition, this person was also found to have 40 grams of dried marijuana, so can be prosecuted for criminal liability under article 249 of the Penal Code for illegal possession of narcotics.
The additional penalty is a maximum fine of VND 50 million. Those convicted of illegal possession of narcotics can be sentenced to up to 20 years in prison or life sentence.
Foreigners, depending on the seriousness of the crime, can be expelled from Vietnam.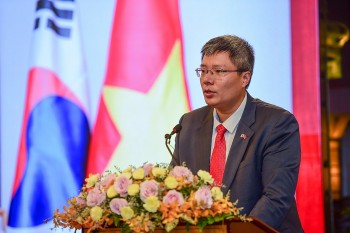 Viet's Home
Tran Hai Linh, member of the Central Committee of the Vietnamese Fatherland Front, chairman of the Vietnam-Korea Business & Investment Association (VKBIA) shared with the Vietnam Times about strengthening the capacity to promote Vietnamese culture to the world.