Vietnam welcomes US's plan of sharing 500 million Covid-19 vaccine doses
Vietnam welcomes the US's vaccine sharing strategy after President Joe Biden announced a plan to purchase 500 million doses of Pfizer's Covid-19 vaccine for the global supply.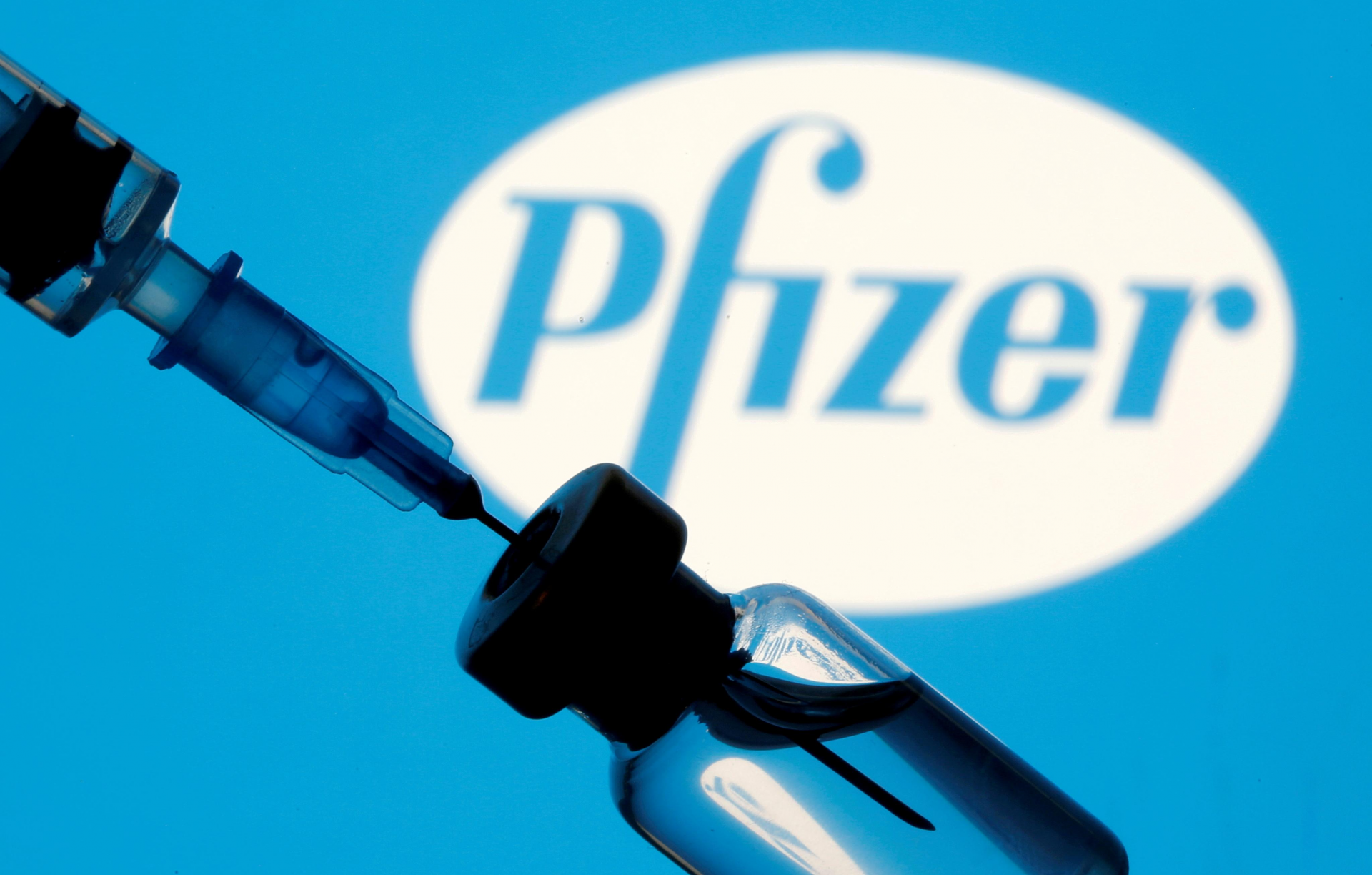 A vial and syringe are seen in front of a displayed Pfizer logo in this illustration taken January 11, 2021. Photo: Reuters
Vietnam welcomes the US's vaccine sharing strategy to allocate the first 25 million doses to the world, including Vietnam and other Southeast Asian nations, spokeswoman of the Ministry of Foreign Affairs Le Thi Thu Hang said during the ministry's regular press conference, held online on June 10.
Given the complex developments of the pandemic, Vietnam wishes that countries and international organizations will promote the spirit of solidarity and the sense of responsibility, and enhance the sharing of technological, financial and medical information, especially vaccine, to drive back the pandemic, she stressed.
Biden – keen to burnish his multilateral credentials on his first foreign trip as leader – on Thursday cast the donation as a bold move that showed the US recognised its responsibility to the world and to its own citizens, Aljazeera reported.
"The United States is providing these half billion doses with no strings attached. No strings attached," Biden said, speaking alongside Pfizer Chief Executive Albert Bourla in the English seaside resort of Carbis Bay before a G7 summit.
"Our vaccine donations don't include pressure for favours, or potential concessions. We're doing this to save lives, to end this pandemic, and that's it," he said.
The US commitment is to buy and donate 500 million Pfizer doses for distribution through the global COVAX alliance to 92 lower-income countries and the African Union.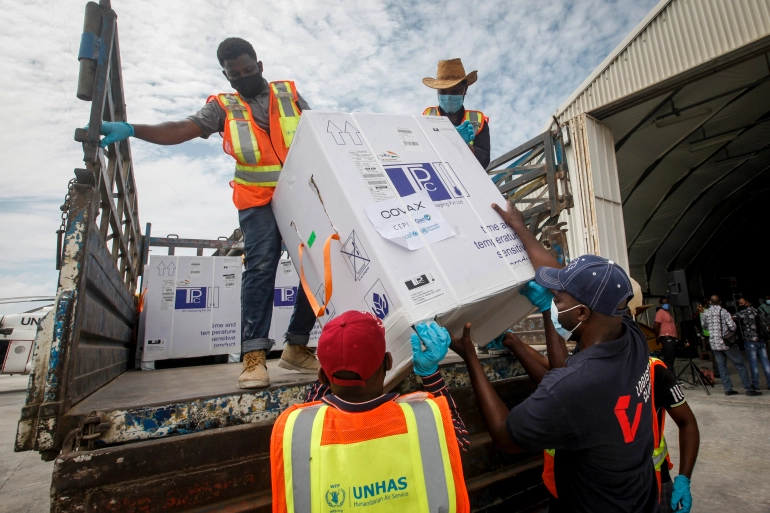 Shipment of Covid-19 vaccines provided through the COVAX global initiative arriving at the airport in Mogadishu, Somalia. Photo: AP
Biden had faced mounting pressure to outline his global vaccine sharing plan, especially as inequities in supply around the world have become more pronounced and the demand for shots in the US has dropped precipitously in recent weeks.
"It's our very strong view that given the lack of coverage around the world it's absolutely critical to make a big move like this to get more vaccines into the system as quickly as possible," said Gayle Smith, the global COVID coordinator at the US State Department.
Officials said the goal is to distribute 200 million doses by the end of the year. The remaining 300 million doses would be shipped in the first half of 2022.
Global vaccine distribution has been among the key issues at the G7 summit, which began on Friday, with discussions already underway on a $50bn vaccine distribution plan for poorer nations
British Prime Minister Boris Johnson has said he is seeking a commitment to vaccinate the whole world by the end of 2022, while UK Foreign Secretary Dominic Raab says equitable access to shots through COVAX is essential.
Anti-poverty campaign group Oxfam welcomed Biden's announcement and called for more to be done to increase the global production of vaccines.
"Surely, these 500 million vaccine doses are welcome as they will help more than 250 million people, but that's still a drop in the bucket compared to the need across the world," said Niko Lusiani, Oxfam America's vaccine lead.
At the press conference, Hang also said Vietnam will step up the research and transfer of vaccine production technology, towards maximizing vaccination coverage.
She cited the Government's target of administering Covid-19 vaccines to about 75 percent of the national population, soon reaching herd immunity and bringing people's lives to normal.
Vietnamese competent agencies will publicise agreements on vaccine purchase, import and donation, as well as vaccine production technology transfer, the spokeswoman affirmed.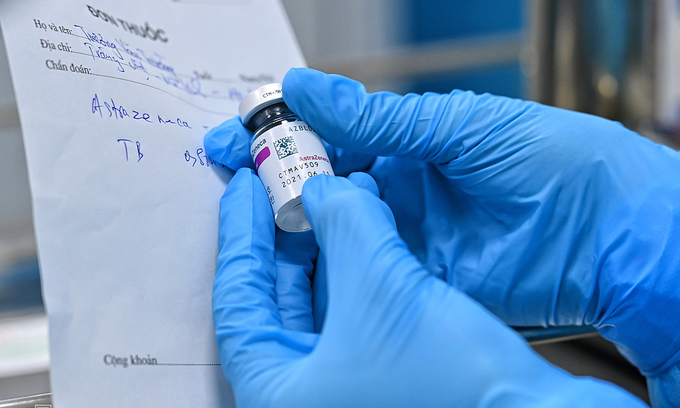 A medical worker holds a vial of Covid-19 vaccine AstraZeneca against a file with name and address of a person that is about to get vaccinated. Photo: VnExpress
Over the past time, the Ministries of Health and Foreign Affairs, and Vietnamese representative offices abroad have made every effort in negotiating and mobilising foreign governments, international organisations, and vaccine producers and suppliers so that Vietnam would acquire more Covid-19 vaccines, Hang said.
Vietnam has so far received around 2.6 million doses of Covid-19 vaccines through the COVAX Facility, along with commitments to donating and supplying vaccines from a number of countries, international organisations and producers, she added.
She also informed the press about the health ministry's issuance of a decision on June 3 on the conditional approval of Covid-19 vaccines for emergency use, including Vero Cell Inactivated vaccines produced by Beijing Institute of Biological Products of China, according to Vietnamplus.
The Ministry of Health reported 51 more Covid-19 infections detected in the past 12 hours to 6am on June 11, including 10 imported cases that were quarantined right upon their arrival in the southern province of Ba Ria – Vung Tau.
Among the 41 locally-transmitted cases, 10 each were found in Bac Giang province and Ho Chi Minh City, and four each in Bac Ninh and Ha Tinh province.
The number of domestic and imported infections stood at 8,206 and 1,629 respectively. Of the total, 6,636 were recorded since the fourth wave of Covid-19 that started on April 27.