Friendship medal presented to Australian diplomat
The noble award constitutes the recognition of the former deputy ambassador's efforts and contributions to strengthening the Vietnam-Australia relations.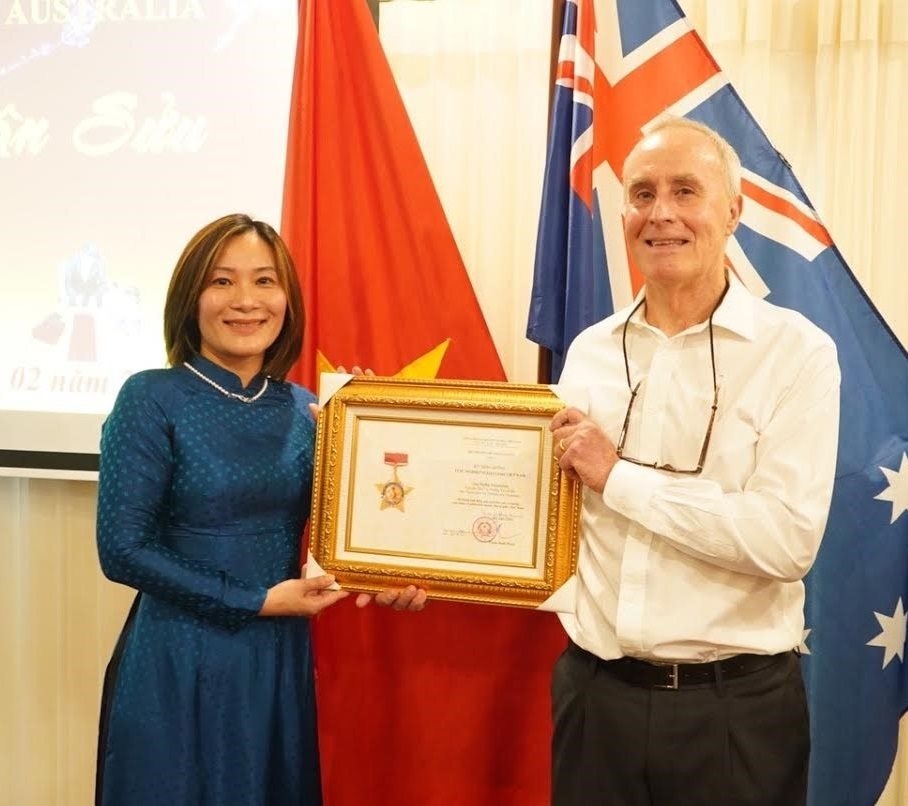 The Vietnamese Embassy presented insignias to Phillip Stonehouse, a former officer of the Australian Department of Foreign Affairs and Trade, to honor his contributions to Vietnam-Australia relations. Source: Australian Embassy in Hanoi
Australian Former Deputy Ambassador, Phillip Stonehouse, recently has been officially recognized for his continuous contributions to building bilateral ties between Vietnam and Australia over a 35-year diplomatic career.
The medal was awarded by Deputy Prime Minister and Foreign Minister Pham Binh Minh on July 28, 2020, but due to the COVID-19 pandemic, the official presentation was by Charge d'affaires of the Embassy of Vietnam in Australia Pham Thuy Nga at a pre-Lunar New Year (Tet) Vietnamese Embassy function in Canberra last week.
According to Australian Embassy in Hanoi, Phillip had two postings to Vietnam, first arriving in-country in 1983 as third Secretary. He returned in 2011 as Deputy Ambassador, a post he held until 2014. During this time he accompanied then Deputy Prime Minister Nguyen Xuan Phuc on an official visit to Australia in 2012, including to a meeting with then Prime Minister Julia Gillard.
Expressing thanks to the Vietnamese State, Phillip pledged to continue making contributions to further enhancing the relations between Vietnam and Australia.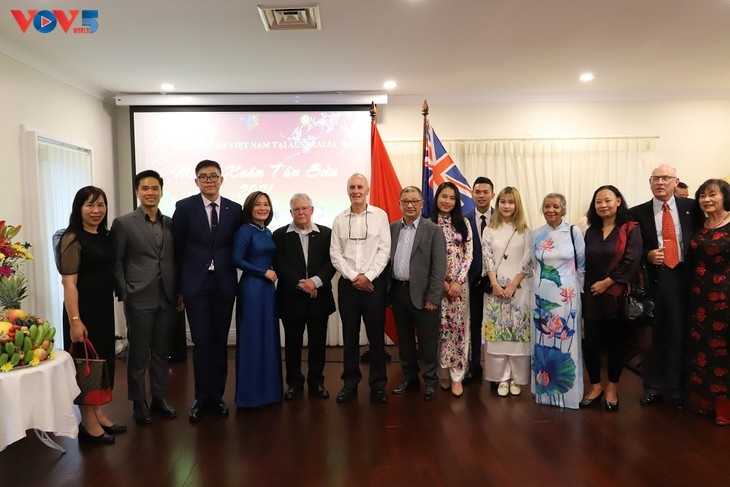 An early Tet event takes place at the Vietnamese Embassy in Australia on February 7, 2021. Photo: VOV
Talking via the format of the videoconference, Vietnamese Ambassador to Australia Nguyen Tat Thanh affirmed that the Vietnamese Embassy and Consulate Generals will continue to act as "common houses" and partner with the overseas Vietnamese (OVs) in the country, Vietnamnet cited.
He said with delight that Vietnam and Australia are carrying out projects within the framework of the strategic partnership on the pillars of politics, economy, and science-technology. The two countries have increasingly understood, trusted, and respected each other, Thanh said.
Tran Ba Phuc, President of the Vietnam Business Association in Australia, said the event created a warm and happy Tet atmosphere for people who can't go home because of COVID-19.
The Vietnamese Embassy also presented insignia to Phuc to honor his contributions to Vietnam-Australia relations.
Speaking with Nhan Dan Newspaper, Nguyen Phuc Binh, President of the Vietnam Students' Association in Australia, the diplomatic relationship between Vietnam and Australia is currently in a very fine state, with two-way trade being carried out regularly.
Although Vietnamese in Australia could not return to Vietnam for Tet this year, they have still been able to buy enough Vietnamese food at Vietnamese markets in Australia.
Currently, the Vietnamese community in Australia is quite active in community support activities. The Vietnam Students' Association in Australia was established under the direction of the Party Committee and the Vietnamese Embassy in Australia.
The Association is a member organisation of the Vietnam Students' Association Central Committee. Vietnamese youths and students in Australia are very active in assisting international students to find jobs after graduation, jointly offering start-up initiatives, and creating forums for overseas scientists and intellectuals to exchange solutions to help develop the country.
Vietnamese students in Australia have expressed their wish that the State Committee for Overseas Vietnamese Affairs under the Ministry of Foreign Affairs would further promote its connecting role to provide more information about Vietnam and help acquire recommendations from the overseas Vietnamese.