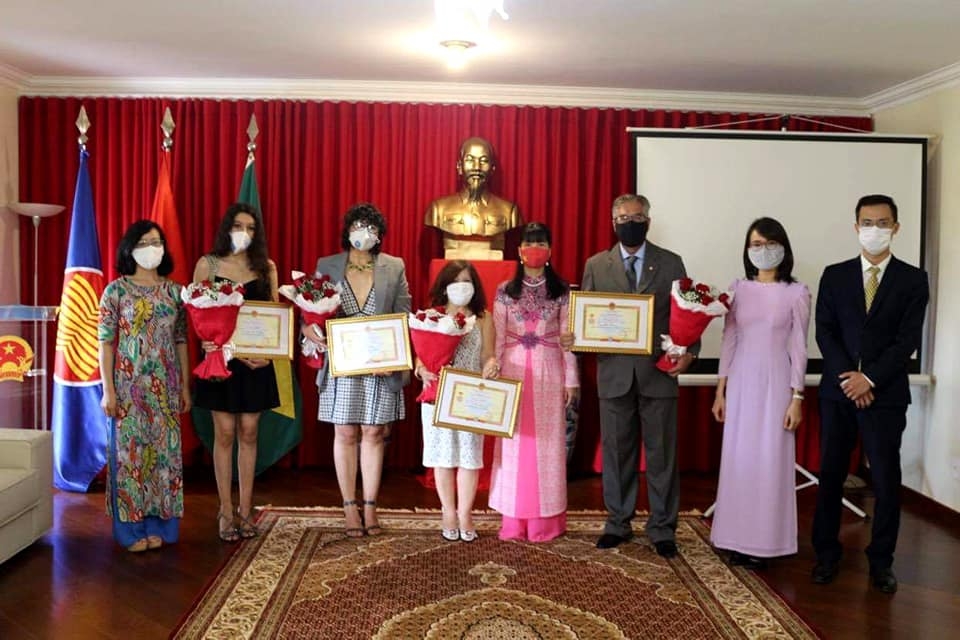 At the event. Source: Vietnamese Embassy in Brazil
Recently in Brazilia, the Vietnam Embassy in Brazil solemnly held a ceremony to award the "For Peace and Friendship among Nations" insignias - the highest award of the Vietnam Union of Friendship Organizations (VUFO) for several Brazilian journalists.
The honour came in recognition of their positive contributions to strengthening solidarity, friendship and cooperation between the people of Vietnam and Brazil.
The journalists honored to be awarded the medal include Milto Atanazio, Reporter of Revista VOX, Portal R10, Brazilian News, Focus on Politics in Brazilia and honorary consul of the Republic of Belarus in Brazilia; Liz Elaine Gomes Lobo, Editor-in-chief of The Embassy magazine; Claudia Godoy, reporter of Bucari Noticias newspaper; representative of Ivan Lopes De Godoy, reporter of the Senate Radio.
Speaking at the ceremony, Vietnamese Ambassador Pham Thi Kim Hoa congratulated the journalists and praised the positive contributions of each journalist in foreign relations activities contributing to further tightening the solidarity between the two countries.
On this occasion, journalists expressed their pride and gratitude to the Embassy, ​​Office, Council for Emulation and Rewards, Americas Department, the VUFO in particular and the Vietnamese government in general. They also expressed their admiration for Vietnam in handling the COVID-19 pandemic.
They also vowed to actively contribute to the goal of promoting cooperation between Vietnam and Brazil in many fields, from politics, diplomacy to trade, economy, culture and people-to-people relations.
Sharing her feelings after receiving the insignia, Claudia Godoy, reporter of Bucari Noticias newspaper said, "It is an honor to receive the 'For Peace and Friendship among Nations' insignia. I want to say thank you with all my heart. This is also the driving force for me to work harder as a journalist, contributing to promoting the friendship between the peoples of Brazil and Vietnam"./.
Hannah Nguyen