From The West to East: International Orchestra Performs in HCMC
The event honors the 150th birthday of Sergei Rachmaninov (1873 - 1943) and the 70th death anniversary of Sergei Prokofiev (1891 - 1953).
The concert features the performance of pianist Nguyen Bich Tra returning from the UK and young violinist Jeon Min from South Korea. Performing with them is Ho Chi Minh Ballet Symphony Orchestra and Opera (HBSO). "From The West to East" will take place on June 25 at the Ho Chi Minh City Opera House.
International Classical Musicians will Join HBSO for A Night "From The West to East" in HCMC on June 25 (Photo: HBSO).
Orchestrated and conducted by Vietnamese conductor Tran Nhat Minh, "From The West to East" will begin with the Overture "Binh Minh Nhip Pho" by Vietnamese composer Trong Dai. According to the organizing committee, "Binh Minh Nhip Pho" also carries the novelty and creativity of two Russian composers Rachmaninov and Prokofiev.
The second part of the concert will be Prokofiev's Concerto No. 1 in D Major with violin soloist Jeon Min. The work was composed in 1917 and premiered on October 18, 1923 at the Paris Opera. Prokofiev's Concerto No. 1 is known to be the shortest of all his concertos, it is in one movement, about 15 minutes in duration. It became famous thanks to is the powerful energy and rich inflection, beginning with a light, lyrical tone in the first chapter before turning bold and intense in the second and returning to a softer, more mellow tone in the final movement.
The concert ended with Rachmaninov's Concerto No. 3 in D minor with British-Vietnamese piano soloist Nguyen Bich Tra. The Concerto No. 3 the signature work of Rachmaninov. The composer perfectly shows his talent in writing long, beautiful melodies as well as how the three movements are connected in a unified way but create many different emotions.
Earlier this month, HBSO hosted "A night of music with Mozart & Rachmaninov" with Japanese conductor Honna Tetsuji and piano soloist Le Trang Linh.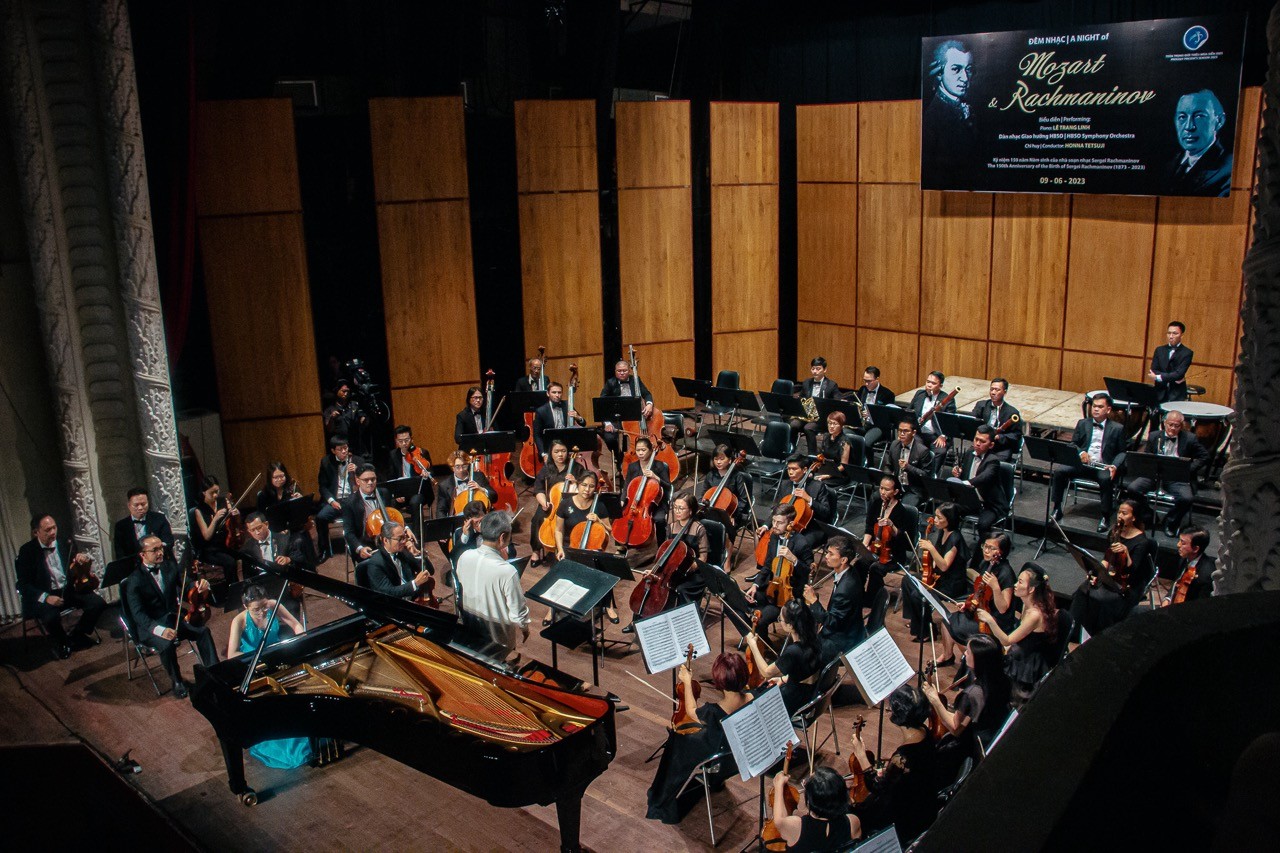 Ho Chi Minh Ballet Symphony Orchestra and Opera (HBSO) at the concert on June 9 (Photo: HBSO).
The audiences enjoyed a delicate and emotional performance of Mozart's Piano Concerto No. 21 at the first half and Symphonic Dances Op. 45, a powerful and fierce suite of Rachmaninov's final work, for the second half.