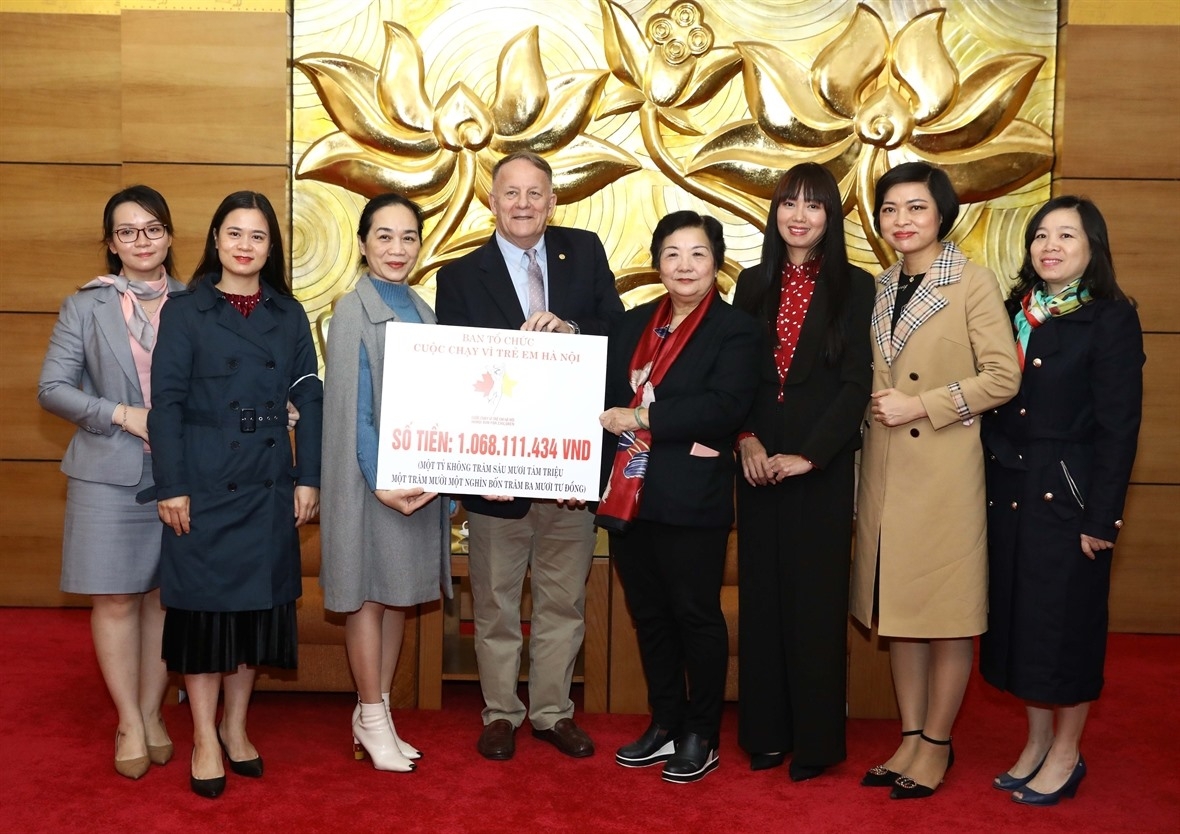 At the hand-over in Hanoi.
Representatives from the Vietnam – Canada Friendship Association and VinaCapital Foundation (VCF) handed over over 1.118 billion (USD 48,600) raised from the Hanoi Run For Children 2019 to the beneficiaries.
On December 8 2019, the Hanoi Run For Children 2019 charity event was held at the main gate of Thong Nhat Park, Hanoi. The run successfully raised more than VND 1.1 billion to support the treatment of disadvantaged children with cancer and heart defects at the Vietnam National Children's Hospital, Hanoi Heart Hospital and through Heartbeat Vietnam - VinaCapital Foundation (VCF).
From 2009 to 2019, Hanoi Run For Children helped saved 357 children with congenital heart defects (CHD) through Heartbeat Vietnam. Although the event could not take place in 2020 due to the impact of the COVID-19 pandemic, the organizers hope to be able to organize the event again soon to help more children live healthily again and continue writing their dreams.
VUFO President Nguyen Phuong Nga announces the amount of money raised by the Hanoi Run For Children 2019.
Every year around the world, 1 in 100 children is born with congenital heart defects (CHD) - abnormalities present at birth within the structure of their heart. Studies have shown that CHD is the world's most common birth defect, affecting 1.35 million infants every year worldwide. These children can live full, productive lives if they get the skilled and appropriate treatment on time.
Unfortunately, 90% of children with heart disease live in regions of the world without access to pediatric cardiac care; far too many of them will die preventable deaths. It is estimated that there are 10,000 children with CHD waiting to be treated in Vietnam every year, the majority of which come from poor families in rural Vietnam.
VCF's grassroots medical programs for children include Heartbeat Vietnam which funds heart surgeries, including pre- and post-operative care, Rural Outreach Clinics to screen children in remote areas. Since 2006, they have supported over 8,317 disadvantaged children with CHD to receive their life-saving heart surgeries and provided free heart examinations for over 238,887 children./.
Hannah Nguyen