Gentlemen and Ladies of the Dance: How the Artform Bridges Vietnam to the Rest of the World
Across Vietnam, dancing is becoming more and more popular. Be it in electrifying nightclubs or on busy street corners, expert professionals, posh Tik Tokkers, drunken lads on a bia hoi buzz, all seem to have a song in their hearts and rhythm in their feet. Before Reunification Day, another important holiday should be observed: International Dance Day.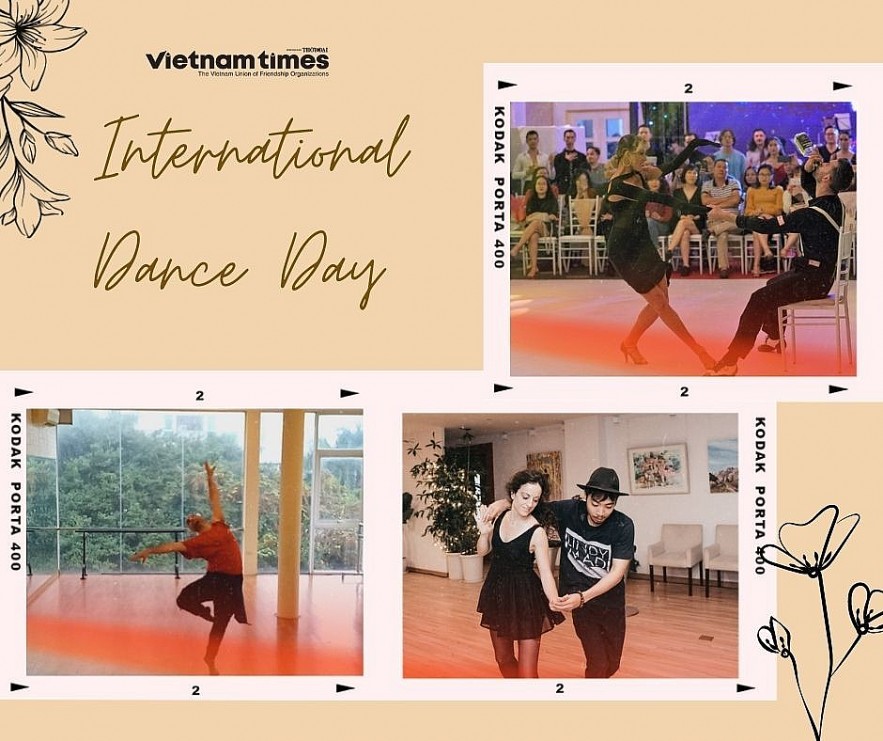 Photo: Valerie Mai
Established in 1982 by the Dance Committee of the International Theatre Institute, the main partner for the performing arts of UNESCO, International Dance Day highlights the values of the art form "dance" in people's lives.
The celebration, held on April 29, also marks the birth of Jean-Georges Noverre (1727-1810), the creator of modern ballet.
In celebration of the toe-tapping holiday, VietnamTimes interviewed several renowned expat dancers for their thoughts on the dancing community in Vietnam and how dance connects people from different cultures.
Marcin Wojtkowiak. Photo: Valerie Mai
Dancing industry in Vietnam: Opportunities await
As Vietnam's thriving economy continues to grow, its residents now look to fulfill their spiritual and artistic needs. In recent years, a bloom of all art forms, from classical theater to indie rap, gained a new appreciation from Vietnamese citizens. Against the background, dancing culture in Vietnam is also growing, opening more opportunities for foreign dance performers and teachers.
Marcin Wojtkowiak, a Polish dancesport professional, came to Vietnam for the first time in 2017 at the invitation of his student. After two years and several trips, Wojtkowiak made his decision to move to Hanoi, where he sees opportunities for new experiences.
"Vietnam has a lot of nice dance studios for many different dancing styles, a lot of people dancing on the streets and the parks. [Dancesport] competitive couples are getting better, which is a good sign," he said.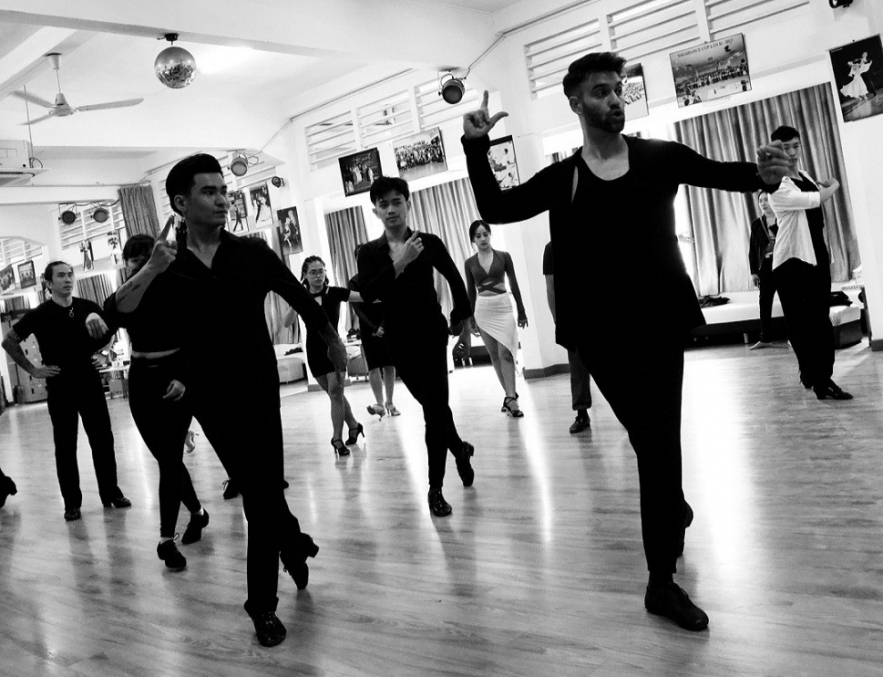 A training session with Wojtkowiak. Photo: Marcin Wojtkowiak
James Gattuso, a British ballet dancer, came to Hanoi in 2016. Being a foreign performer in state-run Vietnam National Opera and Ballet theater, Gattuso appreciates the privileges to work with talented Vietnamese artists. He also teaches kid and adult ballet and contemporary classes at WestLake Choreology, offering not only techniques but more importantly, the concept and idea of dance.
With such close involvement in the industry, Gattuso pointed out that young parent generation, who experience modern education and the international environment their children with more than just a general schooling curriculum.
Gattuso and his little talents. Photo: James Gattuso
While Wojtkowiak and Gattuso had considerable experience before moving to Vietnam, Fiammetta Mancini, an Italian, found her passion in Lindy Hop, the first genre of dance that she learns consistently and dedicates to, four years after moving to Vietnam. Mancini and her Vietnamese partner, Vu Nguyen, currently run Lindy MAD, the first studio in Hanoi that specializes in the Lindy Hop dance.
Despite being a niche market in Vietnam, the Lindy Hop community is also expanding. When Vu Nguyen started to learn Lindy Hop, the community was so small that he knew almost every person. In recent years, many new faces show up, social dance events get more crowded, his students already have students of their own, swing dance is even brought into forums for young people.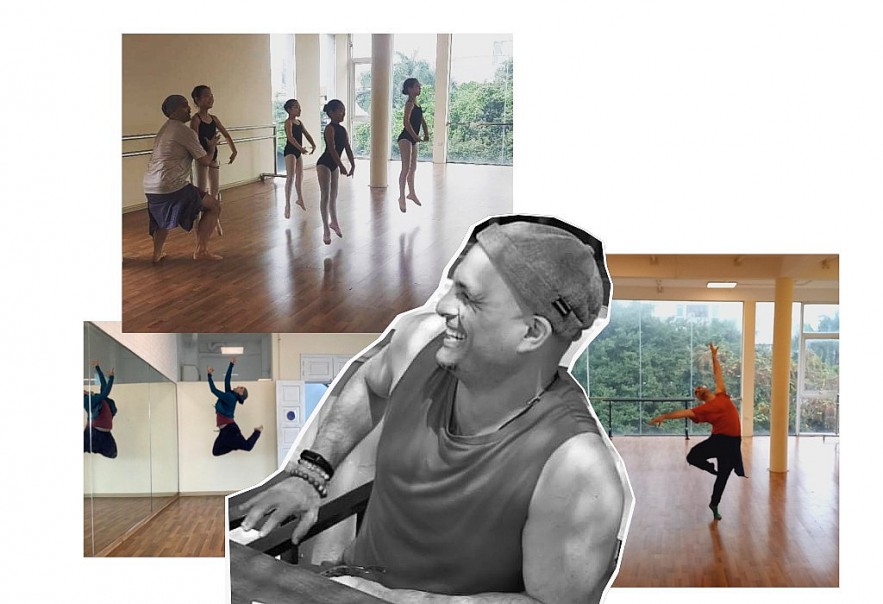 James Gattuso. Photo: Valerie Mai
The biggest difference is not language
The idea of teaching anything in a foreign country may give most people hesitation due to language differences. However, for Wojtkowiak, who has coached both beginners and top competitive Latin dancers in different provinces in Vietnam, language turns out to be not much of a barrier.
"Teaching dancesport in Vietnam is not so different from Europe. Most of my students who are competitive dancers in Hanoi speak English well. For those who don't, I try to use simple words. I had the same experience when I was 14 and had my first foreign teacher. He had to adjust to my English level. I'm trying to do the same," said the Polish dancer.
Vu Nguyen and Fiammetta Mancini perform their dance. Photo: Vu Nguyen
Instructors Vu Nguyen and Fiammetta Mancini agreed with this idea. "Of course there are difficulties because my mother tongue is Italian and his [Vu Nguyen] is Vietnamese. But luckily we have English," said Mancini, adding that communicating in English is, to some extent, an advantage as Lindy Hop comes from the USA and most of its technical terms are in English.
The biggest difference, according to Gattuso, lies in the mindset of people regarding the definition of dance. "When I think of dance, I think of something spiritual, philosophical, technical and disciplined. Many Vietnamese think of it as an act of entertainment," explained the dancer.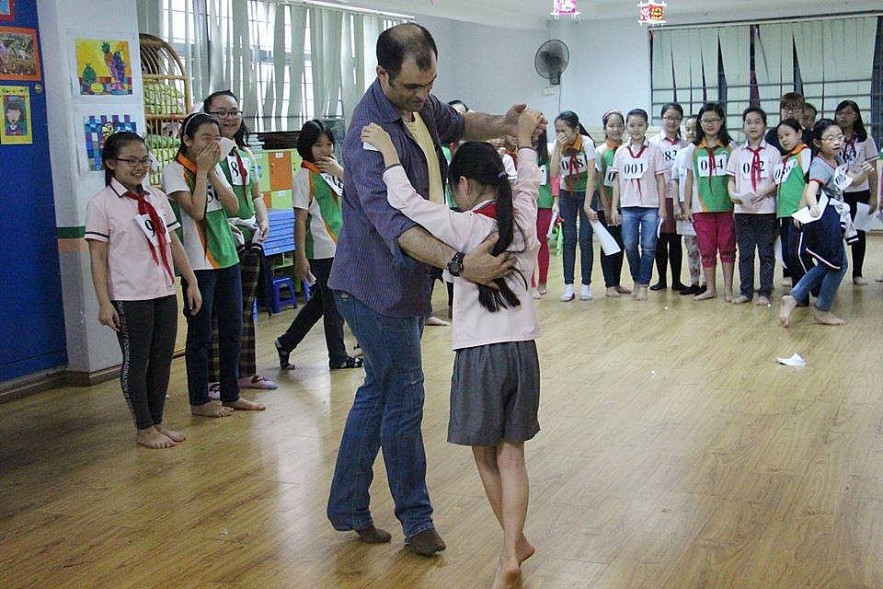 The biggest difference, according to Gattuso, lies in the mindset of people regarding the definition of dance. Photo: James Gattuso
Growing up in England, ballet and art in general were included in James Gattuso's education. Besides movements, dancing builds up other skills for children, such as storytelling and problem-solving. School dancing and kid performances are his answer to change parents' viewpoint towards dance so that they see the art's benefits in educating the future generation to be grateful for moral rather than practical values.
"Even if you will not become professional, it doesn't mean dancing is a waste of time," he said.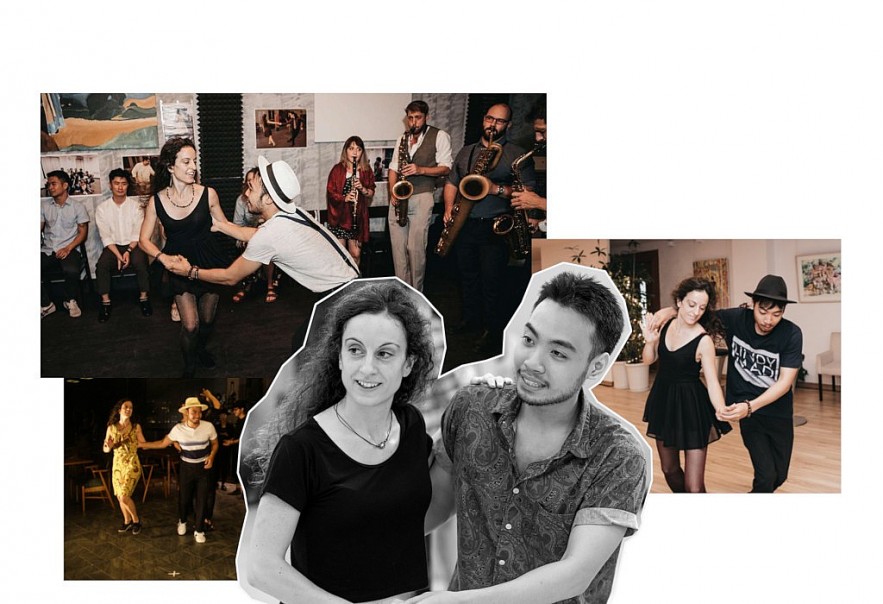 Vu Nguyen and Fiammetta Mancini. Photo: Valerie
Towards deeper values
Having spent more than 20 years in the industry, Wojtkowiak got familiar with training camps and competitions abroad. In his perspective, dance is a universal language.
"In international competitions, you can meet dancers coming from everywhere, even places you do not expect. Each brings his own culture and language. In my genre of dance or other couple dances as well, people can meet someone who speaks a different language and immediately connect to dance together without even saying a word."
Gattuso thinks of dance as "the truest human communication." "Dance is about relationships. It reaches the deep understanding of how everything relates to everything else, that one cannot exist without others," he said. Being a foreigner in Vietnam, he feels the language and culture barriers, yet on the dance floor, at the moment dancers try to create a figure together, all such differences disappear, leaving dancers at their most genuine selves as human beings.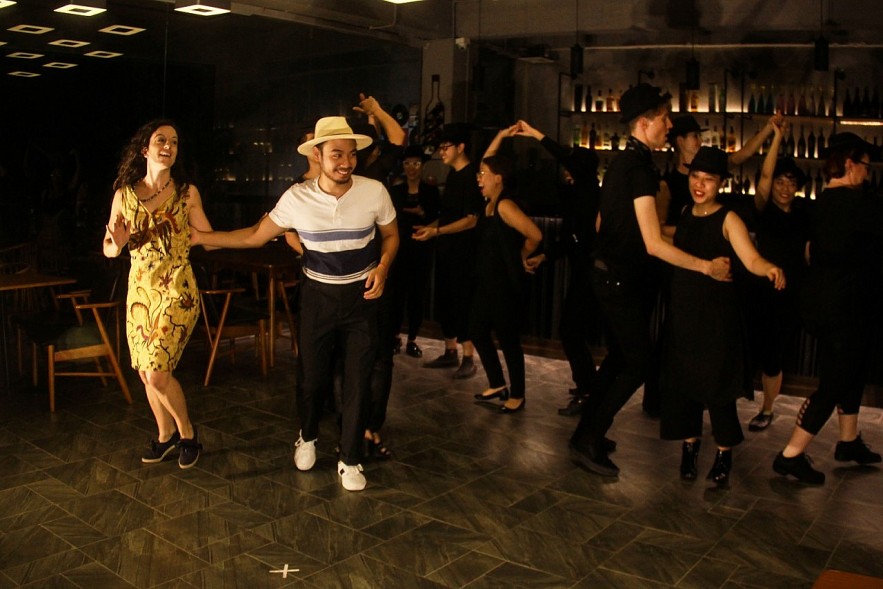 A social night for Lindy Hop dancers. Photo: Vu Nguyen
For Mancini, Lindy Hop is about openness and happiness. Though the dance requires certain techniques and a lot of practice, Lindy Hop means freedom and creativity, as long as dancers are connected to each other and to the music. To be a good Lindy Hopper, either leader or follower, one needs to keep their minds open to enjoy the moment and create a move together.
Her partner, Vu Nguyen, emphasized self-worth realization as the essence of his dancing journey. "Through giving lessons and sharing knowledge, I earn respect and sentiment from my students. Thereby, I perceive my worth, find my happiness, and even love!" he answered with a laugh.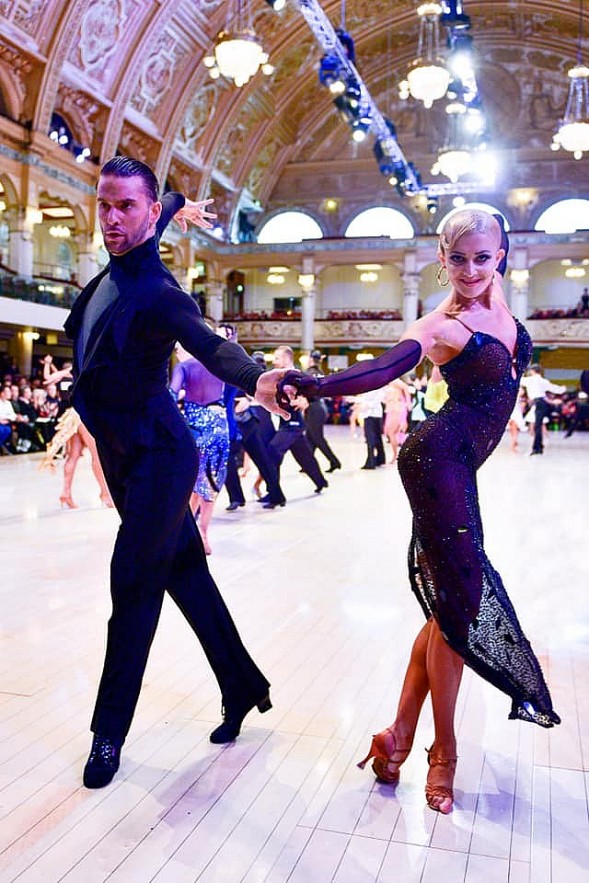 In a competition with Wojtkowiak and his partner. Photo: Marcin Wojtkowiak
In Vietnam's dance market, both chances and challenges exist. Though shortcomings still remain, development is undeniable. Local people are paying more attention to art, especially dancing. Foreign dancers and Vietnamese professionals trained abroad are bringing their diverse cultures, deep-dive knowledge, high-qualified techniques, and right approaches to the country, yearning to make a progress.
With such energy, a positive scenario lies ahead for the country's dancing culture. In the coming years, expect Vietnam to host more worldly dances, inspired by members of the nation's diverse and skilled expat community.
Editor's Pick: EARTH BODY BLOOD WATER

In the latest installment of Editor's Pick, VNT Staff Writer Zoey Nguyen braves portals to the underworld to interview the international artists featured at the ...