German embassy hands over mobile hand washing station to Hue's elementary school
During his trip to Hue city and Thua Thien Hue Province, German Ambassador to Vietnam Guido Hildner has visited Thuong Lang Primary School and handed over two previously installed hand washing stations with the corresponding soaps and disinfectants.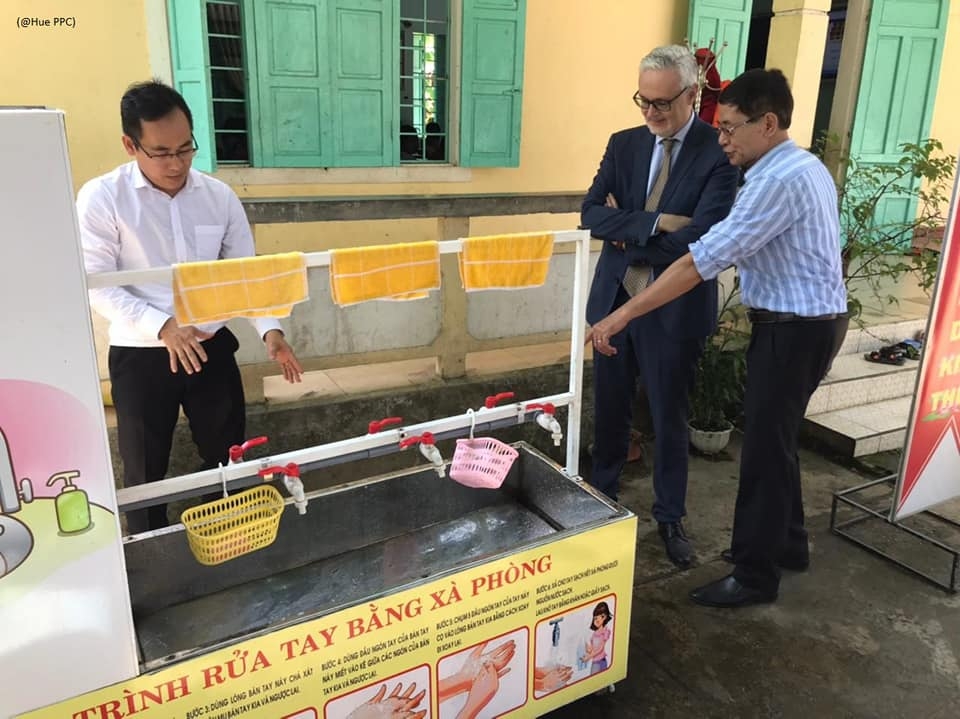 German Ambassador to Vietnam Guido Hildner hands over mobile hand washing station to Hue's elementary school.
In total, German Embassy in Hanoi has equipped 15 schools in rural areas of Thua Thien Hue province with hand washing stations, soaps and disinfectants with a total value of EUR 10,000 (VND 270 million). In addition, hygiene training measures have been provided for students, parents and teaching staff.
The deputy principal expressed his gratitude for the provision of the mobile washing stations for the approximately 311 students. Due to a lack of infrastructure, they do not always have the opportunity to comply with the hygiene standards required in times of the pandemic. Therefore, the washing stations are also a direct contribution to the fight against the pandemic.
Ambassador Hildner was very pleased to learn how helpful the washing stations were for the students and the school, adding that the washing stations were only a small contribution to the fight against the panemic, but not unimportant because of that. The effects of COVID-19 can only be effectively combated by working together. That is why he is glad that German Embassy in Hanoi can also do something for Vietnam's schools in the context of pandemic control. The most important international contribution of Germany in the global fight against the pandemic, he said, is the German support of the international vaccine alliance COVAX, which provides vaccines free of charge to less prosperous countries, including Vietnam.
German Ambassador to Vietnam Guido Hildner met members of the the Vietnam-Germany Friendship Association of Thua Thien Hue.
On the occasion of his first visit to Hue, German Ambassador Hildner also met members of the the Vietnam-Germany Friendship Association of Thua Thien Hue, including Chairman Prof Nguyen Vu Quoc Huy, Vice Rector of Hue University of Medicine and Pharmacy, and Honorary Chairman Nguyen Van Cao, former Chairman of the Provincial People's Committee.
Ambassador Hildner acknowledged the extraordinary commitment of the Vietnam-Germany Friendship Association of Thua Thien Hue to two countries' relations during the difficult time of the pandemic. The accompanying travel restrictions reduced the opportunities for contact and encounters between people in Germany and Vietnam. Therefore, the dedicated work of the Friendship Association is especially important now; because with their voluntary commitment, the members of the Friendship Association, many of whom had previously studied in Germany, built bridges between people.
Ambassador Hildner expressed his gratitude for the donation of masks by Vietnam Alumni in spring 2020, which was an impressive expression of solidarity at a time when masks were still scarce in EU.
Ambassador Hildner went on to say that in addition to combating the pandemic, dealing with climate change is a dominant theme in German domestic and foreign policy. This is of particular interest to young people. In this context, he said, economic reconstruction after the pandemic and the transformation to a sustainable economy are of central importance.
Despite the pandemic restrictions, Germany and Vietnam had worked well together in the past year. As non-permanent members of the United Nations Security Council, he said, both countries have advocated multilateralism, freedom of the seas and respect for international law. Germany, as EU Council Presidency, and Vietnam, as ASEAN Presidency, had jointly contributed to the conclusion of the EU-ASEAN Strategic Partnership and the entry into force of the EU's free trade agreement with Vietnam.
He added that the future direction of German policy with regard to Asia will be determined by "Guidelines on the Indo-Pacific" adopted by the German government in September 2020.
Finally, Ambassador Hildner outlined the central topics of bilateral cooperation: environment, energy, vocational training,climate change. For Hue, he said, university cooperation and cultural preservation projects are of particular interest.
Prof Nguyen Vu Quoc Huy thanked Ambassador Hildner for his visit and described the long-standing ties between Hue University of Medicine and Pharmacy and Germany. He said that the German Academic Exchange Service DAAD has made scholarships in Germany possible for many students of the university. Many returned to Vietnam after studying medicine in Germany and, like returnees from other faculties, were committed to Hue, especially to maintaining contacts, bringing people together, and to German-Vietnamese projects at all levels./.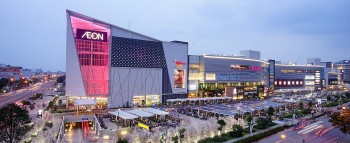 Handbook
From Big C Vietnam to Lotte Mart, here are the 8 biggest retail supermarkets in Vietnam that you can find all different products, food and friendly services such as entertainment, movie theaters and play areas for children.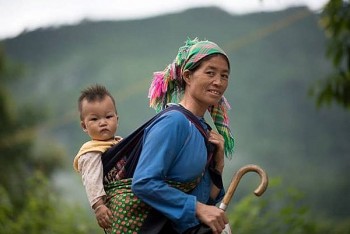 Viet's Home
Innovative interventions needed to reduce maternal mortality in ethnic minority regions in Vietnam.
World
Everyone wants a beautiful and gorgeous house to live, but to some people, it is also about outstanding architecture, majestic looking and extremely luxurious. Here is top 10 most beautiful houses in the world.