German Media and Experts Highlight Chancellor Olaf Scholz's Vietnam Visit
German Chancellor Olaf Scholz arrived in Hanoi on November 13, starting a two-day official visit to Vietnam at the invitation of Prime Minister Pham Minh Chinh.
Handelsblatt's article (Photo: Handelsblatt/ Screenshot)
The German media on November 12 ran articles highlighting the official visit to Vietnam by Chancellor Olaf Scholz, expecting that it will contribute to promoting bilateral economic ties.
According to Handelsblatt newspaper, German businesses are increasingly shifting production to Vietnam and this goal has been included in many companies' roadmaps. Since March, more than 10 new German factories have been built in the Southeast Asian nation.
The visit to Vietnam by the Chancellor, accompanied by a delegation of enterprises, will give wings to German firms' trends.
The article also quoted Marko Walde, Chief Representative of the German Industry and Commerce Vietnam (AHK), as saying that Chancellor Scholz's visit is a positive signal showing the diversification of Germany's economic relations in Asia now at the top of the government's agenda.
Also covering the visit, Rheinische Post newspaper wrote that Vietnam is the first leg of the Chancellor's longest foreign trip since he took office. This is his third trip to Asia in the past 11 months, after Japan and China.
During his stay in Vietnam, Chancellor Scholz will hold talks with Prime Minister Pham Minh Chinh and meet with General Secretary of the Communist Party of Vietnam Nguyen Phu Trong, during which the two sides are scheduled to discuss many issues, especially measures to boost bilateral economic cooperation, according to the article.
Other German newspapers such as Welt, Spiegel and Merkur, and radio channel Deutschlandfunk also posted articles on this visit.
Prof. Dr. Thomas Engelbert from the University of Hamburg grants an interview to the Vietnam News Agency's resident correspondents. (Photo: VNA)
Prof. Dr. Thomas Engelbert from the University of Hamburg has highlighted Germany - Vietnam relations in the recent past and prospects of bilateral ties in a recent interview ahead of German Chancellor Olaf Scholz's official visit to Vietnam from November 13 - 14.
Talking to the Vietnam News Agency (VNA)'s resident correspondents, he said the relations between Germany and Vietnam have been thriving, especially in the economy.
Germany is currently the biggest trading partner of Vietnam in Europe, with bilateral trade growing continually in recent years, particularly since the EU-Vietnam Free Trade Agreement (EVFTA) took effect. It is also the largest European investor in the Southeast Asian nation. Although Germany's total investment in Vietnam remains modest compared to that in many other Asian countries, the development trend is very good in the coming time, he elaborated.
The two countries have also enjoyed good cooperation in many other areas such as environmental protection, clean energy development, culture, education - training, and development cooperation, Engelbert said, noting that they have demand for enhancing and expanding cooperation to multiple spheres.
Describing the German Chancellor's visit as having great significance to the bilateral ties, the professor said the trip is driven by the German Government's Indo-Pacific strategy, unveiled in 2020, and policy of diversifying political and economic partnerships in the region. In Southeast Asia, Vietnam is viewed as an important partner of Germany.
Through the visit, Germany wants to further reinforce cooperative ties with Vietnam, particularly in economy, trade, and investment, to maximize each country's advantages. German enterprises are also paying great attention to the investment and business climate in Vietnam and want to increase their presence here, he went on.
The trip will help promote political trust between the two countries, thus creating momentum for the bilateral relations to grow stronger in the time to come, Engelbert added.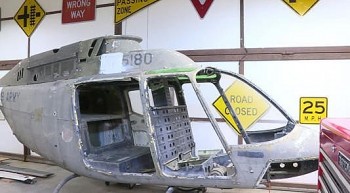 World
A piece of military history related to Vietnam is coming to life with a special project in a small Barton County townm in the US