Honoring the Beauty of Vietnamese Women in Germany
The Vietnamese community in Germany arranged the event "Ao Dai and Cuisine" on October 16 at the Pacific Trade Center in Berlin (Germany) to celebrate Vietnamese Women's Day on October 20 and to provide a beneficial environment for women.
According to the reporter for the Vietnam News Agency in Germany, many members of the Vietnamese community who reside, work, and/or study in Germany are involved in the show, particularly the ladies who serve as the major characters. Participants in the program included sponsors, friends from the host nation, and personnel from the Vietnamese Embassy in Germany.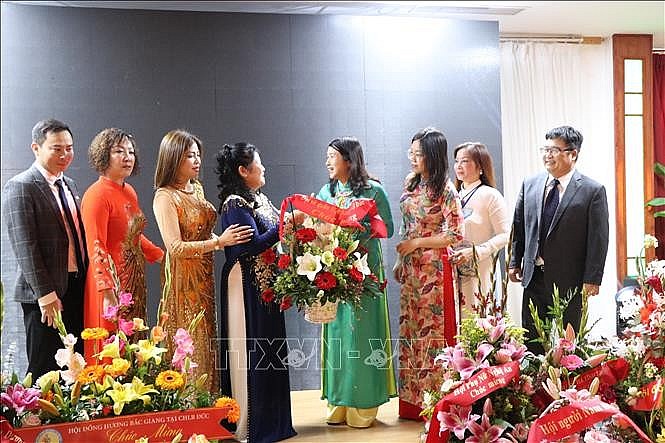 Representative of the Vietnamese Embassy in Germany presents flowers to the Organizing Committee of the Program "Ao Dai and Cuisine". Photo: VNA
The event began with unique cultural performances and the nation's traditional ao dai, as the name would imply. Each sister shines brilliantly on stage like a new blossom in the flowing, vibrant ao dai, emphasizing the allure and sensitivity of Vietnamese women. The Ao Dai performance moved the audience deeply and demonstrated that the country's traditional culture endures no matter where one is.
All Vietnamese women of Vietnamese heritage who live and work in Germany actively work and study despite the variety of their occupations and positions. They have made significant contributions to both the host society and the growth of the Vietnamese community in Germany.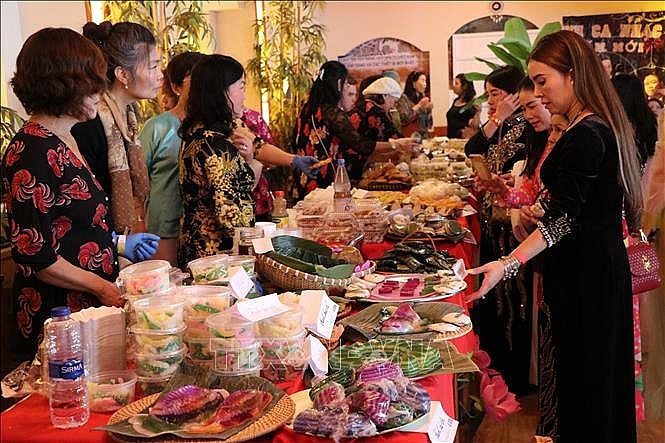 Vietnamese specialties are introduced in the program "Ao Dai and Cuisine". Photo: VNA
Additionally, even though they are far from their country of origin, mothers, sisters, and girls are constantly aware of protecting and promoting the positive traits of Vietnamese women. They constantly display their affection, solidarity, and nobleness for their country, especially during times of adversity like pandemics and natural disasters. All deserving descendants of the great women in Vietnamese history such as Bà Trưng and Bà Triệu are grandmothers, mothers, sisters, daughters and girls.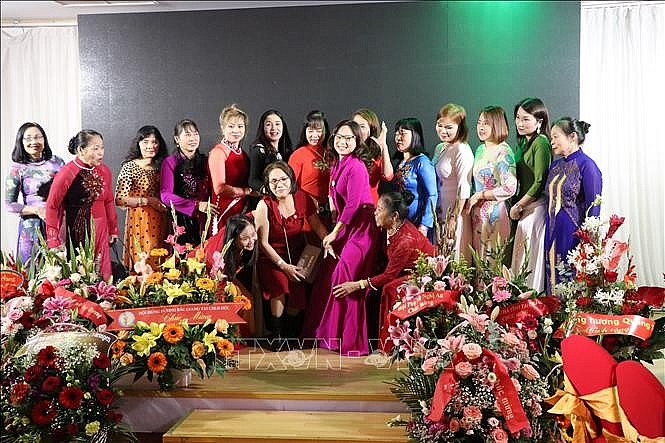 Participants of the program in Germany. Photo: VNA
The program, according to the organizers, was meticulously planned with the intention of giving women a useful space to socialize and meet new people, strengthening the bonds of Vietnamese native community connection and solidarity. All program and donor earnings will be utilized to assist underprivileged mothers and children in Vietnam.
Thời Đại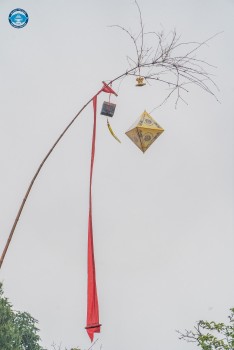 Viet's Home
In the past, the Neu pole (a tall bamboo pole with red garment strips used to ward off evil spirits during the lunar New Year) lowering ceremony at the royal palace of the Nguyen Dynasty was performed to mark the end of the New Year holiday and prepare to enter a new working year.