German project offers support to Vietnamese nurses
The Vietnamese apprentices that have been brought to Germany under a project launched by the Vogtland Workers' Welfare Association (AWO) are perceived as very hardworking and always friendly.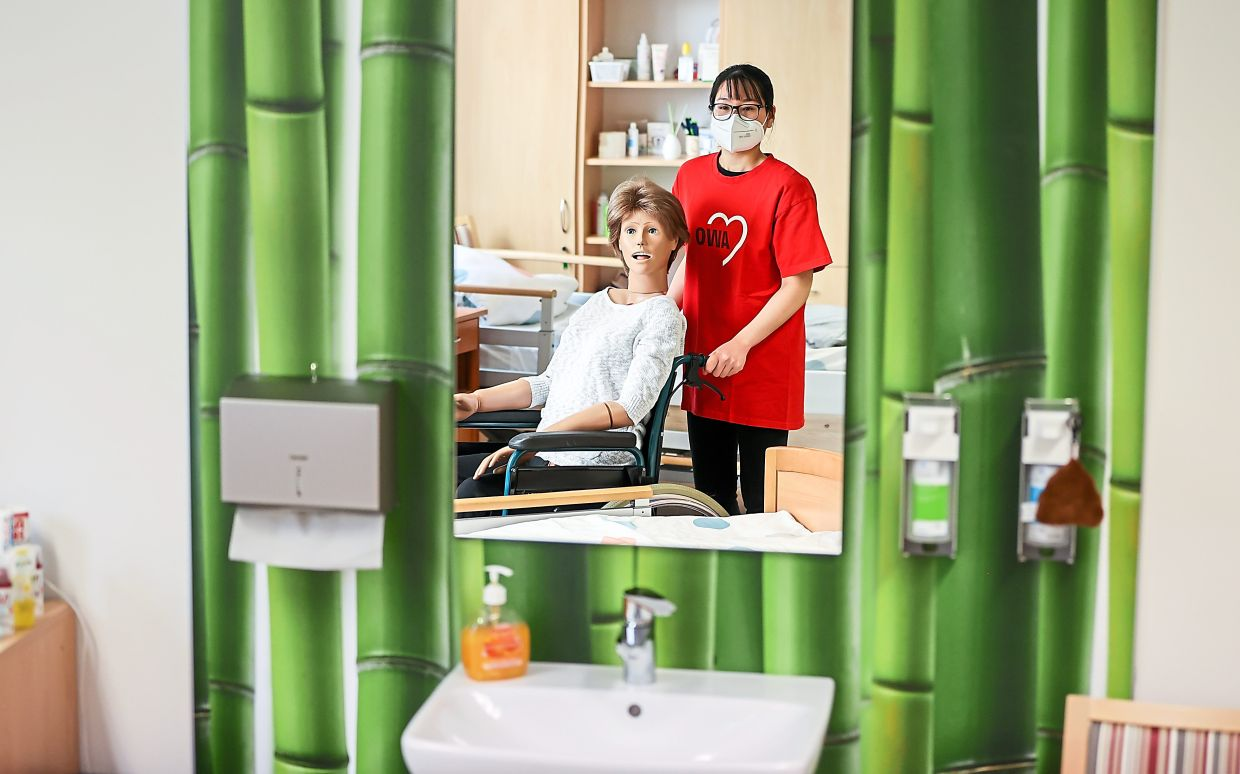 A Vietnamese apprentice uses training dummy Elvira at the Arbeiterwohlfahrt Vogtland (AWO). Photo: Jan Woitas/dpa-Zentralbild/dpa
German News Agency Deutsche Presse-Agentur (DPA) has recently run an article saying a project launched by the Vogtland Workers' Welfare Association (AWO) of Germany has reaped achievements in supporting Vietnamese nurses.
AWO has begun to bring Vietnamese apprentices to Germany since 2017 under the project. Almost half of the apprentices at the association now come from Vietnam: There are currently 20 Vietnamese apprentices and 25 apprentices from Germany.
The feedback from seniors has been very positive, said Managing Director of AWO Vogtland, Katrin Schmidt. "They are perceived as very hardworking and always friendly," she added.
According to the 2019 microcensus, about 16,000 people of Vietnamese descent live in Saxony.
Nursing staff are desperately needed in the eastern state of Saxony, not least because of the ageing population. According to forecasts recently made by the state's statistics office, the number of people in need of care will rise to between 209,400 and 212,500 in 2030.
That's an increase of more than a quarter compared to 2015, and skilled workers are already in short supply on the labour market.
"In the future, Saxony will see fewer people entering the workforce than older people leaving it," said Klaus-Peter Hansen, managing director of the regional statistics office. In addition, the growing number of people who will be in need of care alone will mean that more than 21,000 additional nursing staff will be needed by 2030.
Photo: Vietnamnet
To remedy the situation, the industry is not only relying on training and re-education, but it is also looking abroad. As an example, Schmidt has travelled to Vietnam several times. In 2017, the first four trainees arrived.
Isabel Berger, the apprenticeship coordinator, described the project as a great success and said it has brought a lot to the association.
In the struggle to recruit nursing staff from abroad, Vietnam is not the only country attracting attention. The care-giving industry is also putting out feelers to other Asian countries such as the Philippines, as well as countries in Central and South America.
The federal employment agency is also looking to recruit nursing staff from Brazil, El Salvador, Tunisia and Bosnia-Herzegovina.
But recruiting workers from Vietnam in particular has a long tradition in eastern Germany. In East German times, tens of thousands of Vietnamese had come to East Germany as students and contract workers – they are considered the oldest immigration group here./.