Gia Lai Province Seeks Ways to Increase Cooperation and Investment
The Central Highlands province of Gia Lai is seeking partnerships with Japan in agriculture, renewable energy, and tourism
Gia Lai province on May 21-22 held an investment promotion conference and a workshop to introduce its potential and seek chances for investment cooperation with Japan in agriculture, processing, renewable energy, and tourism, VNA reported Sunday.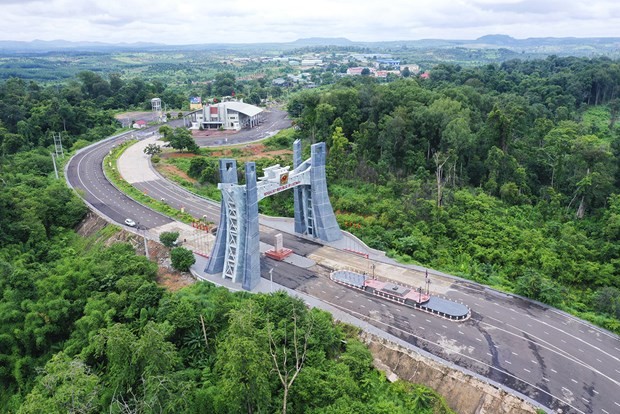 Gia Lai province covers 1.5 million ha, the second biggest area among localities nationwide, and has a population of 1.5 million. Its weather and soil conditions are favourable for large-scale agro-forestry development. Source: baogialai.com.vn
Ho Phuoc Thanh, vice chairman of the provincial People's Committee, said Gia Lai is inviting investment to hi-tech agriculture, agricultural services, intensive processing, renewable energy, and tourism, which are among the pillars identified in its socio-economic development strategy for 2021 - 2030.
Although most of local enterprises are of small or medium size, many are turning out products meeting European standards such as the Vinh Hiep Co. Ltd and the Dong Giao Foodstuff Export JSC, which were also the first of Vietnam to export to Europe under the EU - Vietnam Free Trade Agreement (EVFTA), he noted.
Shimonishi Kiyoshi, Deputy Consul General of Japan in central Da Nang city, said Gia Lai is famous for such farm produce as peppercorn, coffee, and rubber, which are also the items Japanese firms have been importing from this province.
He expressed his belief that cooperation between Japan and Gia Lai will not be limited to agriculture, as there remains much potential to tap into.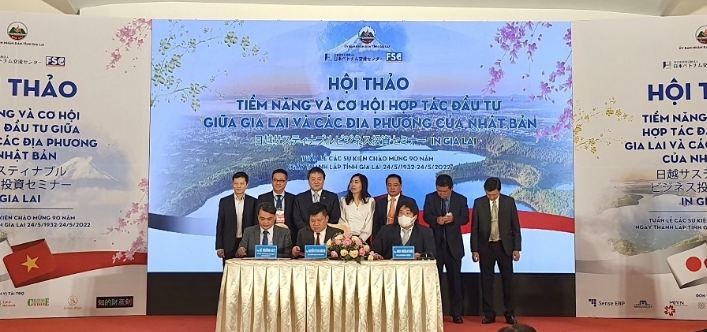 The Gia Lai Department for External Relations and the Japan - Vietnam Exchange Centre sign a cooperation deal at the workshop on May 22. Photo: Cong Thuong newspaper
Thanh pointed out that as Japan is not an easy market, Gia Lai businesses need to take careful and firm steps, the prerequisite of which is to apply scientific and technological advances to manufacturing and continually improve product quality.
The province will create a transparent and favourable investment climate while removing obstacles in a timely manner so that all economic sectors, as well as both local and foreign businesses will develop, according to the official.
Previous, on May 21, Prime Minister Pham Minh Chinh has attended the Gia Lai Investment Promotion Conference 2022 in Pleiku city, which drew representatives from ministries, sectors, international organisations, businesses, investors and localities in the Central Highlands region.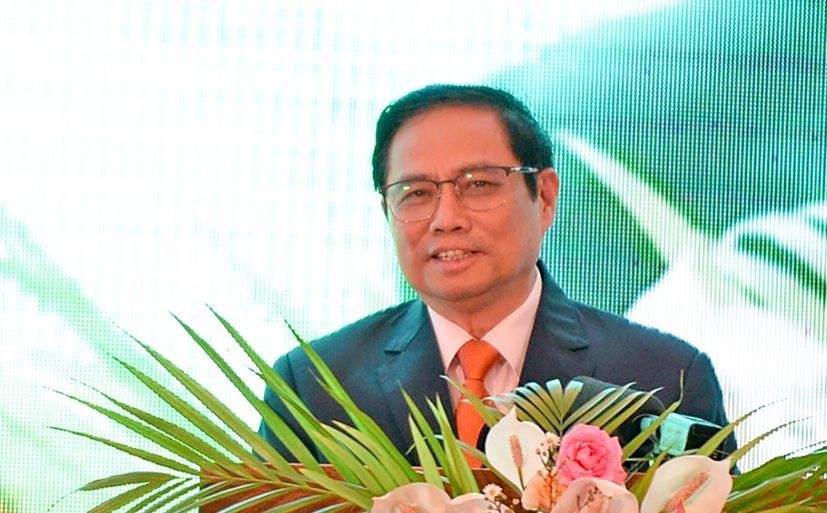 Prime Minister Pham Minh Chinh addresses the event. Photo: PANO
According to Chairman of the provincial People's Committee Vo Ngoc Thanh, as the gateway of the region, Gia Lai has become a centre for trade and services in the Cambodia-Laos-Vietnam development triangle and an important connection point between the Central Highlands region and localities in the central and southeastern regions.
Gia Lai has a large farming area of 845,000 hectares, which is suitable for developing fruit trees with high economic value. It also boasts favourable conditions for industry, trade, especially processing and renewable energy.
Currently, the province has made planning for 21 industrial clusters, he said, adding that Gia Lai is in need of investment in high-tech agriculture, processing, renewable energy and tourism.
At the conference, Gia Lai called for investment in 112 projects in the 2022-2025 period, focusing on infrastructure construction, agro-forestry product processing, construction material, agriculture, forestry, trade, service and tourism.
In 2016-2020, the locality drew 515 projects worth VND 83 trillion (USD 3.58 billion), five times higher in the project number and 36-time rise in capital from the previous five-year period.
In 2021, the province approved investment policy for 60 projects worth more than VND 29 trillion (USD 1.25 billion). Investors are also proposing 172 other projects with a total investment of about VND 67 trillion.
So far, many large Vietnamese and foreign groups have made their presence in Gia Lai with many large-scale projects.
At the conference, PM Chinh witnessed the granting of investment policy decisions for 17 projects with a total investment of VND 15 trillion (USD 647.38 million) and the signing of 29 memorandums of understanding with a total registered capital of more than VND 115 trillion (VND 4.96 billion).