Global Finance Magazine: Vietnam turning into one of SEA's most powerful magnets for FDI
"An array of investor-friendly attributes are turning Vietnam into one of Southeast Asia's most powerful magnets for foreign direct investment," said Global Finance Magazine in a recent article.
On September 21, Global Finance Magazine published an article named "Vietnam's Great Expectations," which says Vietnam has become one of the leading countries in Southeast Asia in attracting foreign direct investment (FDI).
The writing attributes it to a range of advantages of the country, including its favorable demographics as 40% of Vietnam's population of 100 million are under 25. In addition, it has tariff-free access to the Southeast Asia region with 800 million people thanks to being a member of the Association of Southeast Asian Nations (ASEAN).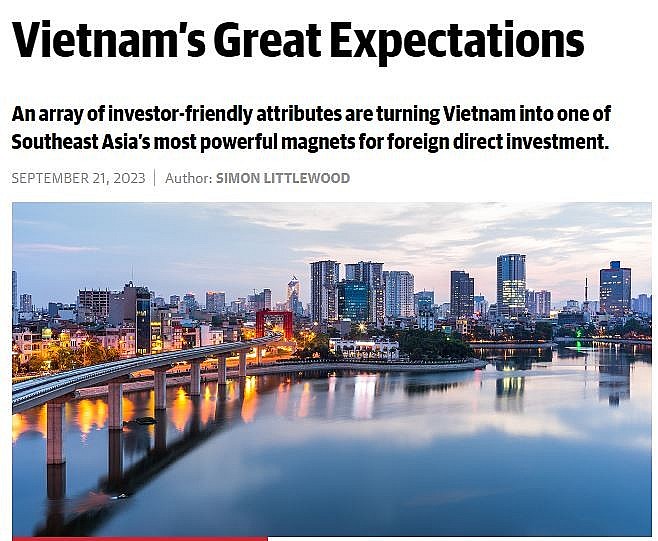 Screenshot from the article.
"The 2023 outlook for the business environment in Vietnam shows promising signs of improvement," says Thierry Mermet, CEO of Source Of Asia (SOA), a consultant to companies looking for business opportunities in Vietnam and ASEAN. "The capital from foreign direct investments reached around $10 billion [over Q1 of 2023], showing a rise of 0.5% compared to the same period last year." SOA projects the pattern to continue. "Our projections for the next quarter are looking just as positive. Companies are actually expecting similar levels of foreign direct investment to keep coming in."
Longer term, he says, "Vietnam is really cementing its position as one of the top three places where European business leaders want to invest." According to the Business Confidence Index report from EuroCham, he notes, "3% more leaders have picked Vietnam as one of their top three investment choices. It's a solid indicator that we're on the right track."
The article said that 90 countries and territories invested in Vietnam in the first half of this year; the top five are Asian countries. with the Republic of Korea in first place, accounting for 81 billion USD. It was followed by Singapore and Japan with 72 billion USD and nearly 70 billion USD committed, respectively. Notably, while the US stood in the 7th position in terms of investment capital, it is Vietnam's first key export partner.
Another indicator of Vietnam's attraction is homegrown electric vehicle (EV) manufacturer VinFast, which recently became the world's third-largest automaker by market capitalization, behind Tesla and Toyota.
According to Barry Elliott, Vice President of Tomkins Ventures and a supply chain guru long active in Vietnam, this not only signals a promising future for the EV industry in Southeast Asia in general but also exemplifies Vietnam's emerging prowess in manufacturing.
Meanwhile, S&P Global said that Vietnam's robust economic growth is also a factor that helps attract foreign investors to the country. Although its economic growth slowed to 3.7% in the first half from 8% in 2022, the World Bank predicts a rebound in the second half of this year.
The S&P Global forecast an increase in mergers and acquisitions in Vietnam's banking sector over the next two years as lenders seek to bolster their capital.
On a recent trip to Ho Chi Minh City, Jacqueline Poh, managing director of Singapore's Economic Development Board (ED,B) met with startups in financial services, robotics, and renewables. She noted the great influence of a returning diaspora with deep experience abroad, tagged approvingly by the Vietnamese as "sea turtles."
"All have a can-do spirit, support for each other, and gumption," says Poh. "This heady mix has created a conducive local startup ecosystem."
Poh also cited the growth of the Vietnam-Singapore Industrial Parks (VSIPs), the first of which were established in 1996 and now number 17 across 10 locations "The existing 14 VSIPs have garnered $18.7 billion in investment so far and have created 300,000 jobs in Vietnam," she notes.
Incentives driving the rise in foreign direct investing, says Carsten Ley, founder and managing director of Asia PMO, which advises companies on operations in Vietnam, is a "China plus one" risk mitigation model aimed at forestalling on China by building redundancy in at least one other regional center. As a case in point, Ley cites Apple, which recently moved iPod production from China to Ho Chi Minh City, where most manufacturing is located. "Many Korean companies are also investing," he says: "Samsung, LG on the IT side. Lego just opened a huge factory outside Ho Chi Minh."
As this suggests, Vietnam is now moving up the value chain from shoes and garments toward high tech, including Vietnamese fintechs such as payment providers Momo, ZaloPay, and VNPay, and foreign startups.