Vietnamese girl travels alone to Turkey for lover-seeking
Knowing Selami Şelçuk Hıdıroğlu through a dating app, after many times of breaking up and healing, Sen decided to follow the call of love, traveling alone to Turkey to find her boyfriend.
Five years ago, Nguyen Thi Sen (30, from Thanh Hoa province) knew her life partner through a dating app. At that time, Sen wanted to learn English and make friends; meanwhile, her husband, Selami Şelçuk Hıdıroğlu (43, a Turkish national), working as an electronic engineer wanted to try loving an overseas girl, Zing News reported.
"Several hours after creating an account on the dating app, I received Şelçuk's messages. I was so impressed at the fact that he checked in many countries in the world. He then said knowing I am Vietnamese, he wanted to make friends with", Sen was quoted by Zing News as saying.
A cross-border love
Sen gradually fell in love with a sincere and frank Turkisk man despite the age gap and geographical distance.
After six months in love, Şelçuk invited Sen to Turkey to travel and simultaneously meet his family. Since having never been to an Islamic country, Sen felt a little bit worried, but she had a belief that her boyfriend is a kind person.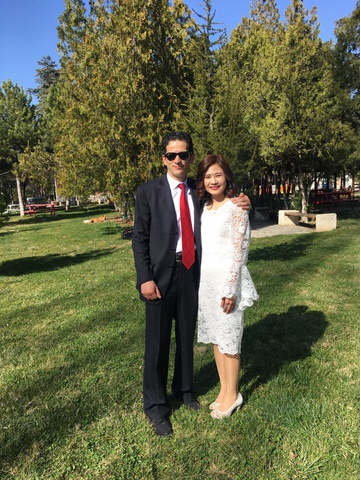 Şelçuk and Sen know each other through a dating app.
Sen then asked her parents' permission to travel to Turkey, yet she encountered opposition from them.
"My parents think that in Turkey, wars, terrorisms, and riots often occur, hence, they didn't allow me to go", Sen recalled.
The opposition of Sen's parents hindered the couple's love. Supposing that the girlfriend didn't trust him, Şelçuk was extremely sad. They broke up one month later.
The couple hadn't contacted each other for a long time afterward. In July 2019, Sen was so surprised to get a call from Şelçuk, saying that he was in Vietnam and wanted to "meet a girl who left him".
Sen agreed to meet Şelçuk.
"At first, I didn't recognize Şelçuk as he was more handsome than in the photos. We talked with each other for quite a while. He "blamed", sulked, and regretted not coming to Vietnam to meet me earlier."
Sen then took her boyfriend to travel and meet her family.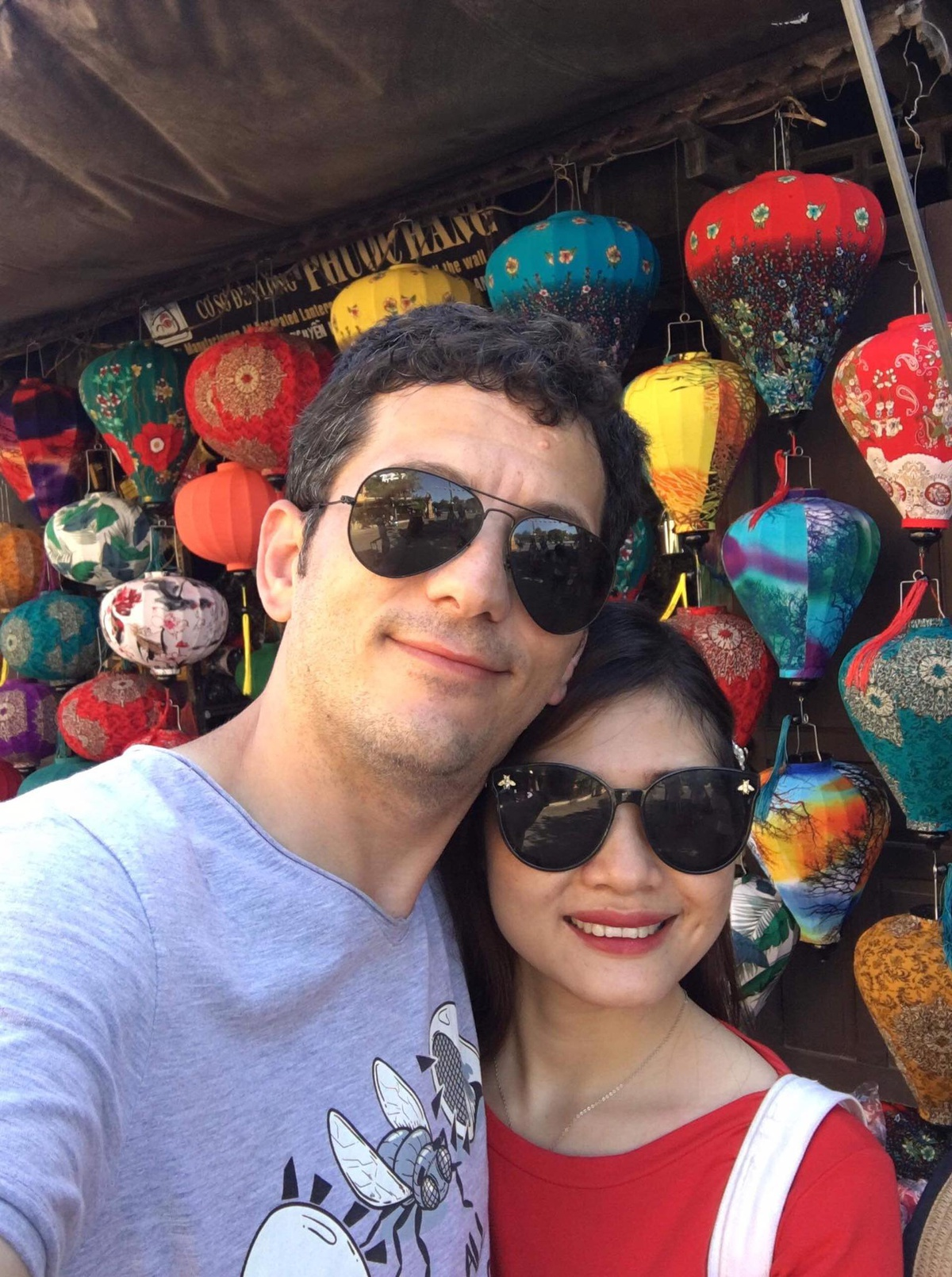 The couple travels to Da Nang and Quang Nam.
Not long after Şelçuk returned to Turkey, he again invited Sen to his country. If everything goes well, Şelçuk along with his family would fly to Vietnam to ask Sen for marriage.
Seeing Şelçuk's sincerity, Sen's parents permitted her to travel to Turkey.
Upon arriving at the airport in Turkey, Şelçuk hugged Sen and cried a lot. Sen received lots of affection from her boyfriend's family.
Due to the Covid-19 pandemic, Sen was stuck in Turkey and couldn't come back to Vietnam. Şelçuk took advantage of that time to propose to Sen.
A cozy wedding of the Vietnamese bride and Turkish groom took place.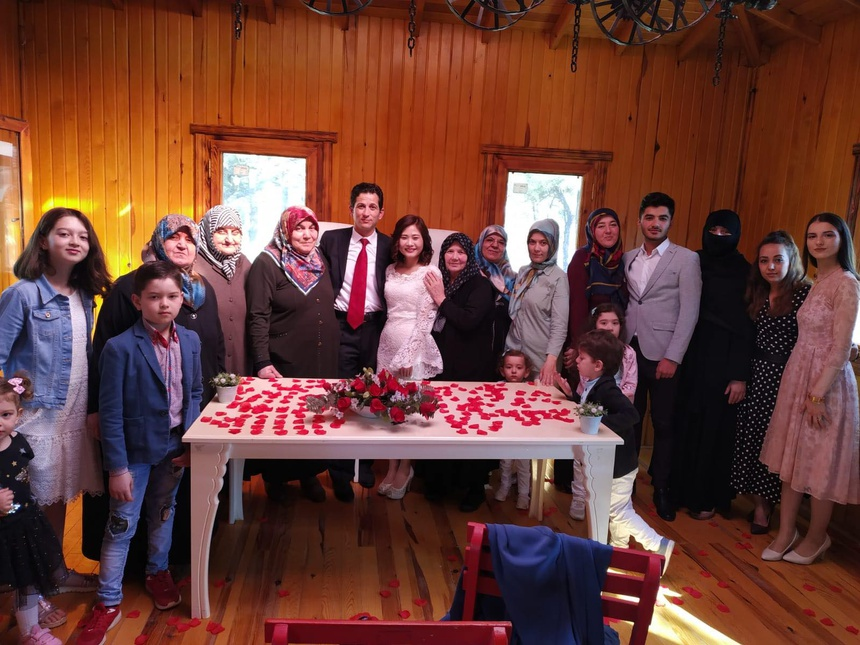 The cozy wedding of the Vietnamese bride and Turkish groom.
Receiving lots of affection from husband's family
Sharing about her husband's family, Sen said that she gets lots of affection from them.
Receiving wishes from her husband's family at the wedding, Sen felt that she was welcomed and could integrate into the Turkish culture.
Sen's mother-in-law even thanked Sen for becoming her daughter.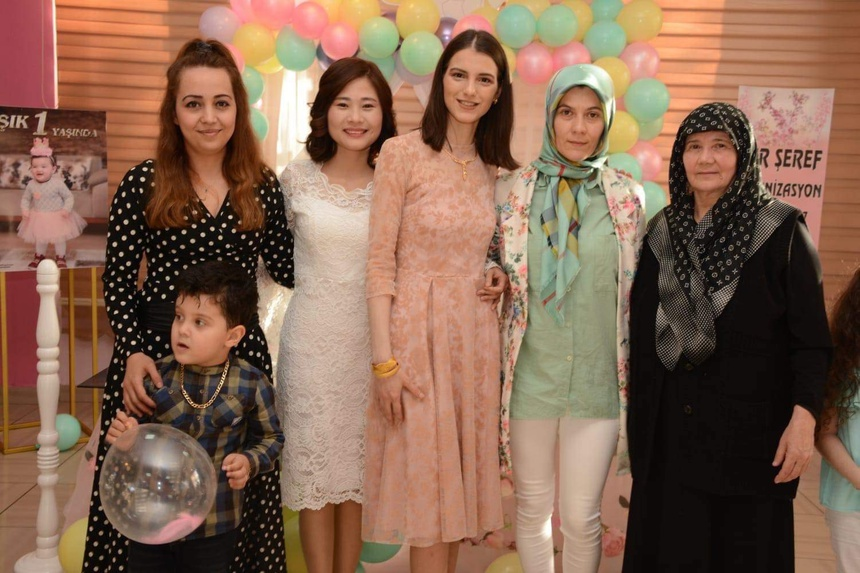 Sen receives lots of affection from her husband's family.
"My mother-in-law respects both cultures and takes care of me like her daughter", Sen said.
The relatives of the husband's family also adore Sen. On holidays, women have the responsibilities of cooking and bringing tea. Nevertheless, Sen doesn't need to do those things.
Sen was taught to cook Turkish dishes by her mother-in-law. After more than one year of getting married, Sen has gradually adapted to life in Turkey.
At Ramadan, Muslims must fast from sunrise to sunset. However, Sen is allowed by her mother-in-law to break the rules, providing that she wears discreetly.