Gold Price Forecast: Gold Prices could retest support near $1,660 in September
Gold price collapsed to $1,874.20 on Wednesday after days of thriving and experts forecast that the precious metals prices could Reach $1,660 in September, which present great chance for buying, according to FxEmpire.
Gold and precious metals are extremely cyclical. Roughly every 6-months prices form an intermediate cycle low – the last low arrived in March. The current decline is just starting and may last 4 to 6-weeks. Our preferred target window (gold chart below) supports a bottom in late September or early October.
Gold is in a powerful bull market – we do not recommend shorting or trying to trade every swing. Today's markets are more volatile (news-driven) than ever – one black swan event could wipe out your entire trading account…if not properly managed.
After peaking at 450, our Gold Cycle Indicator (currently 373) is declining – suggesting metals and miners have started their intermediate-degree corrections.
Noticing the shift in volatility, we switched to an accumulation strategy adding to our long-term holdings only when the Gold Cycle Indicator falls below 100. This strategy dramatically reduces stress and trading anxiety.
GOLD TARGET: Gold is bouncing after Tuesday's collapse. The descent into a 6-month low is rarely straightforward – there are several bumps and bounces along the way. The key is to avoid emotional decision making. The Premium Metals Portfolio will wait for the gold cycle indicator to drop below 100 before adding long-term holdings.
GDX CHART: Miners bounced slightly, and we could see a rebound to fill Tuesday's gap at $42.50. Last week's sell signal remains intact as long as prices don't close above $42.50. Our primary is $31.00, with the potential of reaching $27.00.
Gold prices hit the first weekly decline since early June
Gold prices eased on Friday as a jump in US Treasury yields forced investors to reassess their positions again after a steep retreat from a record peak earlier this week that put bullion on course for its first weekly fall since early June, according to NDTV.
Spot gold was down 0.1 per cent at $1,950.94 an ounce. Bullion has declined 4 per cent so far this week, its biggest weekly percentage fall since early March. US gold futures fell 0.6 per cent to $1,959.50 per ounce.
"Gold is coming under pressure due an uptick in US yields, which is causing a little bit of selloff right now," said Edward Meir, an analyst at ED&F Man Capital Markets.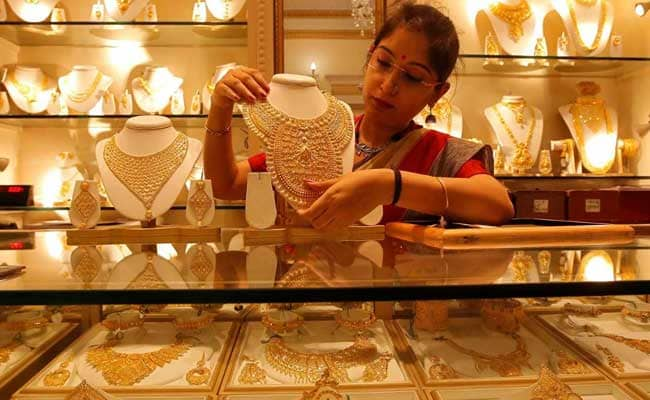 Higher yields increase the opportunity cost of holding non-yielding assets such as bullion
Benchmark US 10-year yields rose, after the US Treasury flooded the market with supply, setting the dollar up to stem its recent slide and potentially eroding gold demand among those holding other currencies.
Higher yields increase the opportunity cost of holding non-yielding assets such as bullion.
Gold also largely ignored economic data from top consumer China, which missed market expectations and dented equities.
Markets kept a wary eye on a stalemate in Washington over a new stimulus package, with key US-China trade talks on August 15 also on the radar.
Gold has risen over 28 per cent this year, as unprecedented global stimulus to ease the economic blow from the pandemic pushed investors to bullion as a hedge against possible inflation and currency debasement.
"The longer-term uptrend is intact, given USD weakness and the scale of stimulus and as we expect interest rates to remain low or negative," Standard Chartered analysts said in a note.
"Price dips are likely to be viewed as buying opportunities as the macro backdrop remains favourable for gold."
Elsewhere, silver dropped 1.9 per cent to $27.02 per ounce, set to snap a nine-week-long winning streak, down 3.8 per cent so far.
Platinum fell 0.6 per cent to $952.01 and palladium was down 0.7 per cent at $2,152.50.
Why gold price fell so sharply?
In an interview on Wednesday, Hug noted that precious metals prices were over-extended after both metals had phenomenal runs. In the past weeks, gold hit a record high and silver achieved a multi-year high, Kitco news reported.
Earlier this week, precious metals fell sharply. Gold suffered its steepest drop in seven years.
"Silver ran up to $30. Gold ran up to almost $2,100--all a little too quickly in my opinion," said Hug. "That's when the profit-taking set in. It was just a very small door with everybody trying to get out. And then as the market moved lower, people who were in at higher prices were getting margin calls in the afternoon, which just accelerated the move."
Hug said the move resulted in the market "cleaning itself out."
"I'd like to see some consolidation between now and the end of the week at these levels. Then I think the uptrend will continue."
Regarding lack of progress on a further stimulus and the effect on the economy, Hug said he is taking cues from the market. Congress was expected to pass another stimulus, but talks have stalled. The market believes a deal will still happen.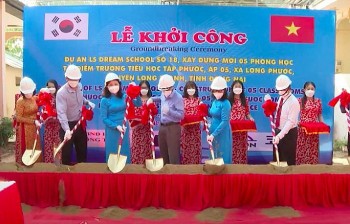 Friendship
The Union of Friendship Organizations of Dong Nai Province and COPION (Co-operation & Participation In Overseas NGOs) kicked off another LS Dream School project in the southern province.