Gold prices forecast August 11: Expected to stay above $2,000, pullback in prices might for short term
The gold prices are forecast to stay above $2,000, a critical support level, indicating the pullback in prices recorded recently might be for the short term.
It is reported by the FXEmpire that gold traders experienced the biggest daily drop of the yellow metal in two months on Friday, falling 2% as the U.S dollar regained an upward move on a better-than-expected recovery in U.S. jobs report released recently.
Gold traders are still relatively bullish on growing global geopolitical uncertainty on what will follow in the months ahead.
President Trump is likely to increase more pressure on the Chinese ahead of the US Presidential election scheduled to hold in November. China presently has been reluctant to take countermeasures in targeting America's economy.
Nevertheless, this could change rapidly.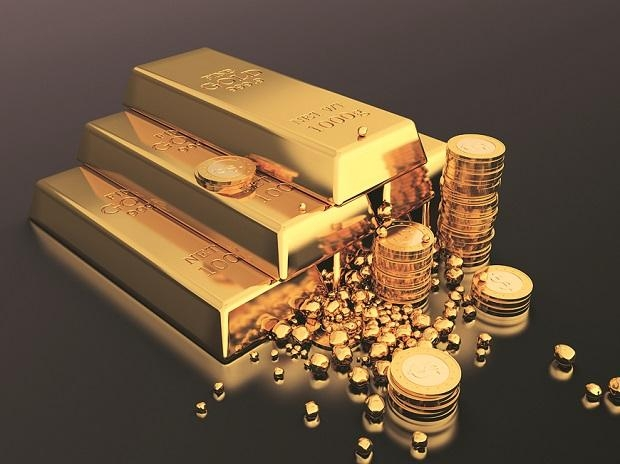 Illustrative photo: Gold Price
The surge in new COVID-19 caseloads at emerged markets especially in America and Europe makes a case for Gold rising up continually. An effective COVID-19 vaccine seems not to be ready anytime soon, for human use. Sooner than later, global fiscal officials will be forced to resume economic restrictions once again.
Gold bulls are riding on macros that include rising global COVID-19 caseloads, soaring geopolitical risks, the high volume of liquidity in the money market triggered by global central banks, and a blurred economic outlook will keep demand for the precious metal upward.
Gold prices have gained about 35% in 2020 as global fiscal policymakers; seek to provide aid to an already battered global financial system by providing unprecedented global stimulus policies.
The greenback's futuristic performance will be a major factor in how far gold bulls can go.
Gold prices – the bigger picture
Taking a step back and looking at the bigger picture, the unchartered territory that we find ourselves in right now can make for difficulty in employing long-term technical analysis. There's no historical data for prices north of 2k in Gold; and the last bullish theme of this nature, also driven by Central Banks, lasted for almost three full years.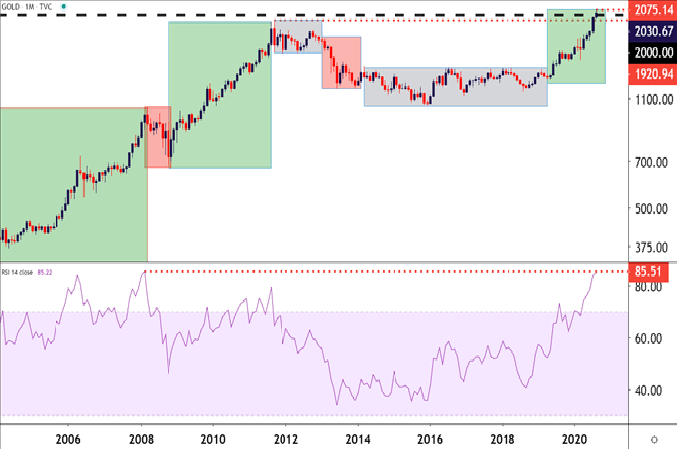 Monthly gold price chart Source: James Stanley/ Daily FX
So there's considerable scope for projections and, unfortunately, there's little data or evidence to back any of that up. So longer-term strategies may face challenges in this backdrop; at least until there's somewhat of a bigger-picture pullback that could re-allow for bullish triggers.
RSI on the Monthly chart of Gold looked at above is now at its most overbought since 2008, which showed up just ahead of the Financial Collapse. And while the response to the Financial Collapse ultimately ended up helping to drive Gold to that fresh high, there was a tough period in the middle of the collapse in which Gold prices shed almost a 1/3rd of their value, reported the Daily FX.