Google Doodle hornors Vietnam's Cai Luong (reformed theater)
Google Doodle dedicates its homepage covers today (September 28) featuring a group of artists in Vietnamese traditional costumes performing reformed theatre or Cai Luong in Vietnamese, on the observance of the Vietnam Stage Day.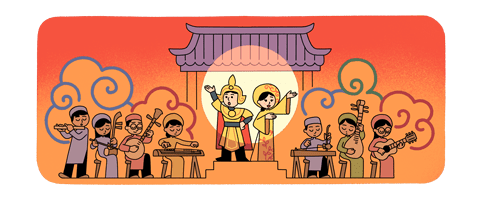 Google Doodles changes its homepage background to this image today (Photo: Captured)
Changing the homepage background with vivid images illustrating special occasions around the year has become a Google Doodle's norm, and the Vietnam Stage Day is not an outlier.
The newly-changed Google's cover features a duo singing reformed theater on the state while 7 other artists playing musical instruments such as the gourd, flute, etc., on both sides of the stage.
Reformed theater has long been a fascinated conventional art form to both Vietnamese and foreign audiences. Given the sprouting of contemporary arts and global integration, traditional arts are kind of fading nowadays, especially among youngsters.
Google Doodle's today honoring towards Vietnamese traditional art and culture proves the enduring values of conventional art forms, including reformed theater. No matter how modern life becomes, traditional values will be forever respected, preserved, and promoted.
The doodle is reportedly one of the activities in the cooperation series between Google and Vietnam's cultural agencies, aiming at honoring and promoting the unique cultural and artistic values of Vietnam through Google Doodle icons.
A still from "Tiếng Trống Mê Linh", a reformed theater episode (Photo: Captured)
According to Doodles Archive, reformed theater (known as cải lương in Vietnamese) is style of modern South Vietnamese folk opera. A blend of traditional and contemporary influences, reformed theater combines opera with spoken drama to create a vibrant expression of Vietnamese culture and identity.
A form evolved from the traditional Vietnamese opera called hát bội in the Mekong Delta of southern Vietnam at the turn of the 20th century. Accompanied by an orchestra containing traditional Vietnamese instruments like six-string zither, reformed theater brings to life a wide range of stories, from ancient legends of monarchs and warriors to explorations of modern Vietnamese social themes.
One of the most iconic reformed theater productions is "Tiếng Trống Mê Linh," which translates roughly to "The Drum Sound of Mê Linh." The historical play tells the true story of Trưng Trắc and Trưng Nhị, two sisters who helped lead the fight for Vietnamese independence from the Chinese Han Dynasty in the 1st century. A classic of the art form, "Tiếng Trống Mê Linh" has been staged by many of Vietnam's top cải lương performers since it first debuted in 1977.
Over a century after its birth, reformed theater is still enjoyed today as one of the uniquely Vietnamese artforms and a vital link to the country's history.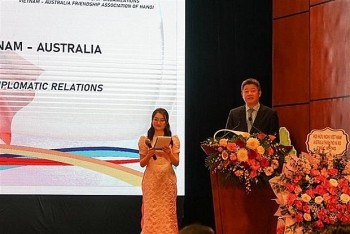 Friendship
A friendship exchange programme has been held recently in Hanoi to celebrate the 50th founding anniversary of the Vietnam-Australia diplomatic relations (February 26).