Green or Red: What Covid Color Is Your Neighborhood?
Areas of Hanoi, Ho Chi Minh and many other provinces and cities have been divided into four zones of red, orange, yellow and green colors and apply different levels of Covid-19 preventive measures. You can check your area is green or red with simple steps on Covid maps.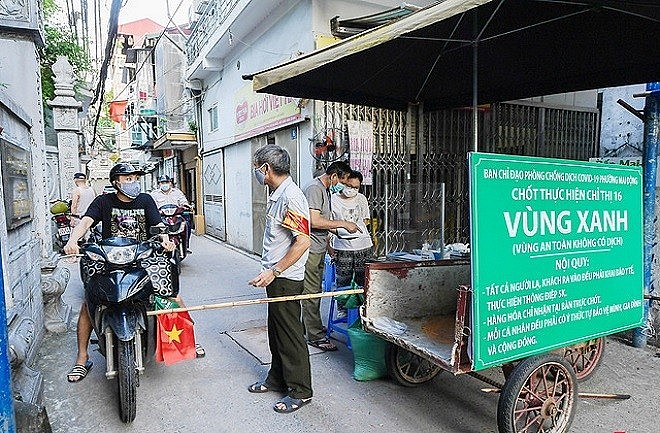 A green zone in Hanoi. All residents must present their travel permits to be allowed to go out of the zone. Photo Dang Cong San
What do the colors mean?
According to the National Steering Committee on Covid-19 Prevention and Control, the red zone has a very high risk of infection. Orange zone has a high risk.
Yellow zone is considered to have infection risks and green zone is a safe area which can return to new sense of normalcy.
Red, orange, yellow zones have to observe strict Covid-19 protocols.
What color is your area?
Local residents can get access to Covid maps provided by local authorities to know what color their living area is.
In Ho Chi Minh City, people can search the address http://bando.tphcm.gov.vn/ogis
The website which is managed by the city Department of Information and Communications shows details on testing venues, epidemiological history, vaccination sites and lockdown areas.
Users can filter the data section on the left to update information on those details.
The statistics and reports section provides information on the number of positive cases, new daily cases of every district.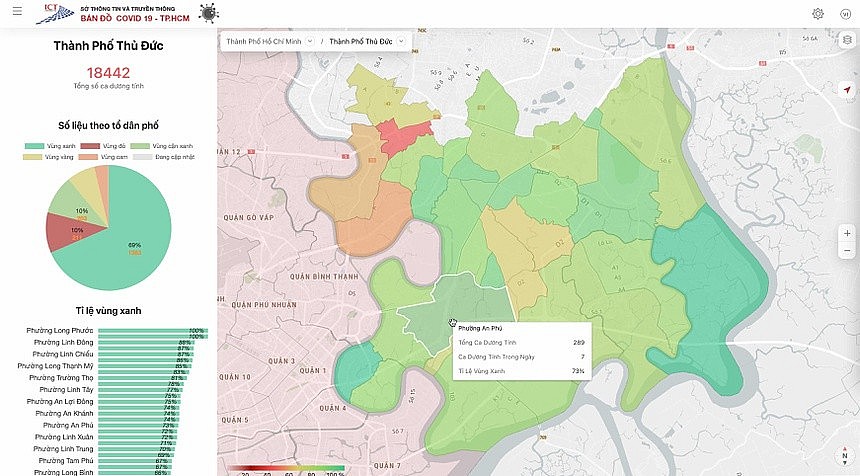 Photo Screenshot
In the expanded menu in the upper left corner, people can click on the item 'Map of Green Areas By Neighborhood Group' to switch to the interface of green zones and red zones in each area. The left column includes information such as the number of infections, the percentage of green and red areas of each residential group, each district and Thu Duc City.
To see your living area is green or red, click on the district name on the map. Here you can see what color your ward/commune or residential area is.
Red zone: Residential group that has three or more than three households testing positive for SARS-CoV-2.

Orange zone: Residential group that has two households testing positive and have history of interacting with other households.

Yellow zone: Residential group that has one household testing positive and not interacting with other households.

Areas Close to green zone: No households testing positive within seven days.

Green zone: No households testing positive within 14 days.
The Covid map of Ho Chi Minh City can be switched to dark mode. Users can navigate their current location by turning on GPS.
The map has an English version but is not updated regularly.
People living in Hanoi can get access to website covidmaps.hanoi.gov.vn to check the map.
The information column on the right shows the number of positive cases, samples tested in one day and the total number of infections since April 29. Below is the number information of F0, F1 and F2 cases at selected locations.
People in some neighboring provinces/cities with Hanoi can also search for their color on the map.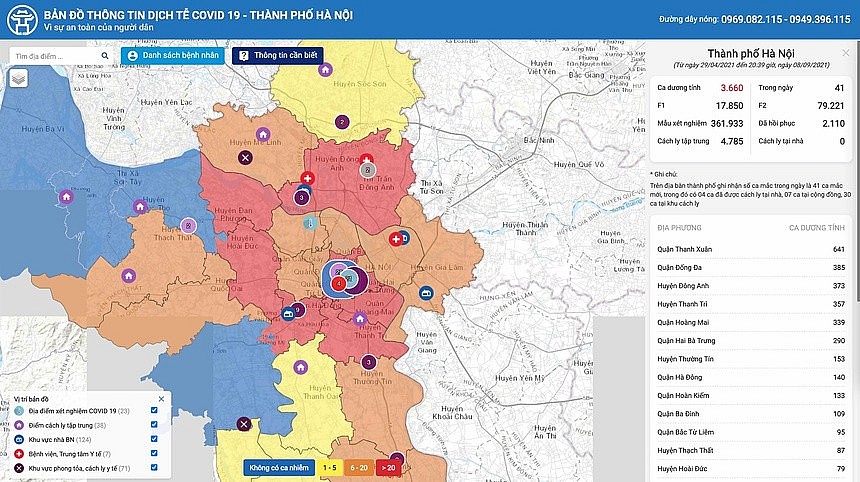 Photo Screenshot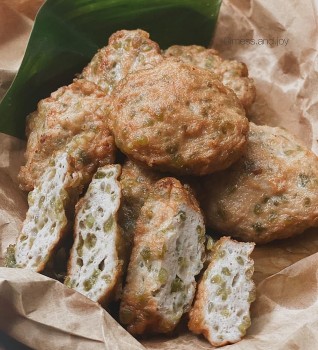 Viet's Home
Autumn is not only considered the most beautiful season of the year, but also famous for delicious snacks, symbolizing the exquisite Hanoian cuisine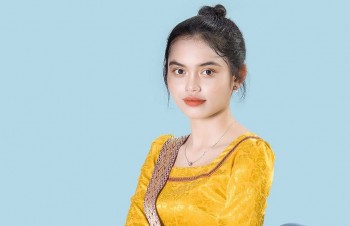 Viet's Home
Dang Vuong Huyen Tran, a Cham girl, received attention after her registration information was published on the contest's official fanpage.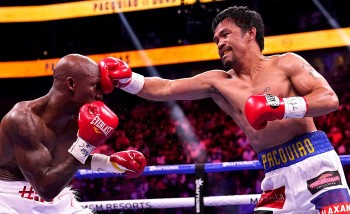 World
Manny Pacquiao, famous Filippino boxing champion, is preparing for his fight to become the new President of Philippines after his party's nomination to be their presidential candidate at a political convention in Quezon City on September 19. Read on to know more about who he is.