Vietnam Covid-19 Updates (August 4): Hanoi Sets Up First 'Green Zones' Covid-free Areas
Nearly 50 residential areas in Hanoi's Hoang Mai district without COVID-19 cases were marked as the "green zones" on August 2.
Photo: VN Express
Daily Covid-19 count reaches 8,377
The nation's daily infection tally rose to 8,377 following the detection of a further 4,851 fresh Covid-19 cases, including 37 imported infections, the Health Ministry said in its August 3 evening update.
Among the 8,429 domestic cases logged in the day, Ho Chi Minh City continued to record the highest number at 4,171, trailed by Binh Duong (1,606), Long An (566), Dong Nai (364), Tay Ninh (298), Khanh Hoa (189), Dong Thap (141) and Can Tho (120). In addition, community infections were also detected in other 18 localities.
Of the total figure regarding local cases, 883 were detected among the local community, with the remaining being found in quarantine or in areas currently under lockdown.
Photo: VOV
India to deliver 1 mln Covid-19 Remdesivir doses to Vietnam
Some big Indian pharmaceutical companies have agreed to provide Vietnam with approximately 1 million doses of Remdesivir, a broad-spectrum antiviral medication, for Covid-19 treatment. The shipment is poised to arrive in Vietnam in a month's time, according to the Vietnamese Trade Office in India.
The office said the commitment was made following days of negotiations between the Vietnamese Embassy's task force on Covid-19 drugs and vaccines and major pharmaceutical companies of India. The task force has held working sessions with relevant agencies of the Indian Ministry of Foreign Affairs and the Indian Ministry of Commerce and Industry that pledged to create maximum conditions for businesses to complete export procedures.
India has banned the export of drugs for Covid-19 treatment due to the spread of the SARS-CoV-2 virus a couple of months ago. It then eased the measure on June 16 as the fresh outbreak was brought under control. Earlier Vingroup, a leading multi-sectoral conglomerate in Vietnam, said it has reached a deal with its partner to purchase 500,000 vials of Remdesivir for Covid-19 treatment in Vietnam.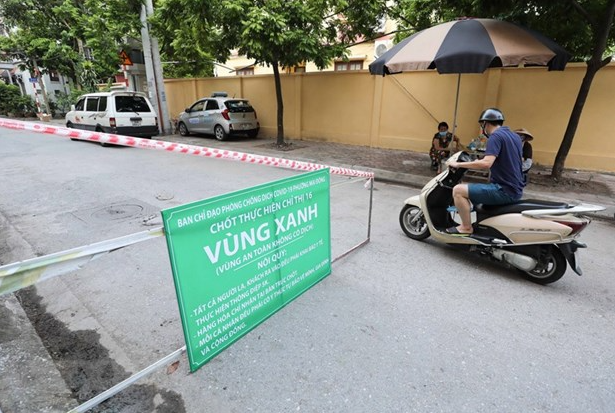 Photo: VNA
Hanoi sets up first 'green zones' Covid-free areas
Nearly 50 residential areas in Hanoi's Hoang Mai district without Covid-19 cases were marked as the "green zones" on August 2. Barriers and a green board were put up at their entrances, indicating no Covid-19 patients have been reported there and outlining measures that non-residents must take before entering, including making health declarations, following the 5K message, and placing parcels and deliveries at the entrance.
The move came following orders from Hoang Mai district's Party Committee, which instructed 14 wards under its jurisdiction to put up barriers around Covid-free areas to maintain their safety. The 50 green zones reported are in Mai Dong and Dai Kim wards.
Speaking about the measure, Nguyen Tuan Anh, head of the Hoang Mai Party Committee's Commission for Information and Education, said: "We learned from Ho Chi Minh City. The pandemic situation is so complicated there, but some wards and residential areas that have not got any Covid-19 patients have put up barriers to protect themselves from the virus.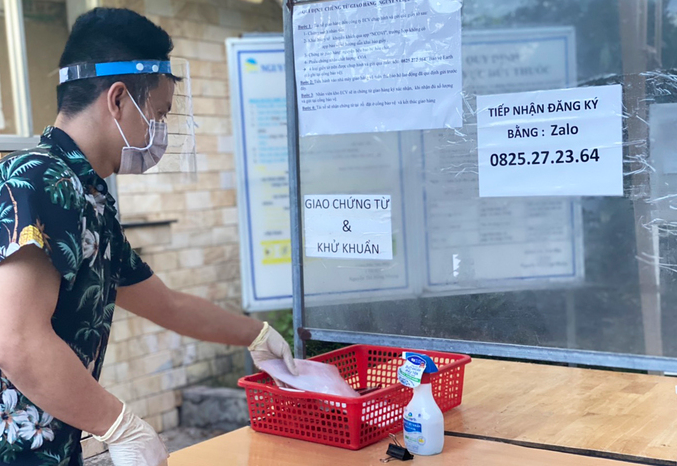 Photo: VN Express
Vietnam poised to start clinical trials of third Covid-19 vaccine this month
The Ministry of Health has recently granted approval for clinical trials to begin on the ARCT-154 Covid-19 vaccine, with medical tests set to begin on August 8 at Hanoi Medical University. The ARCT-154 vaccine has been purchased from California-based Arcturus Therapeutics Holdings Inc by Vingroup, the nation's largest private conglomerate, through its subsidiary VinBioCare Biotechnology Joint Stock Company.
The has been developed based on mRNA technology for the purpose of preventing Covid-19 and targeting fast-spreading variants such as Alpha and Delta strains, with the technology being transferred by Arcturus to Vingroup. Moving forward, Vingroup will co-operate with the Health Ministry to conduct phase three of clinical trials of the mRNA-based candidate ARCT-154 in approximately 20,000 adults.
The initial two phases which took place in Singapore and the United States have ensured the vaccine's safety, according to a Vingroup representative. Vingroup is therefore set to apply for approval for emergency use of the vaccine in the nation this year, with production set to start in early 2022. A facility owned by VinBioCare is currently under construction and is expected to produce 200 million doses annually, with the site projected to produce the first batches of the vaccine by early next year.
As of the afternoon of August 3, Vietnam registered a total of 170,190 Covid-19 infections, including 2,324 imported and 167,866 domestic cases. The number of domestic infections recorded during the latest wave of the pandemic has climbed to 166,296, with 48,057 patients having recovered from the virus.
The same day also the Treatment Subcommittee under the National Steering Committee for Covid-19 Prevention and Control confirmed an additional 190 fatalities relating to Covid-19 across 10 provinces and cities, with 166 recorded in Ho Chi Minh City, the current biggest hotspot in the ongoing pandemic wave.
Four out of 62 provinces and cities have stayed free from the SARS-CoV-2-virus for 14 days, while 9 other provinces have recorded no secondary infections.
The country discharged 3,866 patients on August 3, raising the number of recovered patients since the start of the pandemic to 50,851.