Growing Vegetables in Truong Sa (Spratly)
Growing food on the Truong Sa islands is no easy task. However, the Vietnamese military is hard at work making fresh food for their troops.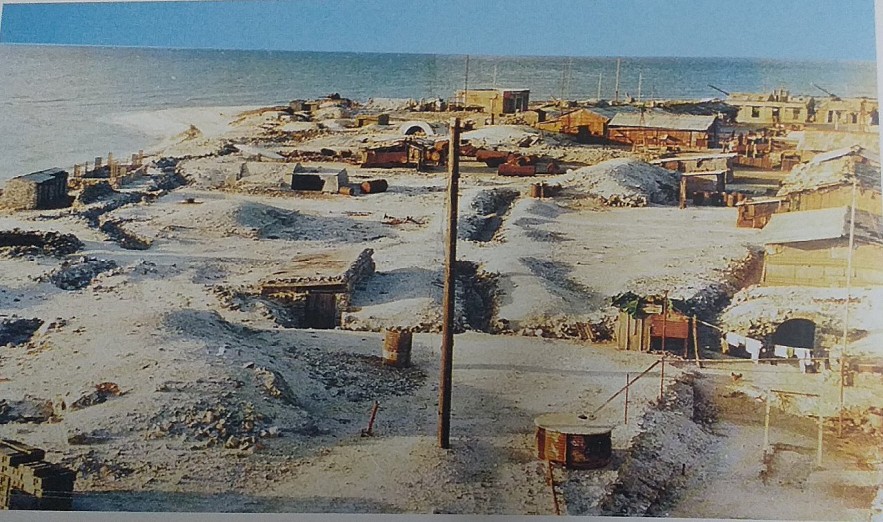 View of Truong Sa island after the Vietnam People's Navy took over (photo taken in 1976). Photo: Hoang Kien
Major General Hoang Kien has not returned to Truong Sa (Spratly) for twenty years. However, every time he saw the archipelago covered in green on television, he recalled his first days in Truong Sa.
When he first went to Truong Sa to work in 1986, Major General Hoang Kien saw that the islands were all sandy and coral reefs, there was no fresh water, only certain types of trees could live.
Green vegetables cannot be grown on the island because there is no soil and fresh water. The meals of the soldiers on the island often lack green vegetables, mainly canned food.
"It's painful to see the soldiers having no vegetables to eat. Most Vietnamese people come from farmers, eating vegetables and rice as the main dish. If they don't have vegetables, it's easy to get intestinal diseases," Major General Hoang Kien said.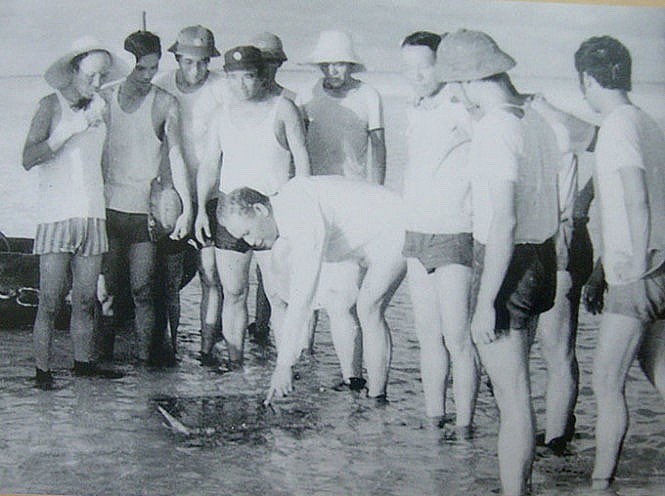 In April 1986, Hoang Kien (second from left) visited and inspected the Truong Sa (Spratly) archipelago. Photo: Hoang Kien
In 1989, he was assigned to work here, he started construction works in Truong Sa (Spratly). Major General Hoang Kien cherished the idea of bringing soil to the island for officials and soldiers to grow vegetables.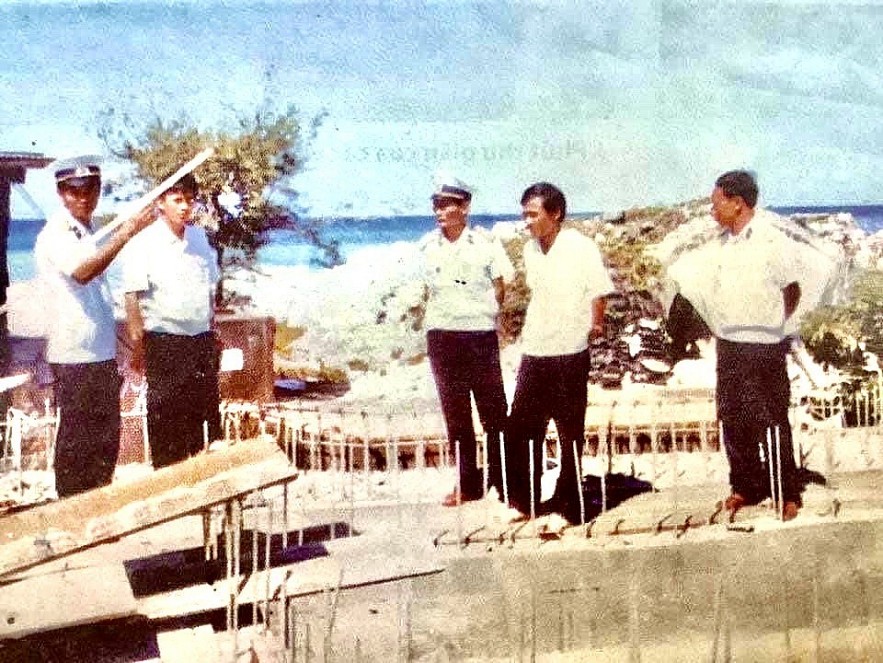 In April 1997, Colonel Hoang Kien (far left) commanded construction work on Truong Sa archipelago.
Major General Hoang Kien has a lot of experience in growing vegetables. When he was at home or studying in many places, he made growing vegetables a priority. During the years in Truong Son, he also grew vegetables. In the dry season, vegetables were rare, even wild vegetables.
Hoang Kien proposed the idea of ​​growing vegetables on the island. After that, the policy of bringing soil to Truong Sa (Spratly) to help the army grow vegetables was included in the resolution. The first island implemented was Nam Yet, where the 83rd Regiment built its first two-story house in 1991.
With the small island, the Major General instructed them to dig holes to plant gourds, and sponge gourds.
For vegetables in Truong Sa to grow, in addition to bringing the soil to the island, freshwater is also required to water the vegetables. At that time, the islands were eroded, and the soldiers proposed to build embankments around them, both to prevent erosion and to keep fresh water for the island.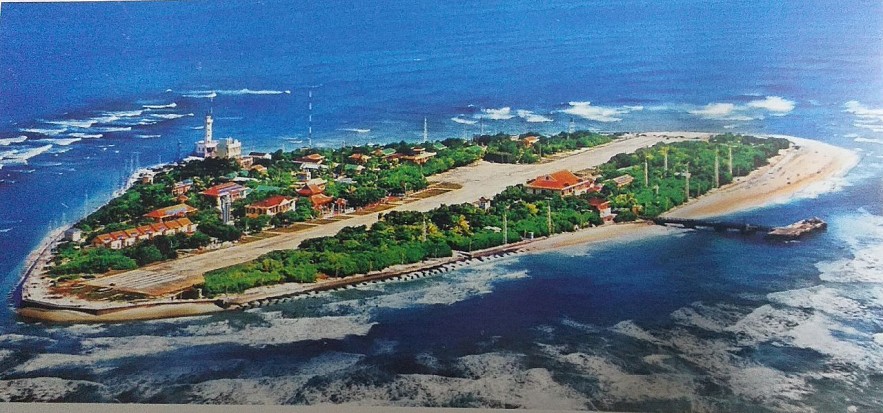 Truong Sa (Spratly) Island 2011. Photo: Hoang Kien
"A ship carrying thousands of tons of materials to the island. Therefore, it does not affect much when sending an extra car carrying soil to grow vegetables. Before the ship departed, in Da Nang - where the 83rd Regiment was stationed, the army went to the forest to collect soil. They went to livestock farms to ask for buffalo and cow dung, then dried it to make it light and odorless, mixed it, and packed it in bags.
"When the ship departed to the island, we sent a car full of soil and easy-to-grow vegetable seeds. From 1991 to 1997 - when I was no longer working there, cars carrying thousands of tons of soil were transported to the islands," said Major General Hoang Kien.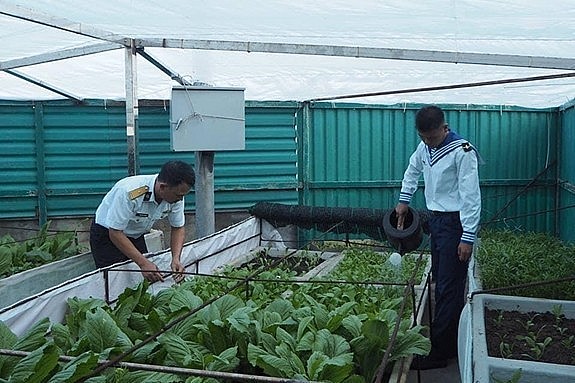 Officers and soldiers take care of vegetables on Sinh Ton Dong island (Truong Sa). Photo: qdnd.vn
He said that it is necessary to plan where to grow vegetables on the island.
With large island, in the season of rough seas and huge waves, Major General Hoang Kien instructed the soldiers to carefully cover the garden to prevent saltwater. In the rainy season, the soldiers collected rainwater for irrigation. In the dry season, he built water tanks and bathing places. All water for bathing and washing is collected into the hole to water vegetables.
Recalling these stories, Major General Hoang Kien said that the help of soldiers in those years contributed to improving the army's health and combat readiness.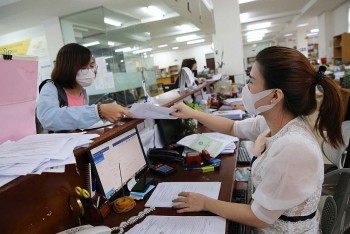 Economy
Vietnam Business & Weather Briefing (May 25): On the morning of May 25, SJC 9999 gold's price stayed at the same level as last week.