First Bilingual Books Featuring Vietnamese Released in Ukraine
Teacher Ha Thi Van Anh spent 4 years working hard to write a series of Vietnamese books for the students of National University of Kiev and all those who love Vietnamese in Ukraine.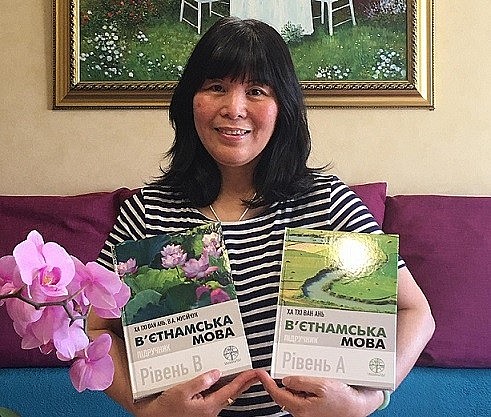 Teacher Ha Thi Van Anh and bilingual Vietnamese books. Photo: WVR
In 2018, teacher Van Anh completed two books of Vietnamese at A level and Vietnamese at B level. In the second book, Van Anh was in charge of the Vietnamese part, while her colleague Victoria Musiychuk was responsible for the presentation, decorative pictures and the entire Ukrainian section.
From 2019, she embarked on the third book, Advanced Vietnamese. Recently, this 242-page book was completed by her with great effort during the Covid-19 pandemic. This is also the first Vietnamese-Ukrainian bilingual book series printed by Helvetica Publishing House and widely distributed throughout Ukraine.
Van Anh said that bringing books from Vietnam to Ukraine was a difficult problem. "It is not always possible to buy all the books you need and bring them to the right place at the right time, because the geographical distance between the two countries is quite far. Besides, the lessons are not enough to meet the curriculum at school."
The students of the Vietnamese Department praised the book; "Vietnamese textbooks are very good and easy to understand, but when we practice speaking, we don't understand the sentences that Vietnamese people say in dialogue. We like simple, everyday conversations for easy communication." Therefore, the conversations in these books are of everyday life.In this Vietnamese book series, the layout has been improved to be more suitable for studying Vietnamese abroad.
For the book for level A and level B, the layout will be divided into 4 parts: Lessons (including: Vocabulary, grammar, practice exercises), Exercises, Reading and Pronunciation.
As for the advanced Vietnamese book, the layout will be divided into 8 parts: Vocabulary (listed from Conversation, Reading and sometimes from examples), Grammar, Practice, Conversation, Reading, Exercises, Further Readings and songs, proverbs, idioms and good sayings.
The book series was fortunate to be approached by Helvetica Publishing House - one of Ukraine's leading publishers and offered to sign an exclusive contract to publish and distribute. Van Anh said that writing books must be fast, so she wrote quickly day and night, continuously for several months to be able to publish. During that time, she taught at school, taught at the Vietnamese language center, and returned home at night to continue writing books.
"There are days when I work until 3-4 a.m., then I have to prepare for class in the morning. At that time I was mostly awake at night. Many times, I was so tired that I wanted to give up the idea of writing a book. However, I thought that a complete set of Vietnamese books was needed for students, so I tried to finish it."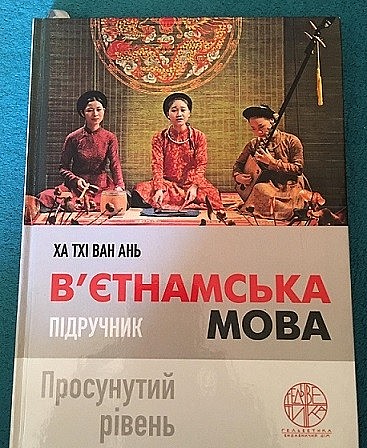 The cover of the book teaching Vietnamese by Ha Thi Van Anh. Photo: WVR
What Van Anh is satisfied with the first two books and achieving good results in the trail courses. Thanks to many years of experience teaching directly with students, she has understood the weaknesses of students. Therefore, when writing, she puts into the curriculum practical lessons in daily communication, helping them to be more convenient in their study.
The Vietnamese book series was made as the wish of a Vietnamese teacher living in a foreign country. This book is not only for the students of the university but also for all those who love learning Vietnamese in the world. Van Anh hopes that the book series will help learners from around the world understand the Vietnamese language.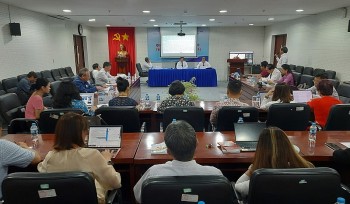 Friendship
The Vietnam - India Friendship Association's Ho Chi Minh City branch, the Ho Chi Minh City Union of Friendship Organizations (HUFO) and the Southern Institute of Social Sciences on March 21 held a scientific seminar themed "Vietnam - India relationship: tradition and present".