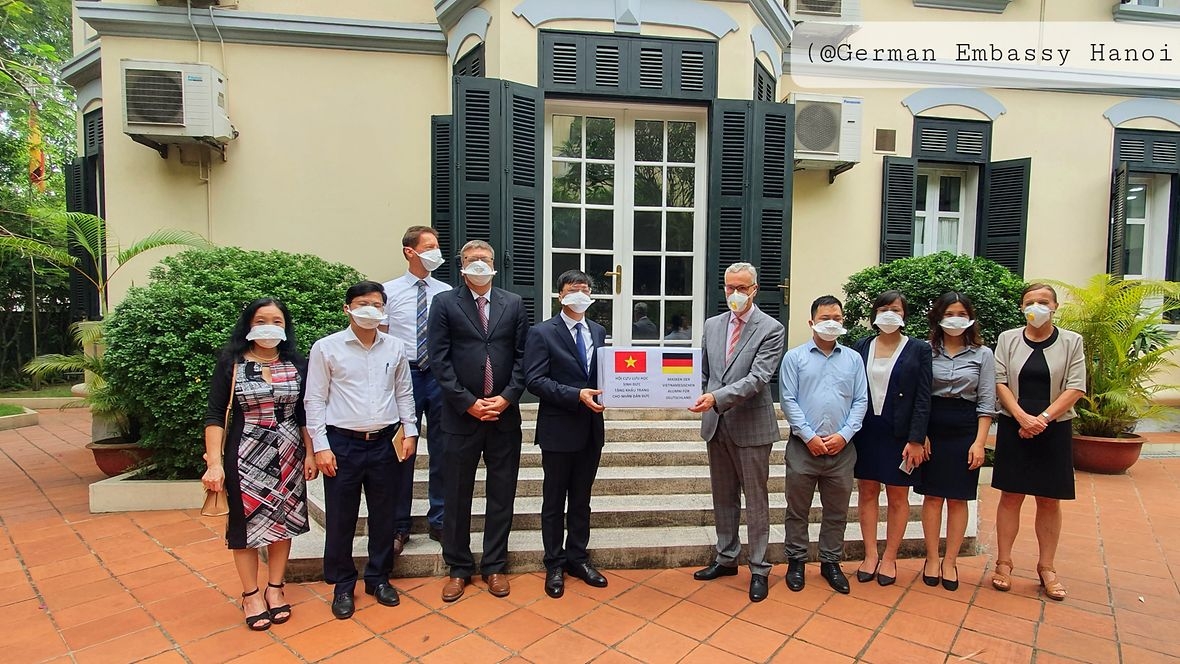 Representatives of Vietnamese alumni in Germany on April 7 handed over 5,000 N95 face masks to the Germany Embassy
Thanks to the scholarship from German Academic Exchange Service (DAAD), Vietnamese had opportunities to study and work in Germany.
With knowledge and experience gained from the European country, many of them later built successful career in Vietnam. Therefore, they feel grateful and have a deep affection for Germany.
Since the outbreak of the COVID-19, Germany has faced a severe shortage of medical mask and personal protective equipment.
To join hands with Germans, Vietnamese alumni have called for donations via social networks. Within a short time, they raised about 12,000 Euro and decided to spend on 5,000 N95 masks.
On May 7, Dr. Pham Manh Cuong of the Government Office handed over 5,000 masks to German Ambassador to Vietnam Guido Hildner and Mr. Stefan Hase-Bergen – Chief Representative of DAAD Office in Hanoi. These masks including transportation costs will be delivered to the Saxon state government.
Dr. Pham Manh Cuong said that these donations are to express Vietnamese alumni's gratitude to Germany, as well as to show their solidarity with Germans in the fight against the coronavirus.
German Ambassador to Vietnam Guido Hildner affirmed these masks is an expression of the close ties and friendship between Vietnamese and Germans, especially when two countries are celebrating 45 anniversary of diplomatic relations this year.
Vietnam is lauded by international media as a successful nation in combating COVID-19. The country reported only 271 case of COVID-19 infection, no deaths. No new case of COVID-19 has been reported in Vietnam for 3 weeks.
Jennifer Tran