Vietnam gifts 550,000 face masks to EU countries in coronavirus fight
Deputy Minister of Foreign Affairs To Anh Dung on April 7 symbolically handed over 550,000 made-in-Vietnam face masks to five European countries including the UK, France, Germany, Italy  and Spain to support their fight against the coronavirus.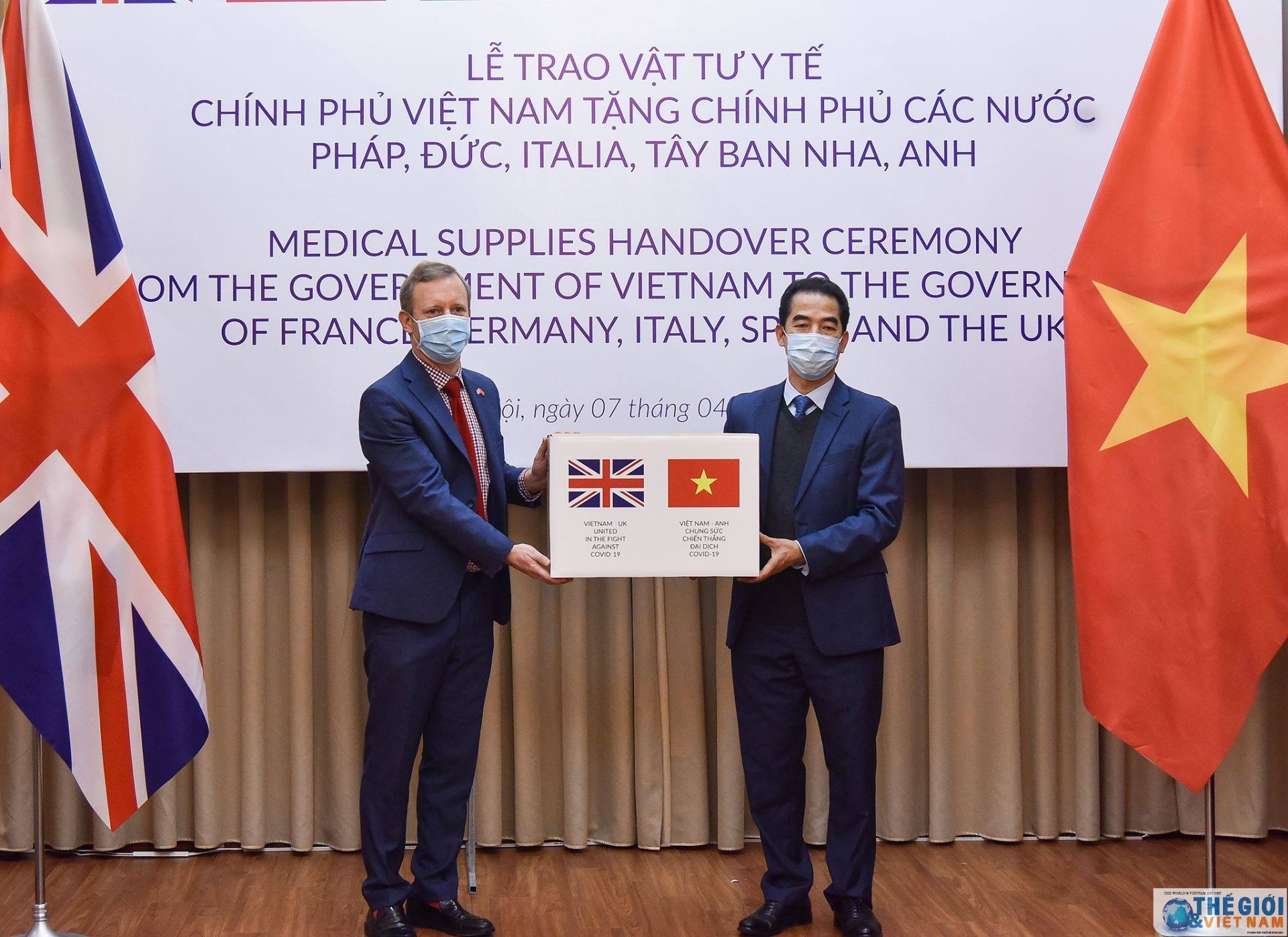 Vietnam gifts 100,000 face masks to the UK. Source: baoquocte.vn
The masks, made of antimicrobial fabric, were handed to the ambassadors of France, Germany, Italy, Spain and Britain in Hanoi, the Foreign Ministry said in a statement.
Addressing the hand-over ceremonies in Hanoi, Dung said amid the current global medical crisis, no single country could effectively contain the spread of the COVID-19 pandemic.
International cooperation and enhancing solidarity are important factors to protect the health and safety of people, helping to mitigate the great impacts of the epidemic, he said.
Vietnam always stays ready to work closely, share experience and join hands with countries and the international community to take necessary measures, within bilateral and material frameworks such as the ASEAN-EU, G20 and the United Nations, with the determination to contain and soon push back the epidemic, Dung affirmed.
The ambassadors of France, Germany, Italy, Spain and the UK, and the ambassador, head of the European Union Delegation to Vietnam thanked Deputy Minister of Foreign Affairs To Anh Dung and the Vietnamese Government for gifting face masks to their countries' efforts in tackling COVID-19.
Though Vietnam also has been affected by the COVID-19 pandemic, the country has been willing to share supplies, provide medical services and create favourable conditions for foreign citizens over the past time, including the treatment of infected persons, they said.
The ambassadors also pledged to closely coordinate and step up cooperation with Vietnam in protecting the health and safety of people, maintain cooperative relations and trade, share information and offer mutual support to overcome the current difficulties.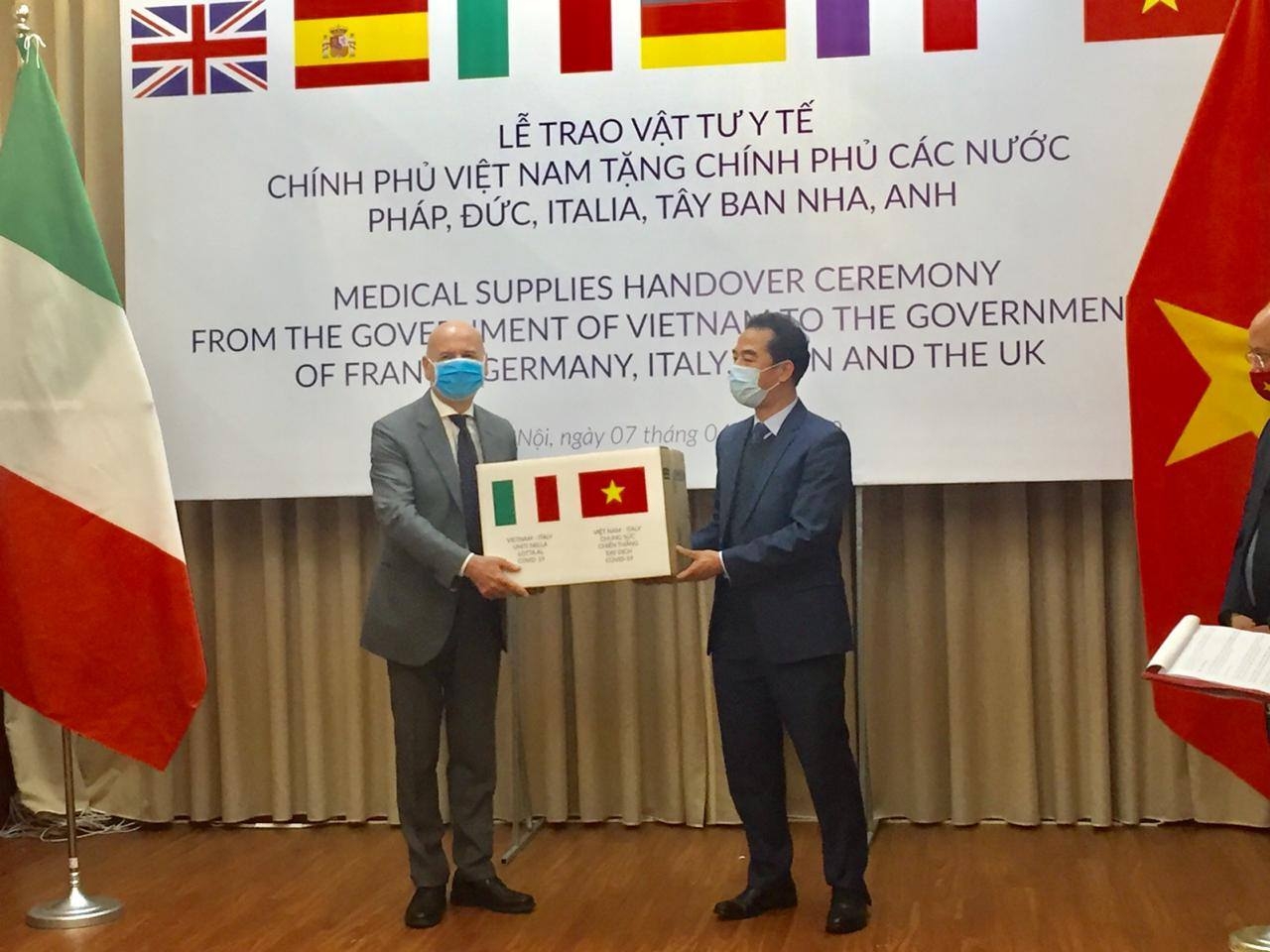 "A real help, a praiseworthy act of friendship, a strong message of belief in international cooperation," wrote the Italian Embassy's status in Facebook Fanpage.
Describing the gesture as a real sign of friendship, British Ambassador Gareth Ward said: "The health sector is considered a key area of cooperation in our bilateral relations. Vietnam and the UK will continue to join hands to tackle this disease."
Ambassador War also expressed gratitude to the doctors and nurses in Vietnam, who have taken care of and treated many British COVID-19 patients in recent times.
Vietnam, which has reported 249 coronavirus cases, with no deaths, has also donated masks and other medical equipment to other countries, including China, Cambodia and Laos.
Europe is the continent most heavily affected by the disease with more than 50,000 deaths so far, and the strain is showing on hospitals dealing with a wave of patients suffering from coronavirus./.