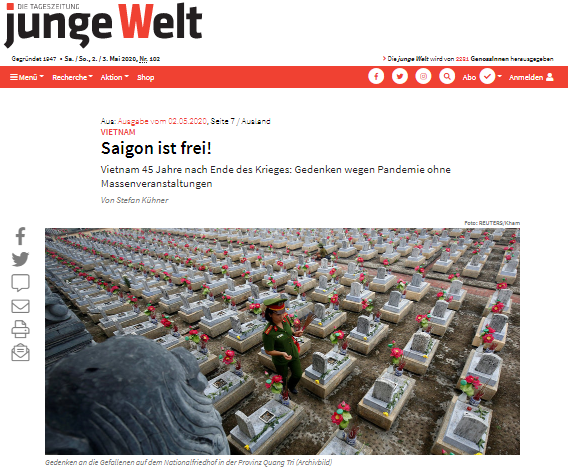 Germany's Junge Welt (Young People) daily on May 2 ran an article highlighting Vietnam's spirit of peace and national independence during the war
According to VNA, on the occasion of the 45th anniversary of Vietnam's liberation of the south (April 30), the daily said Vietnam marked the anniversary mainly online in the context of the COVID-19.
The country is screening a 22-episode documentary depicting comprehensively the struggle for national independence, covering the time period starting when President Ho Chi Minh left Vietnam in 1911 to foreign countries in search of a way for national salvation until April 1975.
The newspaper stressed that with support from the solidarity spirit all over the world, Vietnam's national liberation movement has proved that history can be established and shaped on the basis of the spirit of peace and national independence.
The article also reviewed difficulties and hardships facing Vietnam after the world, despite which the country still recorded considerable achievements, especially in the recent past.
It praised Vietnam's efforts and successes in the fight against the raging pandemic with no deaths recorded and the number of cases kept under 500.
In April, the German newspaper also praised Vietnam's prompt and resolute response to the COVID-19 as it is quickly spreading in many countries despite their numerous measures./.
Hanoi calls for nuclear weapon ban

Over 277,700 signatures have been collected in Hanoi in the first phase of a campaign called "Appeal of the Hibakusha (atomic bomb survivors)", which calls ...
Hannah Nguyen