Hanoi Extends Social Distancing for Another Two Weeks
Hanoi authorities have decided to extend the capital's ongoing Covid-19 social distancing order until August 22.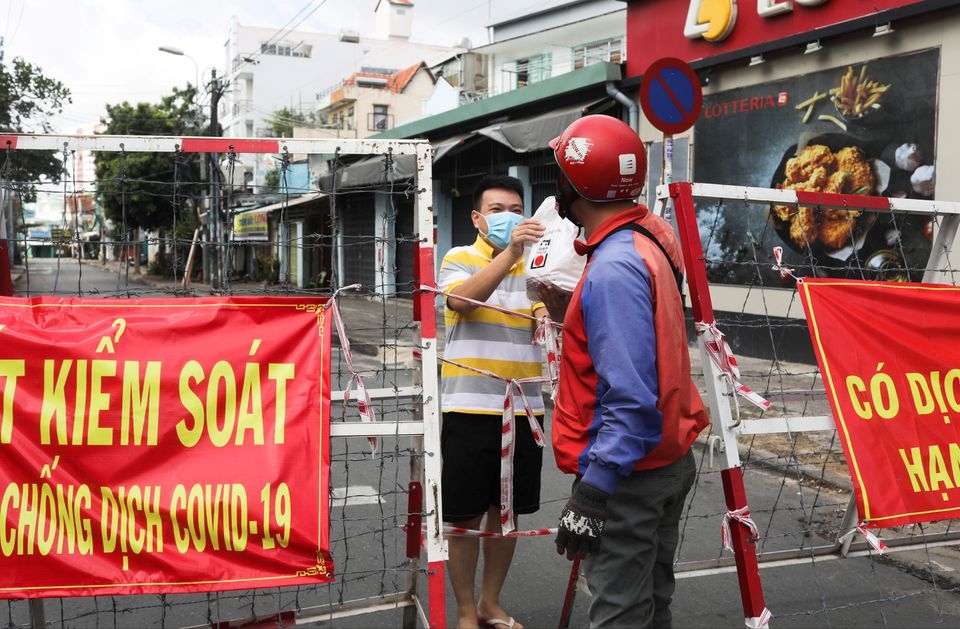 A man living in an area under lockdown receives food through a barricade during the coronavirus disease (COVID-19) pandemic in Ho Chi Minh City, Vietnam July 20, 2021. Photo: Reuters
The Hanoi Standing Party Committee has agreed to a proposal by the municipal People's Committee to extend the social distancing order by another 15 days, starting from 6 a.m. on August 8, the Hanoi Party Committee said Friday.
A press meet Friday afternoon is expected to announce the Covid-19 fighting results following Hanoi's two-week social distancing period from late July, as well as future plans to fight the pandemic, as reported by VNE.
Hanoi began its 15-day social distancing order starting July 24 amid rising coronavirus threats in the capital, requiring people to stay home and only go out for basic necessities such as buying food or medicines or to work at factories or businesses that are allowed to open.
Despite said measures, the city has been recording around 50-70 new cases a day on average and unearthed several clusters, including high-risk areas like wholesale markets and supermarkets.
Hanoi has officially recorded 1,762 local Covid-19 cases since the fourth coronavirus wave struck Vietnam in late April.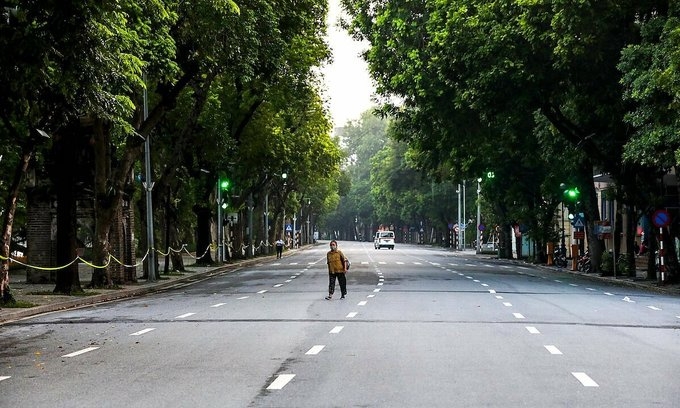 A woman walks on a deserted street around the Sword Lake in Hanoi downtown amid the city's Covid social distancing order, July 24, 2021. Photo: VNE
On August 1, HCMC authorities also imposed its city-wide social distancing measuresunder the Prime Minister's Directive 16 for an additional 14 days from 0:00 on August 2.
The decision was made by Chairman of the municipal People's Committee Nguyen Thanh Phong on August 1.
To date, the southern metropolis has experienced 67 days of social distancing at different levels. It is currently the largest Covid-19 hotspot in Vietnam, Vietnam Plus reported.
As of August 6, Vietnam has recorded 185,162 new cases following the resurgence of the virus in late April, and 186,732 cases since the start of the first outbreak in the country in January 2020. More than 58,000 patients have recovered from the disease and have been discharged from the hospital.
Over 8 million doses of the Covid-19 vaccines have been administered nationwide, with 820,023 people receiving the second shot.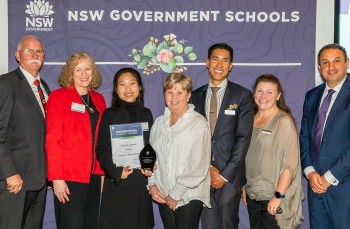 Overseas Vietnamese
The award for international students studying at New South Wales state schools (Australia) honors excellent ones from many countries, including a Vietnamese female student.