Hanoi, HCM City voted top places for local cuisine
According to a survey conducted by renowned travel website Booking.com, both Hanoi and Ho Chi Minh City have been voted as the leading destinations to enjoy traditional cuisine or street food, as well as being top places for food shopping among local travelers.
The survey revealed that 53% of Vietnamese travelers are particularly keen to taste and indulge in local cuisine when traveling, with 45% of respondents using the money saved from not traveling abroad due to the closure of borders to eat out more often.
Hanoi tops the list in terms of the best destinations for traditional Vietnamese food, with Booking.com stating that the top dishes in Hanoi are typically inexpensive. Despite their cheapness, an array of tasty treats can be found within the Old Quarter's narrow alleyways and the bustling street markets situated throughout the capital, said VOV.
Furthermore, Ho Chi Minh City was named the best city for street food. The survey states that the southern metropolis is the city that never sleeps and appeals to the taste buds of travelers due to its countless food stalls and markets that are open around the clock.
"A city trip to Saigon is incomplete without indulging in all-time favorites such as bot chien fried in a large flat pan with whipped eggs, the legendary Vietnamese pizza or quesadilla grilled on the coal stove, duck embryo in tamarind sauce and beef offal steamed in coconut milk served with local banh mi," the website highlights.
Some must-try foods in Hanoi
Bun Thang (Rice Vermicelli with Chicken, Egg, Pork)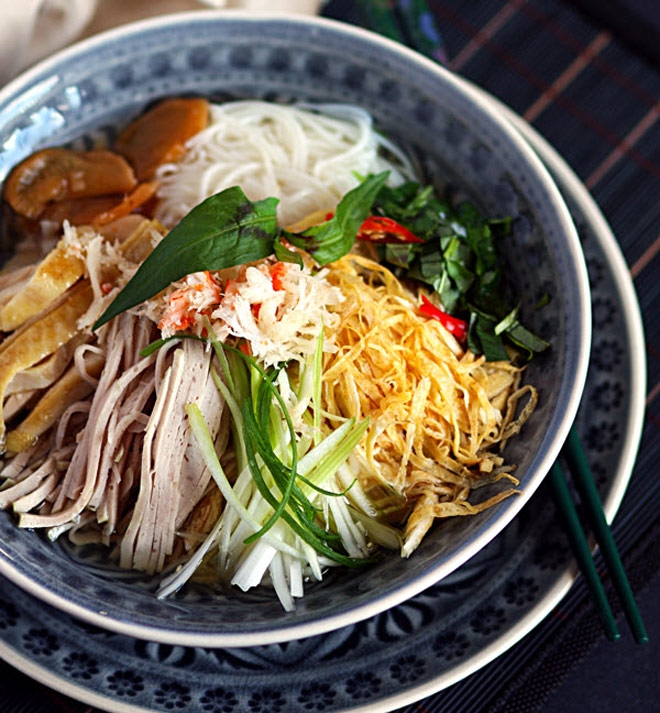 Photo: 24H
Bun thang or rice vermicelli with chicken, egg and pork can be enjoyed at any time of the day. The clear yet flavourful broth is made with 20 ingredients, including dried shrimp, squid, shrimp paste, spring onion, coriander, ginger, mushroom, beet, fish sauce, sugar candy, and vinegar. It is also a particularly attractive Hanoi dish as the noodles, chicken, eggs, pork slices, and a dollop of shrimp paste are carefully arranged to resemble a flower. Available mostly within Hanoi Old Quarter, we highly recommend Bun Thang Ba Duc as you can enjoy a generous bowl of bun thang for about VND 30,000, Vietnam Guide noted.
Banh Cuon (Steamed Rice Paper)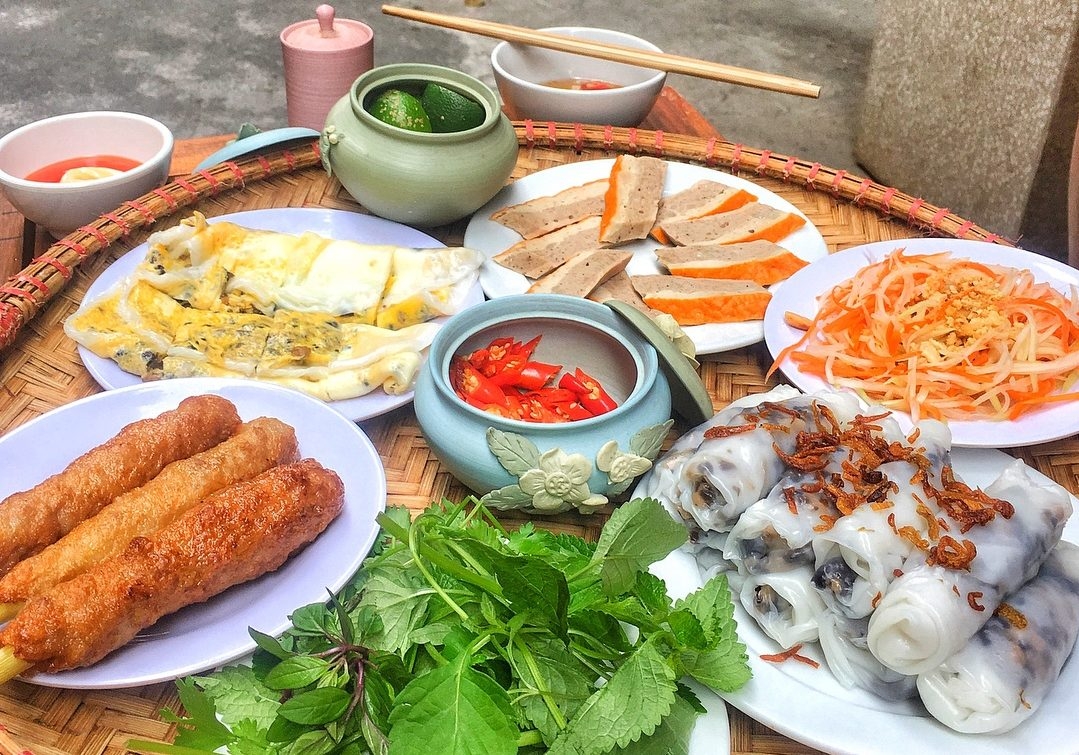 Photo: EMOI
Great as a light breakfast or midday snack, banh cuon is a combination of ground meat (chicken, shrimp, or pork), minced wood ear mushroom, onions, Vietnamese ham (cha lua), steamed beansprouts, and cucumbers that are wrapped in a steamed rice flour sheet., Its overall taste is very mild despite the savory ingredients, and you can also dip the banh cuon into nuoc cham sauce for added flavor. You can easily spot roadside vendors selling banh cuon all over Hanoi, but Banh Cuon Gia Truyen in Old Quarter is a good alternative as the restaurant provides menus with English translations.
Pho Xao (Stir-Fried Pho)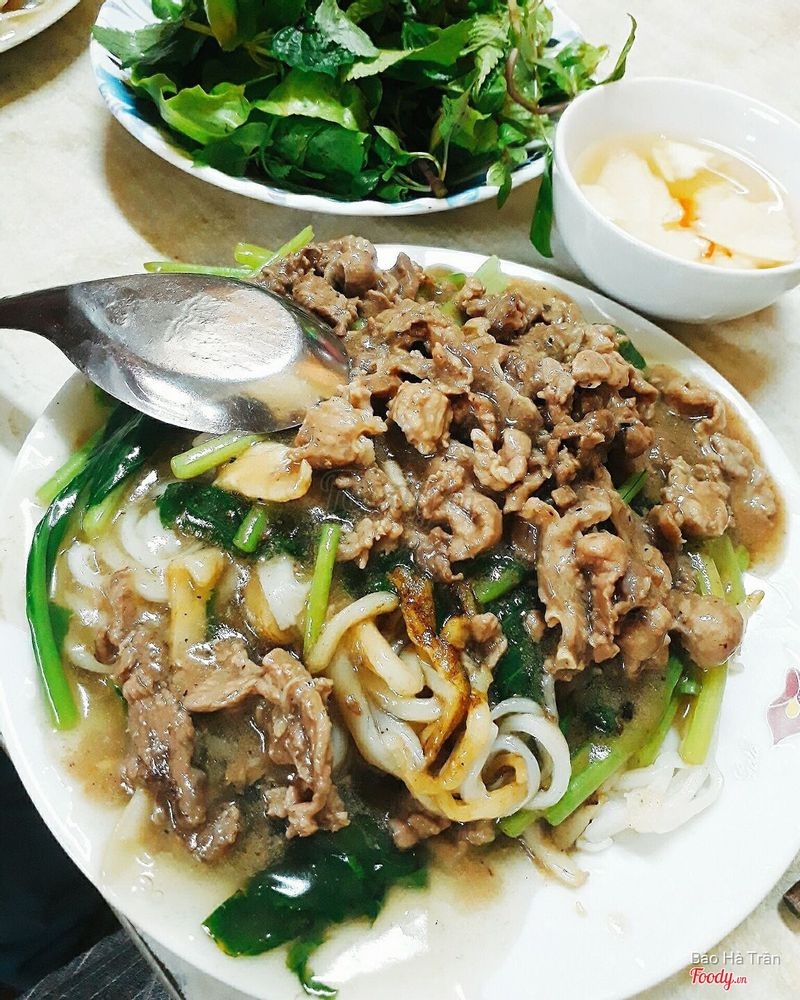 Photo: Foody
Pho may be best known as rice noodles served in soup, but you can also enjoy it in the form of pho xao, which is stir-fried with onions, beef slices, and assorted greens. The flat pho noodles are usually crisp on the outside with a smooth glutinous texture, and most restaurants sometimes add fried eggs and chili sauce to this simple yet satisfying dish. Thin is a family-run restaurant within Hai Ba Trung District, where you can savor pho xao for only VND 50,000.
Bun Cha (Barbecued Pork with Rice Vermicelli)
Photo: Hanoi1000
Bun cha is one northern Vietnamese food that quickly became our favorite. It is one of the best Hanoi food specialties not to be missed. Bun Cha consists of grilled pork strips and balls or chả served over a bed of steaming rice vermicelli noodles or bún. The vermicelli noodles served on the side are thin, soft and slightly chewy.
It typically comes with a plate of fresh Vietnamese herbs and a bowl of dipping sauce. Pickled vegetables, like cabbage, carrots, onion or green papaya are served with additional meatballs on the side. The sauce is made of the famous Vietnamese fish sauce or Nuoc Mam combined with vinegar, lime, sugar, garlic and chili.
Pho (Vietnamese Noodle Soup)
Photo: Vietnam Tourism
Pho is the classic dish of Hanoi, and one that you cannot miss. Pho, while known as the national dish of Vietnam, originated in the North. It became popular as a hearty soup eaten by the rice field workers for breakfast.
Pho is a flat rice noodle soup made of a fragrant meat broth, most commonly beef and sometimes chicken. This aromatic soup is filled with slices of meat and a plateful of fresh herbs. The fresh herbs used in the soup typically include green onions, ginger, and coriander.
"This is where you can find the familiar and world-renowned 'pho' noodles served with bagel twists or the original 'bun cha' that was once enjoyed by President Obama during his 2016 visit in Vietnam. 'Bun dau mam tom', a stinky yet tasty and crispy delicacy originated in Hanoi, is a definite must for daredevils undisturbed by the idea of pungent shrimp paste," the website explains.
Some must-try foods in HCMC
Com Tam (Broken rice with grilled pork chop)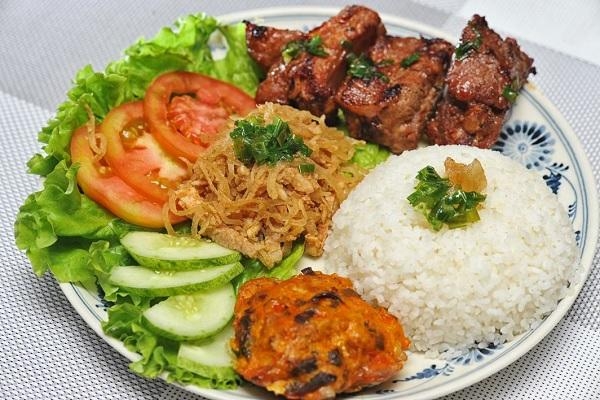 Photo: Dạy nấu ăn
Literally translated as "broken rice", this hearty dish is served for breakfast, lunch and dinner. This dish started with humble beginnings with Vietnamese farmers serving this rice at home as the "broken" leftovers were not suitable to sell in the market. Nowadays, it is served in Saigon and isn't just for farmers anymore, said City Pass Guide.
The dish is usually served with many different meat options such as suon nuong (barbecued pork chop), bi (shredded pork skin), cha trung (steamed pork and egg patty) or trung op la (fried egg). Diced green onion in oil is sprinkled on the meat and a side of pickled vegetables and sliced cucumber finish the plate. Served on the side is a bowl of the ubiquitous nuoc cham dipping sauce.
Bun Thit Nuong (Rice vermicelli with grilled pork)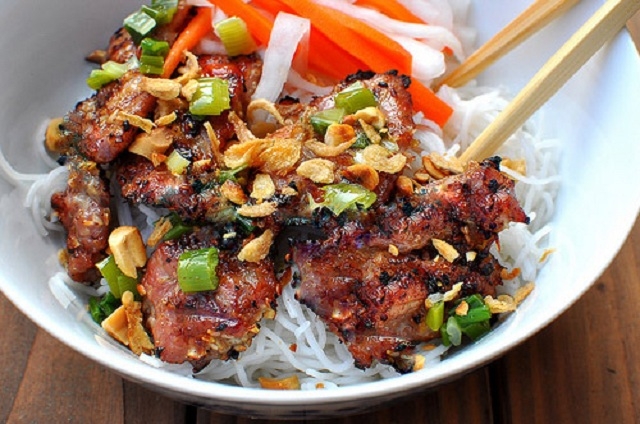 Photo: Hướng Nghiệp Á Âu Đà Nẵng
Brightly coloured and fresh in flavour, this noodle dish is a great alternative to the heavier pho or com dishes served in Saigon. Unlike most Vietnamese dishes, bun thit nuong is served in one bowl and doesn't come with additional garnishes. The Saigon version highlights the wealth of fresh vegetables produced in the neighboring Mekong Delta and Dalat regions. Fresh chopped leaf lettuce, sliced cucumber, bean sprouts, pickled daikon and carrot, basil, chopped peanuts, and mint are served with vermicelli rice noodle and topped with grilled pork shoulder.
You can also get the dish with cha gio (eggrolls) or nem nuong (grilled ground pork meatballs). Nuoc cham is served on the side and should be poured into the bowl. Mix it all up and what you have is a taste sensation in your mouth.
Hu Tieu (Rice noodle soup)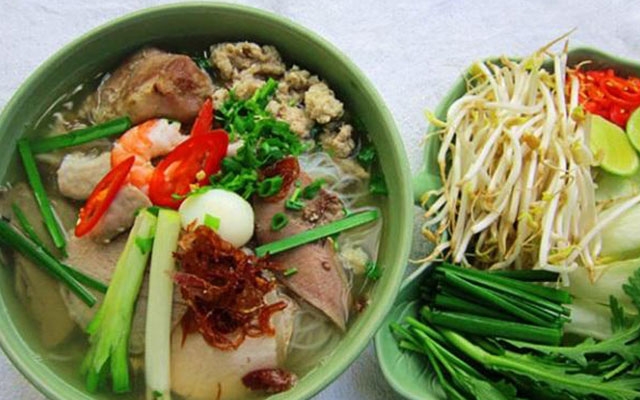 Photo: Đào Tạo Bếp Trưởng Á Âu
Though pho is the starlet of Vietnamese cuisine, its humble Saigonese cousin hu tieu is a soup that shouldn't be overlooked. Named after a noodle made from tapioca, there are countless variations served in restaurants in Ho Chi Minh City. One unifying ingredient is the broth. Lighter in flavour and a touch sweet, the broth is made from pork instead of beef.
Though the definitive hu tieu is called hu tieu xuong that consists of pork ribs as the main meat ingredient, each restaurant or stall features their own specialties. Toppings can consist of sliced pork shoulder, a whole pork chop, wonton dumplings, meatballs, shrimp, squid, and/or fish. You can even mix up the hu tieu noodles with some pho or mi (chinese egg noodles) noodles for a bit of textural contrast.
Banh Mi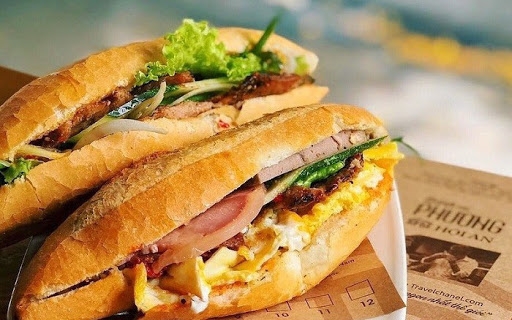 Photo: Hanoi Times
Take a walk anywhere in Saigon and you will eventually run into someone selling banh mi. Tasty, filling and most importantly quick to prepare, these sandwiches are perfect for fast paced Saigon life.
It isn't banh mi unless it's on a baguette. The type of baguette will range from each region and baguettes that originate in Saigon are generally lighter yet crustier in texture. Fillings consist of butter, soy sauce, pickled daikon sprouts and carrots, cucumber and coriander. Chilies are optional if you want to spice things up. The meat options are aplenty and a slew of them are listed here: cha ca (fried fish with turmeric and dill), cha lua (steamed pork roll), heo quay (roasted pork belly), pho mai (laughing cow cheese), pa te (pate), xiu mai (meatballs), thit ga (boiled chicken), thit nuong (grilled pork loin), trung op la (fried egg), and xa xiu (chinese barbecued pork).
Make in Vietnam
Vietnam introduced potential for trade and investment to Algeria's localities