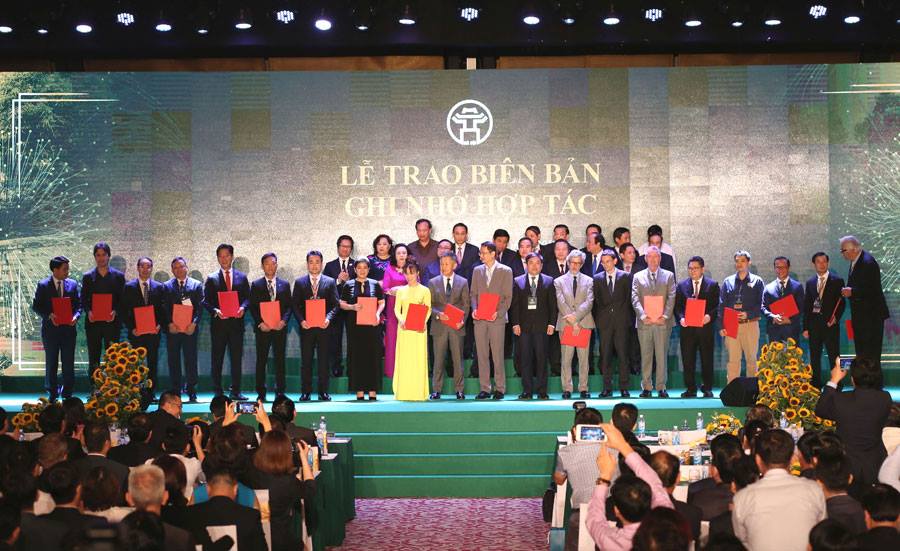 Hanoi's investment promotion conference last year (Photo: Hanoitimes)
Hanoi's upcoming investment promotion conference is set to attract up to 1,500 delegates, including international experts, investors and senior officials, said the municipal People's Committee.
The event, themed "Hanoi 2020 – Investment and Development Cooperation", will take place at the National Convention Center on June 27.
The organization of the conference after Hanoi's initial containment of the Covid-19 pandemic sends a strong message on efforts of the capital city in particular and of Vietnam in general to lure investment from domestic and abroad businesses.
More than ever, Hanoi remains a safe and stable investment destination for investors as the capital city is determined to be the pioneer among Vietnam's localities in rebooting the economy in the post pandemic period, stressed the municipal Party Committee.
According to the committee, the process would boost Hanoi's administrative reform and enhance the city's business and investment environment towards the ultimate goal of achieving high economic growth.
In 2020, Hanoi targets an economic expansion rate at 1.3 times higher than the national average.
At the conference, Hanoi would inform delegates of Hanoi's socio-economic performance and its endeavors to attract FDI in the 2016 – 2019 period.
Chairman of the Hanoi People's Committee Nguyen Duc Chung on May 9 tipped that, at the upcoming event, the city will issue investment licenses for some 100 projects. Among them, domestic investors are expected invest nearly VND330 trillion (US$14.28 billion), including 26 social housing projects worth VND72 trillion (US$3.11 billion) for low-income buyers.
Chung also revealed foreign-invested projects being licensed by Hanoi this time worth a total US$3.5 billion, and the city would continue to call for investment in IT, logistics and e-commerce.
FDI commitments to Hanoi in the year to May 19 increased 6.1% against the previous month to US$1.04 billion. From the start of this year, the capital city has approved 255 new projects worth US$327 million and allowed other 63 to pump an additional US$378 million in the five-month period. Foreign investors also contributed US$340 million in capital to other 468 projects.
hanoitimes