Hanoi Online Tours Launched For Foreigners
A young tour guide in Hanoi has launched tours around Hanoi for foreigners on online platforms amid the pandemic.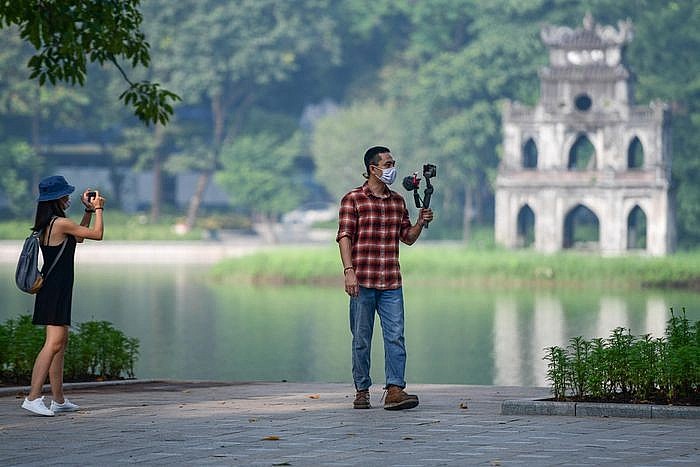 Le Hoang takes tourists around Hanoi through online tours in the pandemic. Photo Zing News
In early 2020 when Hanoi applied the first social distancing period due to the pandemic, Le Hoang, 28 years old, had to suspend all of his work as a tour guide for foreign visitors in the city.
One time when a British tourist asked him whether he can put his coffee tour online, he started to think about launching virtual tours in the pandemic.
In 2020, Hoang launched an online coffee tour which instructs tourists how to make Vietnamese coffee. Photo VnExpress
Since April 2020, Hoang has run virtual tours on live streaming platforms and sold tickets ranging from 120,000 to 180,000VND, or offered free tours and received tips from foreigners.
"I invested several million Vietnam dong to buy equipment such as a tripod, a noise-canceling microphone, a gimbal. My first tours were to explore the culture and history of Hanoi," he told Zing News.
"When the pandemic's restrictions have been eased, I launched tours across Vietnam."
When Hanoi's authorities loosened social distancing restrictions in the fourth Covid wave and allowed gathering of not more than 10 people in public areas, Hoang took the camera around the streets to re-launch the Hanoi's history tour after a two-month suspension.
Hoang said "My wife and I rode a motorbike to Ly Thai To flower garden to start the tour at 7:30 am.
"With a smart phone, a noise-canceling microphone and a gimbal, I took tourists around the Old Quarter for 45 minutes to an hour on a live streaming platform."
Hoang prepares a gimbal and a microphone to start his tour. Photo Zing News
"Starting from Ly Thai To monument, I walked towards the fountain at Dong Kinh Nghia Thuc square. On the way, I stayed for a few minutes at Turtle Tower, Ink Slab Tower so that tourists could enjoy the scenery while listening to the history and culture of the thousand-year-old capital."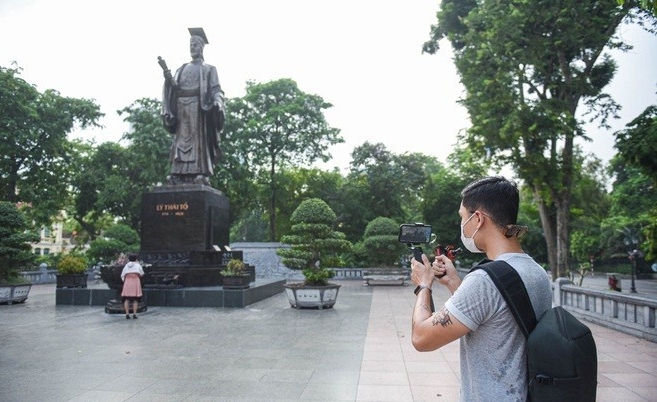 Ly Thai To monument, a famous attraction in Hanoi, is where he starts the tour. Photo Dan Tri
"After that, I took a cyclo from Hang Dao, Hang Ngang, Hang Chieu streets through O Quan Chuong. The online visitors were curious and excited to see Hanoi people living in narrow alleys entangled with electric wires or street vendors on both sides of the road.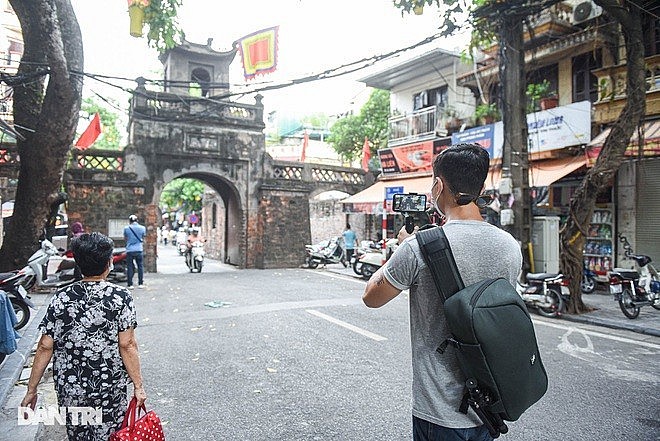 Hoang introduces O Quan Chuong, a typical architecture of Hanoi, to online tourists. Photo Dan Tri
"Then I visited a coffee shop on Nguyen Huu Huan street. I spent the last 15 minutes of my tour answering questions, chatting with tourists, sipping coffee and showing everyone what an old coffee shop in Vietnam looks like."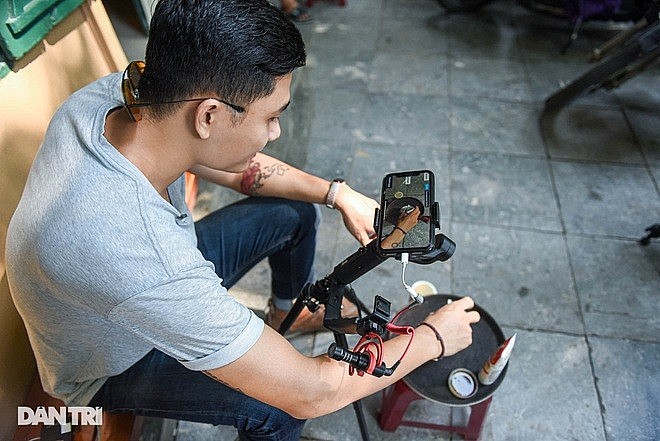 Hoang stops at a famous coffee shop on Nguyen Huu Huan street to enjoy a cup of coffee. Photo Dan Tri
Over the past two weeks since a lot of pandemic's restrictions have been lifted in Hanoi, Hoang launched six online tours. Before the social distancing period, he had ten tours a week.
"Attractions such as Temple of Literature, Hoa Lo prison have not reopened, so I don't have many options," he said.
Each tour of Hoang has bout 50 followers online, mostly from Europe, the US and Canada.
Overcoming challenges
Recalling the first time he launched an online tour, Hoang said it was difficult for me to control the space around. Sometimes people on the streets interrupted my video.
"One time I brought tables and chairs to Sword Lake to open an online coffee tour. The security guard thought I was selling drinks, so I was asked to leave."
"To avoid a similar incident, I often go with my wife, who also works in the tourism industry, so that she can support me. Sometimes when my wife is busy, I have to do alone.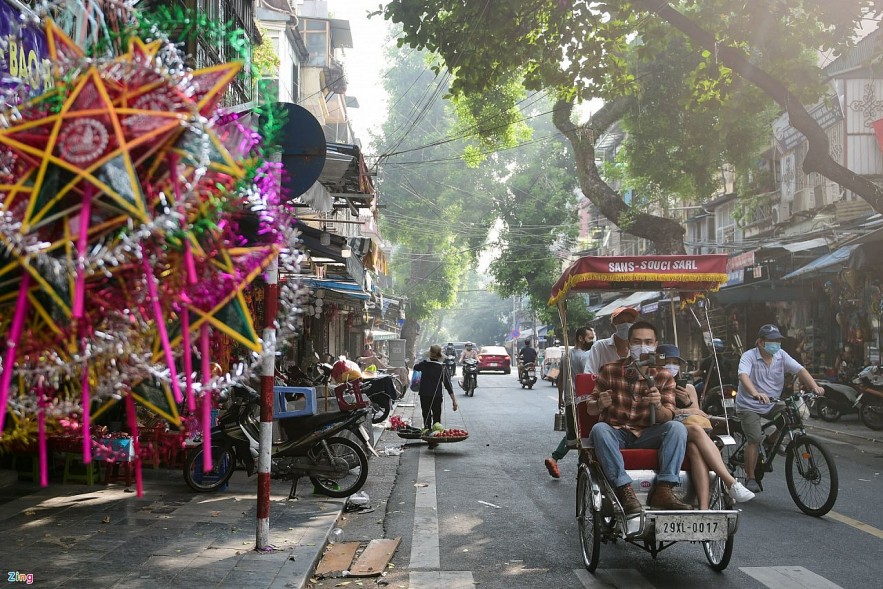 Hoang uses means of transportation such as cyclo, motorbike taxi to maximize the experience for online tourists. Photo Zing News
"I also make friends with the cyclo and motorbike taxi drivers so that whenever they see me with the camera, they will wait to take me around."
Knowing that the tourists are interested in Vietnamese culture, lifestyle and habits, he usually spends more time talking about these topics.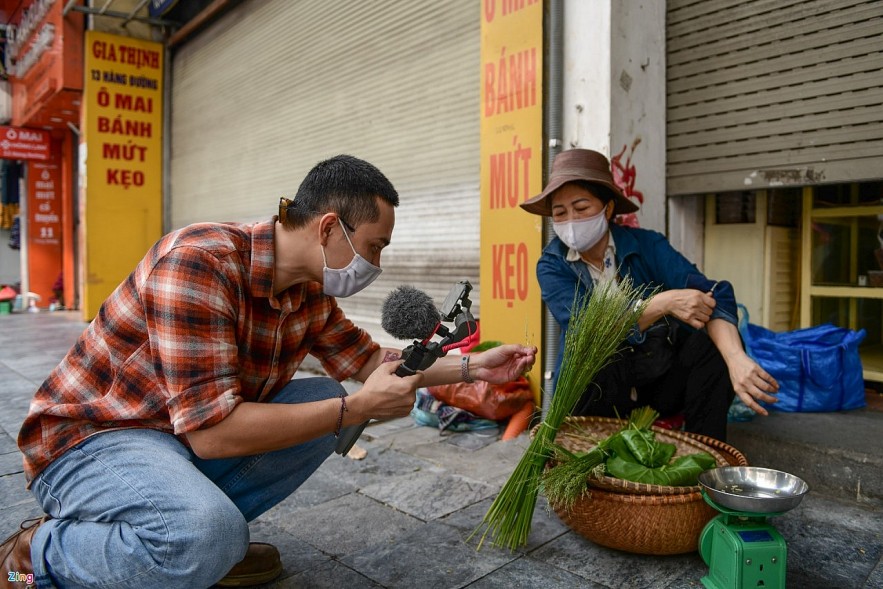 Hoang live streams a street vendor selling young sticky rice, a signature dish of Hanoi's autumn. Photo Zing News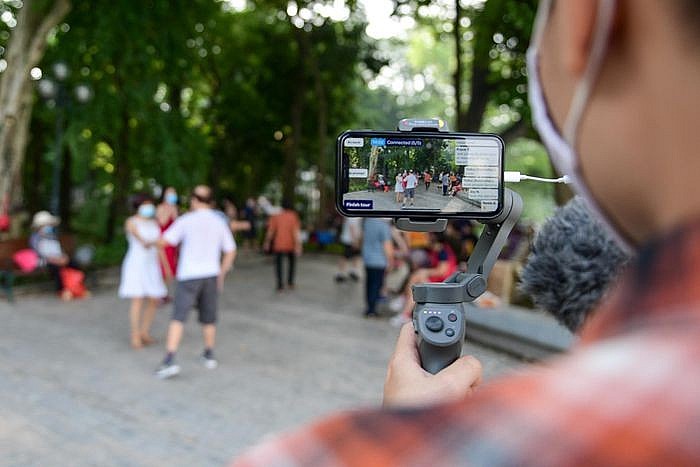 Hoang live streams Hanoians doing exercises in the morning. Photo Zing News
"Guiding online tours have some advantages. I can still stay in Hanoi and spend two to three hours a day on the streets and some more time preparing the content earlier. If I take physical tours, I have to go away the whole day or several days," he said.
The biggest difficulty is that he has to walk and talk non-stop in one to one and a half hours.
"I feel as tired as working all day long like before."
Supporting online tours
Hoang feels luckier than many other colleagues who have to change jobs in the pandemic.
"At least I still can live with my job, continue to brush up on my skills, create relationship with foreign tourists and have income."
According to Hoang, there are now about 20 individuals in Vietnam running online tours.
The broadcasting of Vietnamese tourism to the world remains quite limited in the pandemic because there are too few guides involved in online tours, he said.
"In the post-pandemic period, I think the problem of the tourism industry will be the shortage of human resources."
Hoang hoped online tours will be soon recognized as an official tourism product. He has submitted an online tour proposal to the Hanoi Department of Culture, Sports and Tourism and hoped for an approval.
If online tours are recognized and developed into official products, they will serve as a good way to support traditional tourism, which has been greatly affected by Covid, he said.